---
Caveman Foods Overview
Caveman Foods was established by Chris Running. It aims to make healthy snacking as simple and delicious as possible for those who want to lose weight. The foods included in the program are made from Paleo-inspired ingredients. Caveman Foods believes that what you eat affects your performance, mood and daily life.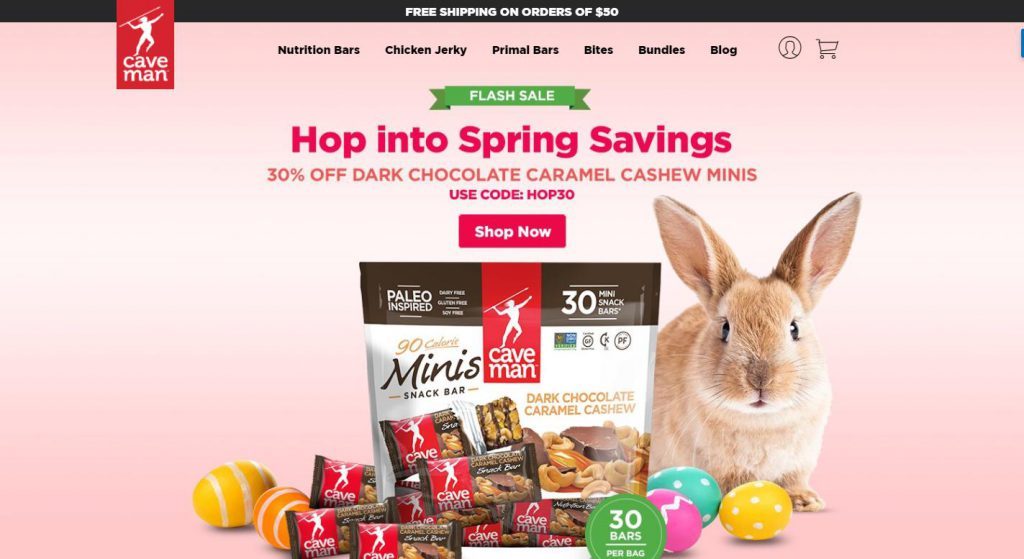 The Paleo diet promotes the consumption of healthy foods. It provides a wide range of benefits such as having more energy within a short period of time, weight loss and a leaner physique. The Paleo diet aims to promote clean eating by removing unnatural, processed foods and replacing them with healthier options. You don't have to compromise on flavors when changing your diet to healthy foods. The foods that are usually included in this diet include seafood, lean meat, seeds, plant-based oils, fish, fresh fruits, nuts and eggs.
The Paleo diet removes high-fat meats, dairy products, processed foods, grains, starchy vegetables and sugars. This diet gives you freedom to occasionally eat delicious snacks such as premium quality dark chocolate. You will be eating more healthy protein and fats, which curbs hunger and prevents overeating. You can enjoy the benefits of the Paleo diet when you choose the snacks offered by Caveman Foods.
Over the years of service, the company strives to transform snacking into a healthy, simple, and delicious option. All of their foods come from organic Paleo inspired ingredients. They are meant to make all health-conscious individuals feel well. As a reputable company, they believe that all foods you consume have a direct effect on your performance and life as a whole.
Keep reading our honest Caveman Foods review to learn more.
back to menu ↑
Caveman Foods Ideal For
who want a healthy alternative to Paleo Friendly Snacks
who are too busy to go out and buy Snacks
back to menu ↑
How Caveman Foods Works?
Caveman Foods allows you to browse and add foods to your shopping cart. You can buy anything you want. It doesn't have any limits or obligatory subscriptions that would ruin your shopping experience. Caveman Foods offers treats that are packed with protein such as primal bars, chicken jerky, Paleo-inspired bites and nutrition bars. All snacks are made of natural ingredients and packed with valuable nutrients.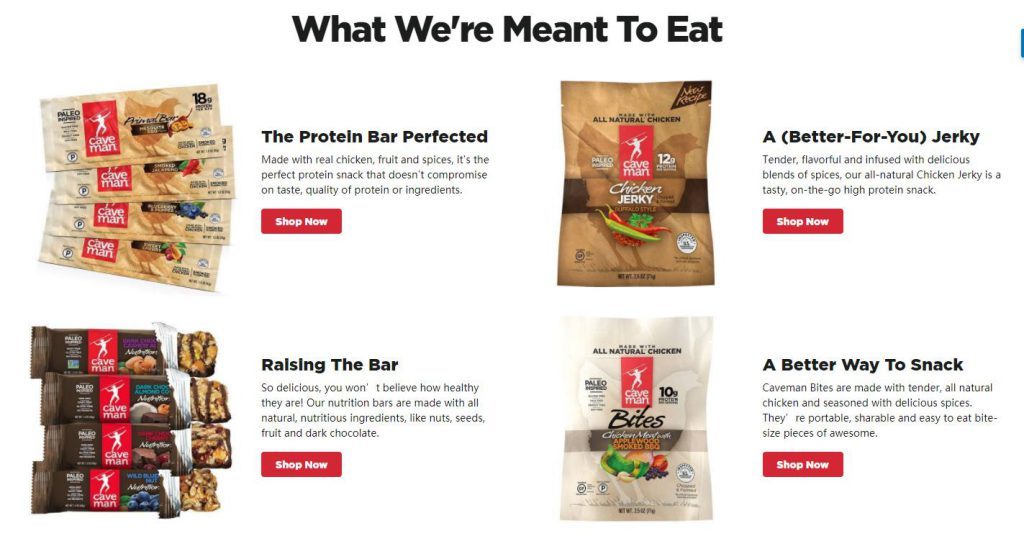 You can also get a VIP subscription if you want to get Caveman Foods' treats regularly. One of the best things about this subscription is that you can customize it to suit your needs. You can choose the frequency of the delivery and receive the snacks every other month or every month. Caveman Foods also allows you to change the quantity of snacks anytime and you can cancel or skip whenever you want. If there is a new item you want and you'd like to add it to your cart, you can choose the product and pick the "Subscribe and Save" option.
Caveman Foods has made the shopping process easy to guarantee maximum user satisfaction and give customers the best shopping experience.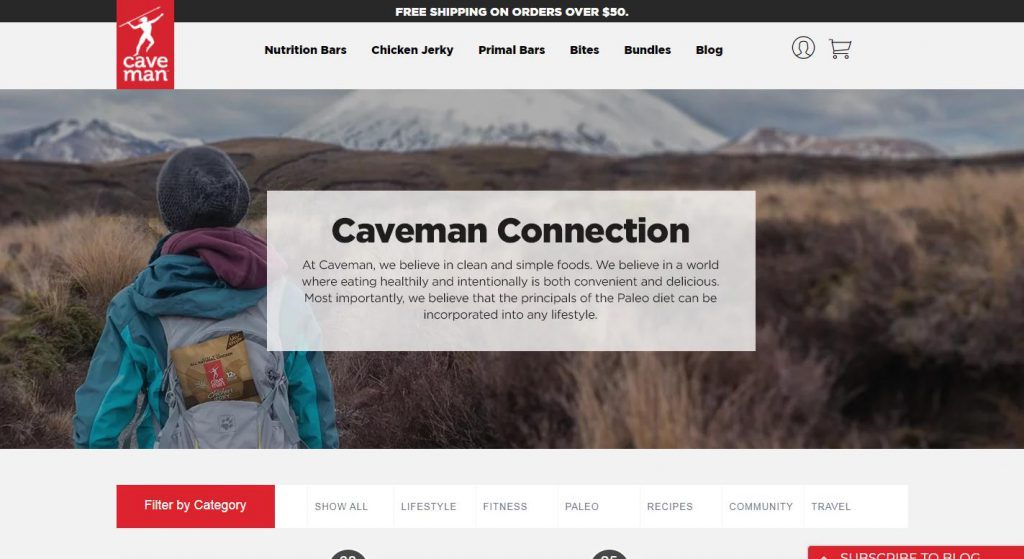 Take a look and find out how it works:
At Caveman Foods, you are free to browse, add an item to the cart, rethink the quantity, and buy. With their rich selection of options to choose from, finding what you like will not be a dilemma.
There are no limits. A meal service company must not limit opportunities. When you are exhausted with a provider, Caveman Foods is here to serve you. In fact, there are no boundaries as well as obligatory subscriptions. From start to finish, everything will make shopping experience convenient.
A wide variety of products.Like other reliable companies out there, they offer a range of food items. From chicken jerky, nutrition bars, primal bars to other protein-packed treats, there are lots of options at Caveman Foods.
Everything is rich in nutrients. The ingredients are packedwith enough nutrients that the body needs. All of them are natural, organic, gluten-free, preservative-free, and fresh.
Opt for a VIP subscription. Since establishment, they have been delivering Paleo delights. Choose a VIP subscription that you can tailor according to your needs. You can opt to receive delicious treats every month and decide on the frequency of deliveries in the future. Any time you can change your subscription. Whether you find a great item or want to include it in your subscription, all you have to do is to select the product. Then choose the "Subscribe and Save option."
The shopping process is simple. As you can see, shopping has been made much easy and comfortable. It is arrangedto guarantee optimal satisfaction and incredible shopping experience in no time.
back to menu ↑
What Makes Caveman Foods Different?
Caveman Foods is different from others in various ways. One of these is the fact that Caveman Foods doesn't focus on meals, but on the delicious, crispy bits and treats that you eat in between dinner, breakfast and lunch. We all know how hard it is to give up on eating snacks. This is why Caveman Foods aims to change the way you snack so that you don't have to feel guilty for eating more than 3 times every day.
However, what sets Caveman Foods apart from the rest is the quality of ingredients it uses as well as the suitability of the treats for various special dietary needs. The ingredients are also non-GMO. Moreover, the snacks do not contain gluten, soy, dairy, legumes or processed foods. All snacks from Caveman Foods are health-friendly and Paleo-friendly. Caveman Foods focuses on meat snacks, making it ideal for carnivorous snackers who like to eat meat.
Below are a few things that make it different and a leading supplier:
They do not focus on meals. Since day one until now, they have emphasized the tasty, lovely and crunchy treats for breakfast, lunch, and dinner.
They change the way you snack. Most people are addicted to eating junk foods during snacks. When you always attempt to give it up without a successful result, worry no more as Caveman Foods has been established for you. They provide an opportunity to help you change the way you snack.
Good quality of ingredients. Another thing that makes the company stand out from the rest is the excellent quality of all their products. All your orders will be fresh organic, and natural.
Non-GMO ingredients. Aside from that, they are proud to say that their ingredients are non-GMO. When it comes to their snacks, they do not contain dairy, gluten, legumes, soy, or even processed foods.
Everything is healthy-friendly and paleo-friendly. When you are eager to lose more pounds and be physically fit, Paleo diet is one of the most effective solutions for you.
They focus on meat snacks. Another significant quality of Caveman Foods is that they emphasize on meat snacks. That is why their foods can also be ideal for carnivorous snackers out there.
back to menu ↑
Caveman Foods Meals & Menus and Recipes
Caveman Foods offers various kinds of snack namely bites, nutrition bars, chicken jerky and primal bars. Now, it is time to talk about the meals and recipes offered by Caveman Foods.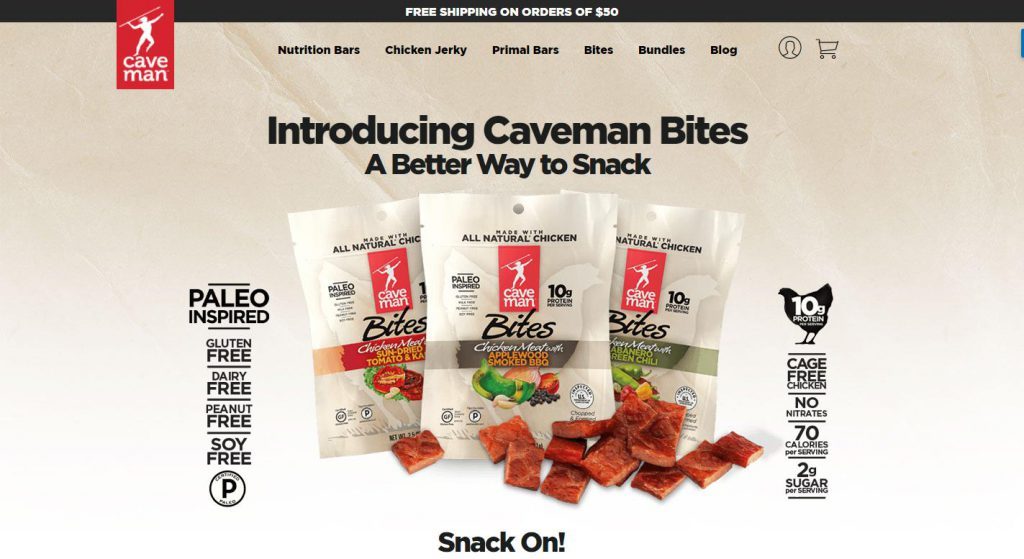 Nutrition bars – This is the only type of snack provided by the company that's not meat-centric. The bars are made of dark chocolate, almonds, cherries, cashews, blueberries and protein-rich seeds. You don't need to worry because the bars are vegan-friendly. The calorie count is 210 or less. The bars are also free from gluten, soy, peanuts and GMO.
Caveman bites – These are bite-sized chicken meat pieces that are packed with natural flavors of vegetable such as green chili, sun-dried tomato and habanero pepper. The calorie content of every bag is less than 200 calories and it is low in sugar as well.
Chicken jerky – Caveman Foods' version of chicken jerky is low in sugar and Paleo certified. It doesn't contain any saturated fat, nitrates or preservatives. Caveman Foods' chicken jerky is made of cage-free chicken and comes in various flavors such as spicy, buffalo style and Chipotle honey.
Primal bars – Primal bars are packed with various flavors. The chicken-based treats don't contain any nitrates or preservatives and are low in saturated fat. You can also enjoy mesquite BBQ-flavored chicken bars, smoked chicken bacon bars and chicken bars that have smoked jalapeno. There are sweeter treats such as chicken with sweet cherries or pepper and blueberries.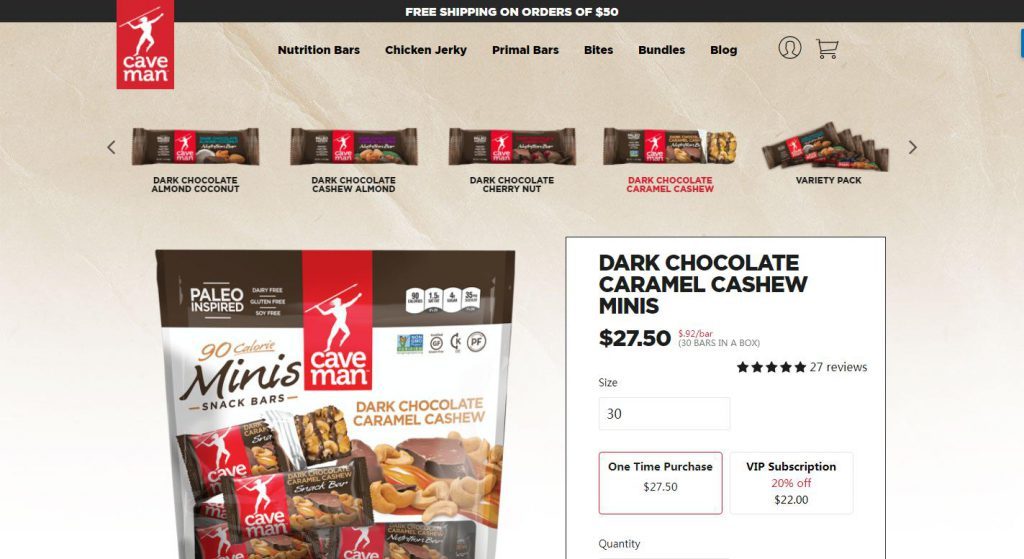 As mentioned earlier in this Caveman Foods Review, the company offers different types of snacks such as nutrition bars, chicken jerky, bites, and nutrition bars. Now is the best time to dig into its juicy details.
Nutrition Bars are the only not meat-centric among the snacks they offer. Every bar is vegan-friendly. It is also made of dark chocolate, cherries, almonds, cashews, seeds, and blueberries. The calorie count in each nutrition bar is 210 and is free from gluten, soy or peanuts. They do not have any GMO ingredients.
When it comes to primal bars, they are a chicken-based treat with many exciting flavors. There are uncured chicken bacon bars, chicken bars with smoked jalapeno, chicken with blueberries, chicken bars with mesquite BBQ flavor, and a lot more. Moreover, they have a low level of saturated fat and are not exposed to harmful chemicals like nitrates.
The chicken jerky at Caveman Foods has been considered paleo certified. It is low in sugar and saturated fat. It does not contain preservatives, making it as a fresh, natural, and organic option for everyone. Plus, it is available in a variety of flavors such as spicy, buffalo style, and chipotle honey.
Lastly, the Caveman bites are pieces of chicken meat with delicious veggies like habanero pepper, sundried tomato, and green chili. Because of that, it has been a popular snack with natural as well as fragrant flavors. Every bag contains more than 200 calories and is low in sugar.
back to menu ↑
Caveman Foods Health & Nutrition
Since Caveman Foods follows the Paleo diet's guiding principles, all snacks from the company are made from lean meat, seeds, nuts, eggs, vegetables, berries and fish. The snacks don't contain any dairy, peanuts, refined sugar, soy or grains.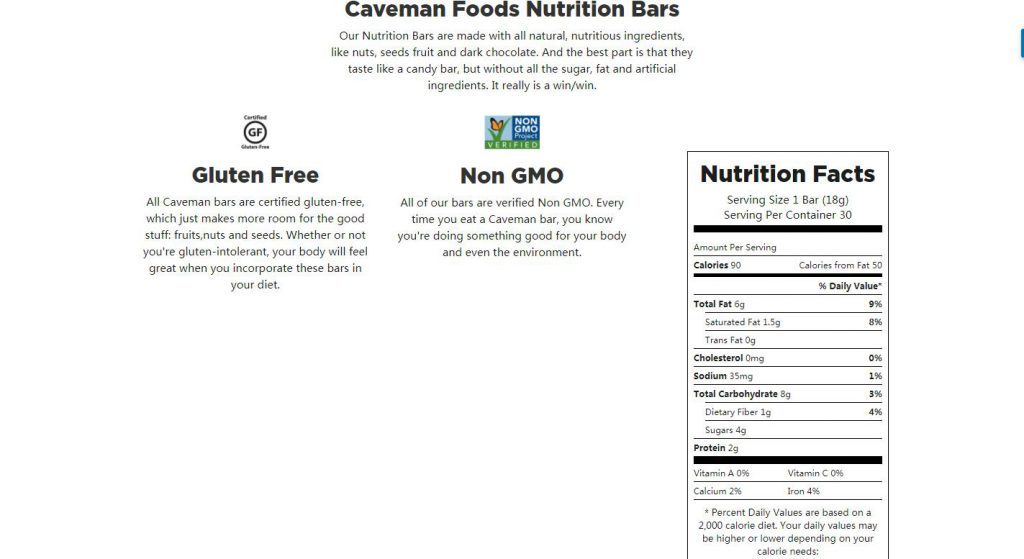 From the very beginning until now, Caveman Foods believe in the principles of the Paleo Diet. That is why, all of their snacks come from eggs, lean meats, fish, vegetables, nuts, seeds, and berries. They do not have dairy, soy, refined sugars, peanuts, and grains.
Whatever the kind of diet you have at present, never miss trying paleo diet. It will not only help you lose weight but also achieve a sexy and healthy figure. For sure, once your friends see you, they will be captured with your attractive and stunning looks.
back to menu ↑
Caveman Foods Fitness and Activity
Despite the effectiveness of the paleo diet, it does not mean that you will stay at home without exercise. Make sure to hit the gym for a few minutes. If the routine is a bit complicated, strenuous, and exhausting, a simple workout is enough.
During your leisure time, you can walk, swim or run around your house. You can also go hiking and do some sports like boxing. After some time, you will certainly have the fitness you've been dreaming. You will have the body of your choice.
It is recommended that you stay active at least 30-60 minutes every day. You are free to choose the activity you want to do and when you are going to do it. Just make sure that the activity doesn't interfere with your life and that you will not sustain any injury because of it.
back to menu ↑
How Easy Is Caveman Foods To Follow?
If you don't have enough time to go out and wait in queues, you can order online from Caveman Foods' official website. This way, you can get your desired snacks anytime. A lot of Caveman Foods products can be found in large retail chains such as Sam's Club and Walgreens. To order online, go to the official website. Spend time browsing the options to be happy and fulfilled at the end of your shopping.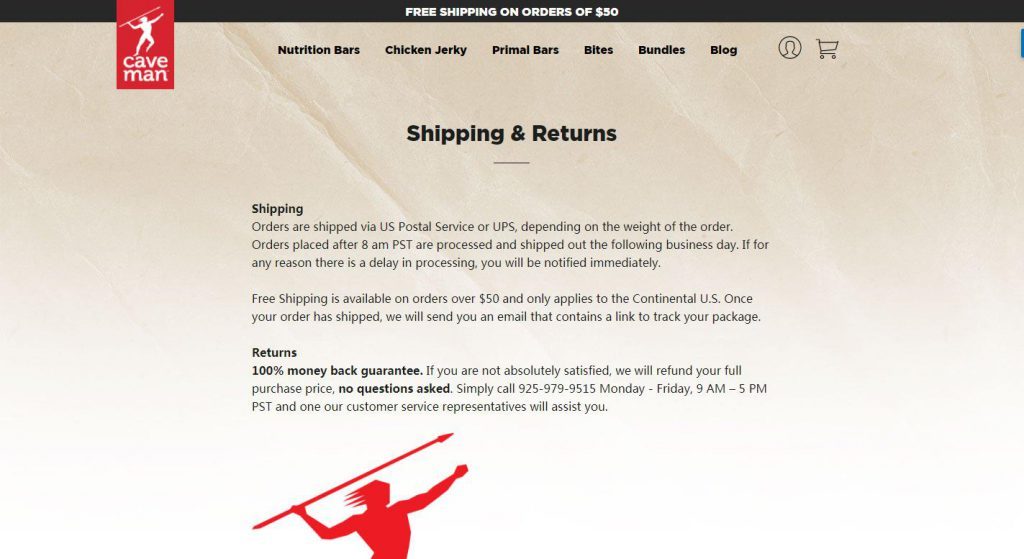 back to menu ↑
Caveman Foods Plans & Pricing and Costs
In this section of the Caveman Foods review, let's take a glimpse on the prices of all their products.
You already know what you can get from Caveman Foods. It is also important that you know the prices of each food. The prices that you will see here are regular prices. Discounts are not included. A VIP subscription will let you enjoy 20% off on all products from Caveman Foods. Bear in mind that the prices given are the regular costs without discounts. But with a VIP subscription, you get a 20% discounts on every item you will order.
Nutrition bars – A 15-bar package usually costs $25. You can get a 24-bar variety pack for $40.
Chicken jerky – A 12-bag package costs $69.99. For an 18-bag package, you have to pay $99.99 and $69.99 for chicken jerky variety packages.
Primal bars – 12 bars cost $29.99. An 18-bar pack costs $99.99. You have to pay $30 for a primal bar variety pack.
Caveman bites – A 12-bag pack of Caveman bite costs $69.99. If you want to get a variety pack of Cavemen bites, you have to pay $69.99 for every 12-bag pack. An 18-bag variety pack costs $99.99.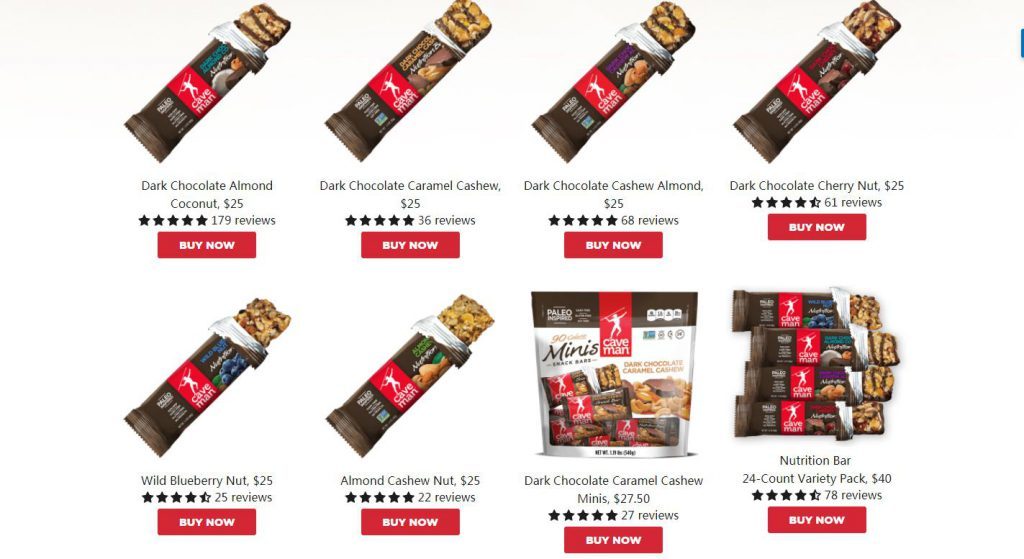 back to menu ↑
Caveman Foods Delivery Areas
One of the best things about Caveman Foods is that it ships nationwide. It also delivers to US military addresses. Caveman Foods doesn't provide international shipping at the moment. You can find its products in stores in some retail sites in Canada and around the country. The company's website has a Store Locator that you can use to find the closest store that offers Caveman Foods products. Orders worth $50 and above are shipped for free. This only applies to locations in the continental US.
back to menu ↑
Caveman Foods Help & Support and Customer Service
Whether you have inquiries or other concerns, feel free to give them a call at 925-979-9515. They are known for a superb customer service that will handle your situation well. Aside from that, send your message to their online contact form. With their talented and passionate team, asking help will never be awkward. The entire call or service as a whole will be more comfortable than expected.
One of the best things about Caveman Foods is that you can contact them anytime. If you have questions, you can use their online contact form to submit a query.
back to menu ↑
Caveman Foods Pros and cons
---
PROS:
Caveman Foods provides 100% natural ingredients that are non-GMO
Snacks are free from peanuts, gluten, soy and dairy
Nutrition bars are vegan-friendly
Caveman Foods didn't use refined sugars in their snacks.
VIP subscription gives you discounts
Commitment-free shopping
Subscribers can get regular discounts
You can enjoy free delivery free for orders worth $50 and above within the continental US
---
back to menu ↑
Bottom Line
Caveman Foods offers Paleo-friendly snacks such as chicken jerky and nutrition bars. It is a great delivery service that can help you lose weight. The snacks are non-GMO and don't have soy, gluten, peanuts and dairy. When you get a VIP subscription, you can enjoy 20% off on all snacks. Caveman Foods provides free shipping on orders more than $50 within the continental United States. You can shop or subscribe to the service without completing any contract.
Caveman Foods ships nationwide and to US military addresses. You can use the company's Store Locator to find the nearest store that provides Caveman Foods products. If your order is $50 and above, it will be shipped for free. However, only those in the continental US can benefit from this offer. Caveman Foods allows you to eat snacks without feeling guilty. The treats are Paleo-inspired and contain healthy ingredients. The snacks are delicious, so you don't need to worry about eating something bland.
With Caveman Foods, you can enjoy eating snacks without any guilt. The Paleo-inspired treats are natural and don't contain any ingredients that are not needed by the body. You can expect the snacks to be delicious. Subscribing to the service will give you 20% on all products from Caveman Foods. If your order is over $50, you don't need to pay any shipping fee. This will help you save money and enjoy healthy and delicious snacks at the same time.
Caveman Foods Review
Having an extraordinary delivery service, Caveman Foods provide Paleo-friendly and all-natural snacks, including chicken jerky, nutrition bars, and a lot more.
PROS
Non-GMO snacks that are free from soy, peanuts, dairy, and gluten.
Subscribe to their VIP option and enjoy a 20% discount on different snacks.
For orders of more than $50 , shipping will be free in different parts of the U.S.
Add your review
Caveman Foods Discounts, Coupons and Promo Codes
We found 4 verified Caveman Foods Discounts, Coupons and Promo Codes for Oct. 2023. If some of the Caveman Foods coupon codes have expired, please contact us, thank you for your help.

20% OffGet 20% off with promo code!

15% OffGet 15% off with promo code!

$10 OffGet $10 off Your Order of $50 or More at Caveman Foods with coupon code!

$20 OffGet $20 off Your Order of $100 or More at Caveman Foods with coupon code!
Compare Caveman Foods with other Companies' Services, Plans and Products
If you like Caveman Foods but aren't sure whether it's the best ideal choice for you, and may want to compare Caveman Foods with other Companies' Plans, Products, and Services that similar to Caveman Foods, or Caveman Foods Alternatives and Caveman Foods Competitors, Which companies' services like Caveman Foods. You can take a look at our professional comparisons below to discover if one of them is more suitable for you.

Updated : 10.02.2023.