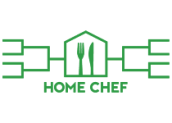 ---
Home Chef Overview
Home Chef, established in 2013, is your ultimate delivery service for meals which you can quickly cook at home and enjoy using the freshest ingredients all week long. They provide a variety of menu options for their esteemed clientele on a weekly basis as well as future meals so anyone can plan in advance. CEO Pat Vihtelic of Home chef, in cooperation with a chef, designed delicious but can be cooked fast with the easiest recipe possible but not compromising the meals'  nutrition value and taste. Now, this partnership has flourished into a group of several talented chefs who work hand in hand in crafting new and original meals you can enjoy every week.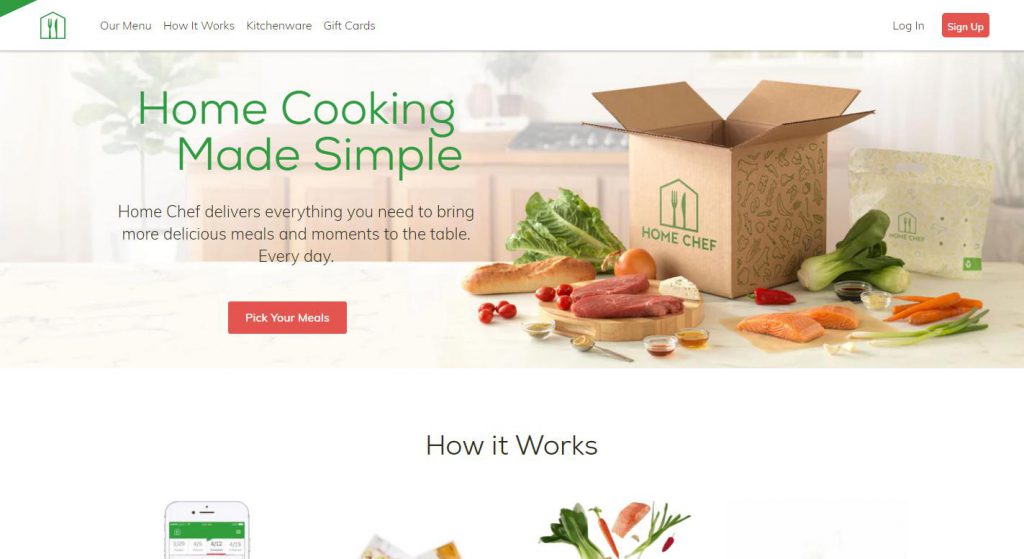 The company works as one in the mission of providing help for busy people through proportioned amounts of ingredients ready to be cooked in just 30 minutes. Fast and easy and delicious!  Delivering to 90% across America, the company is continuously striving to better serve the entirety of the US. They also meticulously choose their partnership with produce suppliers to ensure they get the safest and freshest ingredients delivery straight to your doorstep.  The number shows how many home chefs have already been created as they have delivered a staggering shipment of more than 2.5 million meals for the first quarter of 2017 alone.
Keep reading our honest Home Chef review to learn more.
back to menu ↑
Home Chef Ideal For
People who doesn't have the time or energy to buy and prepare ingredients for home cooked meals
Individuals who want a healthier substitute, switch from and tired of eating frozen meals
Anyone who wants to try out new recipes while testing their culinary ability
back to menu ↑
How Home Chef Works?
Home Chef is unlike any meal delivery service where pre-made meals are delivered. Instead, they send you the necessary ingredients and easy-to-follow instructions on how to cook the meal right at your doorstep.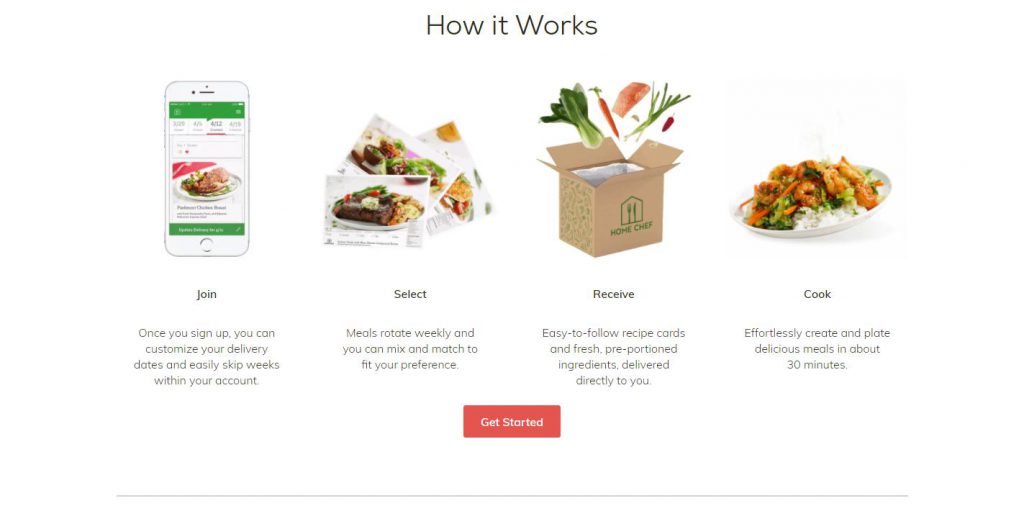 You need to sign up to Home Chef to be able to get access to the company's full menu. In order to determine your food profile, questions will be asked so they can recommend the best meal types for you. From vegetables to meats and other preferred ingredients, you have the full authority to choose what you like in your meals while they guide you through the process. Meal choices vary every week but there is surely enough choice for everyone.  While the company claims to be healthy, you still need to check on the nutritional value label on the website. Prep time is quick and you get your food cooked within 30 minutes.
With Home Chef , you get to see the meals in advance which gives you time to set your desired menu for 5 weeks. They offer a flexible  scheduling  by using their app when you want to skip a week, to change your delivery date, adjust meals, or even pausing your account.  If your order is under $45, you will be charged $10 as delivery fee.  Your ingredients are perfectly proportioned and packaged in a recyclable food container to ensure no food is wasted.
The company's referral program is also appealing as you and your referred friend get credit worth $30 after signing up. They also provide electronic gift cards you can send that come with varied value. Everything is customized and convenient with your meal subscription.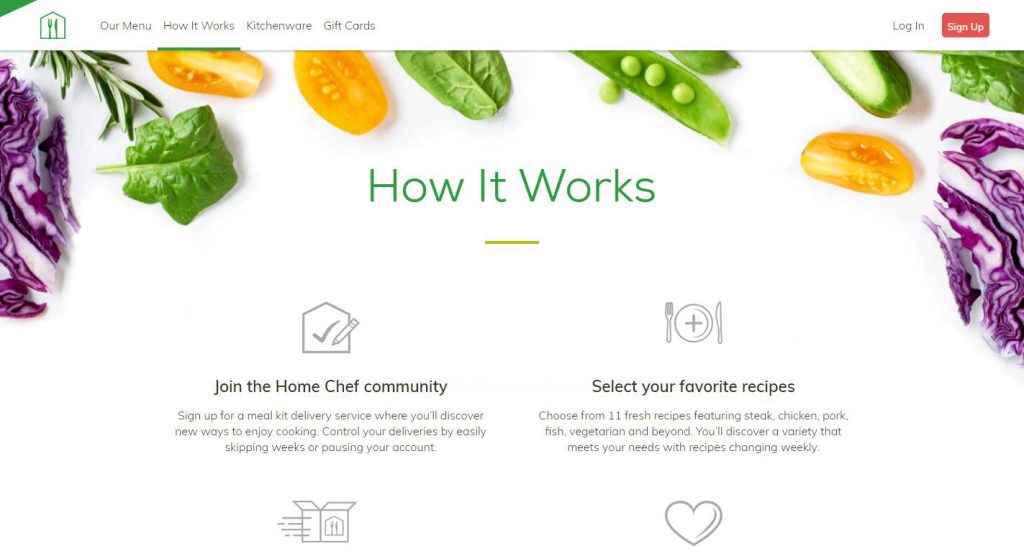 back to menu ↑
What Makes Home Chef Different?
The company is set to operate with 3 R rules in mind: Reducing, Reusing, and Recycling. From the freshest ingredients, right portioning, and recyclable food container, Home Chef is not your ordinary take-out food or home meal delivery service. They select their suppliers carefully and only deals with those who share the same passion and concern for caring about their employees as well as the environment.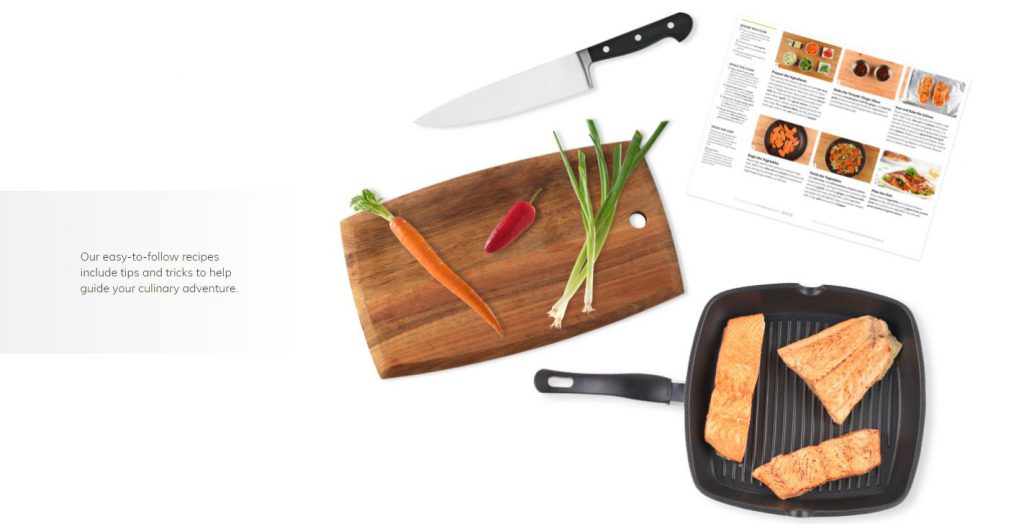 All the materials made of plastic used are recyclable and can be reused and you can even wait a few hours before cooking and your shipment will be as fresh as newly delivered. Home Chef is also a one-stop shop for meals and cooking essentials. They carry high quality assortment of kitchen essentials, utensils, and dishes. Only Home Chef has this special feature called taste profile where your taste and want matters in your search for the best meal from various culinary preferences.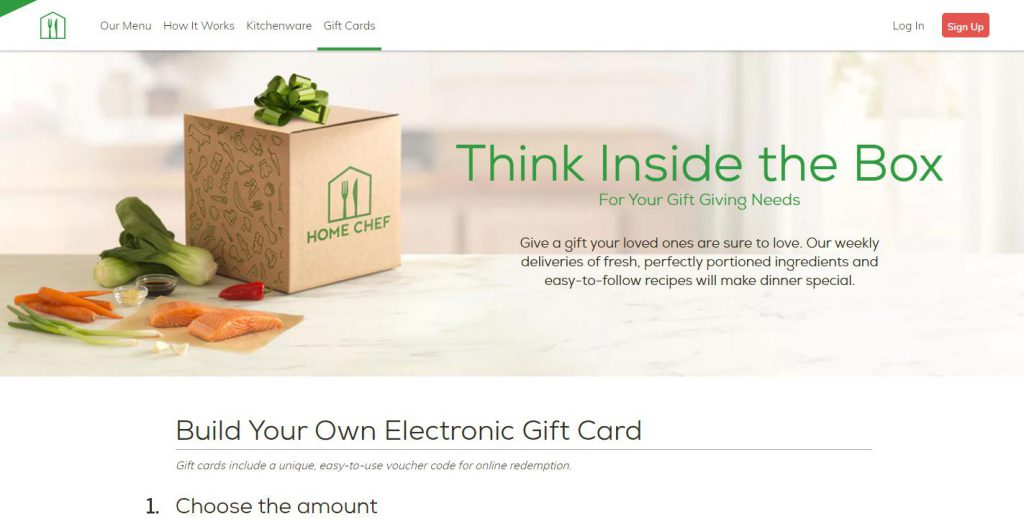 back to menu ↑
Home Chef Meals & Menus and Recipes
Home Chef will ask interested registrants to fill-out an exclusive taste chart in order to build user's taste profile. Here, you will specify the meal preference and request for ingredients you want to be included in your  chosen meals.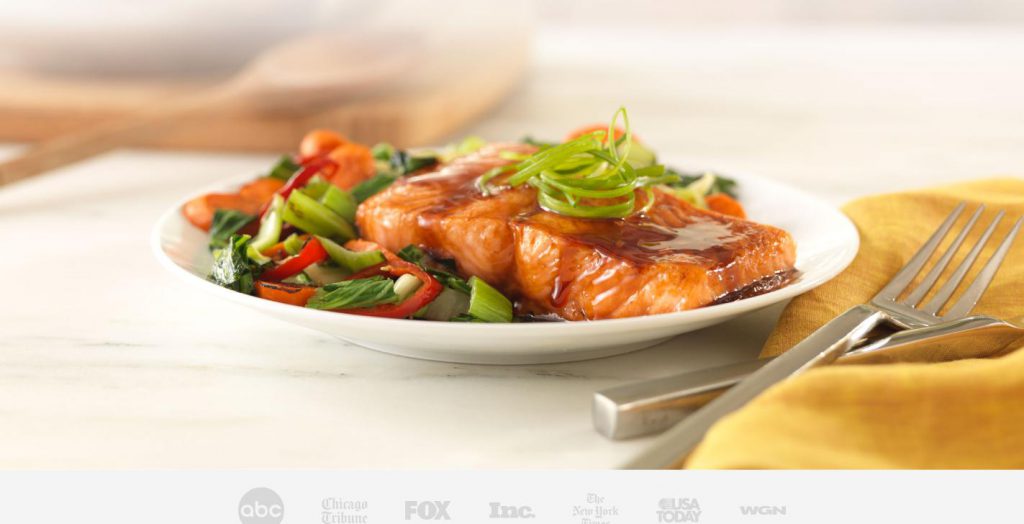 In addition to the taste profile form, you will be asked to specify foods you  want  to avoid and pick your choice on whether you want a diet low in calorie or low in carbohydrates. You also need to specify how many servings you plan on receiving for every meal, and how often for you wish them delivered in a week. In a week, you can get the meals  2 to 6 times and the serving size options are 2,4, up to 6 ideal for small or larger family. The serving size corresponds to the  equivalent proportion of ingredients.
Sticking to a specific diet is easy without any need to check the ingredients each time you receive your meal since you have this option during registration. You can alter your particular dietary preference  and view gluten-free and dairy-free as alternatives so you won't have to worry about food allergies. Since Home Chef uses common  ingredients and not so fancy options , even kids would love eating every meal.
Expect nothing less from Home Chef when it comes to the meal variety in their menu, ideal for everyone in all ages and all occasion.  You may need to pay extra for specialty meals during the holidays but every taste bud will be satisfied from the musltiple side dishes, main entrees,  to dessert.
There is nothing else you can do when your package arrives but to follow the recipe cards with easy step-by-step instruction ideal for kitchen rookies.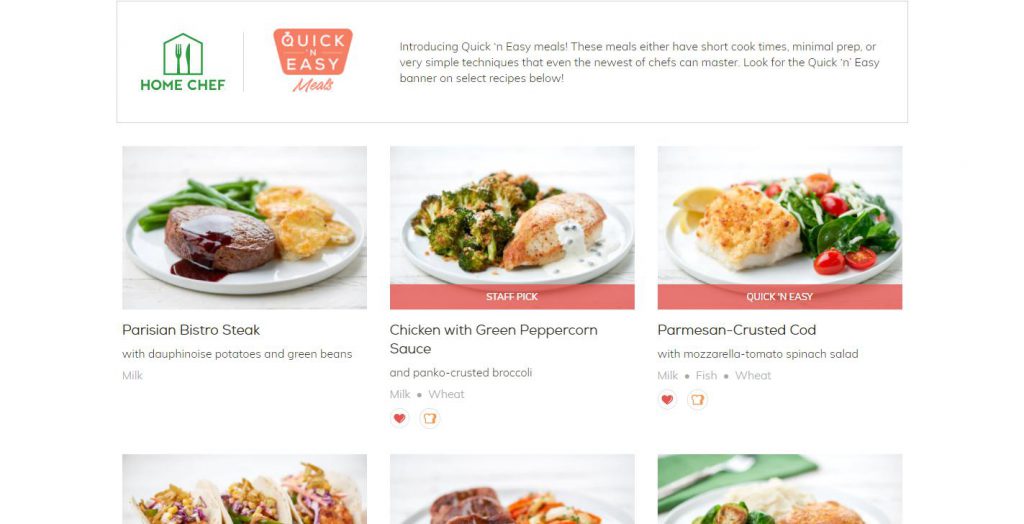 back to menu ↑
Home Chef Health & Nutrition
Home Chef is offering a meal delivery service on a weekly basis. Healthy recipes comes with ingredients that are already pre-proportioned for quick and efficient home-cooked meal preparation for as quick as 30 minutes. A total of 13 recipes are newly created each week to fit varying lifestyles including gluten-free, vegetarian, nut-free meals, low carb and more. Freshness is guaranteed in all of Home Chef's ingredients and you either get good for two or four people of two to seven meals depending on your chosen subscription. Your profile setting and dietary preference are the basis of the meals which will be sent to you. Customize your meal plan by changing or week skipping the automated meal selection anytime any moment prior its weekly deadline.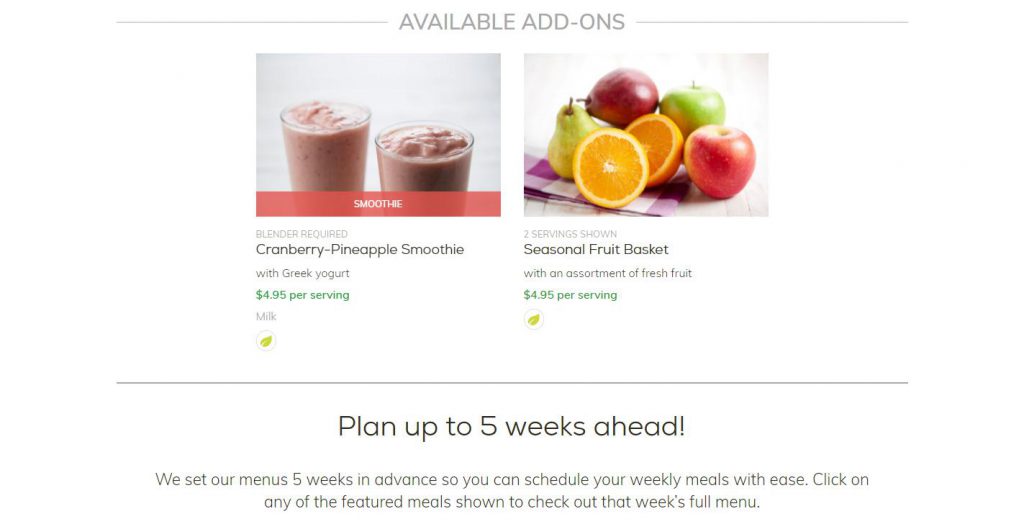 back to menu ↑
Home Chef Fitness and Activity
Thirty to sixty minutes of any activity anytime of the day is recommended daily.
back to menu ↑
How Easy Is Home Chef To Follow?
You can always expect fresh produce delivered and not worry about them getting bad if not frozen. However, prioritize to cook meals with seafood or fish every recipe has its own best before label upon delivery. Color coded recipe cards are included complete with image for easier and faster understanding of the cooking instruction.  The nutritional value information of the meals are also included. All the meals take about 30 minutes to cook.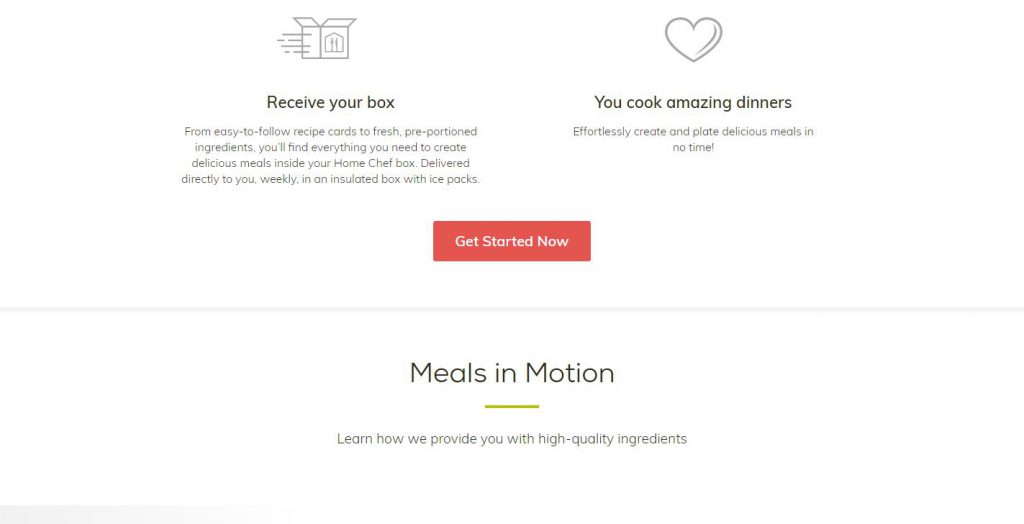 back to menu ↑
Can You Lose Weight With Home Chef?
The drive to lose weight may be too difficult to achieve due to some factors that affects men and women's daily life. Home Chef understands this dilemma and offered solution by providing healthy and delicious meal delivery service which the health conscious can plan in advance based on the taste profile every week.
back to menu ↑
Home Chef Mobile App
Android and iOS users can easily download the app for efficient and convenient viewing of the recipes for the week, ordering , tracking of delivery,  subscription management and many more.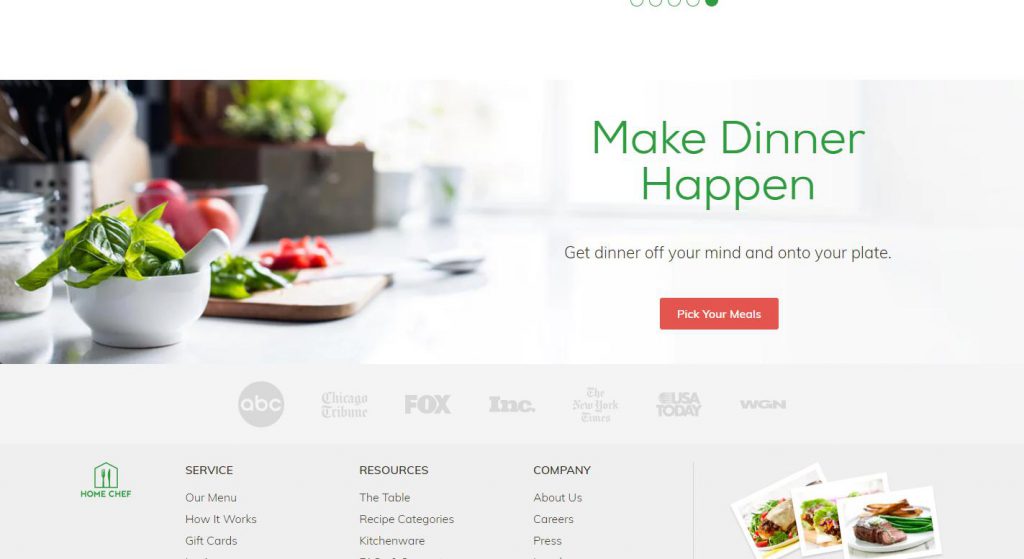 back to menu ↑
Home Chef Plans & Pricing and Costs
With Home Chef, you can order a complete meal from ordinary day to special occasions and even holidays at a very flexible payment methods. It's their pride to be able to provide fresh ingredients than you can find in local shops for almost similar price. You have unlimited option to order a meal and  choose the number of servings. There is no hidden cost –all at $9.95 for every serving. Additional cost of $10 if you order below $45 but order above that amount and the delivery is free of charge. Another $4.95 will be charged only if you order smoothie and fruit.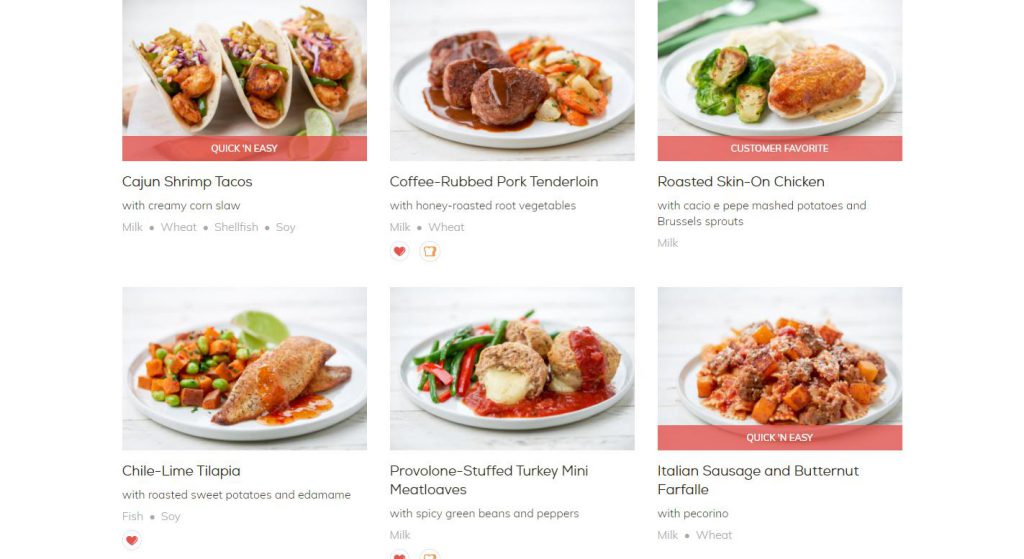 back to menu ↑
Home Chef Delivery Areas
The company services 90% of America but they are working constantly to change this. In order to find out if your area is  included, check their website and key in your location's zip code.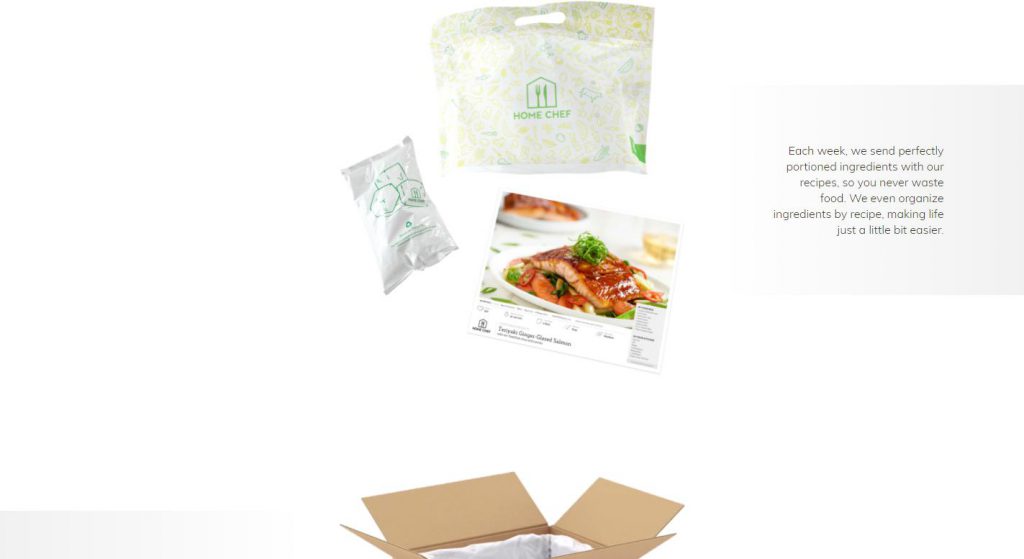 back to menu ↑
Home Chef Help & Support and Customer Service
Whatever your question is, the company's website is so user-friendly and easy to navigate categorized   FAQ.  There is also a friendly representative to do a live chat with you. the website and social media accounts can provide you more detailed information on what the company has in store for you.
back to menu ↑
Home Chef Pros and cons
---
PROS:
Easy to choose from categorized food types
No meals are the same because all 13 recipes are customized based on user's taste profile
2 mobile apps are available to match profile any day of the week
Flexibility on changing or skipping delivery date
Only $9.95 per serving and no hidden charges
Personalized meal lets you eat only those you like and avoiding allergies for unknown ingredients
Learn from different ideas, tips, and hints on heathy eating, recipes, and table blogs
CONS:
You only have 13 meal choices every week
The recipes are not customized for people wanting to lose weight
You need to cook your own meal at your own space or home
Delivery only covers 90%  of America
---
back to menu ↑
Bottom Line
From the name itself, Home Chef  aims to give its customers a way to enjoy home cooking using the freshest quality ingredients to innovative "home-cooked" recipes in the shortest time possible. The robust flavors and the simplicity of cooking procedures prepared by certifies culinary experts make this very different and popular. Transparent pricing, fresh ingredients , flexible scheduling, a company that supports green and clean environment, your cooking experience can never go wrong.  This Home Chef Review provides comprehensive details and benefits everyone can enjoy especially those who are living a busy life but still hopes to cook and eat healthy.
Home Chef Review
Home Chef takes pride in their ingredients that guarantee quality and freshness for every personalized taste preference. It offers a wide selection of new recipes which are constantly changing week after week.
PROS
Your taste profile is the key to the healthy and sumptuous meal suggestion you will receive
Enjoy cooking from 13 different easy-to-follow recipes every week especially created by professional chefs
Marketplace that carries high-quality cooking tools allowing you to cook like a pro
Add your review
|
Read reviews and comments
Home Chef Discounts, Coupons and Promo Codes
We found 5 verified Home Chef Discounts, Coupons and Promo Codes for Oct. 2023. If some of the Home Chef coupon codes have expired, please contact us, thank you for your help.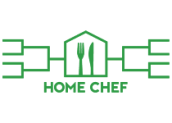 55% OffGet 55% off any order with promo code!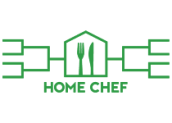 $30 OffGet $30 off your first order + $10 Bonus with coupon code!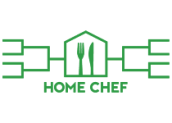 $10 OffGet $10 off your first order with coupon code!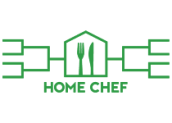 Free ShippingGet Free Shipping on Orders of $45+ with coupon code!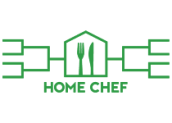 Free GiftGet 3 Free Meals on Your Order with coupon code!
Compare Home Chef with other Companies' Services, Plans and Products
If you like Home Chef but aren't sure whether it's the best ideal choice for you, and may want to compare Home Chef with other Companies' Plans, Products, and Services that similar to Home Chef, or Home Chef Alternatives and Home Chef Competitors, Which companies' services like Home Chef. You can take a look at our professional comparisons below to discover if one of them is more suitable for you.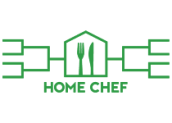 Updated : 10.01.2023.