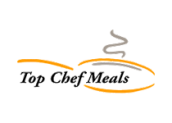 ---
Top Chef Meals Overview
If you talk about Top Chef Meals, it is a meal delivery service for which a subscription is not necessary. Whenever the need is there, you can browse the company website and select the meals matching your preferences. Top Chef has experienced Chefs who make meals, freeze them and get them delivered to your doorstep through FedEx.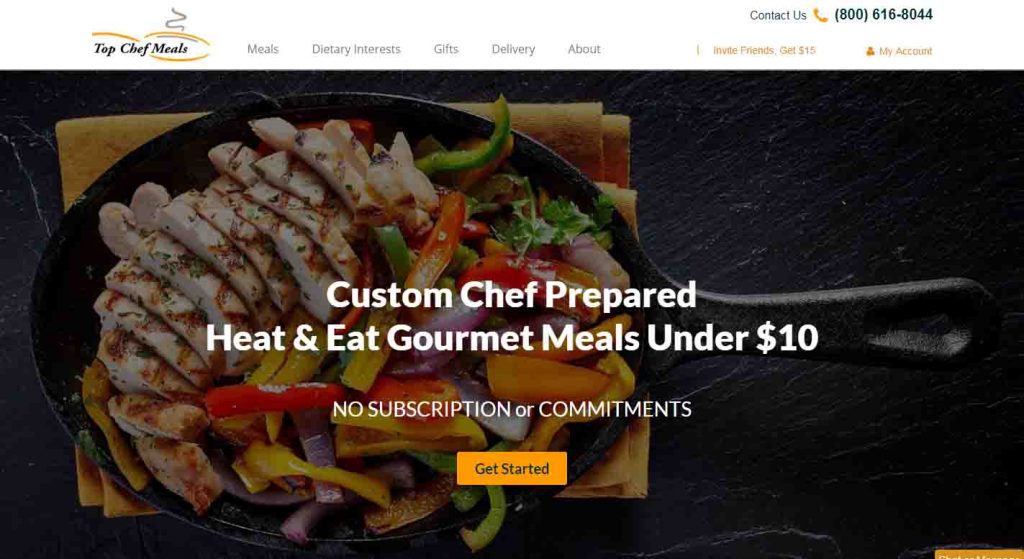 You can place orders for breakfast, lunch, dinner or opt for a desert. There are some options for family selections as well. If you are dieting to lose weight, Top Chef has an amazing diet plan for you. According to this plan, you can place orders for Paleo, gluten free and sugar free meals. All the meals are prepared fresh and only locally sourced ingredients are used for preparation.  As compared to other meal services, Top Chef is economical.
In terms of location, Top Chef Meals is located in Elmsford NY. Top Chef offers breakfast, lunch, dinner and deserts. Chefs use vegetables and meats that are locally sourced for preparation purposes. If you have a family member in the house above 60, you can get your hands on a 15 percent discount.
The pioneers of Chef Meals are chefs who have immense catering experience. Users have the option to customize meals by opting for different sidelines. The packaging is done with a careful approach. Meals are packed during dry ice and sent through FedEx ground in cardboard boxes. These boxes are insulated with foam so that food does not get stale for a time span of 3 days. Top Chef Meals offers delivery options in the entire continental US.
This impressive meal delivery service was founded by Paul Ghiron who was previously the president of a corporation called "The Crystal Spoon". The purpose of this concept was to provide a diverse range of healthy meals at economical prices to people who cannot cook due to busy schedules. The meal options include la carte meals, Paleo diet options for people on a diet, meals for senior citizens. You can gain more knowledge about Top Chef Meals in this review.
Keep reading our honest Top Chef Meals review to learn more.
back to menu ↑
Top Chef Meals Ideal For
People who do not have the time to purchase ingredients and prepare them
People seeking a healthier option in place of frozen food products.
Males and females looking for a simple option to shed off extra weight.
back to menu ↑
How Top Chef Meals Works?
You can customize your menu with Top Chef Meals and place orders for breakfasts, lunches, dinners, additional la carte meals and treat your taste buds with desserts. You have the option to pick your side dishes according to preferences.  With so many alternatives available for dishes, you would want to try a lot of them. You can also speed up your ordering process and select an easy order package. Each package comprises of 9 handpicked dishes.
If you are on a diet, you can choose Paleo and Accelerated weight loss meal plans by Top Chef Meals. The Paleo plan has duration of 4 weeks and the user has 15 menu items for each week. Similarly, the accelerated weight loss plan has a time span of 4 weeks and has 20 dishes. These meals comprise of low calorie snacks that turn weight loss into a much easier process.
With Top Chef Meals delivery service for seniors, aged people can select meal options that are good for them and do not have any adverse physical effects according to their age. You can gain more information about this meal delivery service for seniors in this review.
Once you have selected the meal types according to your preferences, you can advance to the checkout. After that, all you need to do is wait for these mouthwatering meals to be delivered to your door step. In an overall manner, the process is simple and easy to execute.
back to menu ↑
What Makes Top Chef Meals Different?
People who have worked hard to launch Top Chef Meals are highly experienced and immensely dedicated. The team comprises of more than 12 culinary experts who put in all their expertise to come up with the perfect dishes.  The prices are quite affordable and locally sourced ingredients are used. The practices of Top Chef are much better than the ones used by its competitors.
The selection of meals in accordance with varying dietary needs impressed us a lot. Along with that, the dedicated meal delivery service for seniors is exceptional. These meals are not only tailor made for people above 60 years but also come with a discount.
Top Chef offers gifts for several occasions along with impressive gift cards. These services help you in portraying your care and emotion with meal packages delivered to people who are close to you.
back to menu ↑
Top Chef Meals Meals & Menus and Recipes
With so many options for dishes being offered, users find it hard to make a selection. There are dozens of dishes to choose from so making a choice is not that easy. Along with that, new dishes are added from time to time. You can choose between vegetables and starch for sidelines. One sideline can be added to each meal.
There are several meal options to order from including breakfasts, lunches, dinners, soups, shakes and desserts. Other than that, you can opt for fresh meals that are not frozen along with cards for getting well, condolence and other occasions. You can apply your own selection parameters and filter the meals on the basis of low sodium, gluten free and dairy free categories.
The order packs are easy and there are numerous choices in this relation. You can select packs for dietary needs, comfort food, sea food and other user based preferences. Along with that, you can opt for vegetarian meals, beef free meals, seafood free meals, meals without sugar, low sodium meals and several other options. Each pack comprises of 9 meals. If you want to select a one meal package, the condolence package would be suitable for you.
The Paleo meal plans comprises of diverse meals according to user needs. These meals are prepared to the regulations and rules of Paleo Diet. These meals do not contain gluten or grains. Along with that, you can gain 150g of daily protein after having them.
If you talk about the accelerated weight loss plan, it has been designed to help you in losing weight at a faster pace. This is done by diet modification and only including ingredients which would have a positive effect on your health. The dishes have low carbs and high nutrition count. Along with that, there are lean proteins and healthy facts. The plan has flexible options and users can enhance the quantity of protein portions.  Users can also change side dishes and include additional portions as well. You do not have to abide by any commitment to use this plan.
Seniors who are in their golden age can choose meals according to their preferences at a low price. For seniors, a variety of dishes are offered. These meals can be enjoyed fresh and can be eaten after cooking for 2 minutes. Other than Top Chef Meals, there is barely any other meal service company that entertains catering needs of seniors in such a manner.
back to menu ↑
Top Chef Meals Health & Nutrition
If you are diabetic, prefer low sodium diets or have any other therapeutic restriction; these meals are for seniors like you. If you want to shed the flab off your body, you can opt for the Paleo Diet by Top Chefs.
back to menu ↑
Top Chef Meals Fitness and Activity
A minimum physical activity of 30 to 60 minutes per day is required. Users can choose their timings and type of activity according to their preferences.
back to menu ↑
How Easy Is Top Chef Meals To Follow?
Getting meals from Top Chefs is nothing less than having a personal chef. Along with that, by ordering these meals, you can save your time as you would not have to do a lot of cooking. These meals are fresh and prepared using the finest ingredients that are locally sourced. The prices of these meals are economical and help users in saving money.
back to menu ↑
Top Chef Meals Plans & Pricing and Costs
Top Chef meals has economical prices irrespective of the ordering method selected, The la carte menu has a price from $2.75 to $10.75 for one dish. The easy order packages that have 9 meals range from $63.15 to $71.10. The special 1 meal pack has prices from $7.60 to $7.95
If you opt for the weekly deliveries that have 20 dishes and select the Accelerated Loss Plan, the payable sum would fall between $126 and $130.70. If you opt for the weekly deliveries of Paleo plan that has 15 dishes, the payable cost would range from $119.95 and $127.45. To order senior meals, the price would be between $7 and $9. Along with that senior citizens above the age of 60 get a 15 percent discount. There are no shipping charges for the first order.
If your order has a cost less than $110, the delivery cost would be $19.95 and if it exceeds $110, the delivery charges would go down to $9.95. Customers who place orders for exactly 21 meals get free overnight "Front Door" deliveries on Wednesdays and Saturdays. For overnight shipping, if the order cost is less than $110, the delivery cost would be $9.95 and for orders above $110, there would be no shipping costs. there is a 15% discount on your order for those who are senior citizens.
back to menu ↑
Top Chef Meals Delivery Areas
You can order Top Chef Meals from all zip codes in Connecticut, Island, Virginia, Rhode Island, West Virginia, Wisconsin, New Hampshire, New Jersey, Minnesota and several other locations as well.
Top Chef meals can also be ordered from selective locations in Nebraska, North Dakota, Sound Dakota and New Mexico.
back to menu ↑
Top Chef Meals Help & Support and Customer Service
For additional help, you can view the FAQ page or get in touch with us through email or phone number.
back to menu ↑
Top Chef Meals Pros and cons
---
PROS:
The variety of dishes is mesmerizing
Order dishes for all meals of the day
Users can majorly customize their orders
Rates are economical
State of the art Paleo and weight loss plans
Meal options for seniors
Meal options to satisfy dietary needs
CONS:
Delivery is not available on a nationwide scale
Shipping is not free for all orders
---
back to menu ↑
Bottom Line
If you talk about a highly impressive meal service that offers meals with diverse taste types and dietary preferences, Top Chefs is surely one of the best options. You can get your hands on various Paleo and weight loss plans. Along with that, seniors can select various meals as well. There are easy order packages that are made to suit a high percentage of customer and place orders without going through a lengthy process. Considering the high quality and economical price that it has, Top Chefs is definitely worth trying.
Top Chef Meals Review
As a meal delivery service, Top Chef meals offers several moth watering dishes for different taste requirements and dietary needs. You can place orders for la carte, Paleo dishes or opt for one of the accelerated weight loss plans.
PROS
State of the art freshness maintained by the experienced team of Chefs
No artificial ingredients like GMO's, preservatives or fructose corn syrup included
You can make selections for every meal according to what you like
High protein count, low carbs all only natural ingredients are used
Locally sourced in most cases and selected carefully
Economically priced making it easy to be afforded on daily basis
No preparation, cooking or cleanup needed.
Add your review
Top Chef Meals Discounts, Coupons and Promo Codes
We found 2 verified Top Chef Meals Discounts, Coupons and Promo Codes for Dec. 2023. If some of the Top Chef Meals coupon codes have expired, please contact us, thank you for your help.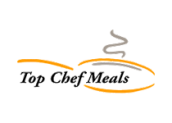 25% OffGet 25% off any order with promo code!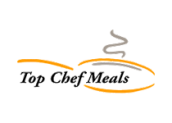 $30 OffGet $30 off any order for New Customers with coupon code!
Compare Top Chef Meals with other Companies' Services, Plans and Products
If you like Top Chef Meals but aren't sure whether it's the best ideal choice for you, and may want to compare Top Chef Meals with other Companies' Plans, Products, and Services that similar to Top Chef Meals, or Top Chef Meals Alternatives and Top Chef Meals Competitors, Which companies' services like Top Chef Meals. You can take a look at our professional comparisons below to discover if one of them is more suitable for you.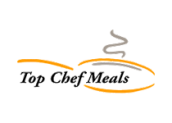 Updated : 12.01.2023.