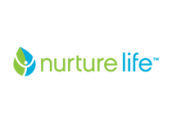 ---
Nurture Life Overview
Are you searching for a reliable meal delivery service for kids? Look no further than Nurture Life. This Chicago-based food delivery service company provides natural, fresh and wholesome meals for kids regardless of age. Designed by a professional chef and pediatric dietitian, all the foods offered are made to please and meet the dietary needs of kids for proper development. By handling the whole thing from planning, grocery shopping, cooking as well as portion control, Nurture Life allows you to ease the burden of preparing for kids. They have dedicated team of experts who will professionally and carefully handle the diet of your kids. If you want to know more about this food delivery service provider, please read this Nurture Life review.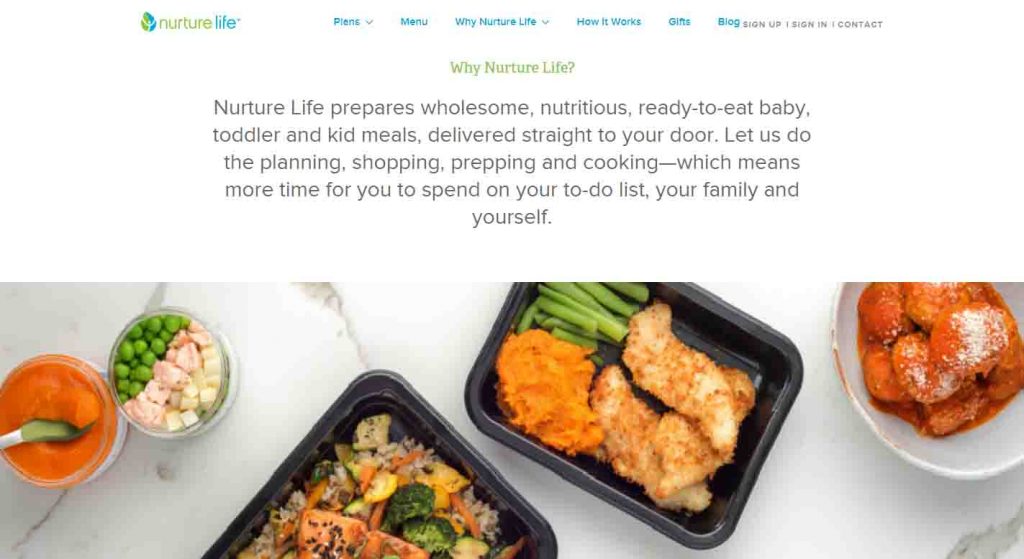 Keep reading our honest Nurture Life review to learn more.
back to menu ↑
Nurture Life Ideal For
Parents with a busy lifestyle and don't have time to shop and prepare ingredients
Anyone who is searching for a wholesome alternative to frozen meals
back to menu ↑
How Nurture Life Works?
Prior to availing their services, Nurture Life will ask you some questions about your kids like name, date of birth, dietary preferences like veggies, meat, and fish. If you have more kids, you can make two or more meal plans custom made to meet the needs and preferences of your little ones.
You choose the number of meals you want to receive on a weekly basis. You can select from Chef's Choice menu or handpick the meals from Favorites and Seasonal menus. Remember that even when you choose the Chef's Choice menu, still you have the chance to change the meals from other menus offered. You can also add meals for any age to include on your weekly delivery. The menu offered by this meal delivery service changes on a weekly basis.
All the meals offered are pre-made, and ready to heat. The meals are not frozen, instead chilled to conserve the freshness. Nurture Life enables you to alter your meal plan to meet the changing dietary needs of your kids. What is more, you can skip, pause or cancel your subscription anytime you want.
back to menu ↑
What Makes Nurture Life Different?
Today, there are lots of companies that offer meal delivery service in Chicago that exclusively cater to kid's needs. On the other hand, in spite of stern competition, Nurture Life stands out from the rest as they have a vibrant offer made to meet the needs of kids regardless of age. It allows parents to always have an ideal meal solution in spite of kid's preferences and age. With so many menu items to choose from intended to help kid's proper development, a wide array of choices for special dietary needs, as well as easy customization, Nurture Life allows you to naturally navigate kids fussy eating and make sure their body and mind are nourished.
What is more to nutritious meals created by professional culinary and pediatrician, Nurture Life sources their ingredients from local farmers and reliable purveyors. They only use organic and 100 percent natural product. The meat are free from antibiotic and vegetable fed as well. Fish are freshly caught as well as sustainably farmed.
They don't just offer superb meals for children; they also help parents know the best way to keep their kids healthy all the time. They offer informative blogs all focus on proper nutrients and tips to keep kids fit. Don't forget to browse the extensive collection of educational and fun articles, as you are sure to discover lots of tips as well as tricks helpful in daily living.
Last but not least, if you are searching for a holiday gift to give to your friends, loved ones or co-workers, a Nurture Life gift card is a superb choice. You choose the amount, and the receiver gets a chance to enjoy the perks of being a member of the growing family of Nurture Life.
back to menu ↑
Nurture Life Meals & Menus and Recipes
Nurture Life provides different menus which are divided into three categories. This includes for babies, toddlers as well as kids. You can pick from three menus for little ones, intended for babies aging 6, 8 as well as 10 months. Every menu features ten items, which include seasonal delights and favorites. In this category, almost all meals include purees which are made of fines and natural produce, meat as well as fish.
The menu for toddler includes twelve colorful means that are not just appealing but also filled with essential nutrients your kids' needs for proper development. The meals are creative, and they include vegetables which are carefully hidden behind the delectableness of mac and cheese and other classics.
The kid menus are ideal for children aging 4 to 8, 9 to 13 as well as 14 years old. Every menu features twelve mouthwatering optimally balanced meals which please both the desires and needs of kids. For kids with special dietary needs, the company provides a vast variety of vegetarian, vegan, soy-free, egg-free, gluten-free, as well as dairy-free dishes.
back to menu ↑
Nurture Life Health & Nutrition
MyPlate is a diet guide made by the U.S Department of Agriculture to identify the right portions of food groups for the different phases of life.
Without a suitable balance between food groups, your system will not work effectively and can be at risk for mineral and vitamin deficiencies which is hazardous for growing kids.
Nurture Life makes all of their pre-cooked kids' meals based on this guidelines, consistently providing a wide selection of protein, starches as well as produce.
The team of pediatric and chefs design meals which are portioned to meet the nutritional needs of kids. They prepare, cook as well as package the meals in their clean and advanced kitchen, getting rid of contagion with the most common allergens.
They make their kid and baby meals with organic, in-season, fresh as well as a locally sourced ingredient in order to obtain the best taste and flavors. The meals must be a fridge and consume before the expiration date since they are fresh, don't have artificial flavors or colors, trans fats as well as high-fructose corn syrup.
Nurture Life uses spices and herbs to complement their components. The chefs are inspired by food from all over the world that influences the making of their recipes. Different flavors help a lot in expanding kids taste and keep them concerned in and curious about their food. A lot of their meals for kids and babies feature herbs and spices like bay leaf, juniper, cilantro, dill, lemongrass, rosemary, thyme, chili powder, mint, parsley, cumin, curry powder, ginger, paprika, dry mustard, turmeric as well as zatar. Nurture Life tastes test their recipes and encourage parents to try these meals, so they know what their kids and children are enjoying.
Major allergens like tree nuts, peanuts, as well as shellfish are never utilized in their meals. Their kitchen does contain dairy, coconut, fish, soy, eggs, and wheat. While best methods are utilized when preparing all meals, unintentional contact with dairy and wheat may happen, even on foods that do not contain wheat or dairy. If your kid has a food allergy, Nurture Life recommends that you intimately evaluate meal descriptions and components to see if the food delivery service is ideal for your kids or not. The company lists full ingredients on their subscription website as well as meal labels.
back to menu ↑
Nurture Life Fitness and Activity
You must be exercising at least 30 minutes to one hour on a daily basis. This will help you keep healthy and free from various kinds of medical issues.
back to menu ↑
How Easy Is Nurture Life To Follow?
Nurture Life understands that preparing nutritious, wholesome kid and baby meals time. They wish to take one thing off their plate by means of offering food delivery service which their little ones will love. They source the best and quality ingredients, meats, fishes and produce from reliable farmers and purveyors. Nurture Life always prioritizes seasonal, organic items.
Ingredients are well-cleaned, prepped as well as cooked, and then packaged, chilled as well as sealed in a temperature controlled environment. The production cycle is built to guarantee that cooked meals are always separate, and which veggies and meat do not inadvertently come into contact with each other.
back to menu ↑
Nurture Life Plans & Pricing and Costs
As stated above, Nurture Life provides seven weekly subscription plans, intended for kids at diverse phases of development. The price you pay on a weekly basis depends on the age of your kid as well as the number of meals you order weekly. All meal plans come with a $6 shipping charge. In case you have more plans, you will be going to give out $12 as a shipping charge.
Stage One plan is made for kids aging 6 months and above. So, if you order eight meals a week, you will need to pay $35, while fourteen meals will cost you $60. Every meal takes account of four-ounce serving.
Stage Two Plan is made for kids aging 8 months and above. With this meal plan, eight meals a week will cost you $45 and fourteen meals a week will cost you $75. Like other meal plans, every meal weighs four ounces.
Stage Three Plan is ideal for kids aging 10 months and above. Weekly delivery of eight meals will cost you $55, while fourteen meals a week will cost you $89. In this plan, the meals come in eight-ounce portions.
Nurture Life's meal plans for toddlers aging 1 to 3 years old allows you to receive five meals a week for $47 or ten meals a week for only $89. Serving size is 1 and ¼ cup. If you decide on the meal plan intended for kids between four and eight years old, you get five meals a week for only $52 or ten meals a week for only $99. 1 and ¾ cups is the serving size. For kids between the age of nine and thirteen, five meals a week cost $57 and ten meals a week will cost you $109, with a serving size of 2 ½ cups.
If you're ordering for kids aging fourteen years old and above, you give out $62 for five meals a week or $119 for ten meals a week with a serving size of 3 and ½ cups.
back to menu ↑
Nurture Life Delivery Areas
At present, the meal delivery service company offers meal kits which are available in thirty-eight states, mainly in the East and Midwest Coast. Please check whether the food delivery company delivers to your residence by means of entering your zip code on their website. While Nurture Life doe has a limited geographical coverage, it's worth noting which this company is actively working on adding more areas to its delivery map.
back to menu ↑
Nurture Life Help & Support and Customer Service
For more information about this food delivery company, please feel free to visit the company FAQ page, or in case your question is not available, please call the company through email or customer hotline number.
back to menu ↑
Nurture Life Pros and cons
---
PROS:
Meals for kid aging six months and fourteen years old
Vegetarian, gluten-free, vegan, soy-free, egg-free as well as dairy-free options
Made by professionals pediatric and culinary experts
Natural and organic components
Flexible subscriptions
Moderate prices
CONS:
Don't delivery nationwide
Delivery is not free
---
back to menu ↑
Bottom Line
Nurture Life is a superb patient for busy parents who want to give their kids the best meals needed for proper development. The meals offered are professionally made, the ingredients are well sourced and the meals offered are plentiful. So, there is one that will meet the needs of your kids. They offer meal delivery service to various US states and continue growing.
Nurture Life Review
Nurture Life is a reliable meal delivery service provider for babies, toddlers, kids as well as teens. The meal plans they provide are prepared by experts in a clean and state of the art kitchen. The meals are also made to meet the nutritional needs of kids and little ones.
PROS
All-natural ingredients, antibiotic-free, vegetarian-fed meat and using no growth-enhancing drugs, animal welfare rated.
Sustainably farmed with ASC, BAP as well as MSC certification
Locally grown, organic and always in-season
Ancient, heirloom as well as whole grains growth with soil-enriching farming methods...
Add your review
|
Read reviews and comments
Nurture Life Discounts, Coupons and Promo Codes
We found 2 verified Nurture Life Discounts, Coupons and Promo Codes for Dec. 2023. If some of the Nurture Life coupon codes have expired, please contact us, thank you for your help.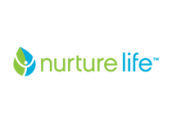 25% OffGet 25% off any order with promo code!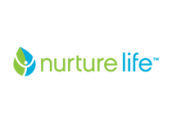 $30 OffGet $30 off any order for New Customers with coupon code!
Compare Nurture Life with other Companies' Services, Plans and Products
If you like Nurture Life but aren't sure whether it's the best ideal choice for you, and may want to compare Nurture Life with other Companies' Plans, Products, and Services that similar to Nurture Life, or Nurture Life Alternatives and Nurture Life Competitors, Which companies' services like Nurture Life. You can take a look at our professional comparisons below to discover if one of them is more suitable for you.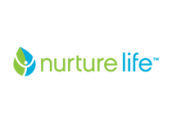 Updated : 12.10.2023.