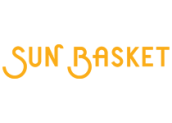 ---
Sun Basket Overview
Chef Justine Kelly and her co-founder started Sun Basket back in 2014. Today, it is one of the meal kit services focusing on using sustainable and organically sourced ingredients. Since its start, it quickly grew as one of the best meal services providing healthy foods. Sun Basket delivers organic ingredients right to customers' doorsteps.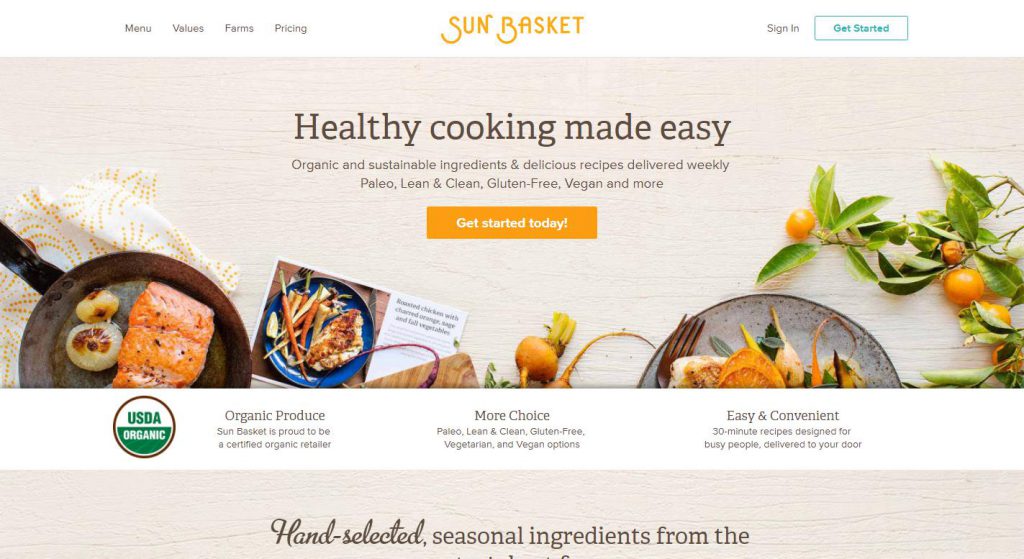 Each ingredient is ready and pre-measured so you can make delicious meals quickly and without worry. As a certified organic handler, Sun Basket is a great solution for customers who want to be sure the quality of their foods. By subscribing to Sun Basket, you can have these recipes and ingredients delivered right to you.
The company lets you choose from wide variety of meal options ideal to different dietary needs. They have gluten-free, vegetarian, Paleo diets and more. As for their packaging, it's completely sustainable, eco-friendly and compostable. Chef Justine Kelly develops every recipe you receive together with the box of ingredients.
Keep reading our honest Sun Basket review to learn more.
back to menu ↑
Sun Basket Ideal For
Customers who don't have time to shop and prepare for meals
Customers looking for healthy meal alternatives
Customers who want to learn to cook
Customers who want to try new recipes
back to menu ↑
How Sun Basket Works?
Each week, you can choose from 18 new recipes. From these new recipes, you can choose 2-4 recipes along with ingredients needed for the recipes. You can choose recipes and ingredients for 2-4 people. You can handpick the recipes and decide when to receive the delivery. You can choose to have them on Monday, Tuesday or Wednesday, from 8 am to 9 pm.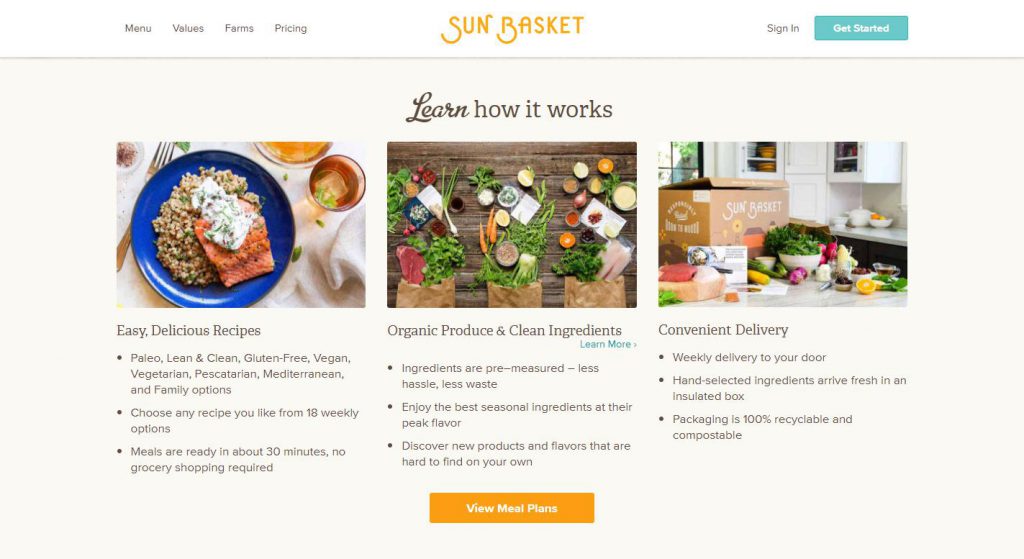 Sun Basket has a top chef and in-house nutritionist under their wing who creates and approves every recipe. Their recipes usually take about 30 minutes to prepare and cook so it greatly saves time when shopping and planning meals. In addition to recipe cards, Sun Basket also offers online tutorials. Meals from Sun Basket have the correct amount of calories.
As for the ingredients, they are definitely the best that the country can offer. You can also send sun Basket meal plans as a gift where they can get free meals and even a $25 if they join. You can choose to send your friend with meals for 1, 2 or weeks then add a personal note. They can select the recipes and delivery dates they want. Cancelling or skipping deliveries are also possible.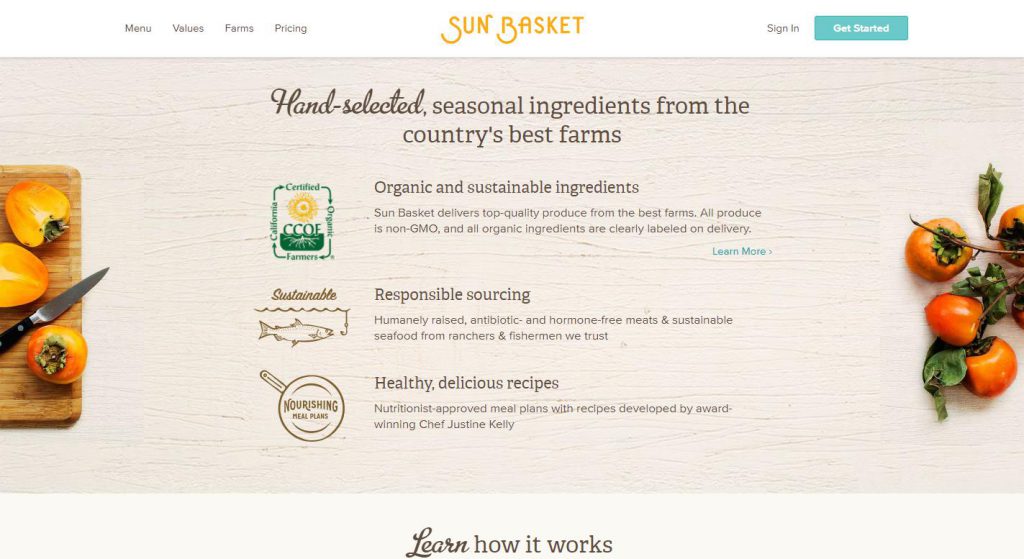 back to menu ↑
What Makes Sun Basket Different?
The difference that Sun Basket offers starts with Chef Justine Kelly, the one who started it all. As an award-winning chef and mom, she knew what kinds of meals would get someone's attention. With that, she started Sun Basket to offer families all over the country with dishes combining nutrition and flavor. She makes it happen with her company working to provide the best meals using the finest ingredients.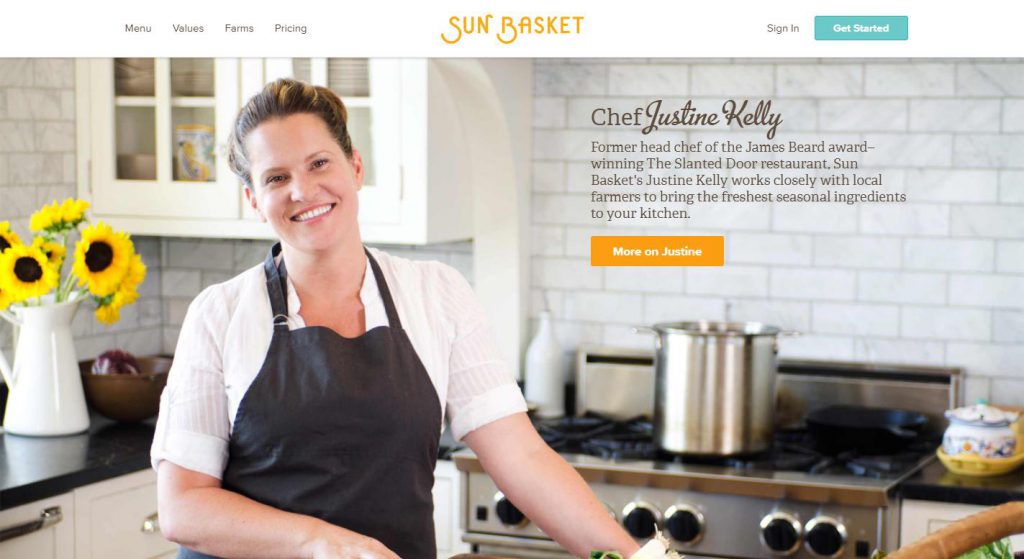 To get the best ingredients, they work together with fishermen, ranchers and farm owners from all over the country. These people provide the highest quality food, not to mention treats the earth with utmost care and respect. The ingredients that Sun Basket uses are all organic. The company sourced them following the best practices.
They are free from hormones, antibiotics, preservatives or any other substances that could harm the health. The flavorful taste of all of Sun Basket's meals is thanks to the carefully sourced ingredients and the company skillful culinary team. Besides recipes and ingredients, Sun Basket also offers spice blends and signature sauces for more flavorful meals.
SUN BASKET SUPPLIERS
Sun Basket ensures you know exactly where the ingredients they deliver come from. If you visit their website, there is plenty of information about their suppliers. There are also videos about the people who behind the ingredients on your table so you can get to know them. Some of the suppliers Sun Basket works with are Hodo Soy, the Oaktown Spice Shop, the Fishpeople Company and more.
FOOD STORAGE
Sun Basket has great refrigeration tips. They use insulated boxes to keep their ingredients fresh for up to 8 hours. At the same time, they also provide useful information on keeping your food fresh until you use it. They gave practical tips on how to keep your ingredients in the freezer so they remain fresh and tasty when you finally cook them.
HOW SUN BASKET GIVES BACK TO THE COMMUNITY
One of the best reasons that make Sun Basket a leading meal delivery service is that they truly care. They care enough to give back to the community through various programs. They cooperate with various organizations and take a role in making the planet a better place. If you visit their website, you will find much useful information on how they give back to the community.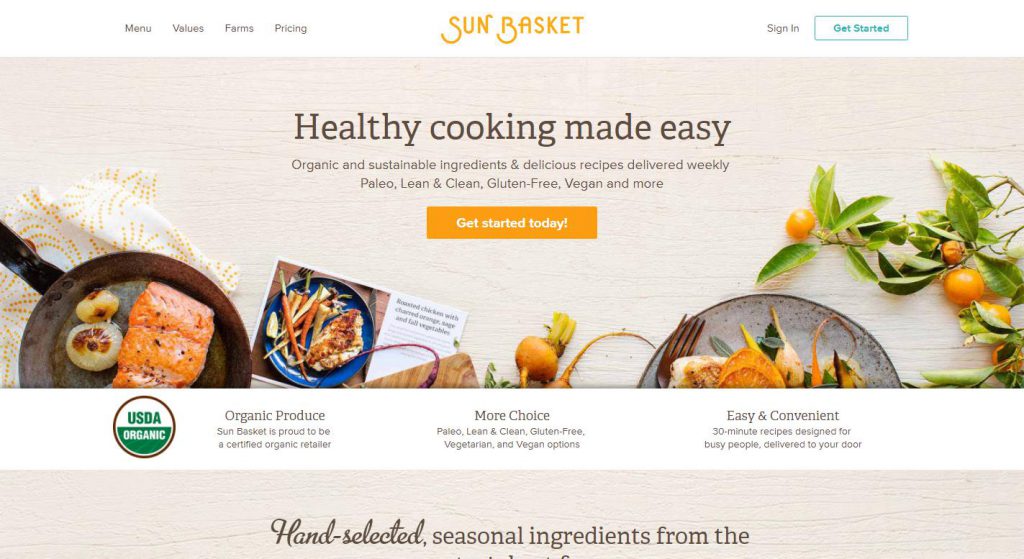 back to menu ↑
Sun Basket Meals & Menus and Recipes
Every week, there are new recipes and meals waiting in Sun Basket. These meals are always delicious and nutritious. By subscribing to Sun Basket, you can choose from Classic or Family Menu.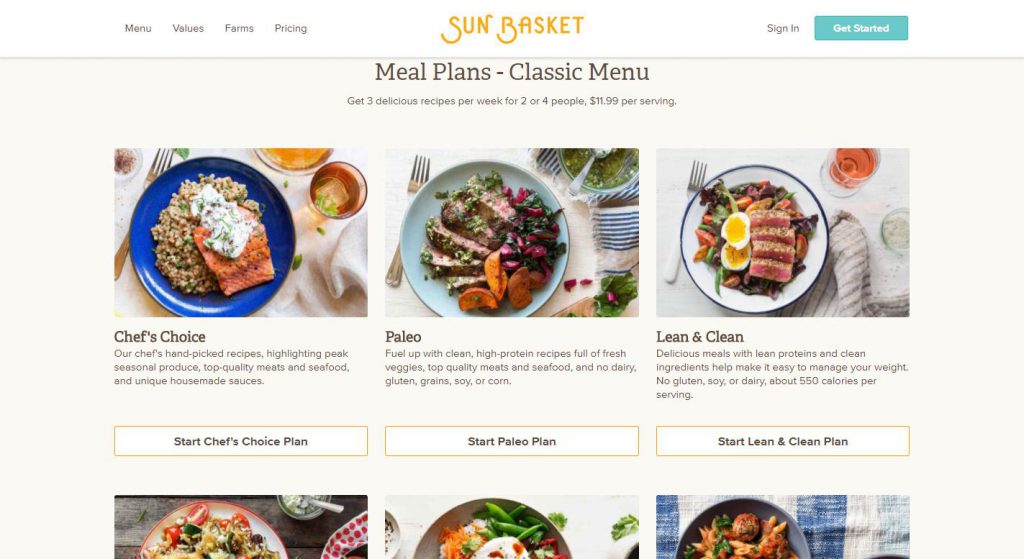 CLASSIC MENU
In the classic menu, you can choose meals for 2-4 people. There are 18 meal options each week, from which you can choose 3 recipes for your weekly meal plan. There are 8 meal plans in the classic menu: Chef's Choice, Vegetarian, Paleo, Gluten-Free, Pescatarian, Vegan, Lean & Clean, and the Mediterranean. When ordering meal plans and ingredients from Sun Basket, nothing limits you. In this menu, you get access to all kinds of recipes no matter what plan you select.
FAMILY MENU
In the family menu, there are 6 recipes available for 4 people each week. For the weekly delivery, you can decide on receiving 2, 3, or 4 recipes. There are two plans under this menu: the Chef's Choice and Vegetarian. Both these plans are allergy-friendly. Ingredients can be gluten-free, soy-free or dairy-free. You can check out the recipe section to find out more recipes you might want to try.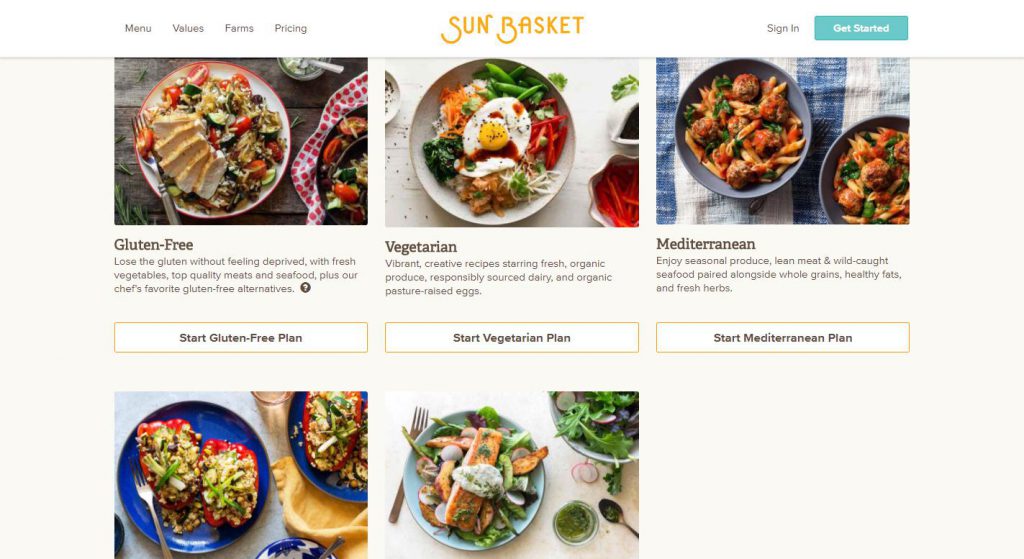 back to menu ↑
Sun Basket Health & Nutrition
Ingredients used in Sun Basket meals are farm fresh, organic produce and chef-designed. These allow them to accommodate any special dietary needs. As a certified organic retailer, Sun Basket aims to provide you with nothing but the best ingredients. Whenever possible, they use only organic ingredients without any artificial hormones or antibiotics. This way, Sun Basket can ensure that every meal you make out of their recipes and ingredients is healthy and nutritious.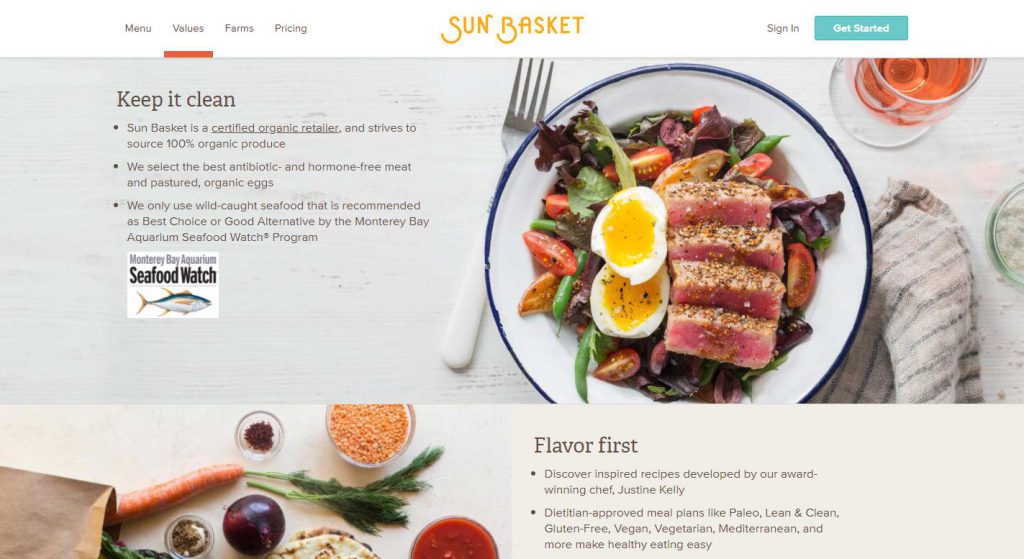 back to menu ↑
Sun Basket Fitness and Activity
When it comes to activities, Sun Basket recommends that you move at least 30-60 minutes for maximum health benefit. When and what activities to do for the physical are all up to you. It would also be best to split the activities to make it less strenuous.
back to menu ↑
How Easy Is Sun Basket To Follow?
Sun Basket delivers meals to both home and office addresses. They recommend ordering for foods delivered on a day that you can open it and refrigerate since the ingredients are perishable. Ingredients come in neatly packed inside a single paper bag, except the meats. This one comes in a separate packaging put at the bottom with more ice packs.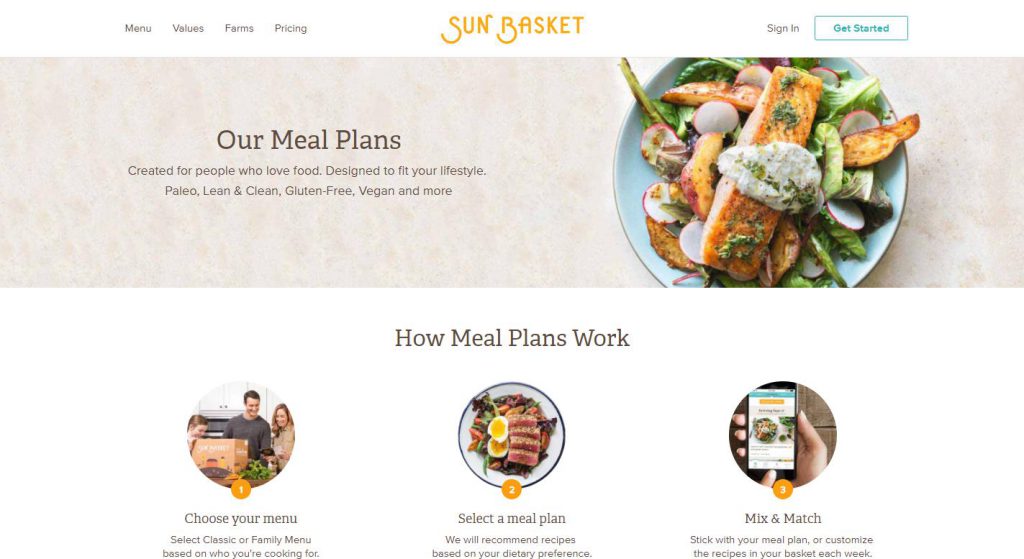 They have each ingredient labeled and portioned based on the recipe. Inside the package is a recipe card with a picture of how your meal should look like. There is also a description and all information you need to know. Usually, all Sun Basket meals take only 30 minutes to prepare and cook. Every ingredient used is organic so you have nothing to worry about health and nutrition.
back to menu ↑
Sun Basket Mobile App
Sun Basket app allows you to use plenty of features that make ordering, saving recipes and viewing order details easily. The app is available for both Android and iOS devices you can use no matter what device you have.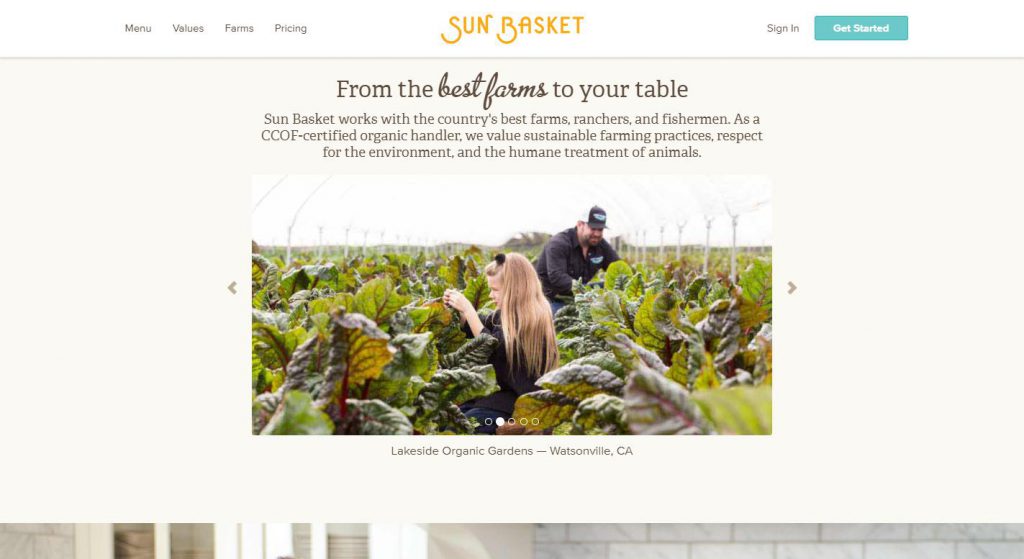 back to menu ↑
Sun Basket Plans & Pricing and Costs
For the Classic Menu, meals cost at $11.99/person. This means three meals for two people would cost $71.94 while those for four persons would cost $143.88. Then it should also include the delivery fee. For the Family Menu, the cost is $9.99 for every person so that meals $79.92 for 2 people and $159.84 for 4 people, then add the delivery fee. For the first week, shipping fee is free. After that, shipping fee is $6.99.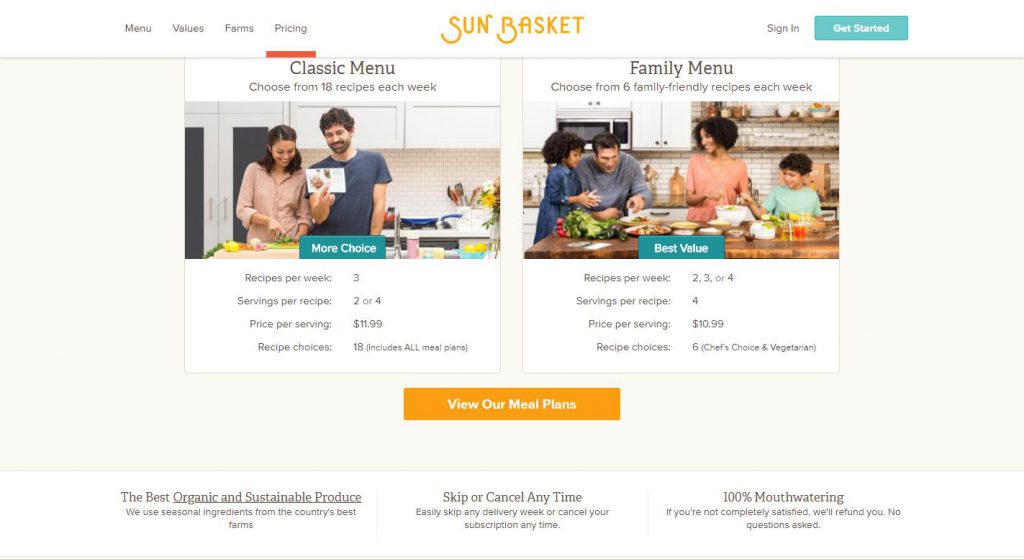 back to menu ↑
Sun Basket Delivery Areas
Sun Basket's delivery area includes all 47 states in mainland US, except Hawaii, Alaska, Montana and some parts of New Mexico. However, they are constantly adding new addresses to their delivery area.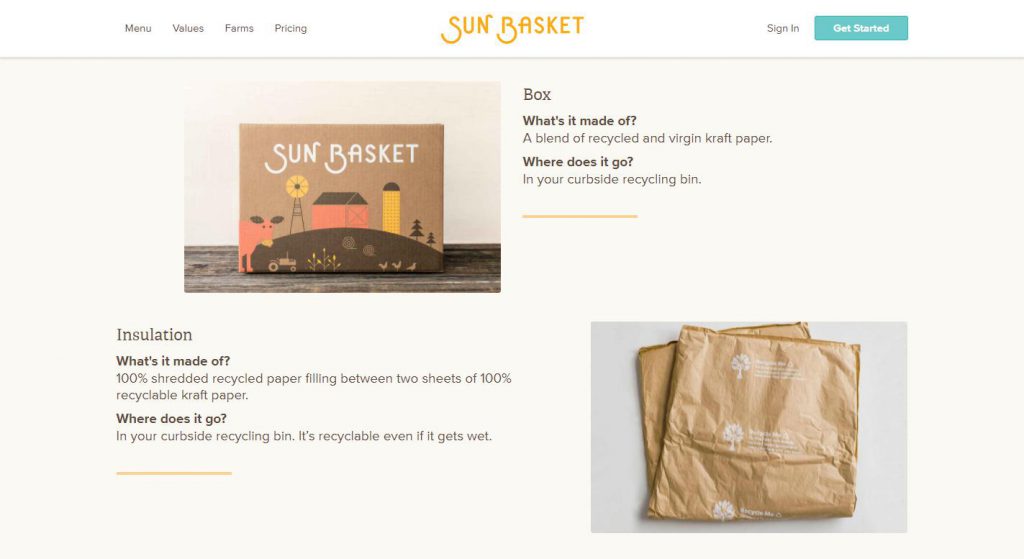 back to menu ↑
Sun Basket Help & Support and Customer Service
For additional help, you can visit their blog section, "The Sun Times". You can visit their online help center with its FAQ section. You may also contact them through an online contact form or call at number 855-204-7597. The center is available Monday-Friday, 5 am to 9 am, and Saturday-Sunday, 11 am to 7 pm (PT).
back to menu ↑
Sun Basket Pros and cons
---
PROS:
New nutritionist-approved chef-created recipes each week
High-quality organic ingredients
Flexible service
CONS:
No free shipping
Shipping fee is $6.99/order, first week delivery is always free
---
back to menu ↑
Bottom Line
Sun Basket is an impressive meal delivery service for being the only one with USDA-certification for organic and non-GMO ingredients. This way, you don't only benefit from convenience but nutritious food as well. With its high-quality ingredients and chef-inspired meals, it is not surprising it comes as one of the best-rated meal delivery services in the US.
Sun Basket Review
Sun Basket greatly takes care of not only their customers but also the environment. Their meal plans are good for your health and they don't forget to give back to the community. You will surely enjoy making quality meals out of their recipes.
PROS
Recipes by renowned Chef Justine Kelly
Non-GMO, organic, non-antibiotic and grass-fed meat
Sustainable sourcing of ingredients
Humane treatment of animals for food
Add your review
Sun Basket Discounts, Coupons and Promo Codes
We found 6 verified Sun Basket Discounts, Coupons and Promo Codes for Dec. 2023. If some of the Sun Basket coupon codes have expired, please contact us, thank you for your help.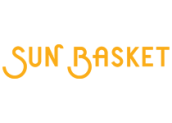 60% OffGet Summer Sale 60% Off with promo code!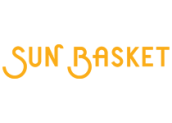 50% OffGet 50% off Family Meals with promo code!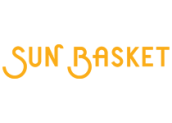 $60 OffGet $60 off - $40 off your 1st order and $20 off your 2nd with coupon code!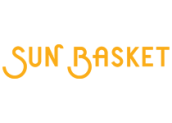 $45 OffGet $45 off First 2 Orders + Free Shipping with coupon code!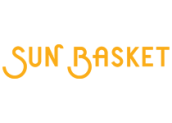 $35 OffGet $35 off Vegan/Lean & Clean Meals with coupon code!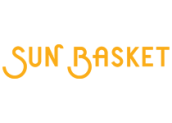 Free ShippingGet Free Shipping on First Delivery with coupon code!
Compare Sun Basket with other Companies' Services, Plans and Products
If you like Sun Basket but aren't sure whether it's the best ideal choice for you, and may want to compare Sun Basket with other Companies' Plans, Products, and Services that similar to Sun Basket, or Sun Basket Alternatives and Sun Basket Competitors, Which companies' services like Sun Basket. You can take a look at our professional comparisons below to discover if one of them is more suitable for you.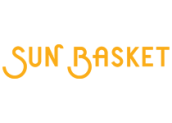 Updated : 12.01.2023.