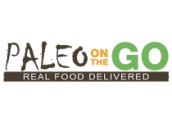 ---
Paleo On The Go Overview
Paleo On The Go is a valued autoimmune protocol and paleo meal delivery service, offering AIP chef ready-made frozen meals, shipping to all parts of the United States. This company was developed in 2012 by Dave Rohde. He suffered various medical issues due to lack of nutrition that is why he decided to create and offer a meal delivery service that can help people eat healthy food in spite of their busy schedule.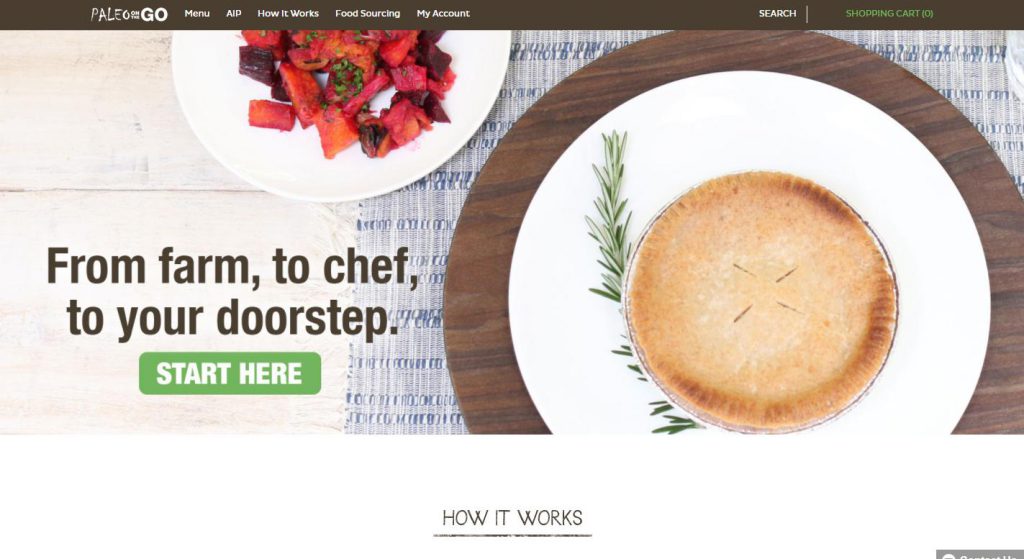 Paleo On The Go strives due to the team of skilled chefs and food experts headed by Ann Lotterhos. She is a graduate of Culinary Institute of America and work at many high-end restaurants in the United States. Ann is continuously upgrading their meals and also continues to find fresh healthy and delicious dishes that will meet your nutritional needs.
Offering meals with healthy and natural ingredients, Paleo on The Go offers healthy autoimmune protocol and paleo dishes right at your doorstep. They are very focused on their unique approach to meals, only sourcing the best ingredients grown by local farmers and sustainable cultivated free-range chickens, beef and poultries.
Paleo on The Go is not just a home of skilled paleo chef, but they also receive an official Paleo certificate. They are respected in fact this company is featured in The Paleo Approach book and Paleo Magazine.
Keep reading our honest Paleo On The Go review to learn more.
back to menu ↑
Paleo On The Go Ideal For
On the go individual no time to shop and cook foods
Those searching for the best alternative to frozen foods
Those who want to lose weight through following a specific diet plan
back to menu ↑
How Paleo On The Go Works?
Paleo On The Go has user-friendly website. The process of ordering is quite simple, just choose the meal you want, place your order, complete the billing steps and that's it you just have to wait for the meals you ordered at your doorstep.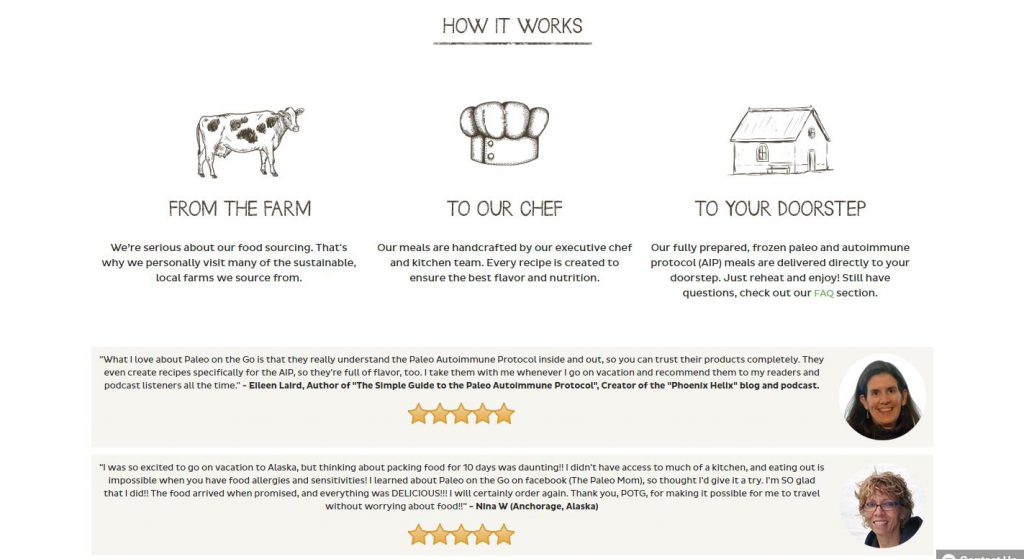 Aside from fast ordering process, they also put lots of efforts into explaining the procedure behind the dishes you order. They clearly indicate where they source the ingredients, including the farms and the producers. With the use of wholesome ingredients from organic and sustainable farmers, rest easy that you are only getting a meal rich in nutrients.
All the meals offered are packaged, stored as well as delivered frozen. If you receive your items, they can be put in the fridge for many months. When thawed, they could be stored in the fridge for five days or more.
They also provide blog which covers amazing recipes and techniques in cooking paleo meals. They also cover stories in relation to Paleo lifestyle, community events as well as useful tricks coming from Primal Movement.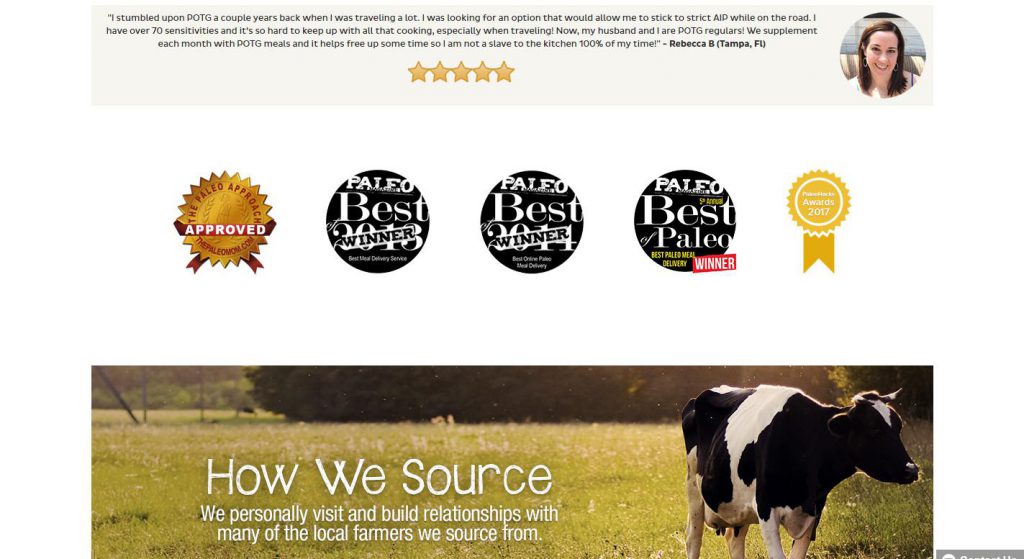 back to menu ↑
What Makes Paleo On The Go Different?
Paleo To Go stands out from the rest when it comes to customer service. They ensure that the meals they offer are prepared with free-range or pasture raised meat. Every ingredient is handpicked for maximum quality. They go straight to the farm. Paleo On The Go intends for promoting health and sustainability farming practice.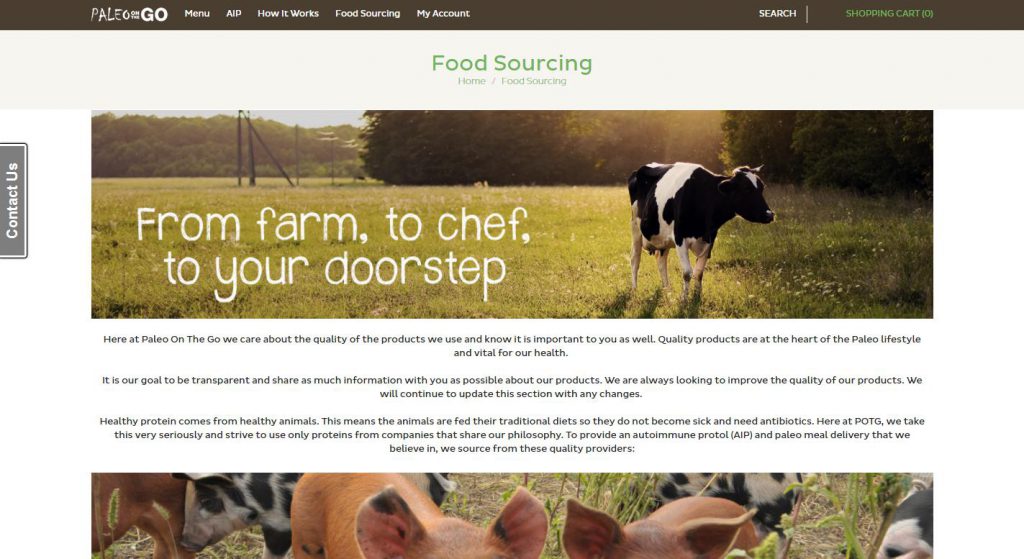 They follow a paleo diet concept that is why they choose their sweeteners, fats, and other ingredients very carefully to meet the needs and requirements of the Paleo diet. They don't use any refined soy, vegetable and canola oils, traditional produce, beef stock/boxed chicken as well as sugar of any type. Paleo On The Go utilizes their own made coconut oil and animal fats, 48 hours cooked bone broth as well as real maple syrup for sweeteners. With regards to vegetables and fruit, Paleo On The Go are extremely strict on choosing only the best and freshest ingredients. They make sure they are organic to avoid the risk of taking herbicides and other dangerous chemicals.
back to menu ↑
Paleo On The Go Meals & Menus and Recipes
Paleo On The Go has an array of special meal choices available for a lot of specific nutritional or medical need.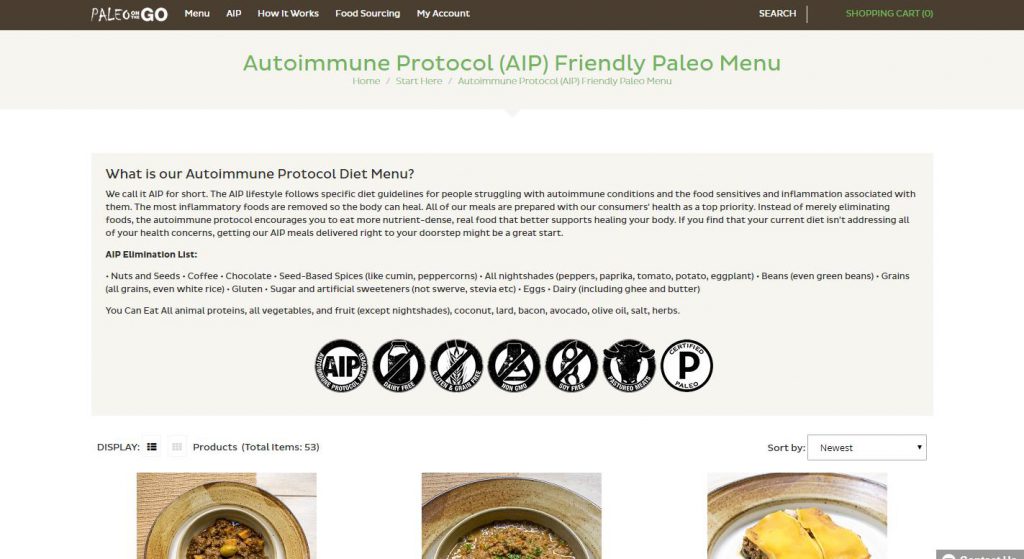 AIP DIET
You can choose any of the current plans or opt for meals good for one person. Main meals in the menu group are extremely interesting and rare to find like the AIP or autoimmune protocol. This kind of diet follows precise guidelines for those struggling with conditions in their autoimmune system and the inflammation and food sensitivities related with them.
SUGAR DETOX PROGRAM
This meal program helps people to reduce or get rid of their sugar consumption. All meals under this plan are compliant with the most efficient and strictest sugar detox plans.
STRICT 30 PROGRAM
This meal program not just intended to cut the consumption of sugar, but a total body transformation. By totally getting rid of food types which are damaging to your health for 30 days, you're capable of completely resetting your diet.
If you are not into a diet and simply looking for a delicious dish, you can pick from an extensive selection of food for one person from the list of the menu. Choose personal chef-style entrees, Paleo breakfast, stews and soup, vegetable dishes, desserts and sauces. All you have to do is to choose what you want and Paleo On The Go will do the rest.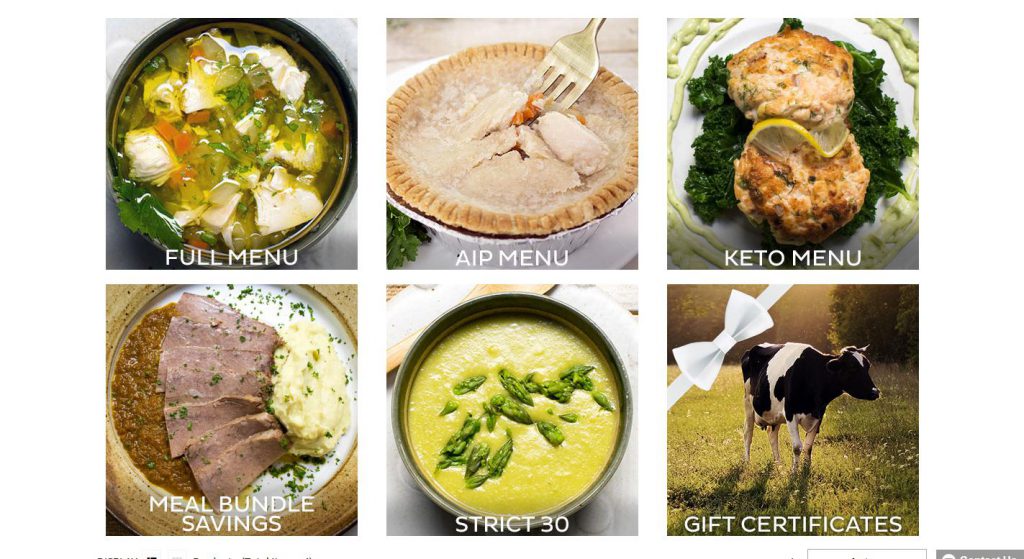 back to menu ↑
Paleo On The Go Health & Nutrition
Paleo On The Go only provides the best and nutritious meal; this is due to their hard work in carefully choosing the best meat, produce, seafood, poultry as well as cooking oils on hand. While not everything is organic or 100% GMO, they do ensure that items on their list are natural and only work with reliable and honest sustainable farms. They offer an array of meals that utilize antibiotic free, humanly treated and pastured animals, fresh fruit and vegetables, healthy fats and wild caught seafood. The meals they offer don't have soy, legumes, grains and dairy.
These meals were prepared in a clean kitchen by highly certified chefs which follow safety and health regulations. This company has their authorized Food Production Permit Issued by the Florida Department of Agriculture.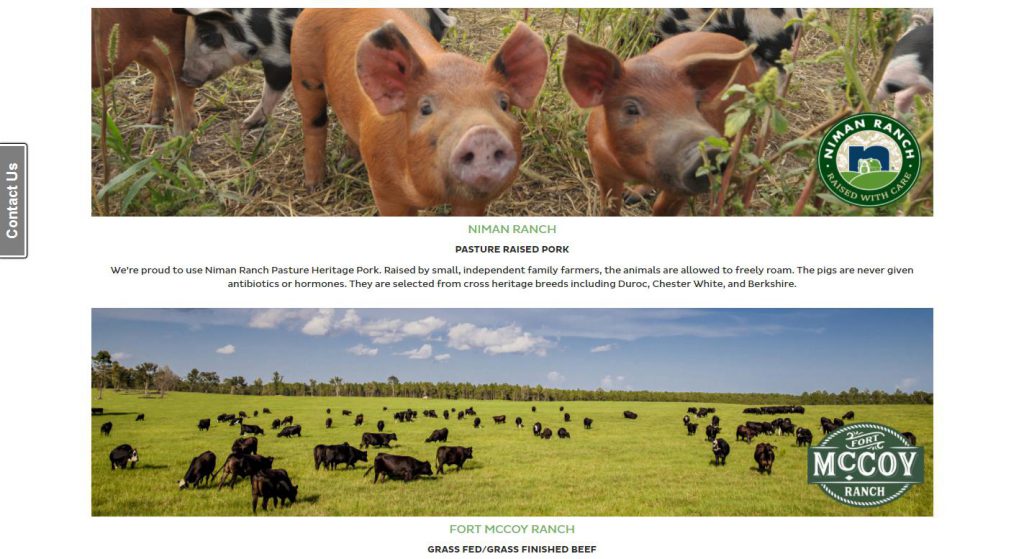 back to menu ↑
Paleo On The Go Fitness and Activity
You must do exercise at least half an hour a day in order to become healthy and fit. It is also essential to follow a right diet to get the best result.
back to menu ↑
How Easy Is Paleo On The Go To Follow?
Paleo To Go Meal offers meals that are easy to prepare. They are premade and frozen for release. Unbox, unwrap the package and follow the reheating instruction which comes with each meal. You can also store the meals in your fridge for up to five days.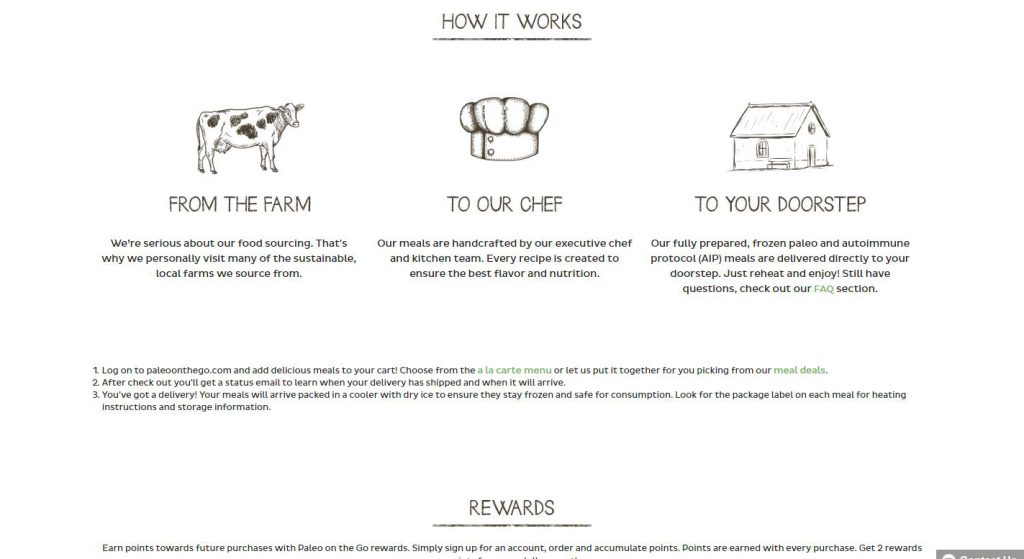 back to menu ↑
Paleo On The Go Plans & Pricing and Costs
Paleo On The Go meal plans and pricing are not that high in spite of having only the best and finest ingredients used, meats come from friendly farms.
The cost for individual meals on their menu varies to some extent, but a normal dinner piece typically costs from $10 up to 25, it depends on the ingredients used and the portion size as well. With regards to full meal plans, the Strict 30 meal that has 21 meals of 3 meals a day will cost you $395.47 a week, but this is offered with 10% discount. If you order meals amounting to $333, the company offers free delivery.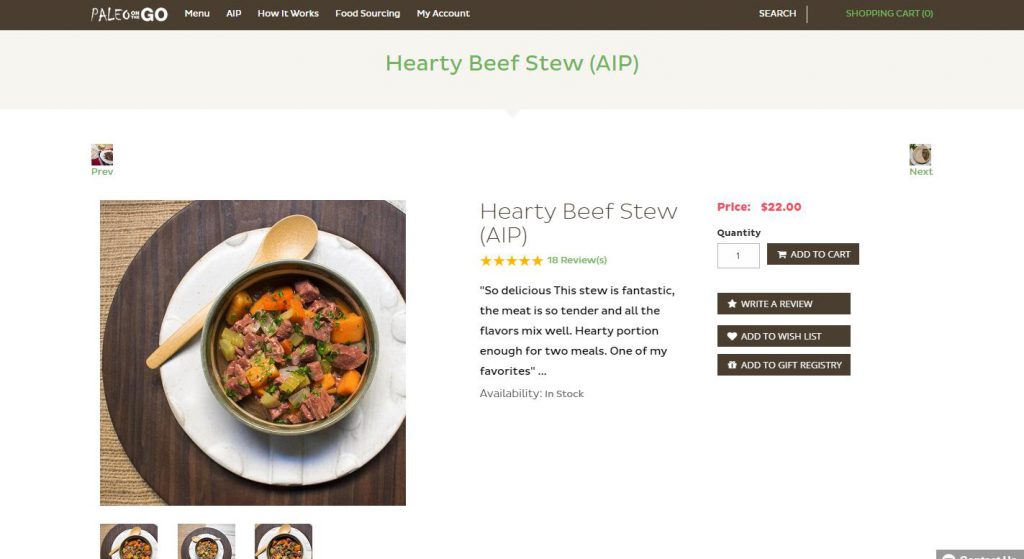 back to menu ↑
Paleo On The Go Delivery Areas
Paleo On The Go caters to customers anywhere they are in the US including Hawaii, Alaska, Hawaii, as well as Puerto Rico. You'll get your orders shipped the following t day when you order Monday to Thursday before 5pm. When you order on Friday and Saturday items will be delivered on Monday.
back to menu ↑
Paleo On The Go Help & Support and Customer Service
For more queries and concerns regarding their services, you can visit their website and fill out the query contact form or call customers hotline number at 855-447-2536.
back to menu ↑
Paleo On The Go Pros and cons
---
PROS:
Gluten-free and paleo certification
They offer meals that usually found in high-end restaurants
High quality meats and organic greens
CONS:
Lack of seasoning
They don't offer free delivery, but they offer huge discount
---
back to menu ↑
Bottom Line
If you are searching for dairy-free, gluten free, AIP and Paleo meals, Paleo On The Go is the best place to call. They offer easy to prepare, portable and delicious meals. The meals are prepared using high-quality and organic ingredients.
A lot of customers love and enjoy the meals from Paleo On The Go. Their popularity continues to grow this is because of the decent number of people supporting this company. According to them, the meals offered are really exceptional, nutritious and most of all very reasonable. A positive reputation and loyal following from health fanatics and health conscious individuals are living proof of the reliability and dependability of this company.
You can visit their website to get to know more about their services. On their website, you can also find the list of ingredients they are using, where they source it and the name of the producers as well. In general, this meal delivery service provider is certainly worth trying for.
Paleo On The Go Review
If you are searching for a high-quality paleo dishes and meal plans, call Paleo On The Go now. Made only using the best and wholesome ingredients, your orders will be right at your doorstep fast.
PROS
Pasture-raised meats from eco-friendly sustainable local farms
Organic, fresh produce in accordance to Dirty Dozen list
Certified dedicated gluten-free and paleo kitchen so the risk of contamination are avoided
Add your review
Paleo On The Go Discounts, Coupons and Promo Codes
We found 2 verified Paleo On The Go Discounts, Coupons and Promo Codes for Oct. 2023. If some of the Paleo On The Go coupon codes have expired, please contact us, thank you for your help.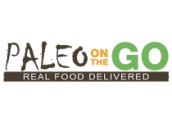 10% OffGet 10% off with promo code!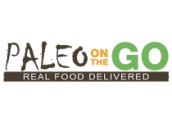 $15 OffGet $15 off with coupon code!
Compare Paleo On The Go with other Companies' Services, Plans and Products
If you like Paleo On The Go but aren't sure whether it's the best ideal choice for you, and may want to compare Paleo On The Go with other Companies' Plans, Products, and Services that similar to Paleo On The Go, or Paleo On The Go Alternatives and Paleo On The Go Competitors, Which companies' services like Paleo On The Go. You can take a look at our professional comparisons below to discover if one of them is more suitable for you.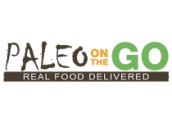 Updated : 10.02.2023.