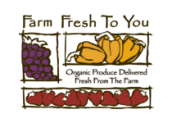 ---
Farm Fresh To You Overview
A family-run delivery service, Farm Fresh To You provides customers from around the world with fresh, organically grown fruits and vegetables. They bring the best organic produced farm products directly and conveniently to customers' doors. They do this by working together with local artisans and farms, which gives customers an opportunity for living a healthy lifestyle.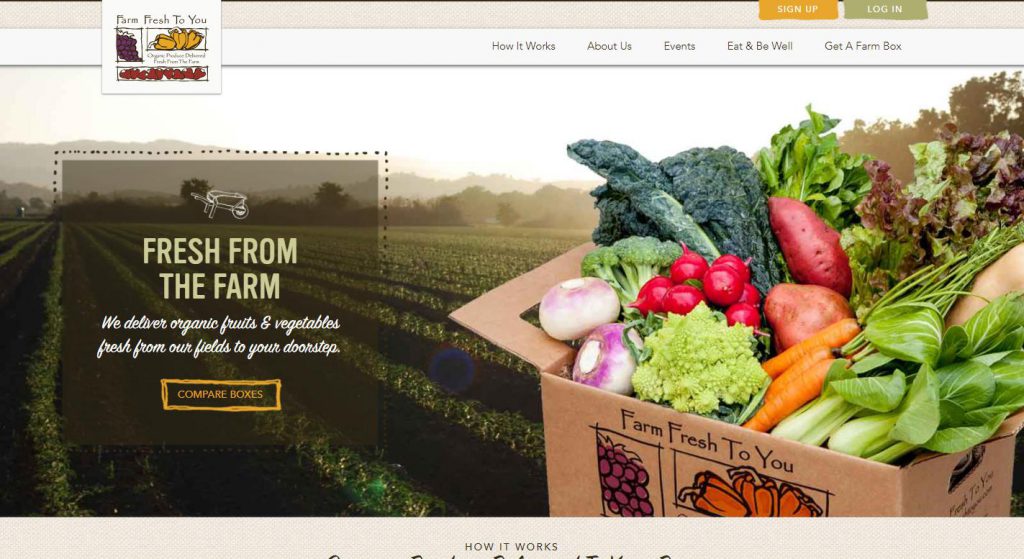 With Farm Fresh To You, customers who have a busy lifestyle are still able to enjoy the benefits of good food. Eating foods touched by nature is one of the luxuries that not a lot of people are able to enjoy. Leading such busy lives, these people don't have the time to ensure where exactly their food comes from. With that, Farm Fresh To You takes the lead in providing families with 100% organic fresh fruits and vegetables straight from local farms.
Keep reading our honest Farm Fresh To You review to learn more.
back to menu ↑
Farm Fresh To You Ideal For
Families who want 100% organic produce and farm products
People who don't have time to ensure the quality of the food products in their table
Families and individuals who don't have time to go shopping
back to menu ↑
How Farm Fresh To You Works?
Farm Fresh To You produce are 100% organic and handmade. They come from the company's own farm as well as local farms they work collaboratively. The company's own farm offers over 60 different organic produce. They are also partners with local artisans that offer more than 100 specialty farm products.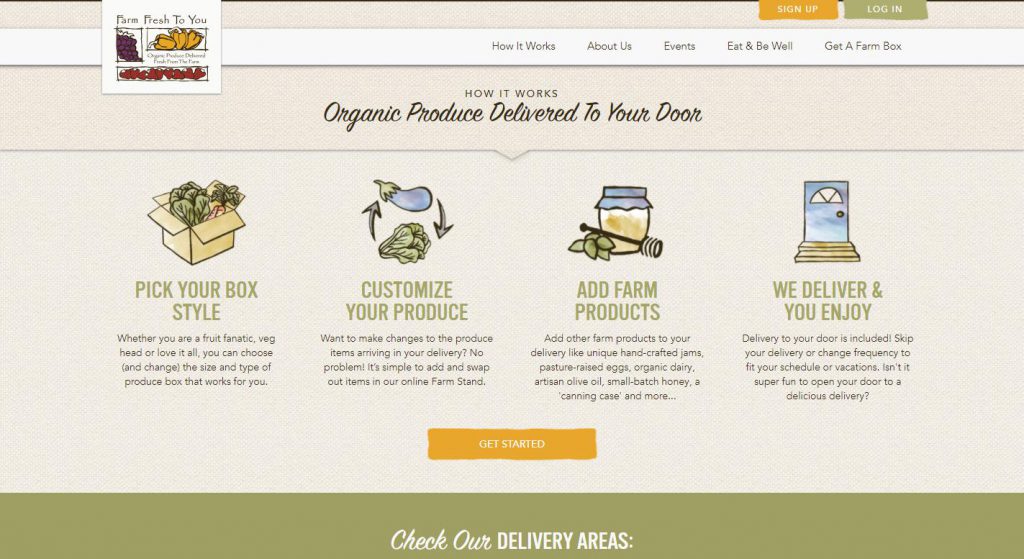 There are different Farm Fresh To You packages of products and produce. You can have them shipped to your home or office in six specially designed packages. Originally, the boxes only include fruits and vegetables. However, you can also customize them if you want so it includes handcrafted products too.
In addition to products delivered to your doorstep, Farm Fresh To You shares product news, produce tips, farm event information and more. They also share recipes that you can try the ingredients inside your box. The company boasts of their flexible subscription service, one designed for easy modification of orders anytime you want.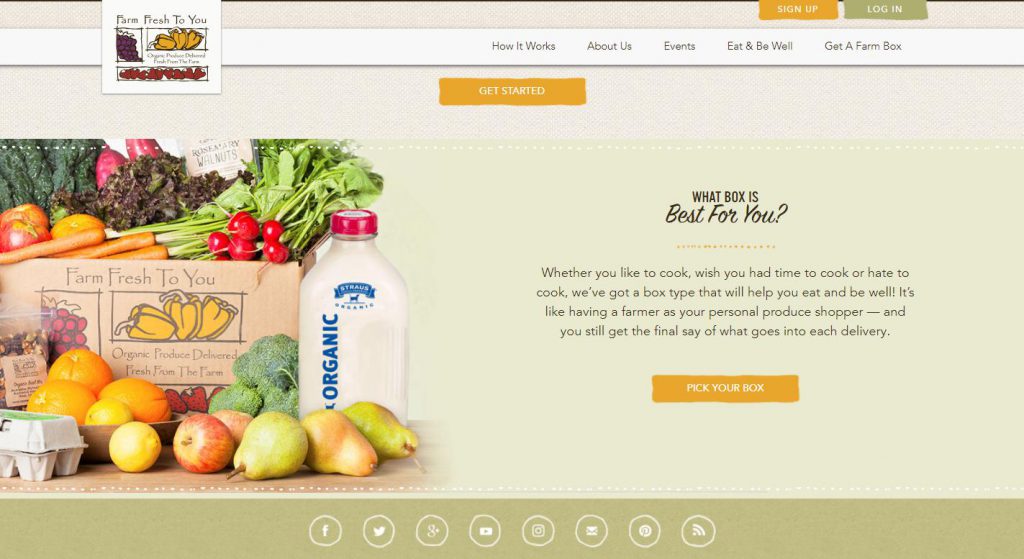 back to menu ↑
What Makes Farm Fresh To You Different?
The difference between Farm Fresh To You and other subscription delivery services is the feeling that comes with every delivery. Every box they sent to you comes with love and care as if it comes from your family or friend living in the countryside. With every ingredient organically produced, you know it is healthy and truly high quality.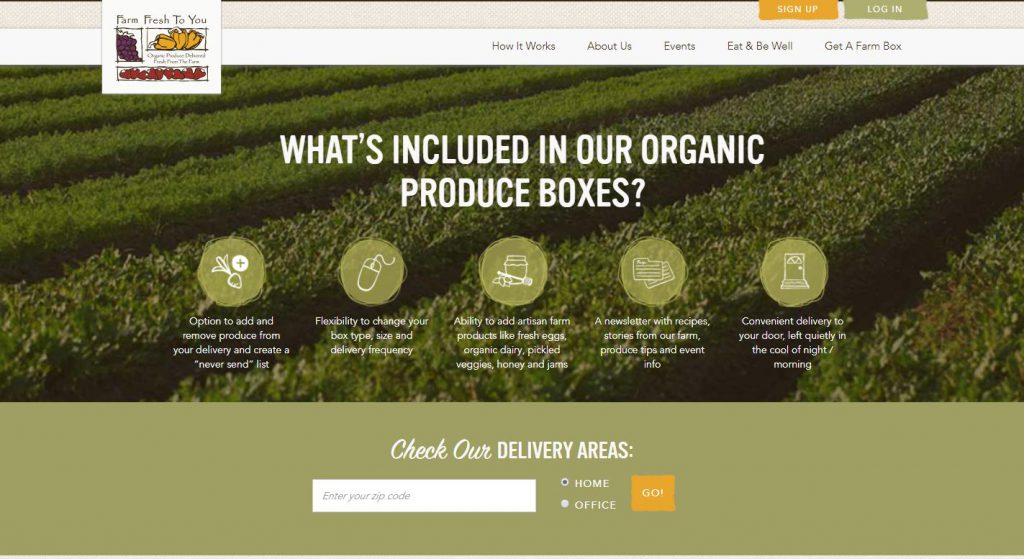 With every product crafted by the careful, precise hands of local artisans, you know there are feeling embedded in it. Farm Fresh To You sends to your home seasonal produce as well as handcrafted products, such as honey, milk, nuts, jams, dairy products, cured olives and more. Each one of these products is 100% organic, natural and safe.
Farm Fresh To You sends their products to not only homes but offices as well. For corporate offices, there are the standard six boxes to choose from as well as some additional packages. They can choose to have office snack packs sent to their offices with extra items like organic breakfasts, organic coffee, etc.
These items help boost the productivity in the office by creating a more pleasant mood.  The company aims more than just providing healthy choices for homes and offices. At the same time, Farm Fresh To You aims to raise awareness of how important healthy diet is. By shopping from them, customers can help raise funds for health programs in local schools.
back to menu ↑
Farm Fresh To You Meals & Menus and Recipes
As mentioned before, there are six standard boxes available. Designed for customers' varying preferences, you have different organic produce options sent directly to your doorstep. The standard boxes include the Fruit Only Box, Mixed Fruit and Veggie Box, No Cooking Box, Organic Snack Pack, Traditional CSA and Veggie Only Box.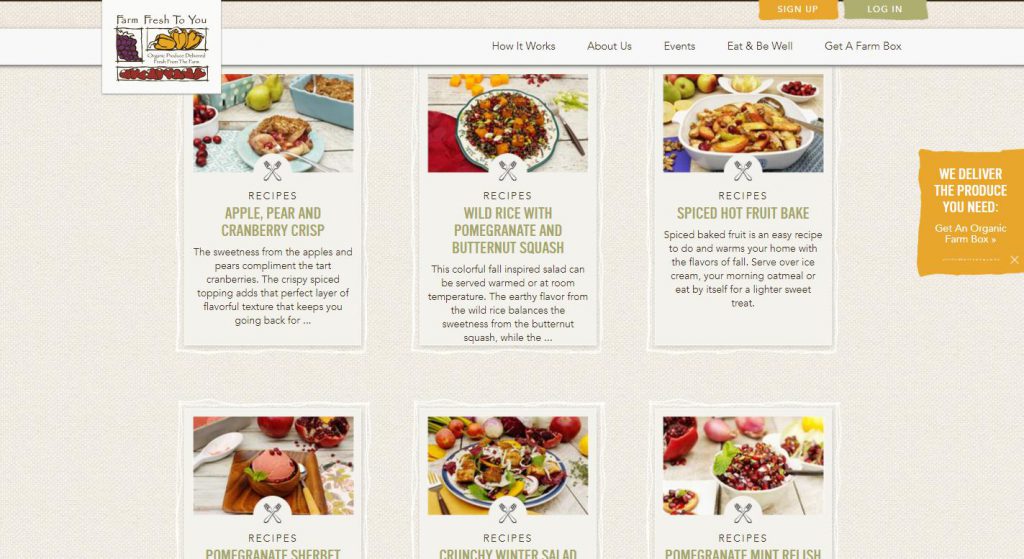 The Fruit Only Box has nothing but tasty, perfectly ripe organic fruit inside, the best produce of the season. Usually, a box of this contains 8- 10 delicious fruits of different varieties. The Mixed Fruit and Veggie Box provide 8-18 varieties of organic fruits and vegetables. For busy people with no time or energy to cook, the No Cooking Box is the ideal box.
Inside of this are mostly fruits with veggies, all of which are easy and quick to prepare. Usually, this box contains 8-12 different fruits and vegetables. Another box is the Organic Snack Pack, one that people always on the go will certainly enjoy. Inside the box are 7-10 different varieties of fresh, organic seasonal fruits.
One of the boxes will not only let you enjoy delicious, organic foods but also support the hard-working farmers behind them. The Traditional CSA (Community-Supported Agriculture) box includes seasonal fruits and veggies that farmers are most careful in growing. Inside the box are 9-12 varieties of veggies and fruits.
The last box, Veggie Only Box, contains a range of 10-12 organic, nutritious veggies. You can choose to get one of these standard boxes or customize with artisanal products. In addition, you can also choose to purchase them in bulk so you can save on cost. Together with the box are creative recipes for your Farm Fresh To You items.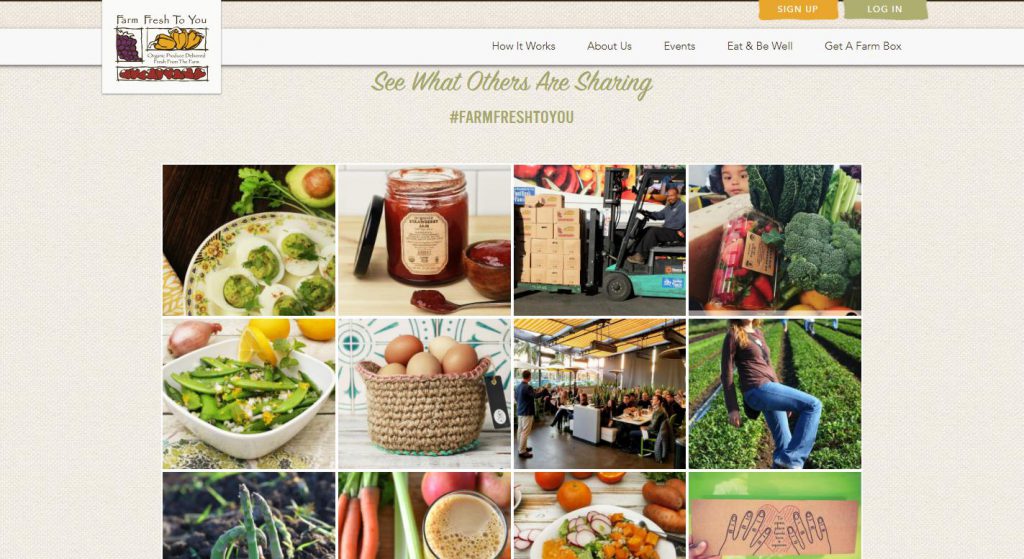 back to menu ↑
Farm Fresh To You Health & Nutrition
Farm Fresh To You's own farm is CCOF certified. They take pride in their 100% organic-certified farm that produces healthy, organic ingredients. Their farm has client code of Yo02 or Yolo 2, which they are proud of for being the second organic farm that CCOF certified in Yolo County. With that, you can rest assured their products are great for health and nutrition.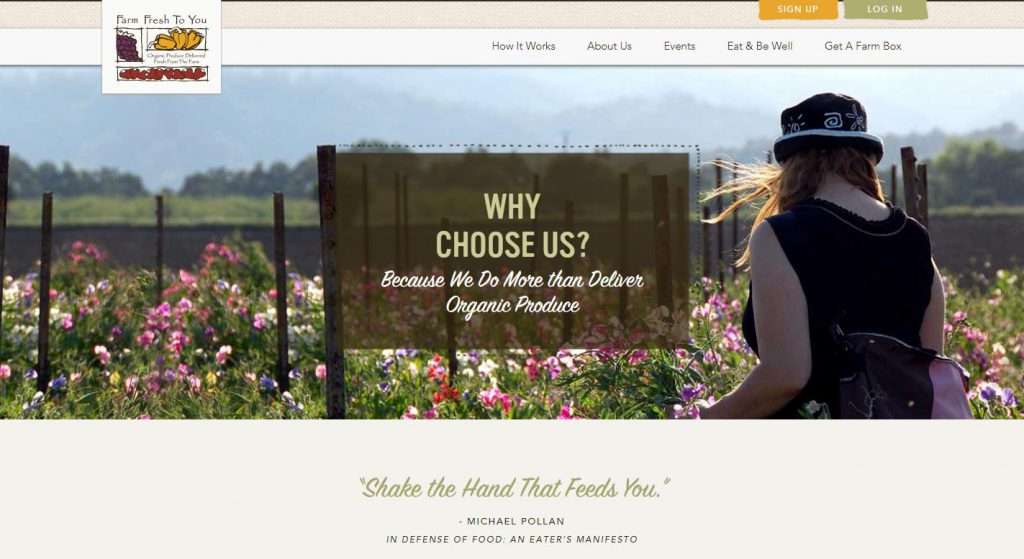 back to menu ↑
Farm Fresh To You Fitness and Activity
While not required, exercise is important in overall health. On that note, it is ideal to move at least 30-60 minutes every day. The kind of activities, as well as the time you want to do them, is up to you, but an activity of at least half an hour would have excellent benefits to your body. If an hour of activity were strenuous for you, a six 10-minute interval would help.
back to menu ↑
How Easy Is Farm Fresh To You To Follow?
Getting fresh, organic fruits and vegetables are convenient and easy with Farm Fresh To You. Whether to your home or work address, they can send fresh produce by simply determining if you are within their delivery area. If you are, find out what day of the week Farm Fresh To You visits your area to set up your order.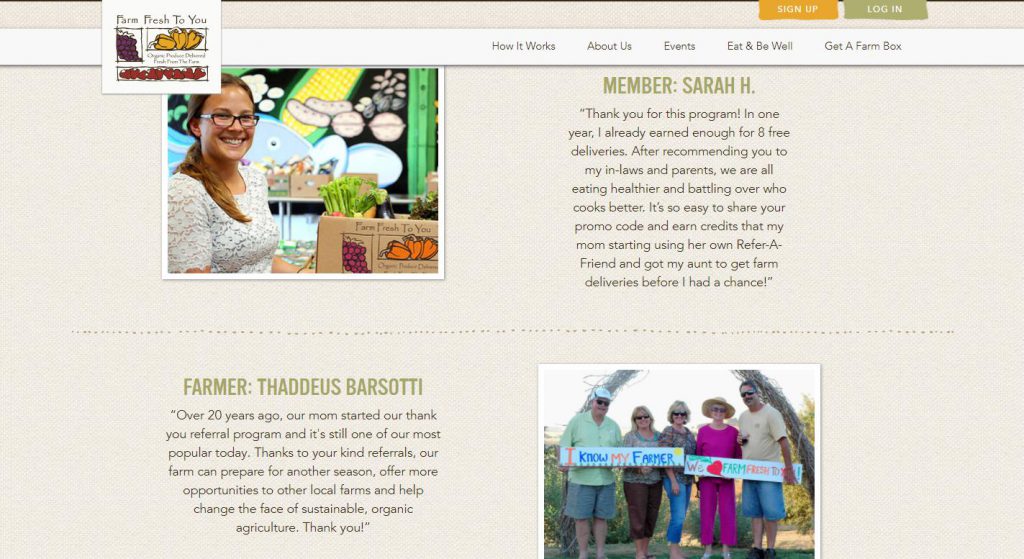 back to menu ↑
Farm Fresh To You Plans & Pricing and Costs
The delivery price depends on the type and size of the box you ordered. One thing to note about the size of the box is it does not contain bigger produce. Rather, the boxes are bigger because they have extra items and bigger quantities of some items. The boxes have fixed prices but if you choose to customize or increase their quantity, then the prices increase as well.
Small – $26
Regular – $33
More – $46
Small – $26
Regular – $33
More – $46
Monster – $58
Small – $26
Regular – $33
More – $46
Mini – $35
Small – $60
Medium – $85
Large – $110
Regular – $33
More – $46
Regular – $33
More – $46
The prices include the shipping fee so you don't have to worry about that or any other additional costs.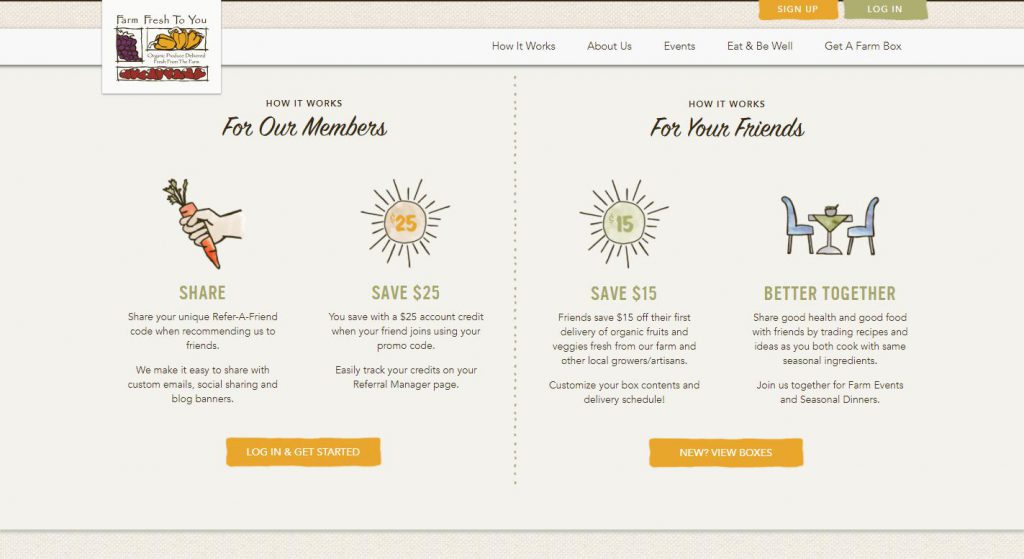 back to menu ↑
Farm Fresh To You Delivery Areas
Unfortunately, Farm Fresh To You only delivers in no other state than California. For customers who wonder if the company delivers to their area, they need only to enter their zip code in Farm Fresh To You's official website. With the great benefits that a delivered fresh product has to offer, it is the hope of many customers that the company increases their delivery area.
back to menu ↑
Farm Fresh To You Help & Support and Customer Service
Customers that need additional help can find them by checking out Farm Fresh To You's official website. They can go to the site's FAQ page where plenty of information is available for them. Similarly, they can contact the company by sending an email through the contact form in the Contact page or call at the number 1-800-796-6009.
back to menu ↑
Farm Fresh To You Pros and cons
---
PROS:
Organic and locally- sourced produce
100% original handcrafted farm products
Flexible subscription and great customization options
Home and office delivery programs
Shipping fee included in the product's prices
CONS:
Service available only in California
---
back to menu ↑
Bottom Line
Customers can take advantage of a delivery of the healthiest produce and products right onto their table thanks to Farm Fresh To You. At the company, you can find all kinds of organic produce and farm products. With so many options and flexible subscription, it makes the company one of the best delivery subscription services.
Farm Fresh To You Review
An amazing delivery service with a flexible subscription, great customization options, great prices and 100% organic produce and farm products, Farm Fresh To You is the best delivery service. It's unfortunate that it's only available in California, but it offers great benefits such as:
PROS
6 varying combinations of fresh, organic produce
Extensive customization options in terms of product content and quantity
Save money on bulk ordering, referrals, and free shipping
Add your review
|
Read reviews and comments
Farm Fresh To You Discounts, Coupons and Promo Codes
We found 2 verified Farm Fresh To You Discounts, Coupons and Promo Codes for Oct. 2023. If some of the Farm Fresh To You coupon codes have expired, please contact us, thank you for your help.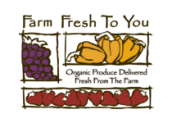 30% OffGet 30% off + Free Shipping with promo code!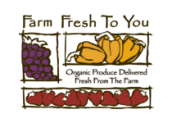 $15 OffGet $15 off First Order + Free Shipping with coupon code!
Compare Farm Fresh To You with other Companies' Services, Plans and Products
If you like Farm Fresh To You but aren't sure whether it's the best ideal choice for you, and may want to compare Farm Fresh To You with other Companies' Plans, Products, and Services that similar to Farm Fresh To You, or Farm Fresh To You Alternatives and Farm Fresh To You Competitors, Which companies' services like Farm Fresh To You. You can take a look at our professional comparisons below to discover if one of them is more suitable for you.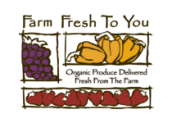 Updated : 10.01.2023.