---
Freshly Overview
Freshly delivers healthy, tasty cooked meals to their clients. Founded in 2012 by Michael Wystrach and Carter Comstock, its purpose is to make the cooking time easier for busy people. The company is for customers who don't have time to shop and cook but still want healthy meals. Freshly provides its clients with foods supporting healthy nutrition but for losing weight as well.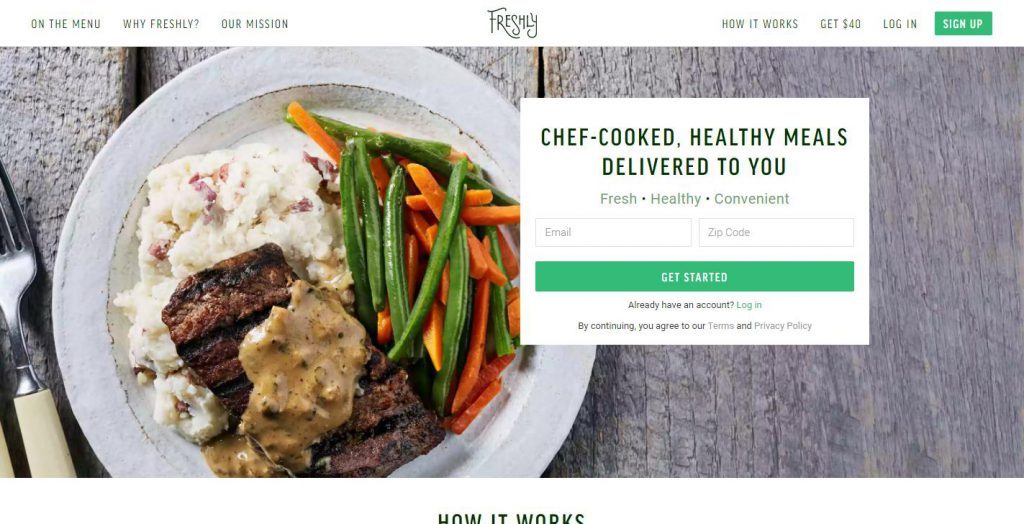 The company makes healthy food options with help from a team of professional chefs, nutritionists, and entrepreneurs.  Freshly is available in 27 US states, mostly in the Mid-West and West Coast regions. There are, however, some zip code restrictions. Their kitchen, where they prepare all meals are, is in Phoenix, Arizona.
Keep reading our honest Freshly review to learn more.
back to menu ↑
Freshly Ideal For
Customers who want to eat healthily and lose weight
Customers with special diet needs like allergy to peanut and gluten
Customers who want to try alternatives to unhealthy fast foods or grocery prepared meals
back to menu ↑
How Freshly Works?
Freshly provides a wide array of fresh, healthy meals with meat as the primary source of proteins. Even that so, there are a number of vegetarian-friendly meals in Freshly's line of products. As a subscription service, you need to create an account first before you can order. Visit their site and register. Before that, you should enter your email address and zip code to find if your area is eligible for deliveries.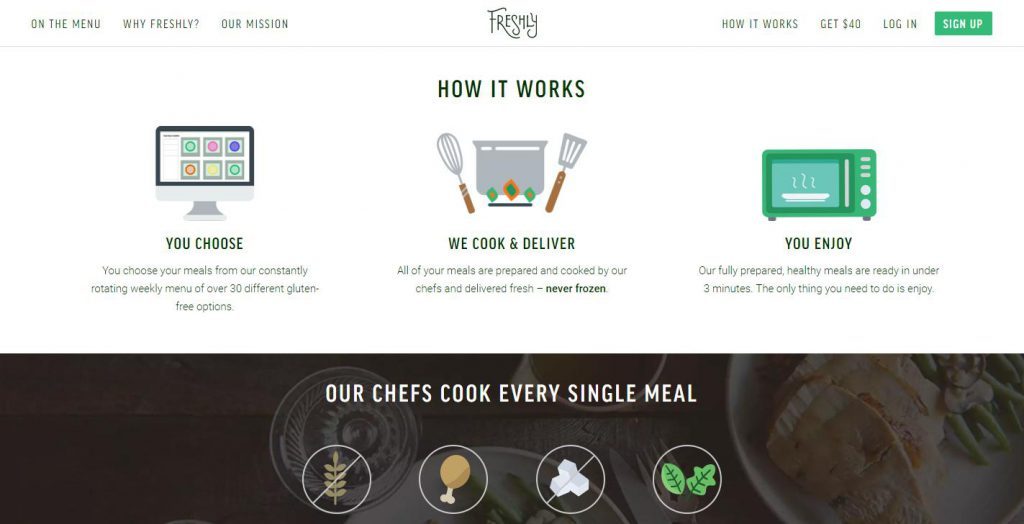 If you are, proceed to the next step. That is, you need to select a type of plan. Available plans include 4, 6, 9 or 12 meals each week. After which plan, you need to choose the day you want your meals delivered. After this, you can start choosing what meals you want. Once done, proceed to checkout to complete your order.
When you log into your account, you will be able to control certain information about your order. You can make changes, such as your weekly menu and delivery day. If you're changing things, you need to do so before the deadline. If the meals entered production stage, you won't be able to make any changes anymore.
As a subscription service, you will be receiving your ordered meals each week until your subscription is no longer active. Freshly's service is flexible, as it allows you to pause or cancel your subscription. To ensure your food choices are available, make sure to review your meal selections each week. This is because some food options phase out sometimes.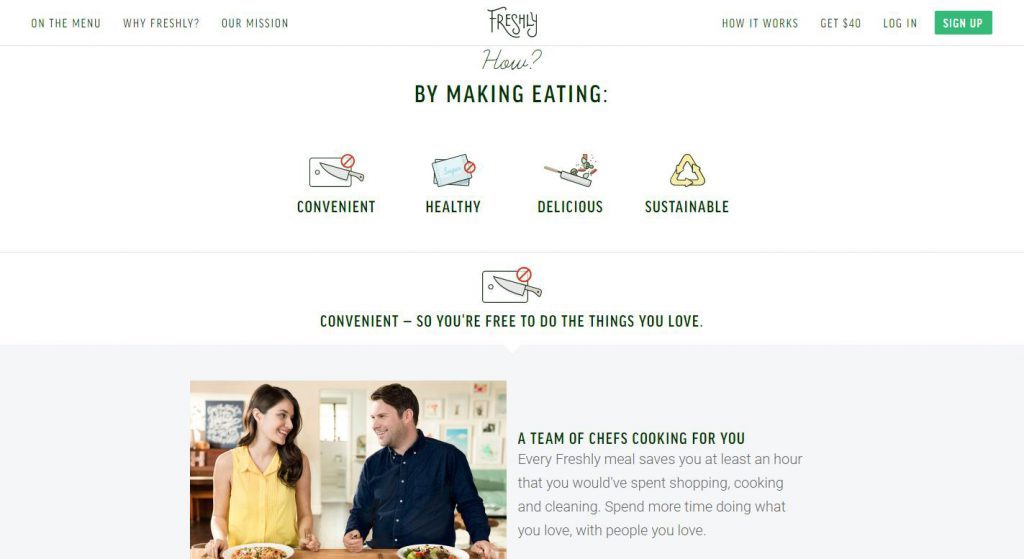 back to menu ↑
What Makes Freshly Different?
One of the things that make Freshly unique in that their focus is on providing healthy, protein-rich meals. It has its roots in Paleo diet, which stresses the importance of protein in feeling energized as well as weight loss. When subscribing to Freshly, you can benefit from healthy, ready-to-eat food choices made from the highest quality organic ingredients.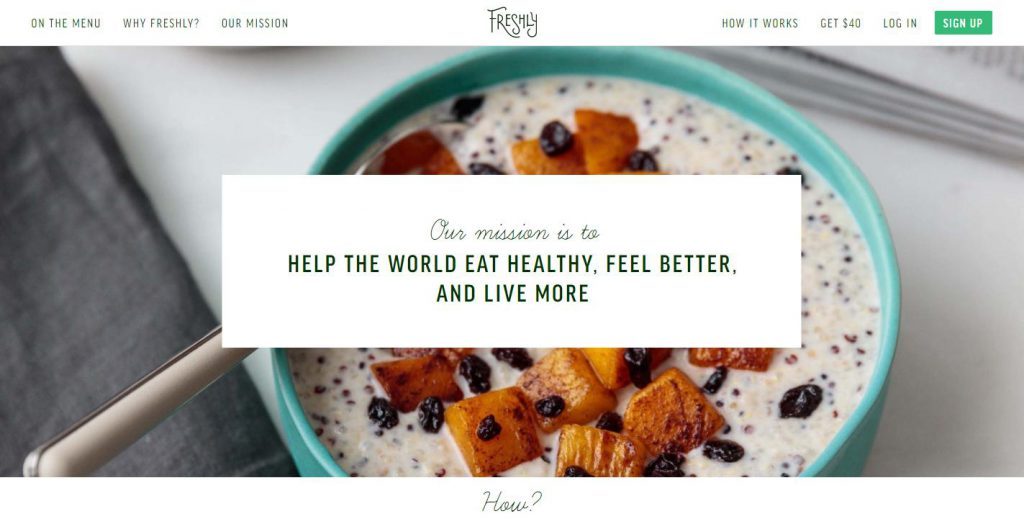 Orders from Freshly includes nutritional information so you know important details on vitamin, minerals, fat, protein, calories and carb contents of every meal. Freshly doesn't only offer healthy food choices, but one that caters to special dietary needs. They still have limited vegan options but they are working to expand it to vegetarian clients.
To accommodate the preferences of clients, they have filter options on their website. These filters help in selecting food items clients can't eat or don't like to eat. In addition, their packaging uses biodegradable and recyclable materials for sustainability. With incredibly flexible service and referral program, ordering your choice of healthy foods is easy and convenient at Freshly.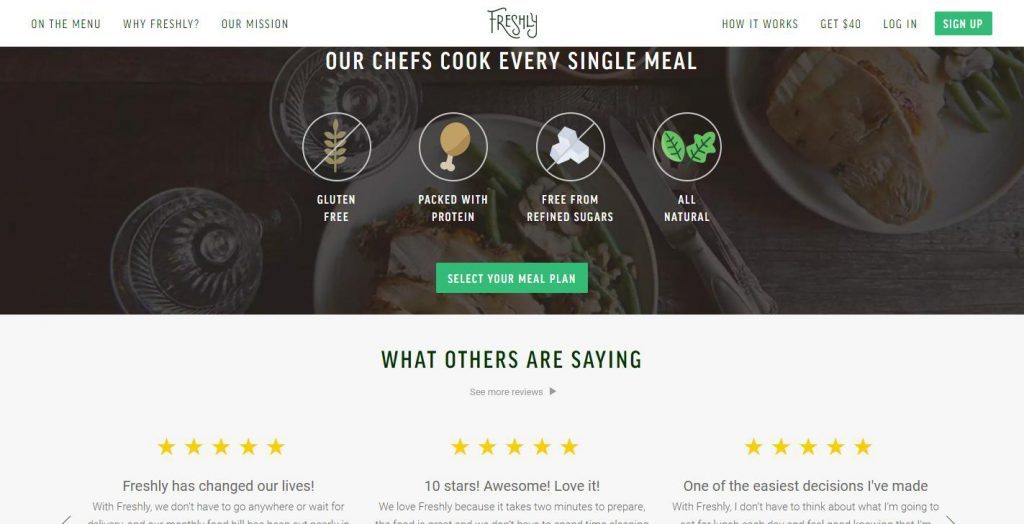 back to menu ↑
Freshly Meals & Menus and Recipes
Every week, you have a wide array of meals to choose from in Freshly including low carb, gluten-free, all natural, high-protein foods. They don't use any processed or artificial ingredients like refined sugar. There are extensive meal options available at Freshly so you can surely find something that matches your taste.
Meals at Freshly aren't offered as a specialized meal plan. However, the chefs who created them made sure they align with different special dietary needs and preferences. Meals are Paleo-inspired, which are also good for those following a gluten-free diet or is diabetic. They're high in protein and low in carbs that makes them great for those who want to lose weight or stay in shape.
To ensure the quality of each meal, Freshly includes a list of ingredients and nutritional facts on their website. Each week, you can find a wide array of entrees and breakfasts on their menu. Their menus include well-balanced meals rich in flavors. From breakfast meals such as omelets and frittatas to seafood and meat dishes, Freshly has them all.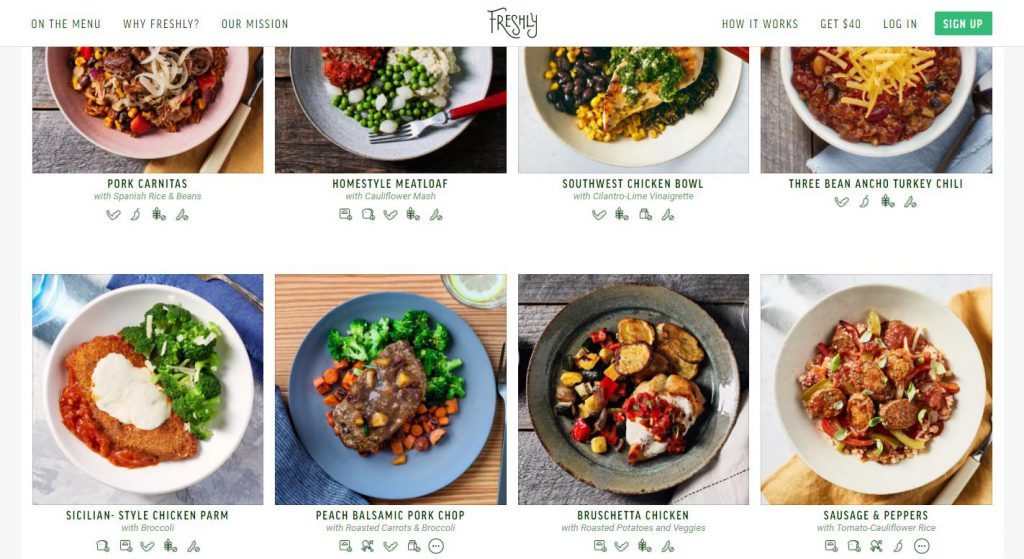 back to menu ↑
Freshly Health & Nutrition
Being healthy is easy and convenient with help from Freshly. With a simple click, you can order the best-tasting, high-quality meals you want. From a wide array of meal choices to available nutrition information, this meal service company takes care of it. Every meal has detailed information on ingredients used, how to prepare and nutrition facts.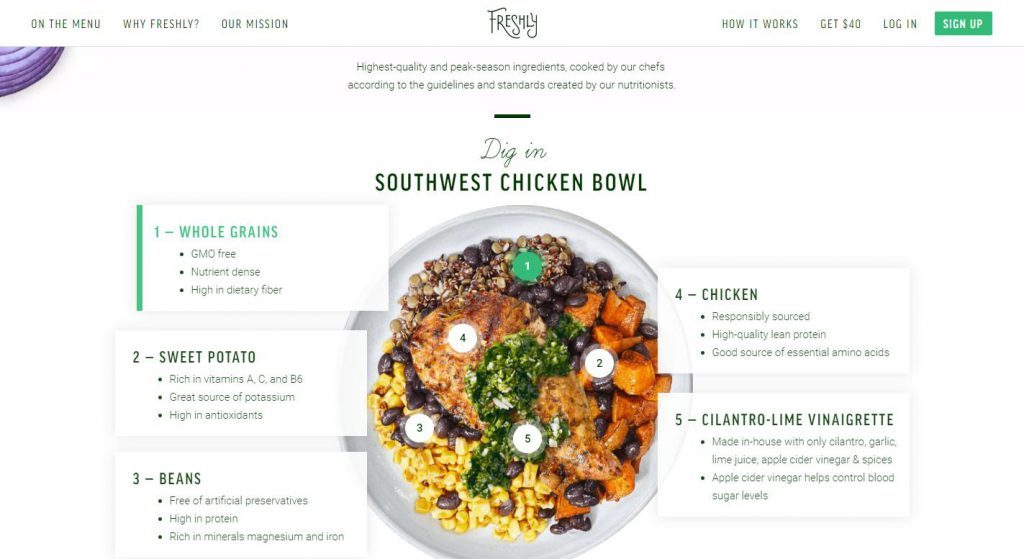 Meals use natural ingredients and full of macronutrients. Moreover, their meals are free of preservatives or artificial ingredients and gluten-free. At the same time, Freshly uses modified atmospheric packaging for keeping meals fresh for a long time.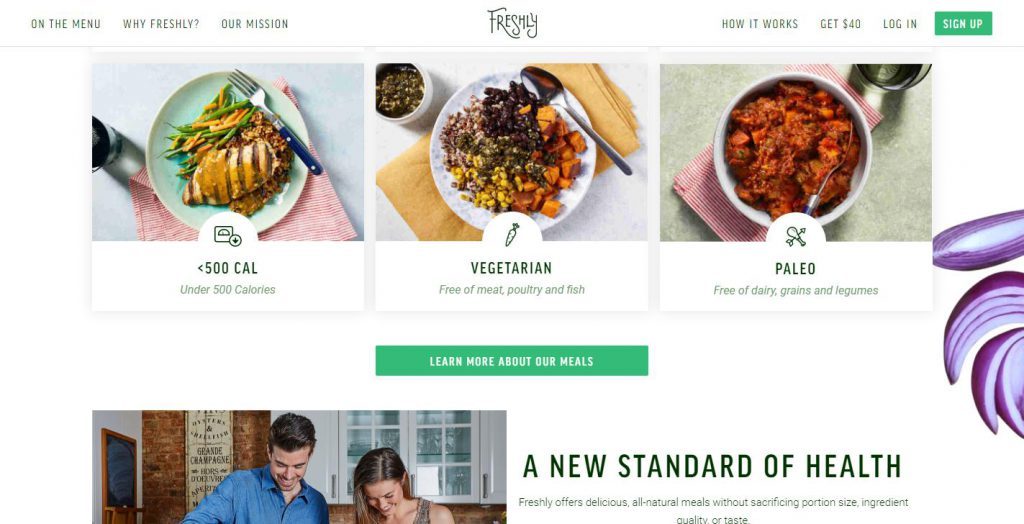 back to menu ↑
Freshly Fitness and Activity
Physical activity isn't required but it will make it better to have at least 30-60 minutes of exercise every day. It is up to you to choose what exercises or workout to do and when you want to do them. You can also choose to break the activities down into three or six 10-minute intervals.
back to menu ↑
How Easy Is Freshly To Follow?
The meals and packaging of Freshly products are microwave-friendly. All of them cooked and ready for heat-up. At every container, there is a cooking instruction included so you won't be confused what to do. Usually, it only takes 2 minutes to cook most meals but you'd still need to keep your eye on it to know if it needs more or less heating. Meals are available for both breakfast and dinner, readily available for shipment to your door. No matter how busy you are, you can still eat healthy meals and be on your way in no time.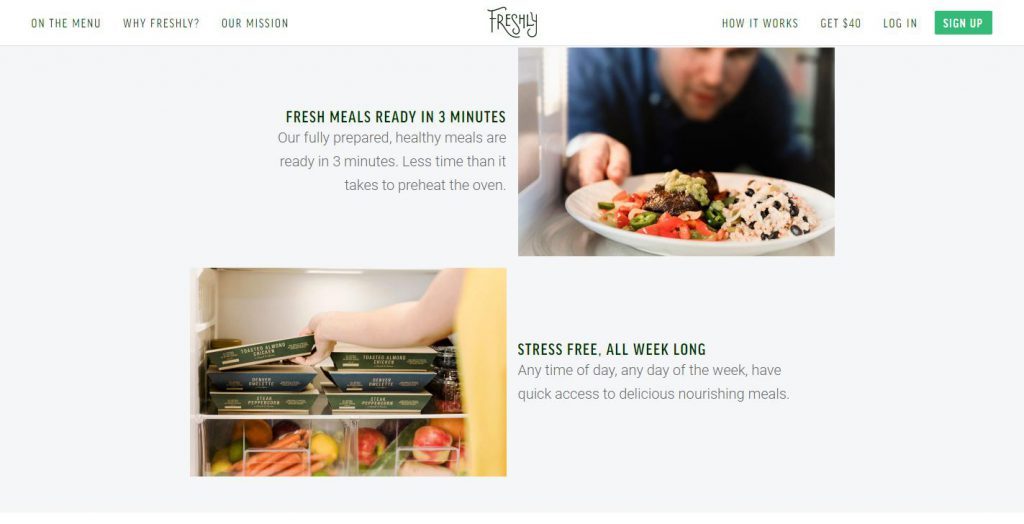 back to menu ↑
Freshly Mobile App
By using the Freshly mobile app, it becomes easier to make your order and choose from the company's wide array of meal options. Just open the app and take advantage of its varying features. The app is available for Android and iOS phones.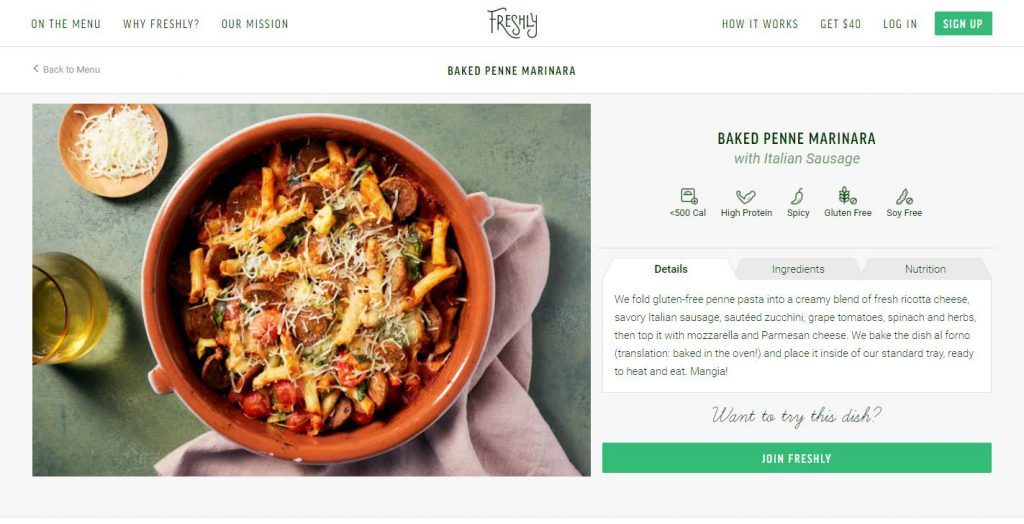 back to menu ↑
Freshly Plans & Pricing and Costs
Prices in Freshly depends on the kind of meal plan you ordered. There are four meal plans available – 4, 6, 9 and 12-meal plans. For the 4-meal plan, the weekly cost is $12.50/meal or $49.99/week. The 6-meal plan is available at $9.99/meal or $59.99/week. The 9-meal plan costs $9.99/meal or $89.99/week. Lastly, the 12-meal plan is available at $8.99/meal or $107.99/week. The larger or the more food an order has, the more you can save. With that, it is ideal to get a larger meal plan so you end up paying less.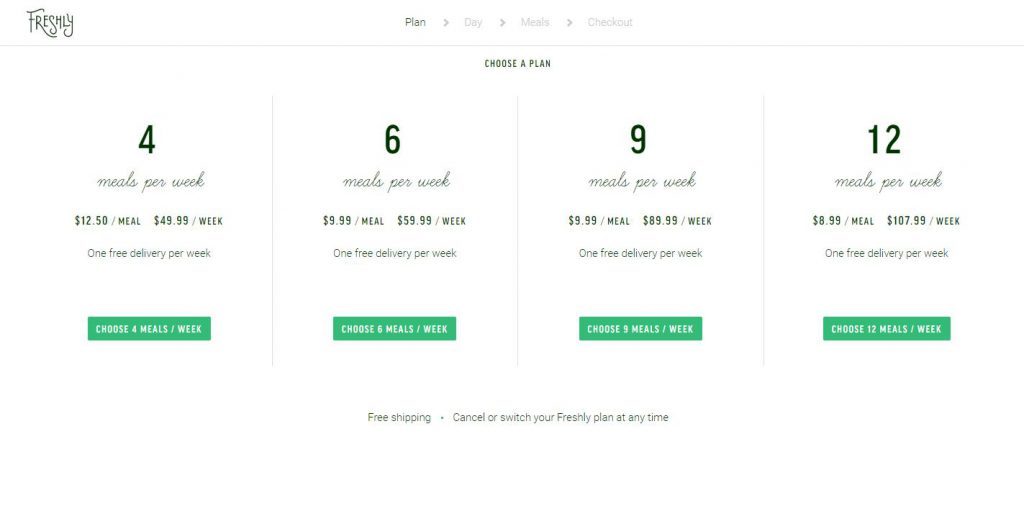 back to menu ↑
Freshly Delivery Areas
The meal service of Freshly is great but it's unfortunate that its delivery area is a little limited. Right now, their delivery area only comprises 27 states and not even all areas of these states are covered. With that, it is best that before you register you should determine if your area is eligible for delivery. Visit their site and enter your zip code to find out.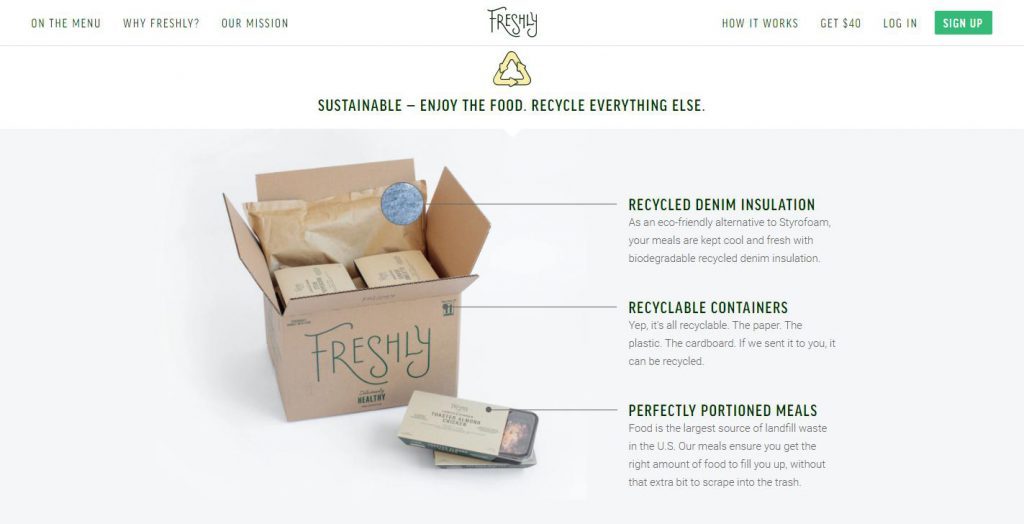 back to menu ↑
Freshly Help & Support and Customer Service
If you need help, you can talk to a customer representative at 8am-4pm PST, Monday through Friday. You can also contact them using the contact form on their website. Sending an email or contacting them through live chat is also possible. If you need quick answers, you may want to check their FAQ page.
back to menu ↑
Freshly Pros and cons
---
PROS:
Extensive meal options with 4 meal plans (4, 6, 9 or 12 meals/week)
No need for shopping, preparing or cooking work
Fresh, all-natural, never frozen meals
Organic, gluten-free meals free of artificial flavors
CONS:
Delivers only to 27 states in the country
Snacks and desserts are not available
---
back to menu ↑
Bottom Line
If you are looking for a meal subscription service providing healthy meals at reasonable prices, Freshly is one of your best options. They commit themselves to providing meals made from the highest quality ingredients without using artificial additives or preservatives. Freshly allows you to enjoy great food without feeling guilty after.
They have healthy meal options for those with special dietary needs such as gluten-free for breakfast, lunch or dinner. The main focus of Freshly's meal products is food rich in protein, low in carbs, high in healthy fats and low in sugar. With professional chefs working to create your favorite meal options, the price you pay for these meals is surely worth it.
Freshly Review
Freshly's focus as meal delivery system is into protein-rich foods. Their professional prepared meals are healthy, rich in protein to keep you energized and full. Inspired by Paleo and gluten-free diet, these meals have reasonable prices, available at quick deliveries and definitely delicious.
PROS
Affordable protein-based, organic meal plans
Gluten-free, no processed sugar meals
Paleo diet inspired meals created and prepared by professional chefs
Add your review
|
Read reviews and comments
Freshly Discounts, Coupons and Promo Codes
We found 8 verified Freshly Discounts, Coupons and Promo Codes for Dec. 2023. If some of the Freshly coupon codes have expired, please contact us, thank you for your help.

50% OffGet 50% off with promo code!

40% OffGet 40% off any order with promo code!

30% OffGet 30% off First Week with promo code!

25% OffGet 25% off any order for New Customers with promo code!

20% OffGet 20% off with promo code!

$40 OffGet $40 off First 2 Meals with coupon code!

Free ShippingGet Free Shipping orders $50+ with coupon code!

Free GiftGet Free Oval Soap With Orders Over $65 with coupon code!
Compare Freshly with other Companies' Services, Plans and Products
If you like Freshly but aren't sure whether it's the best ideal choice for you, and may want to compare Freshly with other Companies' Plans, Products, and Services that similar to Freshly, or Freshly Alternatives and Freshly Competitors, Which companies' services like Freshly. You can take a look at our professional comparisons below to discover if one of them is more suitable for you.

Updated : 12.10.2023.