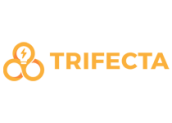 Trifecta Nutrition Review
---
Trifecta Nutrition Overview
Trifecta Nutrition is your reliable food delivery service provider that promises to deliver fresh and wholesome meals anywhere you are in the US. The meals they offer are based on the idea of Trifecta that says right and proper wellbeing is composed of three key areas: social well-being, physical and mental. To take out the stress on you, Trifecta does everything from menu planning and shopping to cooking and delivery of meals straight to your doorstep.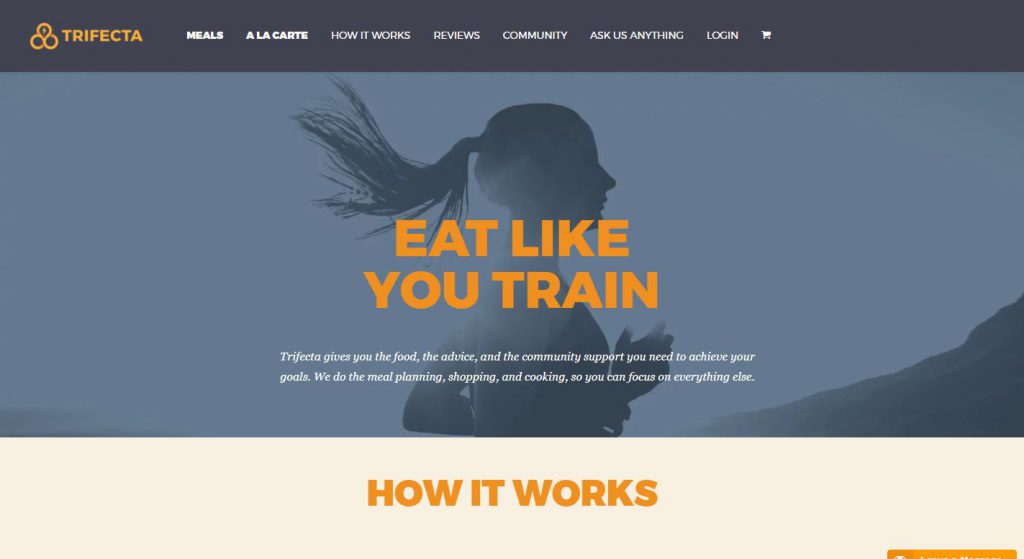 Trifecta Nutrition was founded by the Connolly siblings Elizabeth and Greg. Greg was fed up with meal planning while his sister Elizabeth was bored and exhausted of frozen food delivery services which were not just healthy enough but also very expensive. So, the two created this business to provide people nutritious, delicious and organic meals they will surely love and enjoy. With Trifecta, there is no need for you to effort with vigorous eating.
They focus on delivering healthy and fresh meals to people of all ages. This company provides diverse themed meal plans like paleo, vegetarian, clean eating, vegan as well as classic. Also, there is an a la carte menu which has a few of Trifecta's carbohydrates, protein, as well as veggie options. Compared to their competitors, All the meals they offer are 100% organic and GMO-free. That is why they are the practical options for on the go individuals who don't have time to cook food, but aiming to eat natural and healthy food.
Keep reading our honest Trifecta Nutrition review to learn more.
back to menu ↑
Trifecta Nutrition Ideal For
Individuals who do not have the time to shop and prepare ingredients
Anyone who is searching for an alternative to unhealthy frozen meals
People who want to try a vegetarian weight loss program
back to menu ↑
How Trifecta Nutrition Works?
First, you need to choose the right meal plan for you. You can choose from Clean Eating, Classic Meals, Vegetarian, Paleo, and Vegan. Regardless of the meal plan you choose, you are assured to get wholesome, fresh, healthy, as well as organic meals.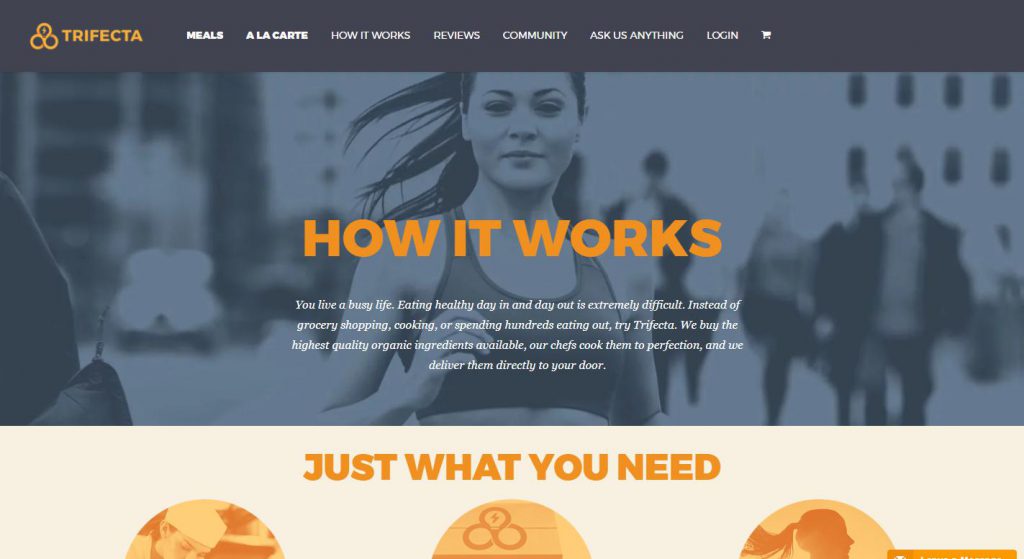 If you choose Paleo plan, you'll be receiving meals which contain fish, fruit, vegetables, and meat. In this meal plan, meals are free of legume and grains. In case you decide on Clean Eating Plan, except for meals composed of meat, healthy complex, fish, carbs, veggies and fruit. With a classic plan, you will receive meals with meat, rice, sweet potatoes as well as mixed vegetables. Vegan and Vegetable plans will give you lots of legumes, beans, healthy complex carbohydrates, veggies, and fruit. The vegetarian plan eliminates seafood and meat while the Vegan meal plan eliminates animal products like egg etc. Whatever your preferences are, you can get healthy, organic and fresh meals with 100% customer satisfaction.
Next is to choose the number of meals you would want to order on a daily basis. The moment you have chosen your meal plan, now is the right time to decide on how many meals you prefer to have every day. You can opt between one, two, three or four meals each day. This will give you flexibility whether you want to cook your own meal in between eating their meals or not. For average eater, they recommend three meals. The choice of four meals on a daily basis best suits to athletes or bodybuilders.
It is also significant to bear in mind that their menu changes on a weekly basis like other meal delivery companies. In every new menu, they use fresh ingredients from the farmers they've been working with for years, ensuring a rich selection.
During the checkout process, you can state whether you have food allergies or other preferences. This guides the company when they prepare your order. In case, you do not want to sign up for their meal plan, they have a la carte that you can choose.  You'll be in control of the number of meals you want to order as well.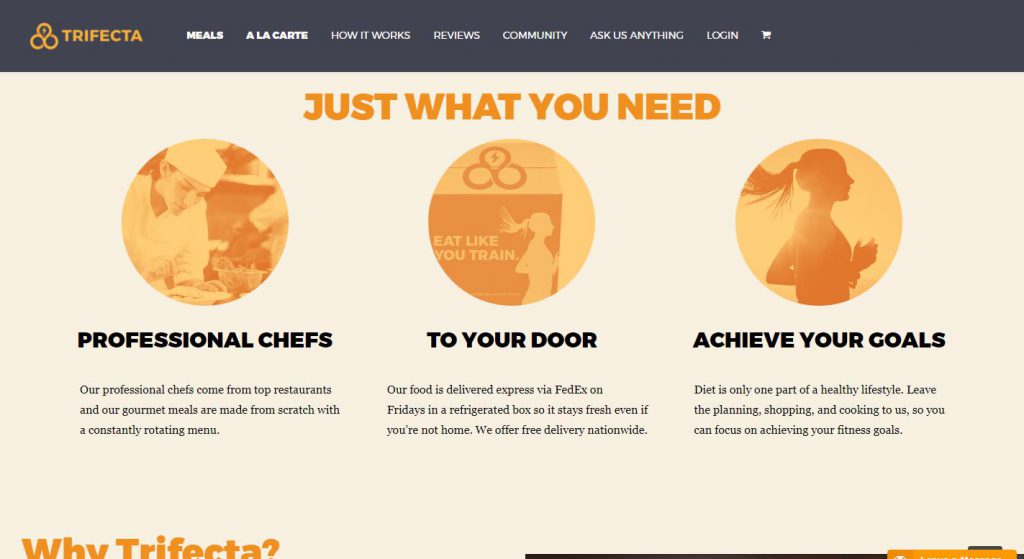 back to menu ↑
What Makes Trifecta Nutrition Different?
What makes Trifecta Nutrition apart from the rest is that Trifecta Nutrition truly cares for their customer. They are not only your reliable and healthy food delivery service company;  They also have been exerting their effort to be eco-friendly by purchasing organic foods from the farmers as well as delivering their meals in a recyclable and useful packaging.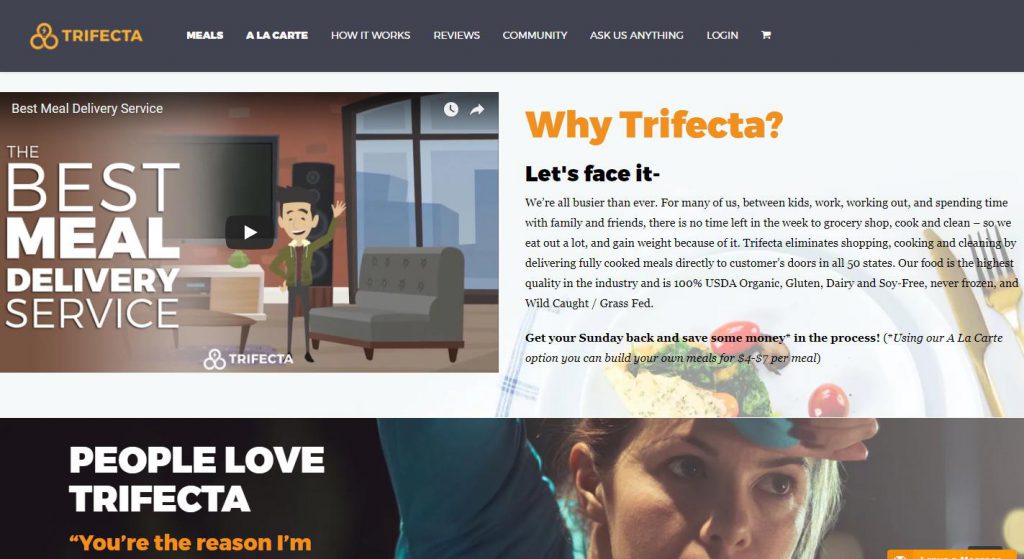 This company also takes pride in the fact, which the animals products they utilize meet level 5 of the Animal Welfare Act. They invest time and hard work into educating their clients regarding healthy eating. They also strive to offer comprehensive information about the food they take and the amount of calories or nutrients in every meal. They offer free useful e-books to everyone. It can be obtained using entering your email add on their site. With abundant of meal plans offered and high-quality customer service, no doubt Trifecta Nutrition stands out from other meal delivery service providers.
Another thing that makes this company stand out among their competitors is that bulk orders are even possible. Whether you have a small or big celebration this month, just seek help from the company ahead of time.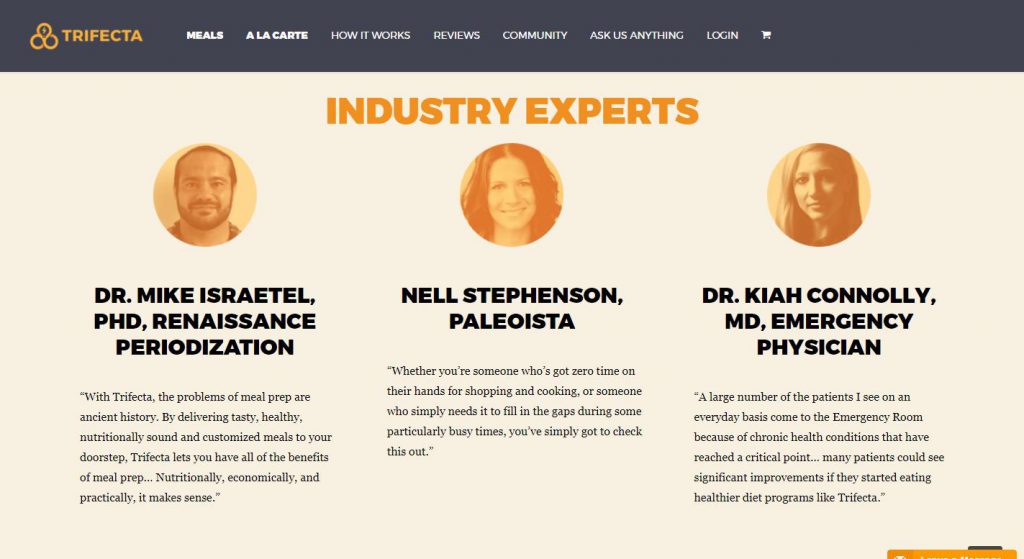 back to menu ↑
Trifecta Nutrition Meals & Menus and Recipes
As mentioned above, the menu will change regularly. Regardless of these changes, customers can count on this meal delivery company to give them with wholesome meals made of high quality, healthy ingredients. Every meal has 100 percent USDA organic ingredients aside from being soy free, dairy free, gluten free and GMO-free.
This meal delivery service company allows customers to pick meal plans which that meet their lifestyle and daily nutrition needs. The company has three meal plans you can choose from. They have vegetarian, paleo and clean meals.  Aside from meal plans, customers can also buy bulk food through ordering vegetables, protein, and carbs. It allows them to control the amounts they consume while having the ready to eat meals shipped to their doorstep.
On a weekly basis, they change their menu to use available ingredients from local farmers. These meals are made from seasonal ingredients to keep the price at a minimum.
Their paleo meals unprocessed whole foods, which include fish, meat, fruits and vegetables. These do not have grains and legumes. Just like paleo, their vegetarian meals are also unprocessed whole foods such as lean protein and healthy carbs.
Paleo meals include natural ingredients like fish, vegetables, fruit, and meat with no legumes and grains. Vegetarian meals are whole foods such as lean protein and complex carbs. Clean meals are whole foods such as fruit, vegetables, healthy complex carbs, as well as lean protein.
The organic clean meals from the service provider are a great choice for people who wish to eat food of the best-quality ingredients. They design every meal to enable clients to attain the maximum balance in their intake of all micronutrients. Their meal for breakfast composes of granola or oatmeal with tasty fruit. For lunches, they represent a combination of rice, veggies, fish and chicken meat. Lastly, dinners consist of light mixtures or vegetables, meat and mushrooms. These meals have 400 and 500 calories as well.
In Paleo plan, you will enjoy an impressive array of ingredients, packed into mouthwatering, wholesome meals that range from 350 to 450 calories. With regards to vegetarian and vegan meals, they take pride in their wide information regards the needs of their vegetarian and vegan clients and supports their kind and humane lifestyle through providing balanced meals abundant in vitamin B12, protein, fiber, calcium, and iron, with 400 and 500 calories on average.
Trifecta Nutrition also offers lightly seasoned meals which can be mixed freely and extra seasoned to taste. You can visit their site to read articles regarding their recipes.
The meals they offer come in cooled containers, which keep them clean and fresh. You can put these meals in the fridge for future consumption. Also, you can freeze them if you aim to consume them next week.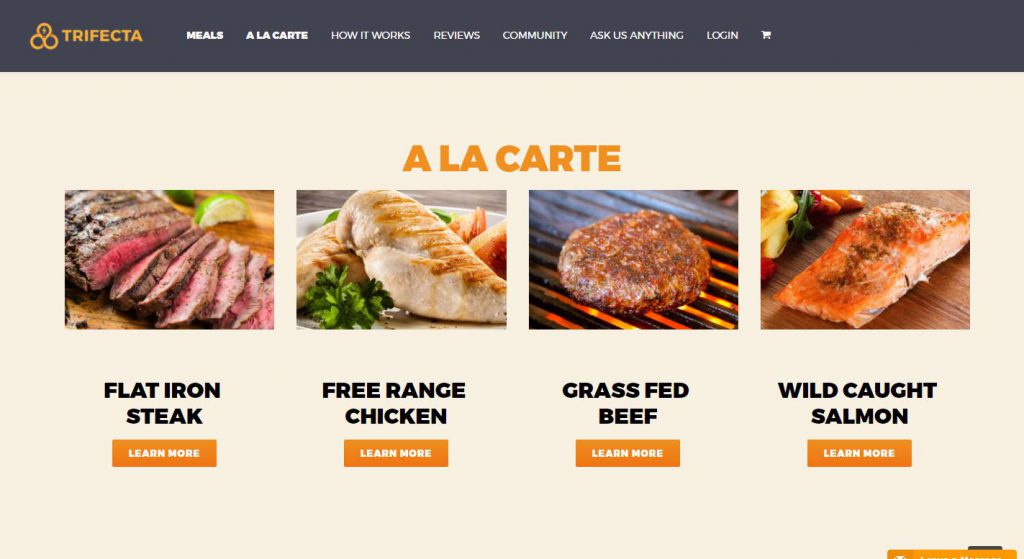 back to menu ↑
Trifecta Nutrition Health & Nutrition
In ordering food from a particular meal delivery service, freshness is the number one priority. The freshness of the food is the main concern that every client has when ordering meals from a food delivery service company. They want to make sure the foods they are eating are safe, delicious and fresh. These issues are eliminated when you order meals from Trifecta, Trifecta is ready to serve you.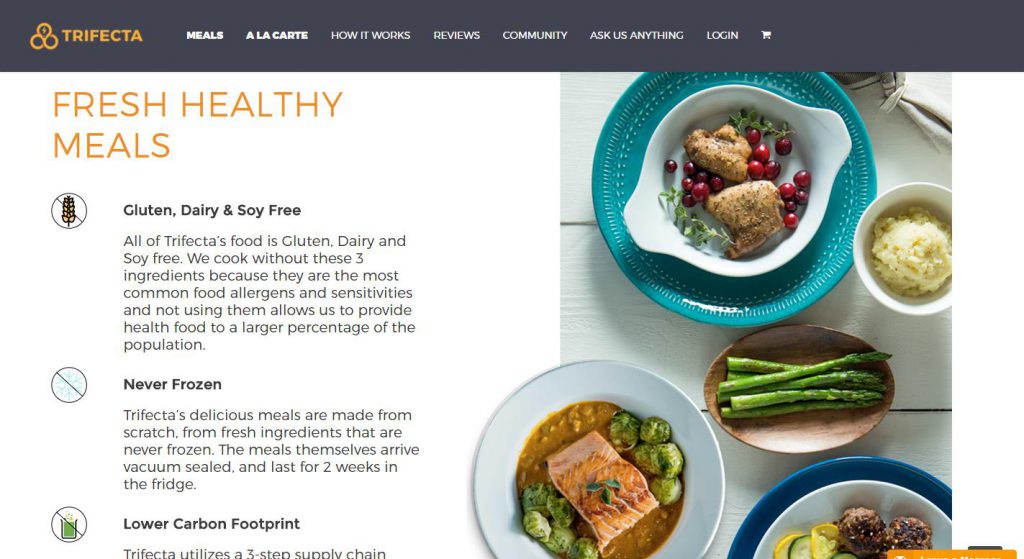 All the foods they provide are 100 percent USDA natural ingredients. They put healthy and fresh ingredients at the top of their mind when preparing food. You will never find processed ingredients in every Trifecta Meal.
Trifecta assured that there are no artificial or processed ingredients used in creating their meals. So, you are assured that you are consuming food good for your body. All meals are made with healthy ingredients that help you healthy and far from various kinds of medical issue.
Since Trifecta employs high-quality ingredients for every meal, there is no surprise that everything they provide is delicious and flavorful. All ingredients are indeed fresh.
The fact that they only use the best ingredients in making their meals, you are assured of delicious and flavorful meals. The ingredients are 100 percent fresh and aspire to take advantage of in-season produce.
The meals they deliver are not frozen. Instead, they come in vacuum sealed packaging that could last for two weeks in your refrigerator and more than six months in your freezer. Trifecta recommends storing the meals in the fridge to retain the taste.
back to menu ↑
Trifecta Nutrition Fitness and Activity
Working out is very important in keeping a sexy and healthy body. Also, make sure to eat healthy meals like those that can be found at Trifecta Nutrition. It is an incredible way to make a healthy living even possible.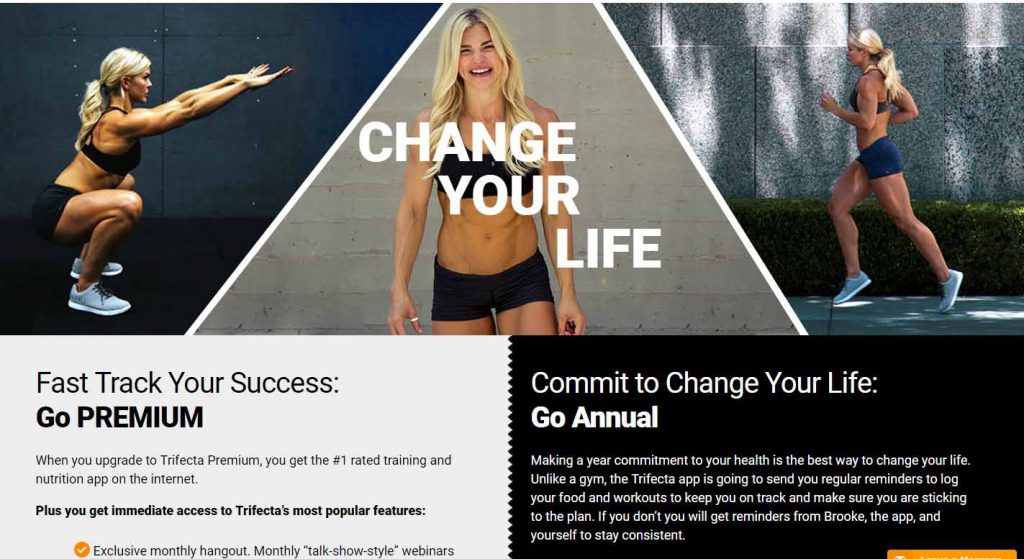 back to menu ↑
How Easy Is Trifecta Nutrition To Follow?
Do you want to address the hassle of cooking? If so, Trifecta is what you need. They will provide you with pre-made meals made from scratch. Every day, you will receive pre-made meals, resulting in convenience and comfort. There is nothing to worry about meal preparation as you can eat what you crave for at the right time without a burden.
You just have to heat them up and enjoy! There are heating instructions available in every meal to guide you throughout the process. At the end of every meal, you will realize how simple and easy it is. All of the dishes are quick to prepare so that you can have the best meal.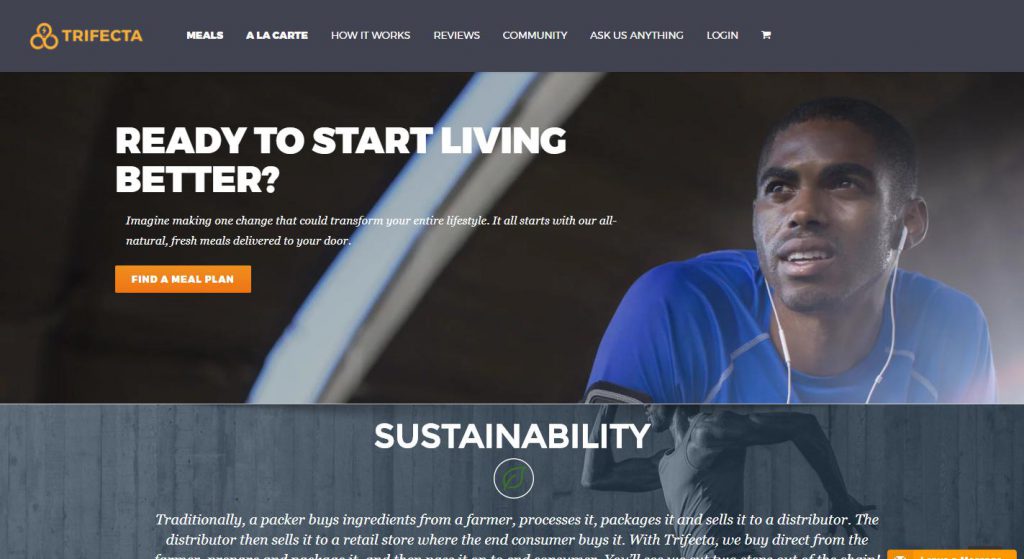 back to menu ↑
Can You Lose Weight With Trifecta Nutrition?
Diet is considered a part of a healthy lifestyle. Trifecta provides you the best diet to help you obtain your fitness goals.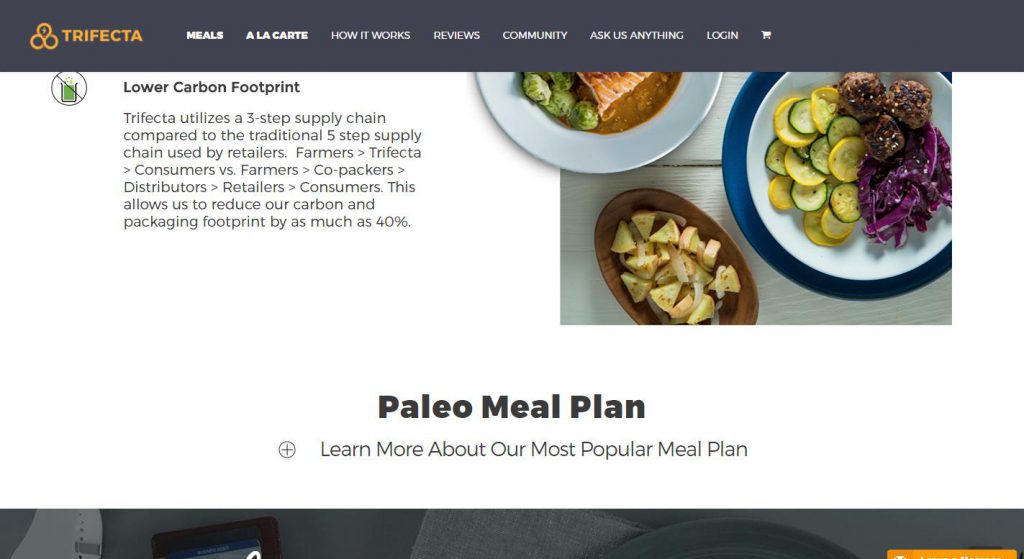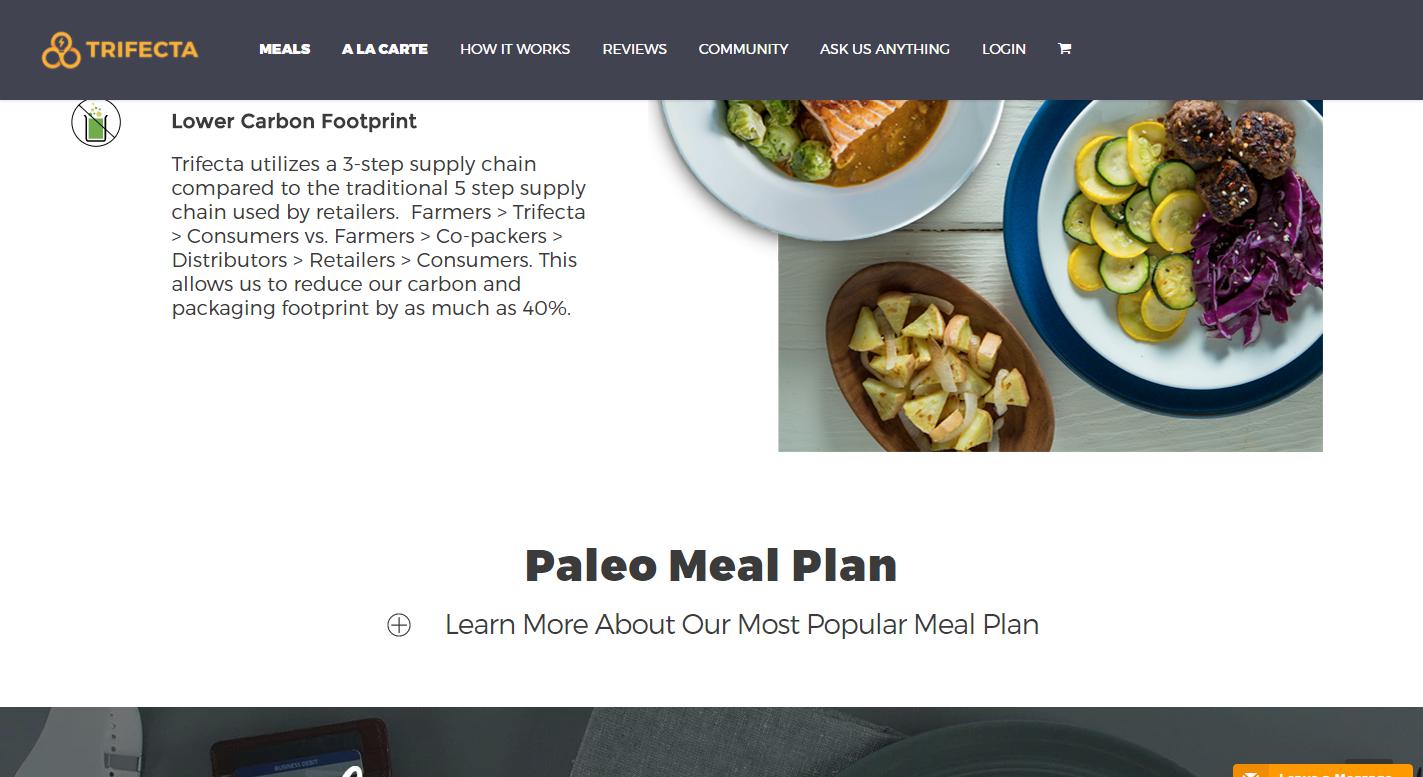 back to menu ↑
Trifecta Nutrition Mobile App
You get to enjoy the mobile apps' numerous features available both for Android and iOS users.
Trifecta streamlines your workout and nutrition tracking all-in-one place. The app can tell you exactly what to do, when, and show you how to do it with training videos that have form queues. You get the exact right amount of coaching and support you need without information overload.
Trifecta Nutrition's mobile app comes with essential features. They also work with Android and iOS devices.
Trifecta makes your nutrition and workout tracking very efficient. The mobile app tells you things to do, and also shows the right way of doing it. Through this app, you obtain the right level of support and coaching you need. Tracking, Training, and Nutrition can be accessed with the help of this mobile app.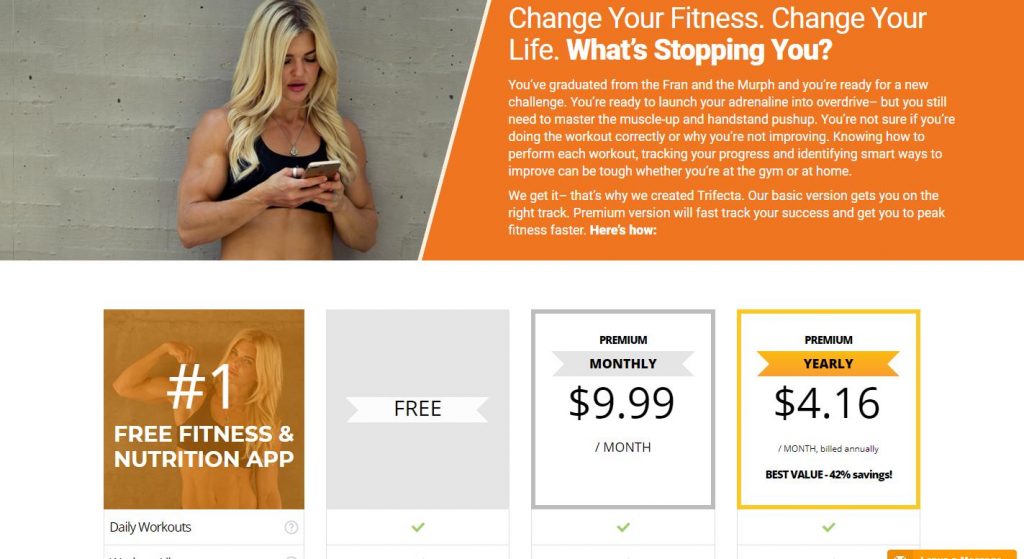 back to menu ↑
Trifecta Nutrition Plans & Pricing and Costs
Trifecta Nutrition offers high-quality meals for a very reasonable price. However, the price depends on the type and amount of meals a day you decide to order. The costs of meals offered range from $10.49 to $15.49. If you choose meal plans with 3 or 4 meals a day, you are qualified for the monthly giveaway. It also gives you free access to Trifecta Coach services, who provide help with changing to a healthier diet and reaching health goals.
A well-balanced meal utilizing bulk food ordered will cost you $7. Trifecta believes that healthy eating doesn't have to be expensive. That is why their prices are relatively low.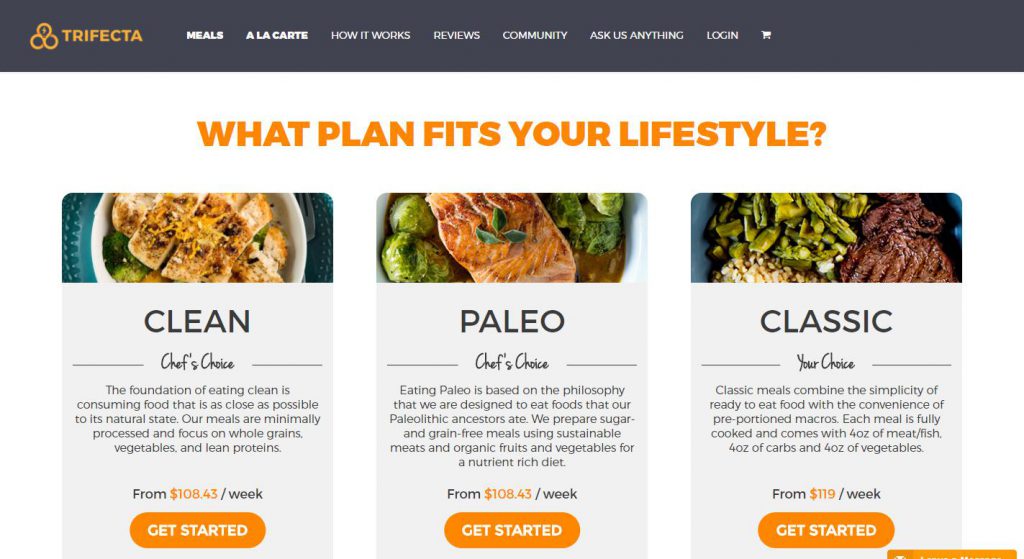 back to menu ↑
Trifecta Nutrition Delivery Areas
Anyone can avail the service offered by Trifecta Nutrition regardless of your location. Another reason why Trifecta has been consistent in customer sales is that they deliver across the United States. Compared to others, they ship both to Alaska and Hawaii. Moreover, they offer free delivery services for every order.
back to menu ↑
Trifecta Nutrition Help & Support and Customer Service
For more information, check out their FAQ page, give them a call at (530) 564-8388, and contact them via email.
back to menu ↑
Trifecta Nutrition Pros and cons
---
PROS:
Healthy food at an affordable price
Rich selection of meals
Bulk food ordering choice
Deliver throughout the US
Environmentally friendly
Free and quick shipping for all orders
CONS:
They delivery once a week (Fridays)
---
back to menu ↑
Bottom Line
Whether you want a healthy eating with organic or preservative-free ingredients, Trifecta has what it takes to be on your side. From flavorful and delicious food to reasonable prices, they can go beyond your expectations. Give them a try as soon as possible and see what others have been enjoying all these years!
Trifecta Nutrition is the best food delivery service company that offers high-quality meals made from wholesome and natural ingredients, which make them flavorful and delicious. They offer various kinds of dishes on a weekly, so you will never run out of choice. It also allows you to try new recipes; you've never tasted before.
Trifecta Nutrition is truly a reliable meal delivery company that truly aspires to please everyone. The chefs are highly creative, skilled as well as familiar with different dietary requirements of their clients. The numerous meals they offer are well-prepared using organic ingredients and endow with a balanced diet. Their website offers detailed information on food preparation, origin as well as macronutrient content. They also provide free articles and e-books. They take their business very seriously.
The process of ordering meals is easy. Subscription is flexible; you can pause, cancel or skip the delivery, provided the fact you inform them ahead of time. However, they deliver meals once a week.
Trifecta Nutrition Review
Trifecta Nutrition helps you reach your health goals by providing you easy to prepare healthy food. Balanced and scrumptious meals are delivered to you every Friday. If you want to make your meals call now and order in bulk.
PROS
Use only the most excellent organic ingredients available
Bulk in order is also offered
They offer free delivery to all parts of the US
Add your review
Trifecta Nutrition Discounts, Coupons and Promo Codes
We found 2 verified Trifecta Nutrition Discounts, Coupons and Promo Codes for Dec. 2023. If some of the Trifecta Nutrition coupon codes have expired, please contact us, thank you for your help.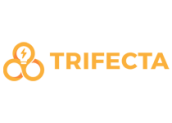 30% OffGet 30% off your first order with promo code!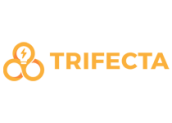 $20 OffGet $20 off your first order with coupon code!
Compare Trifecta Nutrition with other Companies' Services, Plans and Products
If you like Trifecta Nutrition but aren't sure whether it's the best ideal choice for you, and may want to compare Trifecta Nutrition with other Companies' Plans, Products, and Services that similar to Trifecta Nutrition, or Trifecta Nutrition Alternatives and Trifecta Nutrition Competitors, Which companies' services like Trifecta Nutrition. You can take a look at our professional comparisons below to discover if one of them is more suitable for you.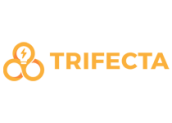 Updated : 12.01.2023.