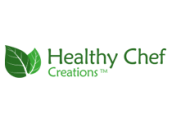 Healthy Chef Creations Review
---
Healthy Chef Creations Overview
When it comes to meal kit delivery service, it is essential to choose a company built with reputation and quality service, like Healthy Chef Creations. This company is located in Orlando Florida, founded by John Procacci, a famous Disney World Spa chef. Since its inception in 2001, Healthy Chef Creations continue to receive good reviews from food fanatics and experts due to exceptional taste and high quality meals they offer. This is the only meal kit delivery company that offers organic ingredients, personal customization and countrywide delivery.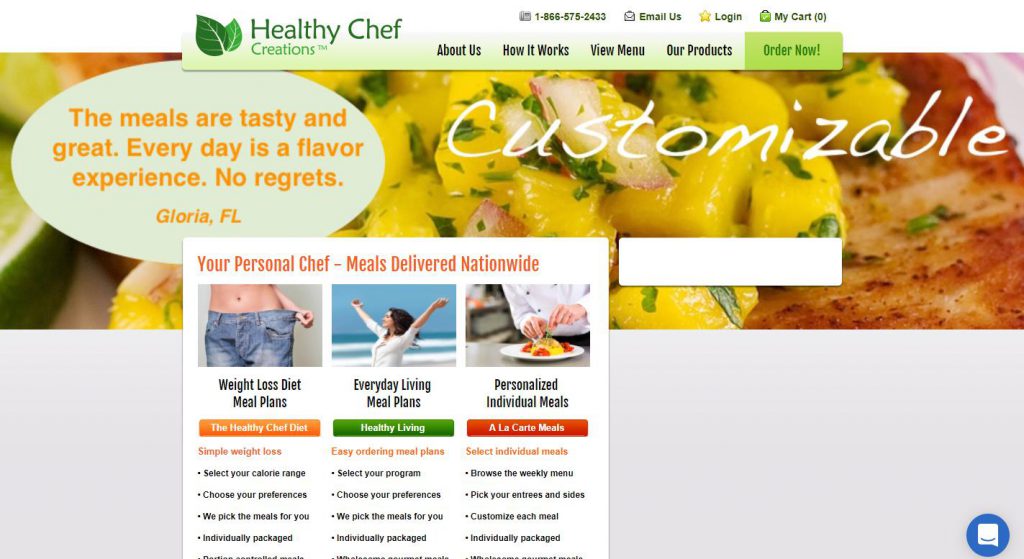 Healthy Chef Creations offers healthy, great tasting meal for good health and enjoyment as well. Aside from being flavorful and healthy, their meal is extremely nutritious and made by experts to please and meet customer's daily dietary need, regardless of the type of diet they prefer.
They offer a convenient food delivery plan and easy to customize a la Carte menu, which varies per week. They receive lots of national recognition for quality and taste of their meals. In fact, they are the number one choice for singles, couples, families, seniors, dieters, trainers as well as celebrities.
They offer dining programs for weight loss foods, expecting mothers, new mothers, and those who want to eat organic foods.
Keep reading our honest Healthy Chef Creations review to learn more.
back to menu ↑
Healthy Chef Creations Ideal For
Those searching for healthy alternative
People looking for perfect diet plans for weight loss, moms, seniors etc
Those searching for easy way to send foods to their loved ones
back to menu ↑
How Healthy Chef Creations Works?
This company provides you the chance to avoid the stress from grocery shopping and preparing meals by allowing you choose what you want to eat this week. Healthy Chef Creations will prepare the food for you and deliver them right at your door step.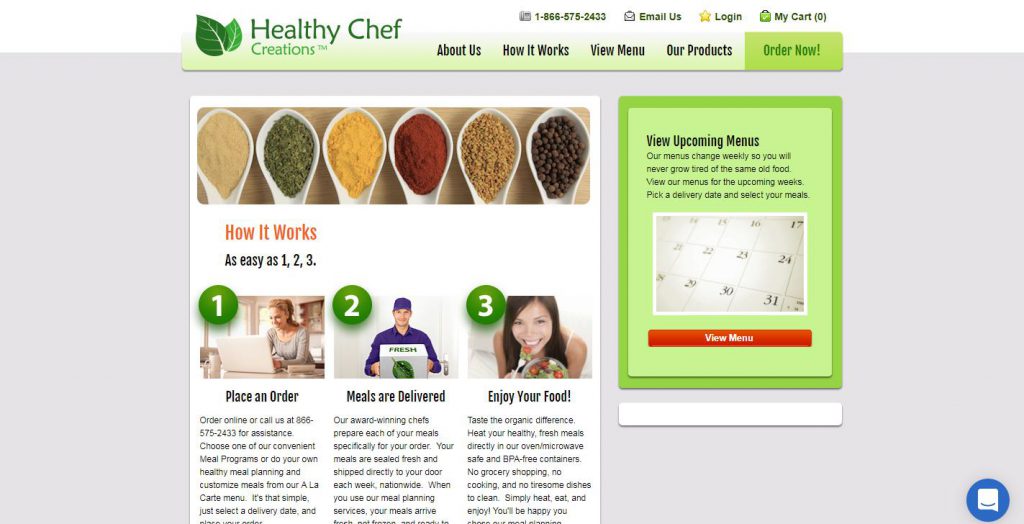 This meal kit delivery service provider offers many meal plans to choose from. They have seven well planned meal plans or order a menu and pick any food you want. Their menu varies per week. This gives you the chance to try a new recipe daily or weekly. You can arrange the date of the delivery according to your schedule.
You can place orders online or through phone. You can customize your orders according to your preference. After placing your order, skilled in-house chefs will start to prepare the dishes utilizing only healthy and wholesome ingredients. When done, they will put the meals in insulated BPA free boxes and delivered to you right away. BPA free packaging can be heated in microwave.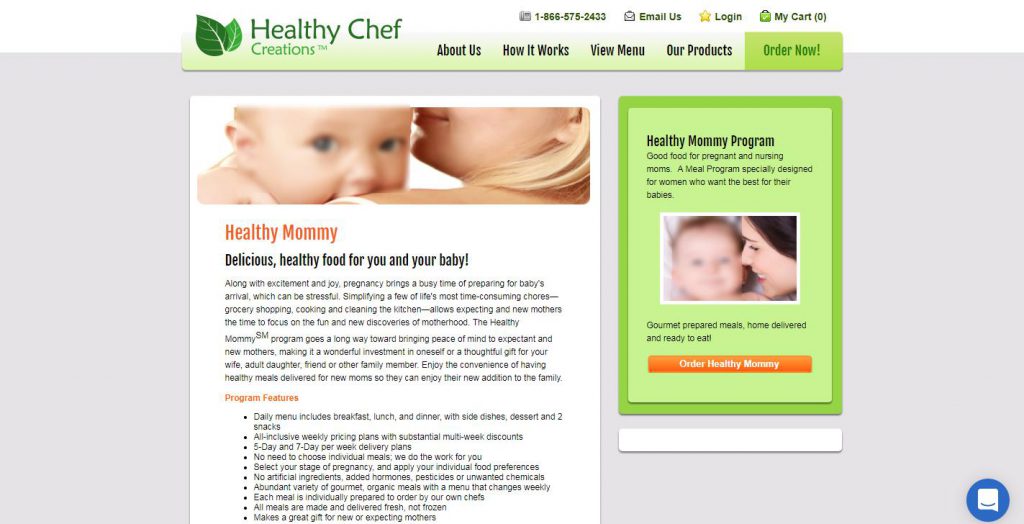 back to menu ↑
What Makes Healthy Chef Creations Different?
Healthy Chef Creation focuses on providing organic foods. The meals they offer are a bit costly than others, but you are assured of high quality and safe to eat ingredients. Ordered meals are pre-packed in BPA free boxes that can be put in your microwave or oven.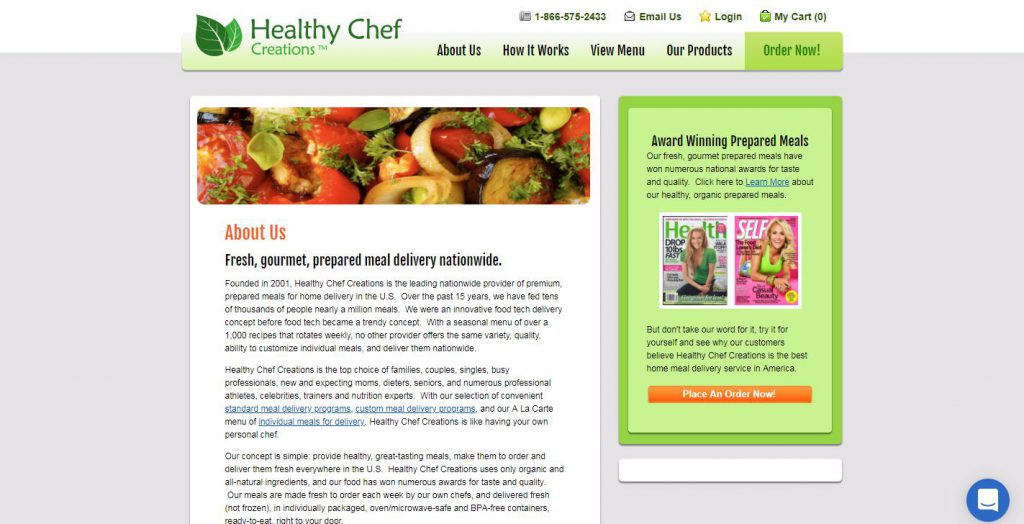 Flexibility is one feature you can't find in other companies that offer the same service. Healthy Chef Creations, ensure customers they get the meal they want and so, provides many diverse choices. Aside from 7 meals plans, Healthy Chef Creations also provides customers the chance to alter the meal plan in accordance to their dietary needs. They can add particular food preference to their profile and receive a meal program made to meet all their needs.
Healthy Chef Creation not just offers high quality and wholesome ingredients, but also provides the finest quality foods offered by renowned restaurants in the area. This gives you the chance to eat the food you want without spending a lot.
The flexibility of ordering schedule of this company has been exceptional. All orders arrived on Fridays, however customers can skip or change any of their orders, provided the fact that they notify the company eight days prior to the delivery date.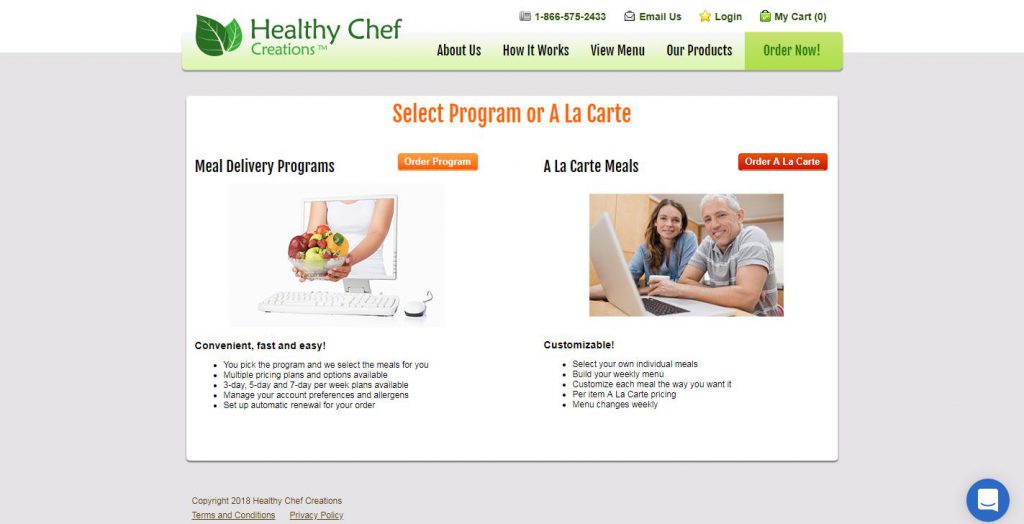 back to menu ↑
Healthy Chef Creations Meals & Menus and Recipes
Healthy Chef Creation employs a team of professional chefs which are dedicated to feeding their clients nutritious meals. They offer specific meals plans such as:
Healthy Chef's Organic Weight Loss: This is lean, clean meal plan for those who want to lose weight. This includes a breakfast with two sidings, fresh salad, Spa Energy Detox Shake, sandwich or wrap, a nutritious snack and feast entrée with 2 side dishes and a mini desert.
Healthy Whole Family: A meal plans which allow you to order foods that are healthy and nutritious for you and your loved ones. There are 3 diverse portion sizes available so you can choose one ideal for your family.
Momilicious: Perfect for an expectant mother or new mommies, they can anticipate healthy food which fulfils the particular dietary requirements of new mommies. This includes breakfast with 2 sides, healthy snack, fresh and healthy lunch and afternoon snack and dinner with a sweet treat.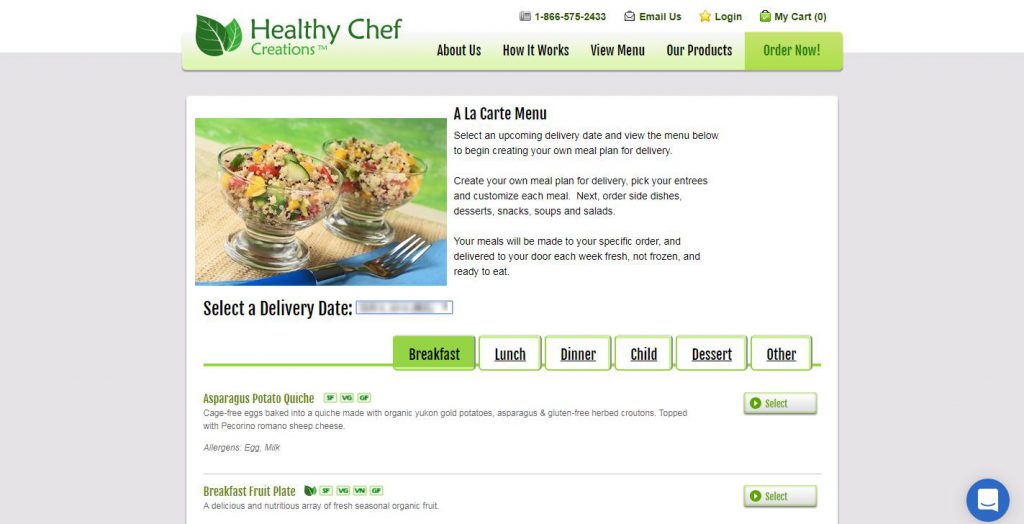 One of the popular meal plans they offer is the Healthy Living with meals packed with essential nutrients for three, five and seven days per week. The Gluten Free, Healthy Mommy, Healthy Chef Diet, and Healthy Senior plans come in five days and seven days delivery plans. All these meal plans include breakfast, lunch as well as dinner for each day of the order. It also includes snacks, side dishes, dessert and an energy drink.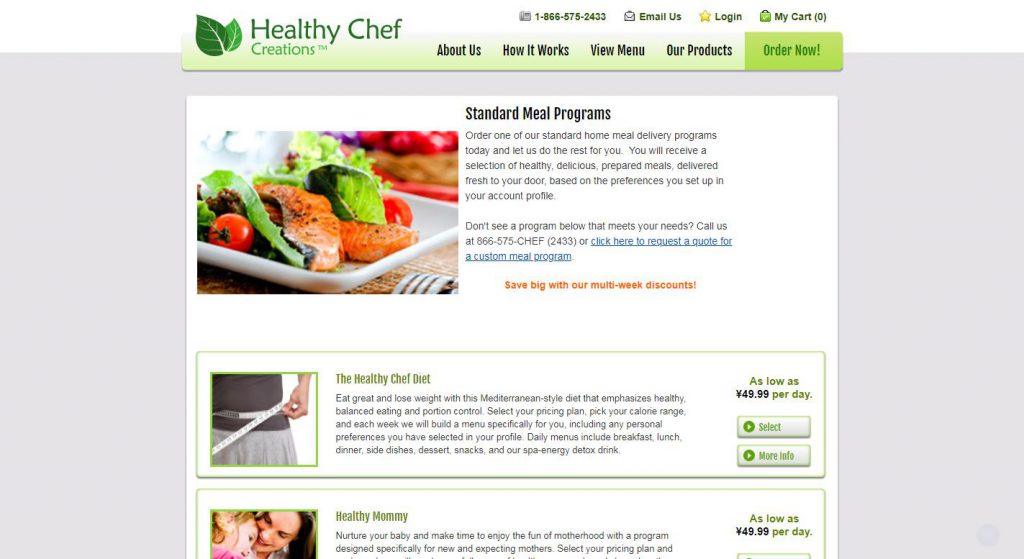 back to menu ↑
Healthy Chef Creations Health & Nutrition
Healthy Chef Creation is established by John Procacci with many years of experience in food preparation. The concept behind this company is to provide customers with healthy, organic foods. Meats are non-GMO and seafood is wild caught. This company specializes in wholesome and all-natural cuisine. They also provide wide selections of Gluten-Free meals. They allow customers to pick their portion sizes that are a plus in controlling calorie intake.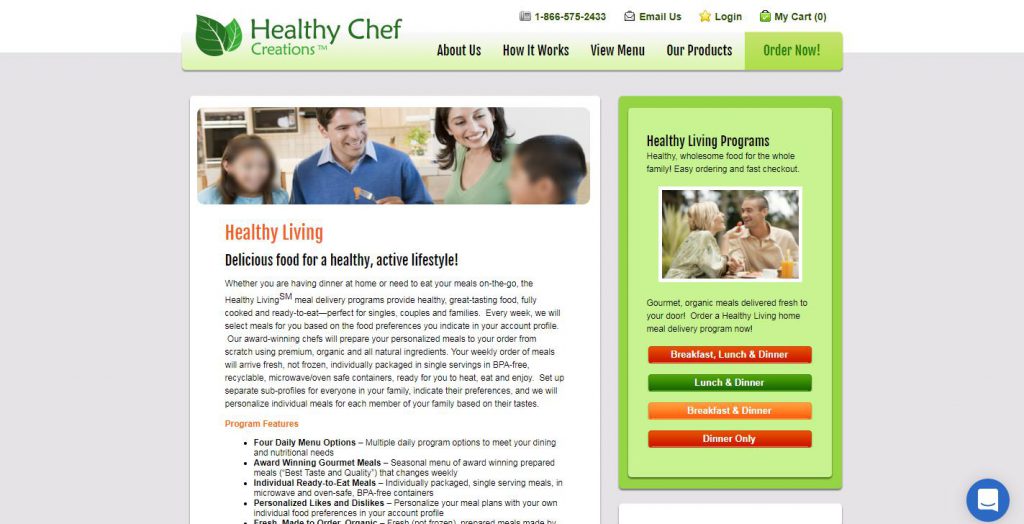 Healthy Chef Creations emphasizes organic, fresh ingredients in the foods they offer. There are also vegetarian, vegan, and soy-free options available. They don't use artificial additives and preservatives in preparing their meals.
back to menu ↑
Healthy Chef Creations Fitness and Activity
Healthy Chef Creations offer meals plans that can help you with your health and fitness goals. There are plans rich in protein ideal for people planning to add muscle mass. There are also carbohydrate-free meal plans perfect for losing weight. It is essential to know your specific health objective prior to ordering the meal plans you want.
back to menu ↑
How Easy Is Healthy Chef Creations To Follow?
With this company, you only get organic and natural meals delivered fresh at your door step. This meal has the whole thing you need to lose weight and to keep your body healthy. Gourmet meals are made per weeks and shipped to you fresh, not frozen. The best thing about their meals is that they can be prepared for as low as 30 minutes.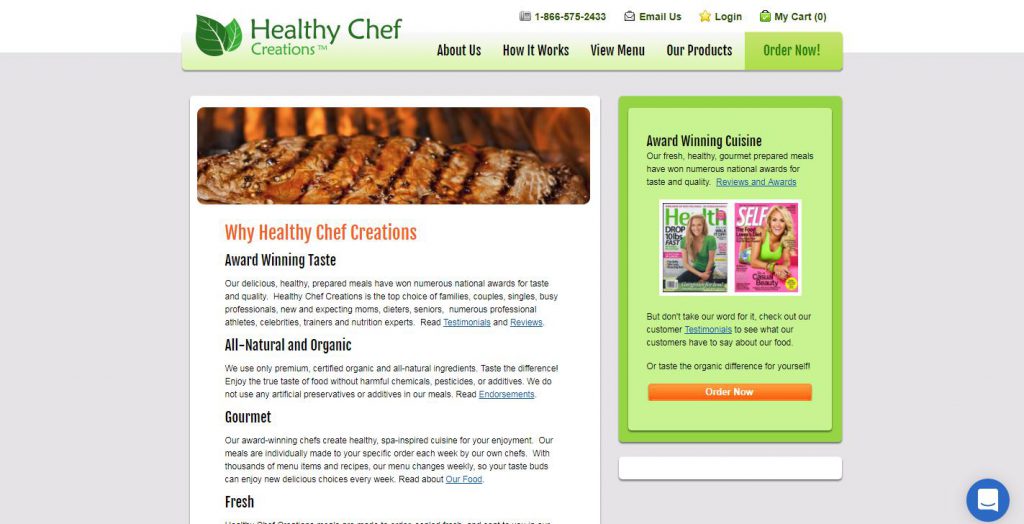 back to menu ↑
Can You Lose Weight With Healthy Chef Creations?
Healthy Chef Creations meal plans are the best way to shed fat fast. They offer calorie controlled recipes that help you lose weight. You can start customizing your natural weight loss meals through filling out a profile which include essential information such as age, weight, height and particular nutritional requirements. This assures customers get meals which fit their caloric and dietary needs that are essential to successful weight loss.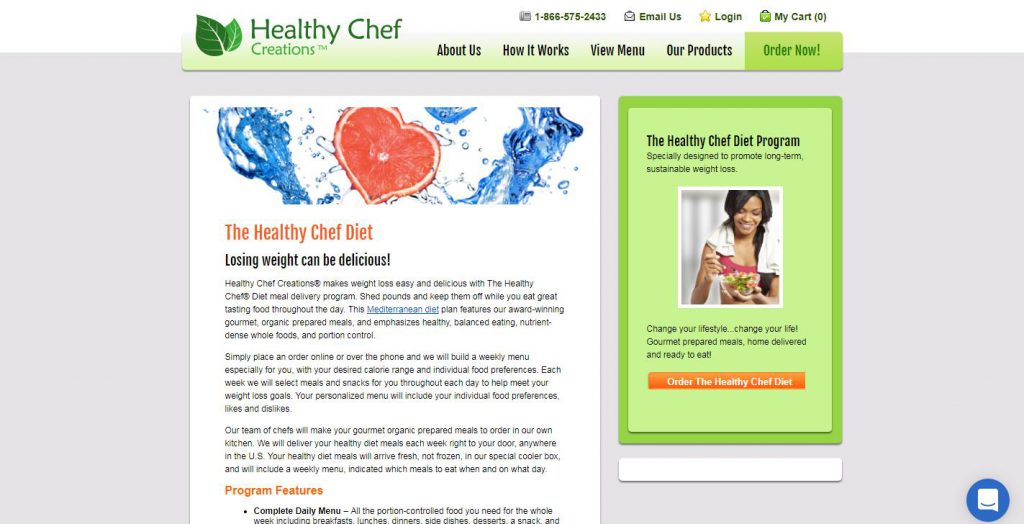 back to menu ↑
Healthy Chef Creations Plans & Pricing and Costs
There are lots of meal delivery service companies out there, but Healthy Chef Creations is the only company that offers meals for a very reasonable price, without compromising the quality of the foods.
2 meals a day will cost you $39.99. The costs increase to $55.99 a day for three meals and extra drinks and dishes with The Healthy Chef Diet. If you choose Gluten –Free plan, you will need to pay $57.99 a day. Healthy Mommy is the most expensive meal plan that has a price of $59.99 for three meals, including snacks, side dishes and dessert per day.
If you order an A La Carte, you need to pay $10.99 to $14.99 for your lunch, while dinner costs $15.99 to $17.99. Breakfast costs $12.99. Special treat for little ones can be added for $5.99 only. Desserts just cost $3.99. Shipping cost is not included in the price given.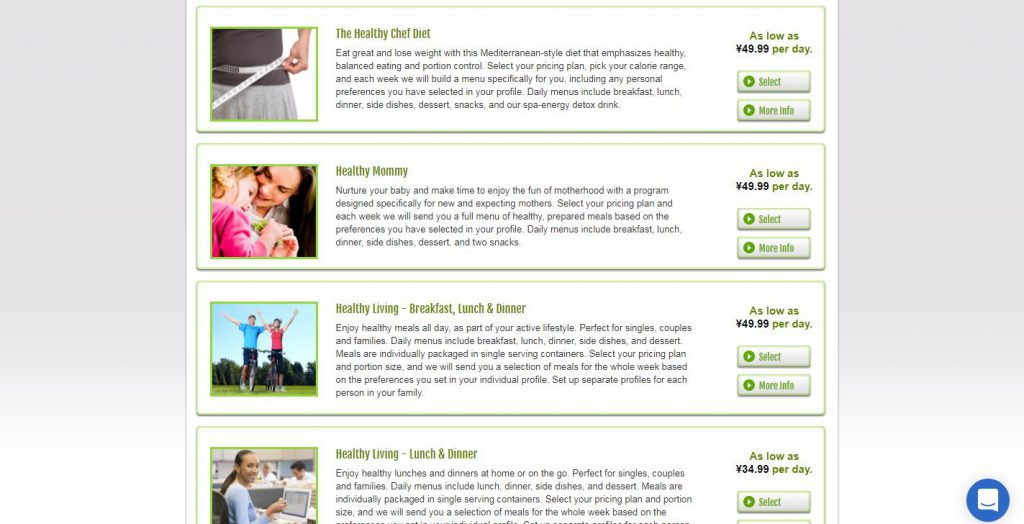 back to menu ↑
Healthy Chef Creations Delivery Areas
Healthy Chef Creations delivers nationwide. They deliver nutritious healthy foods in various parts of the US. You can also order meals if you live in Alaska, Hawaii and Puerto Rico. Customers from Florida and Orlando can receive meals right at their door step or through visiting pick up stations.
back to menu ↑
Healthy Chef Creations Help & Support and Customer Service
back to menu ↑
Healthy Chef Creations Pros and cons
---
PROS:
Pick a managed meal plan or choose your own meal from the a la carte menu
Lots of choices for the type and length of subscription
Thousands of recipes offered
Lots of vegan, low carb, vegetarian as well as gluten free options
CONS:
Delivery only takes during Fridays
High shipping fee of a la carte options
Cancellation of order should be 8 days before the delivery
No choices for couples and family
---
back to menu ↑
Bottom Line
There is a significant development in meal delivery service due to the many benefits they offer. However, it is very important to know the meal plans they offer. Make sure they meet your specific nutritional needs. If you enjoy healthy meals, made of fresh produce, prepared by expert chefs, call Healthy Chef Creations now.
Healthy Chef Creations Review
Healthy Chef Creations provide customer with breakfast packed with essential nutrients, wholesome lunches as well as hale and hearty dinners. With this meal service provider, changing lifestyle and losing weight is just a one step away.
Healthy Chef Creations Discounts, Coupons and Promo Codes
We found 2 verified Healthy Chef Creations Discounts, Coupons and Promo Codes for Oct. 2023. If some of the Healthy Chef Creations coupon codes have expired, please contact us, thank you for your help.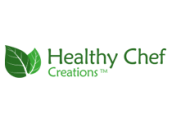 20% OffGet 20% off with promo code!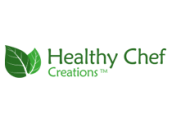 Free GiftGet Breakfast Fruit Plate For $13.99 with coupon code!
Compare Healthy Chef Creations with other Companies' Services, Plans and Products
If you like Healthy Chef Creations but aren't sure whether it's the best ideal choice for you, and may want to compare Healthy Chef Creations with other Companies' Plans, Products, and Services that similar to Healthy Chef Creations, or Healthy Chef Creations Alternatives and Healthy Chef Creations Competitors, Which companies' services like Healthy Chef Creations. You can take a look at our professional comparisons below to discover if one of them is more suitable for you.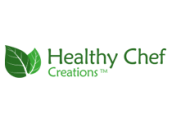 Updated : 10.01.2023.