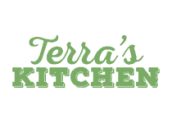 ---
Terra's Kitchen Overview
One of the best food delivery service companies is Terra's Kitchen. They started in 2015 and slowly become a big business. Terra's Kitchen is your number one source of delicious and healthy Mediterranean cuisine. They have the reputation of providing tasty and healthy food with a touch of the Mediterranean cuisine.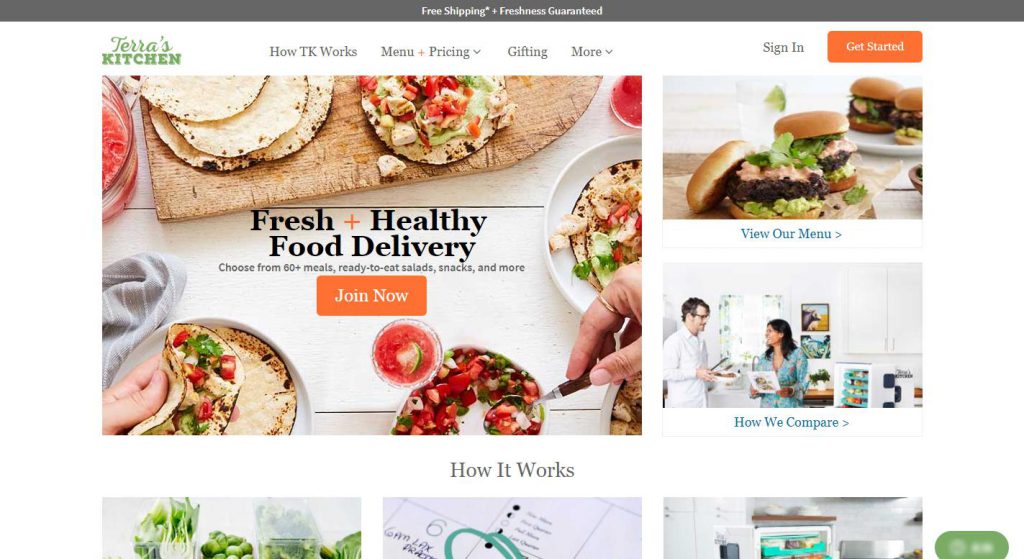 Based on the Mediterranean diet, Terra's Kitchen has developed a wide array of delicious meals that are of high quality. Most of them only take 15 or 30 minutes to prepare at home. The ingredients are pre-chopped and pre-measured, so all you need to do is to heat it up in your oven or microwave. Terra's Kitchen has eradicated the need for grocery shopping, meal planning, and preparing your ingredients. Every meal comes with recipe cards as well as pre-portioned ingredients thus allowing you to prepare something cool and healthy every night.
This company focuses on farm picked produce, fresh veggies and in season ingredients which are sent to you using a highly developed transport vessel. Recipes they offer are mouthwatering, never canned as well as focus on sustainability. They offer meal kits which help make you healthy and away from various kinds of health issues.
Since their establishment, they are known for giving an emphasis on fresh, organic produce and seasonal ingredients. They deliver all these things straight to your door on time. Because of their much innovative transport vessel, an immediate response time or quick delivery has linked to their reputation.
Compared to other service providers in this industry, their recipes are never canned. As a matter of fact, they are fresh tasting, resulting in sustainability and creativity. Whether you want to stay fit or get physically healthy, they have been the number one option you could ever have these days.
Keep reading our honest Terra's Kitchen review to learn more.
back to menu ↑
Terra's Kitchen Ideal For
Those who don't have time to buy and prepare ingredients
Those who are searching for a wholesome and healthier option to frozen foods
Those who want to know cook and enjoy new recipes
back to menu ↑
How Terra's Kitchen Works?
Are you unfamiliar on how to join or place your first order with Terra's Kitchen? If that is the case, all you have to do is to enter your email address and zip code in their website. That way, you can allow the company to ensure that you are within their delivery area. After that, think of how many people you need to serve. Whatever your needs are, they have a lot of options. You can choose from three dinners for two people, four dinners for two people, or two dinners for four people. You can also select a special meal when you are a vegetarian.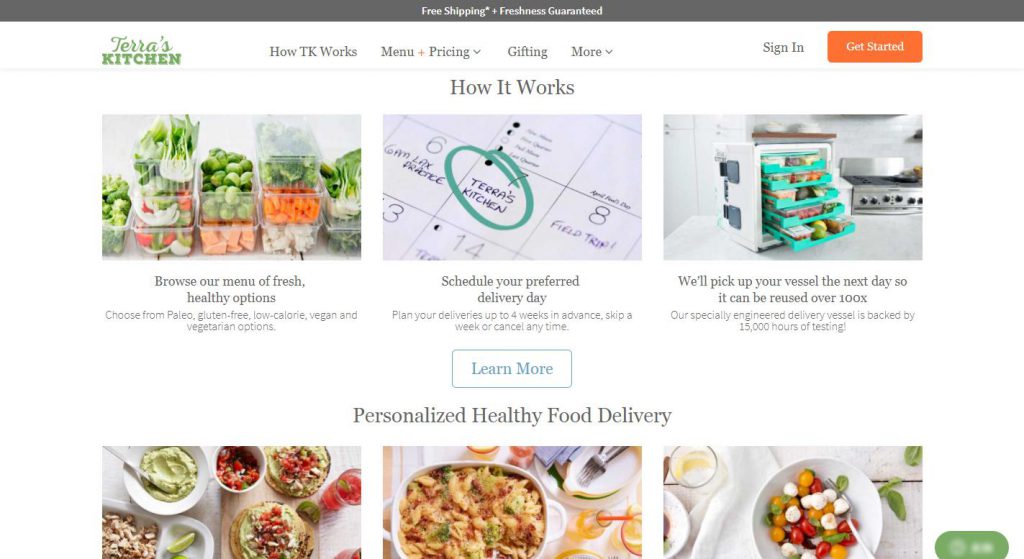 Ordering meals at Terra's Kitchen are fast and easy. All you get to do is to enter your zip code along with your email address. It allows the company to make sure that you are in the vicinity and will be required later on to select delivery options.
After entering your zip code and email add, next thing to do is to pick the number of persons you will have to serve. You can pick between 3 dinners for two persons, four dinners for two persons or 2 dinners good for four people. Also, you can choose vegetarian recipes for your meals.
Like other popular food delivery service providers, Terra's Kitchen provides meals for an array of special diets. What is more, they have a remarkable weight loss plan, which covers your dietary requirements and assists you lose weight while cooking and eating nutritious which are simple and fun to prepare.
Terra's Kitchen also provides weekly deliveries that include fresh and sustainably produced ingredients, pre-measured and pre-chopped for customers' convenience. Every meal comes with a recipe card. All meals offered can be prepared for fifteen to thirty minutes only.
back to menu ↑
What Makes Terra's Kitchen Different?
Terra's Kitchen focuses on providing healthy and wonderfully creative Mediterranean cuisine. They provide 50 remarkable recipes with natural ingredients. These ingredients are premium and high quality, so you are assured of consuming hale and hearty food daily.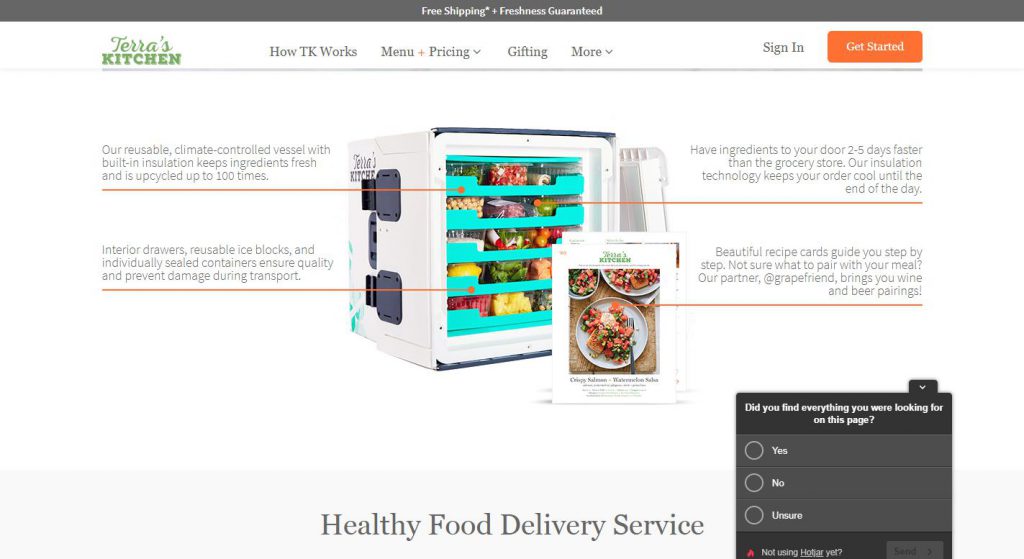 This company takes the time in choosing the ingredients they will be using. They also invest lots of efforts in keeping the ingredients fresh until they are ready for delivery. They utilize special containers for transportation to keep them fresh. Every ingredient comes in an individual container to prevent cross-contamination.
This company required customers to return the empty container as they take environmental security very seriously. They reused containers for hundreds of time before recycling them. They also encourage their customers to recycle these containers.
Terra's Kitchen provides gift cards. This gift card allows you to treat your friends or family members with Terra's Kitchen healthy meals. This gift card can be purchased at $25 up to $300. You can choose from an e-card or buy a physical gift card which is sent through the mail with a handwritten message.
This food delivery service provider also allows customers to refer friends straight from their account. When their friends order food from this company and are delivered, customers who referred friends will get credit on their account that can be used to order more meal kit. A lot of people have fallen in love with the Terra's Kitchen because the company seeks inspiration in the creative Mediterranean cuisine. Not only that, people have the opportunity to access more than 50 incredible recipes. The ingredients are fresh and of superb quality wherein you can taste from the start up to the end.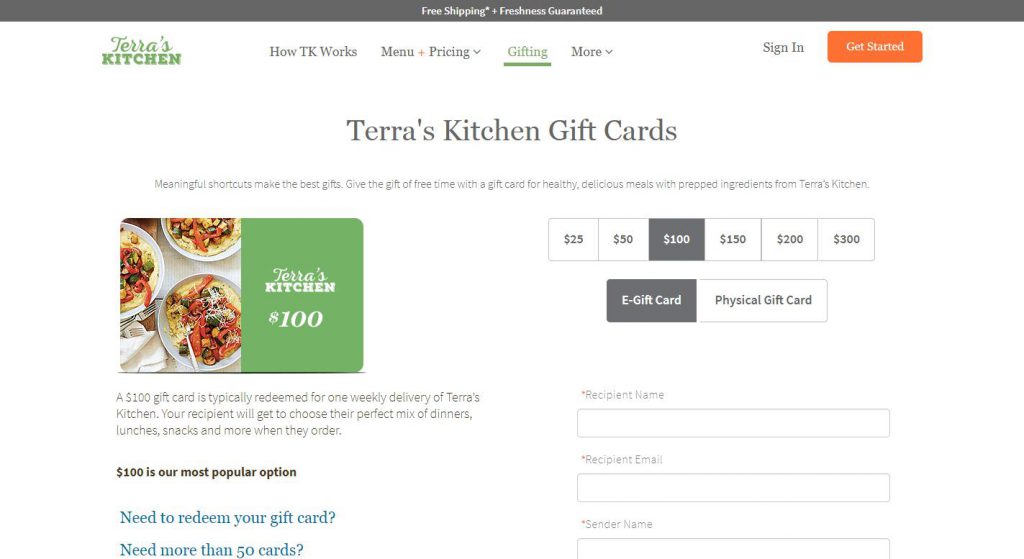 back to menu ↑
Terra's Kitchen Meals & Menus and Recipes
All Terra's Kitchen recipes have been made based on the ideas of Mediterranean cuisine. Also, they offer customers with vegetarian, paleo, gluten-free, low calories as well as vegan meal options so that they can personalize their orders by their dietary requirements. Having those choices makes it easier and simpler to enjoy a meal while following their diet. Since day one of their establishment, they want to give clients the opportunity to customize their order according to their specific needs.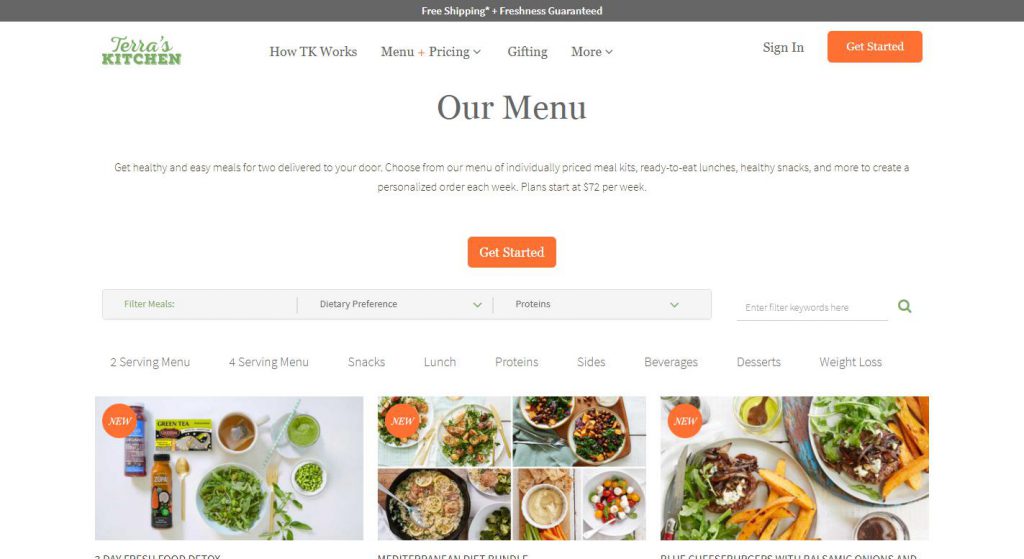 Terra's Kitchen also offers an extensive selection of recipes, so there is something for each one on their menu. If you subscribe to this company, you get to choose the meal plan which fits your daily nutrition requirements. There are three choices you can select from such as three dinners good for two persons, four dinners good for two persons and two dinners good for four people.
This company also provides Real Weight Loss Plan, intended for those who want to keep slim and sexy. With this meal plan, on a weekly basis, you will be receiving low-calorie meals for your lunch and dinner and packed with essential nutrients. Real Weight-Loss Plan also includes healthy snacks as well as smoothies rich in protein.
In general, meals offered by Terra's Kitchen are available in two types: Grab N Go and Dinner items. You need to select which dinners you like and the number of meals you can purchase determined by the meal plan you pick.
All meals on their menu are ideal for two servings. So in case you're cooking meals for four persons, you must order two dinners for every meal.
If you choose your dinners, you are allowed to add Grab n Go Items you want to add to your cart. In fact, you can order as many as you want. Grab N Go items take account of smoothies and salads, juices and snacks, proteins and side dishes, fish and salad.
Once you pick your dinner, you can add Grab-n-Go items during online transaction. You can make an order as many as you can. Terra's Kitchen will just notify you whether you have room left or your vessel is full. These Grab-n-Go items comprise of salads, smoothies, snacks, juices, and side dishes that will surely boost your appetite.
In case, you are trying to lose some pounds, the company has real weight-loss plan for you. This includes weekly deliveries that include lunches and even dinners that are packed with nutrients. In addition, all their meals have low calories, leading to a much healthy lifestyle.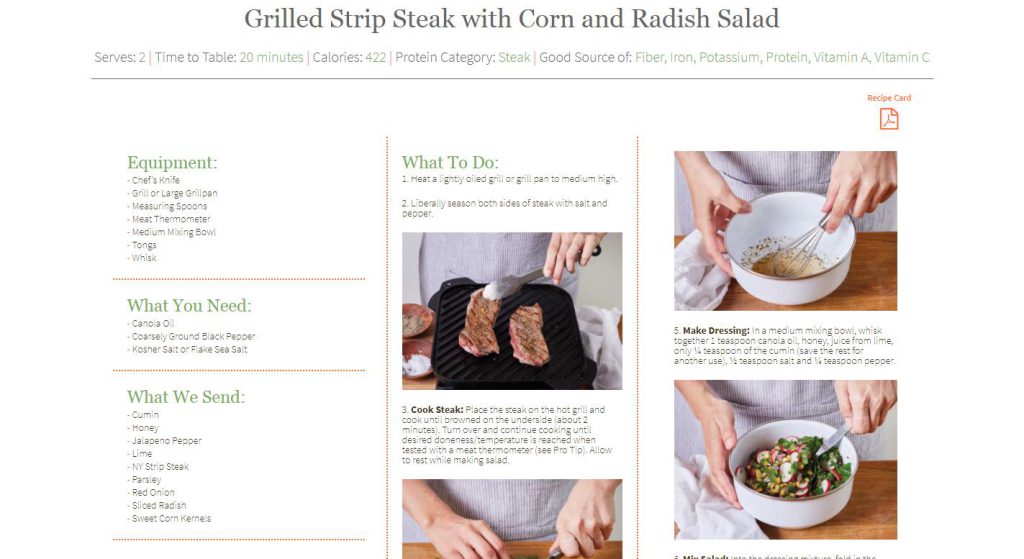 back to menu ↑
Terra's Kitchen Health & Nutrition
A lot of food delivery service companies out there are dedicated to offering their clients with the best and nutritious meals; this is also the aim of Terra's Kitchen. This company utilizes chicken which is non-GMO, free-range as well as Air Chilled. They utilize state of the art Air-Chilled technology that assists stop the spread of germs or bacteria.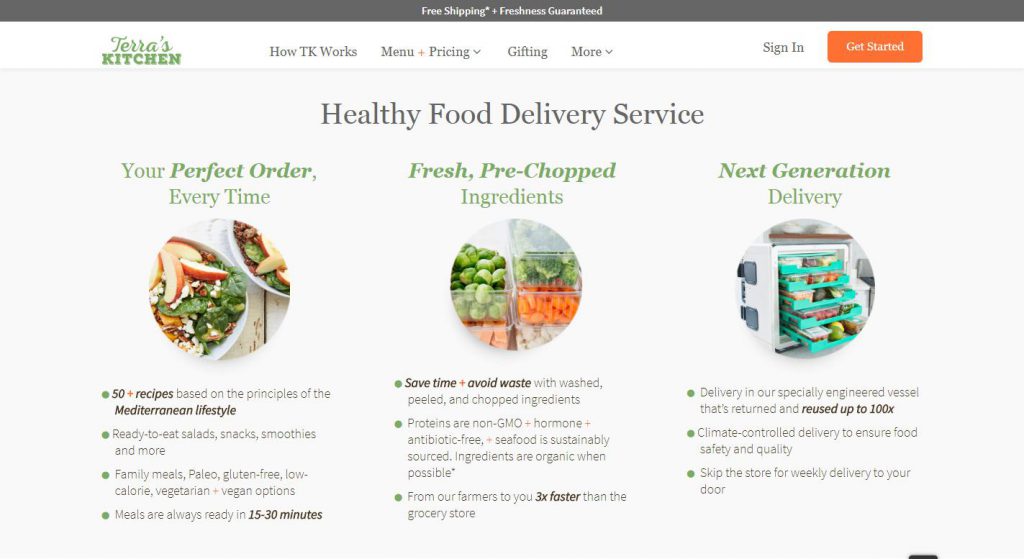 Terra's Kitchen also utilized beef that is organic and grass fed. The beef they use come from cattle which have been born and cultivated to USDA National Organic Standards. No steroids, no GMOs, no additional hormones, pesticides, and antibiotics are used. The cattle are permitted to roam liberally on organic grass and organic field. The beef is then hand-trimmed, portion as well as vacuum-packed at the facility that is certified by the USDA.
Customers are assured that the ingredients included in every meal are naturally and locally sourced as well. It assures the safety of your wellbeing.
As stated above, meals are kept fresh due to their state of the art containers. This container is made to keep the meal cold for a long span of time after delivery. On the other hand, still you need to unpack it and place it in your fridge to sustain the freshness or if you want to cook it the next day or the following week. Terra's Kitchen recommends cooking seafood and meals with meat to uphold optimal flavor.
When it comes to other produce you receive, you can also be confident. Everything reaches the high industry standards, providing the best services to all customers. They also recommend cooking seafood and poultry meals to achieve optimal flavor and taste. Plus, you can store ingredients in the freezer without problems.
back to menu ↑
Terra's Kitchen Fitness and Activity
To attain maximum result, it would be best to do simple exercises for 30 to 60 minutes every day. That way, all your health goals will come to life at the right time. Whether you want to lose weight or maintain your fitness, everything is possible with Terra's Kitchen and proper exercise.
back to menu ↑
How Easy Is Terra's Kitchen To Follow?
The best thing about Terra's Kitchen is that you are allowed to see the recipe card first before you choose the meals you are planning to order. It is to know if it fits your time or preference. The recipe card has a step by step guide on how to cook the food, along with pictures which walk you through the process. This company has made it simple and so easy to prepare a nutritious dish, so even if you're a beginner, perhaps you may find it enjoying preparing meals from Terra's Kitchen.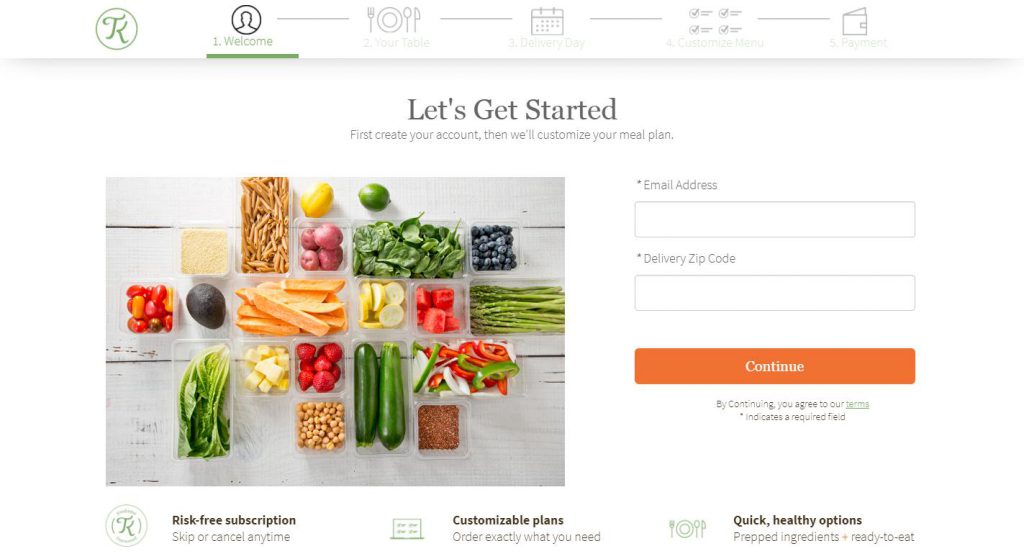 These recipe cards also list the equipment you will need in preparing the meals such as skillet, pots, measuring spoons, etc. Here you will also find the ingredients and some additional items needed for preparing meals like salt, pepper, oil, etc.
With thorough guides and a list of the whole thing needed to prepare the recipes,  As a result, cooking would not be difficult. It would be much fun, exciting and stress-free. What makes this as a top-notch option is that all their dishes could be prepared for only 15 or 30 minutes. It will take hours to put tasty and healthy meals on your table, so there is no need for you to order food from the nearest restaurant or a fast food chain.
back to menu ↑
Can You Lose Weight With Terra's Kitchen?
This food delivery company provides 50 menus plus dishes which change weekly. You can also choose from gluten-free, paleo, vegetarian and low-calorie diets. They also have a whole-nutritionist-directed Real Diet plan perfect for those searching for well and vigorous weight loss assistance.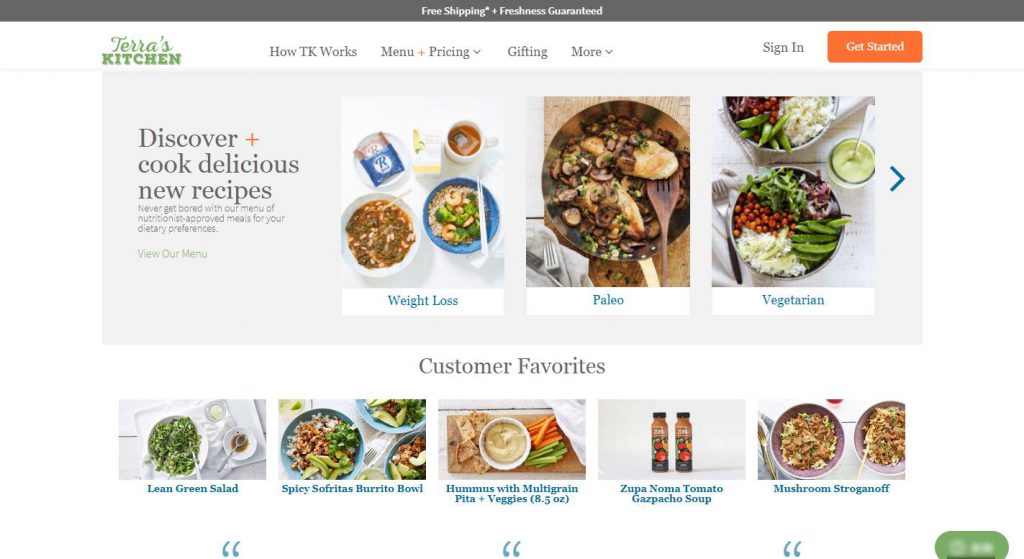 back to menu ↑
Terra's Kitchen Mobile App
Terra's Kitchen offers mobile app equipped with essential features to make the ordering process easier. This mobile app works on Android and iOS devices.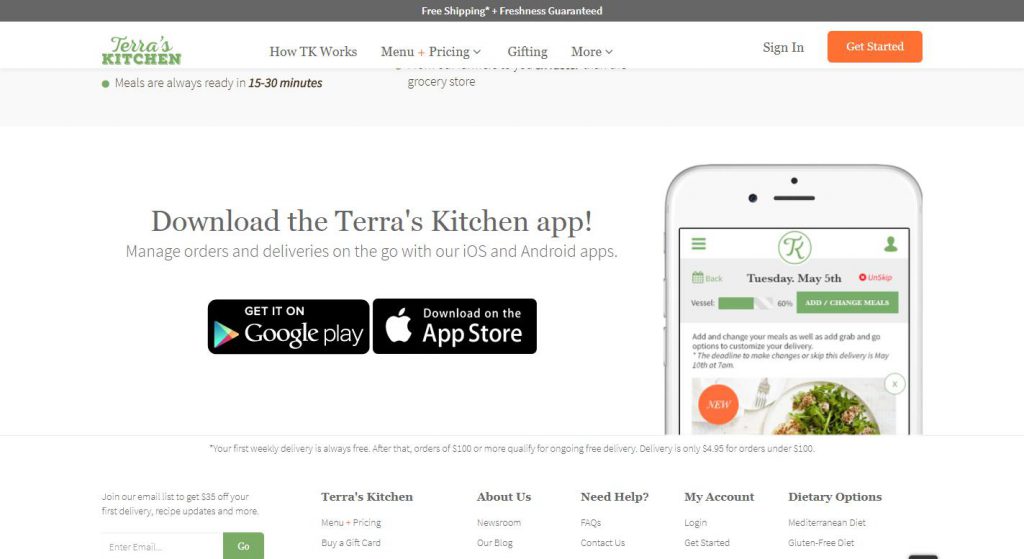 back to menu ↑
Terra's Kitchen Plans & Pricing and Costs
Every menu offered by Terra's Kitchen has a separate price. However, the price depends on the required ingredients and the complexity of the recipe. The cost of one-serving Grab N Go items usually ranges from $3.99 up to $9.99. The costs of two serving Dinner items usually range from $9.99 up to $18.99 for every serving.
Terra's Kitchen meal delivery is free. But, even if does offer free delivery, they don't have a minimum order, but you have to order at least $62.99 or more to avail their free delivery.
back to menu ↑
Terra's Kitchen Delivery Areas
Terra's Kitchen only provides their service to some areas in the US. So, it means that the service doesn't cover some cities and states. To know if their service covers your place, you have to put your address or zip code on their site. In case you don't receive a reply, it is advisable to call their customer hotline number.
back to menu ↑
Terra's Kitchen Help & Support and Customer Service
For more information about the services this company offer, please feel free to visit their website and go to the FAQ section. You can also deliver your queries through email or call their customer hotline number.
back to menu ↑
Terra's Kitchen Pros and cons
---
PROS:
Sustainably sourced ingredients
A wide array of menu items
Different meals for people who have special diets
All meals could be prepared within 15 or 30 minutes.
Superb weight-loss plan
Free and immediate shipping
---
back to menu ↑
Bottom Line
The company allows you to explore the Mediterranean cuisine with great recipes and the freshest ingredients. The dream of cooking healthy and easy-to-prepare meals will be a reality. Furthermore, their menu is rich in which you can make a choice that best suits your desired and budget.
If you have a fondness for Mediterranean cuisine or just to try new recipes, Terra's Kitchen is the best place to go. With lots of amazing and nutritious recipes to choose from, this company is a good and reliable kitchen and food buddy. They offer pre-measured and pre-chopped ingredients right at your doorstep.
These recipes can be prepared for fifteen to thirty minutes. However, in spite of the many advantages this company offers, they also have some flaws such as limited delivery areas. Meals are relatively cheap, and delivery is free of charge. Meals they offer allows you lose weight and keep healthy. They also provide lots of special dietary choices; each one surely pleases and satisfies your need and taste.
Terra's Kitchen Review
Terra's Kitchen is one of the best and reliable food delivery service companies which provide a selection of delicious, healthy and easy to prepare meals. Choose the meal you want and have the chance to pick from their Grab-N-Go Items like salad and dressing. Meals are cheap yet healthy, and delivery is free.
PROS
More than fifty dinners to choose from
Wholesome, tasty, fresh as well as locally sourced ingredients
Free delivery on your orders
Add your review
Terra's Kitchen Discounts, Coupons and Promo Codes
We found 2 verified Terra's Kitchen Discounts, Coupons and Promo Codes for Oct. 2023. If some of the Terra's Kitchen coupon codes have expired, please contact us, thank you for your help.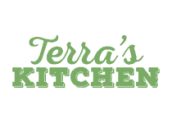 50% OffGet 50% off on your first order at Terras Kitchen with promo code!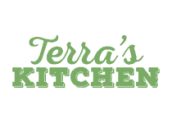 $50 OffGet $50 off on your first order at Terras Kitchen with coupon code!
Compare Terra's Kitchen with other Companies' Services, Plans and Products
If you like Terra's Kitchen but aren't sure whether it's the best ideal choice for you, and may want to compare Terra's Kitchen with other Companies' Plans, Products, and Services that similar to Terra's Kitchen, or Terra's Kitchen Alternatives and Terra's Kitchen Competitors, Which companies' services like Terra's Kitchen. You can take a look at our professional comparisons below to discover if one of them is more suitable for you.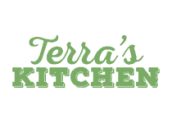 Updated : 10.01.2023.