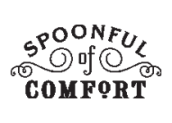 Spoonful of Comfort Review
---
Spoonful Of Comfort Overview
Spoonful of Comfort is one of the highly regarded meal delivery services in the country. The company makes chicken soups then sending them to people looking for some comfort. This meal delivery concept has already helped comfort many people around the country. The chicken soup idea is simple but millions of people around the nation love to receive chicken soup gift baskets.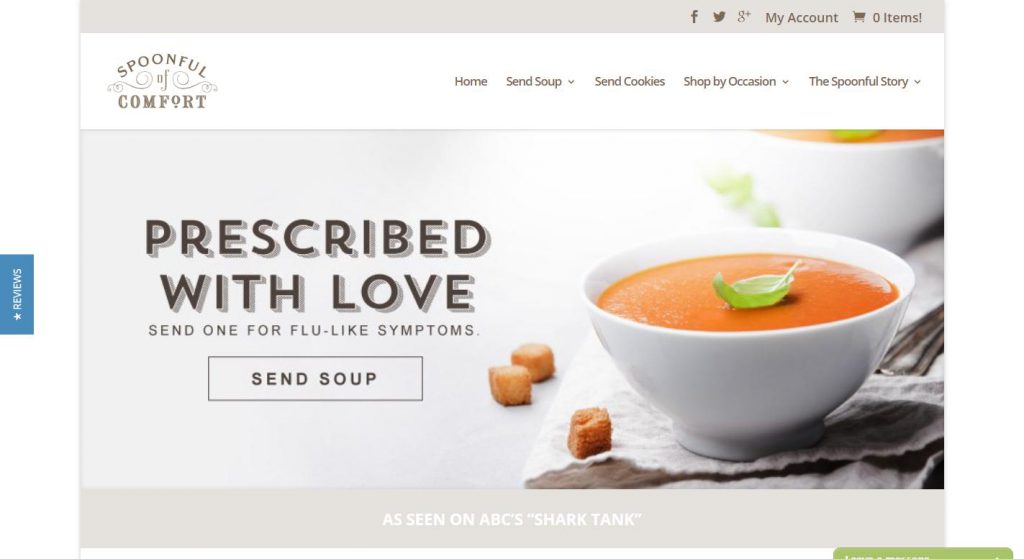 This idea started with the founder, Marti, who was unable to return as soon as possible when her mother got sick. To comfort herself, she thought of making chicken soup as her mother used to cooker her before. Unfortunately, her mother did not make it. In honor of her mother, Marti started Spoonful of Comfort to comfort others with chicken soup as she had been.
Keep reading our honest Spoonful Of Comfort review to learn more.
back to menu ↑
Spoonful Of Comfort Ideal For
Customers who want the comfort of a familiar food like chicken soup
Customers who want to eat healthy, delicious chicken soup
back to menu ↑
How Spoonful Of Comfort Works?
Spoonful of Comfort is a healthy meal option for men and women who are craving for the comfort of a familiar food, just like a chicken soup. It is easy to get a grasp of what this meal delivery service is, even when you just spend a few minutes browsing on their website. Right from the start, you will already notice that the main purpose of their service is to comfort you.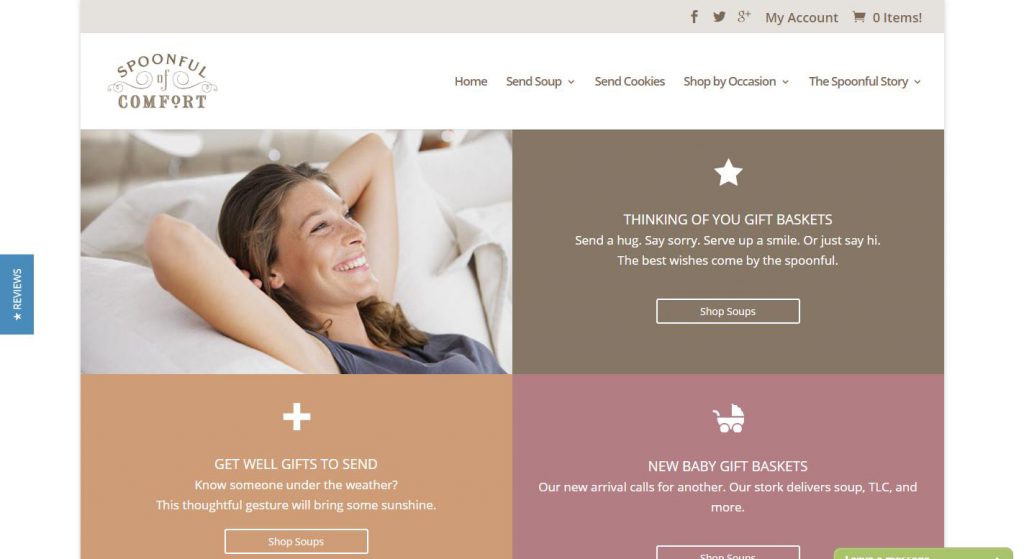 Through excellent service and a delicious big bowl of soup, Spoonful of Comfort is able to show care and love. Clients can also order chicken soup gift baskets from the company and send them to a loved one or friends. This is an effective way of showing how much you care, appreciate and love that person. You can send them a delicious bowl of soup with a personal message along with other treats in the basket.
It is easy and simple to order from Spoonful of Comfort. All it takes is a few clicks that do not take much of your time. When you order, you can select what message you want to send along with your soup. Of course, you can choose the kind of soup you send in your gift basket. While chicken soup is the primary soup they offer, there are definitely others you can choose.
Once you chose your soup and written your message, you now provide the delivery details needed and you are good to go. Your soup gift basket is now on its way to the person you want to comfort and show that you care and love. It is great to know that Spoonful of Comfort carefully packaged every soups gift basket.
Together with the soup, there is also a lovely little ribbon and a message that makes the soup gift basket more adorable. Spoonful of Comfort's website also offers broad information about their soups, the ingredients, the shipment and care of every gift basket. Even the way they ensure the soup's quality and flavor remain the company provides in detail.
back to menu ↑
What Makes Spoonful Of Comfort Different?
Spoonful of Comfort's main product is, of course, the chicken soup, being the reason why the company even began in the first place. Of course, there are other types of soups available at Spoonful of Comfort besides chicken soup. If you visit their website, you will find broad information on nutritional facts of their soups so that you know exactly what are all those soups made of.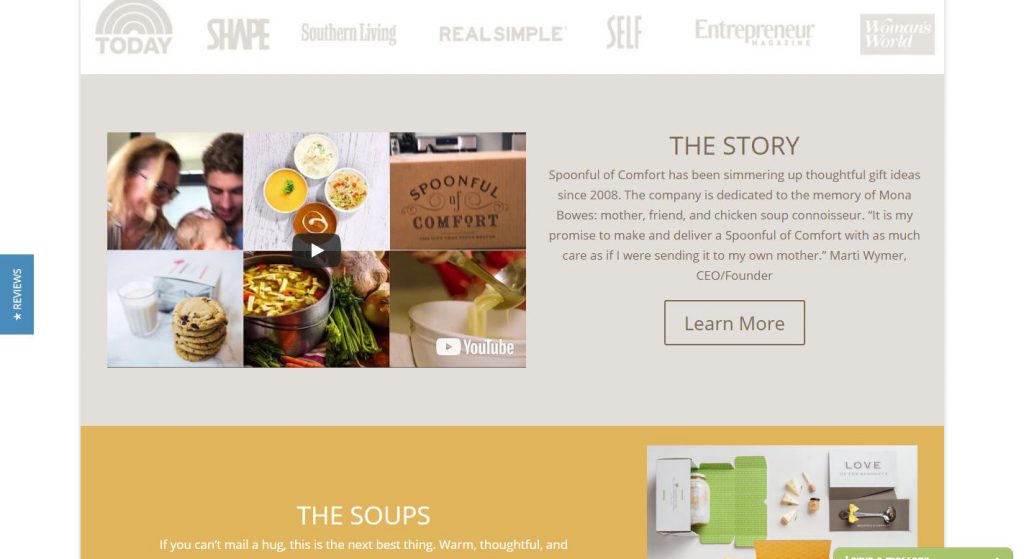 Besides the all-time favorite soup, other soups available in Spoonful of Comfort include tomato basil soup, potato leek soup, and gazpacho soup. They also offer ice cream, cookies and even rolls as additional treats. Right now, Spoonful of Comfort does not any intention of expanding their product offers.
The company is doing well even with just soups and some treats. It is not a big deal really that their soup offers are only a few. With chicken soup alone, there are already many companies vying to get an adorable gift basket to send to their loved one. It is already a great bonus to have a few more choices for soups and treats.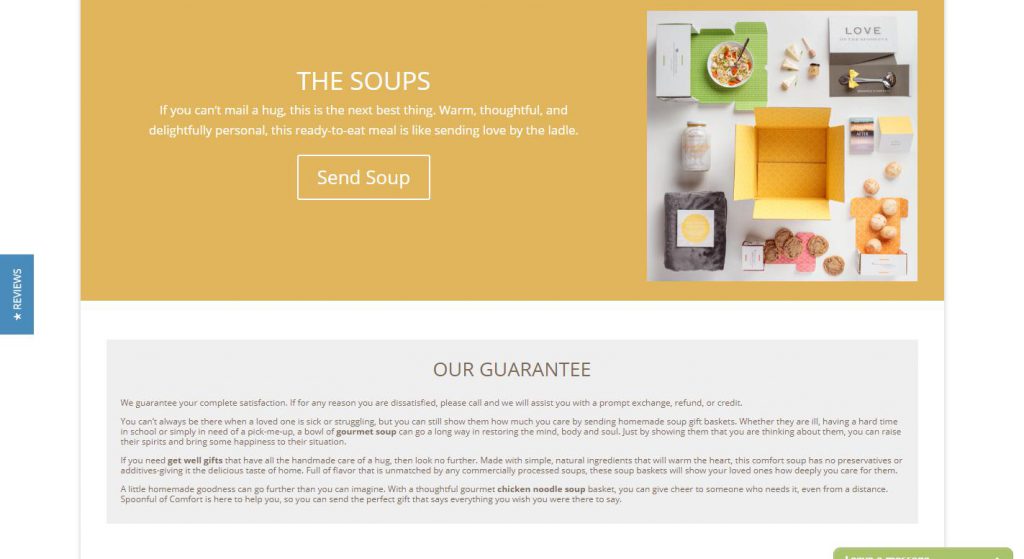 back to menu ↑
Spoonful Of Comfort Meals & Menus and Recipes
As mentioned before, the main dish of Spoonful of Comfort is the chicken soup. This celebrated soup is a classic and one that effectively comforts anyone. By sending your loved one a gift basket of chicken soup in a big bowl with a personal message to show how much you care. Besides the chicken soup, you can also go for a tomato basil soup, potato leek soup or gazpacho soup.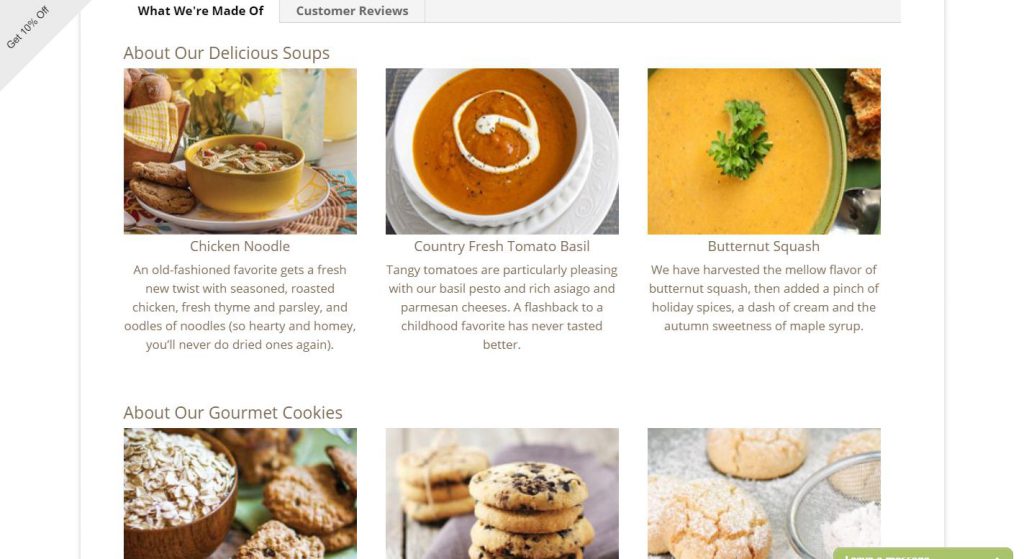 All these soups are delicious and a great option for vegetarians. In terms of the gazpacho soup, Spoonful of Comfort serves them cold. As for the other soups, the company delivers them refrigerated so it requires reheating before eating. You or your loved one just need to reheat the soup for a few minutes and with that, it's good to go.
One thing to note about Spoonful of Comfort's recipes and meals is the special dietary programs. The company does not actually feature any dietary program suitable for people with special diet needs. However, they do offer a wide array of gift baskets you can give for different occasions. They have a "Thinking of You" basket, "Sympathy", 'New Baby", "College Care" and "Get Well Soon" baskets too,
Every one of these soup baskets has a different price range. The price of the package highly depends on what you want to include together with the soup. There are different things you can add to the soup, such as treats like cookies or a hot tea. You may also include a soup ladle, warm socks, cozy blanket and other items for comfort.
Spoonful of Comfort can also send a spoonful of ice cream if a soup is not your fancy. They can send up to four pints of ice cream from the six different flavors. Their ice cream flavors include Sweet Strawberry Crème, Madagascar Vanilla, Southern Caramel Praline, Choco-lot-o-luscious, and Monticello Sorbet. Choose from any of these ice creams and send them to comfort your loved one.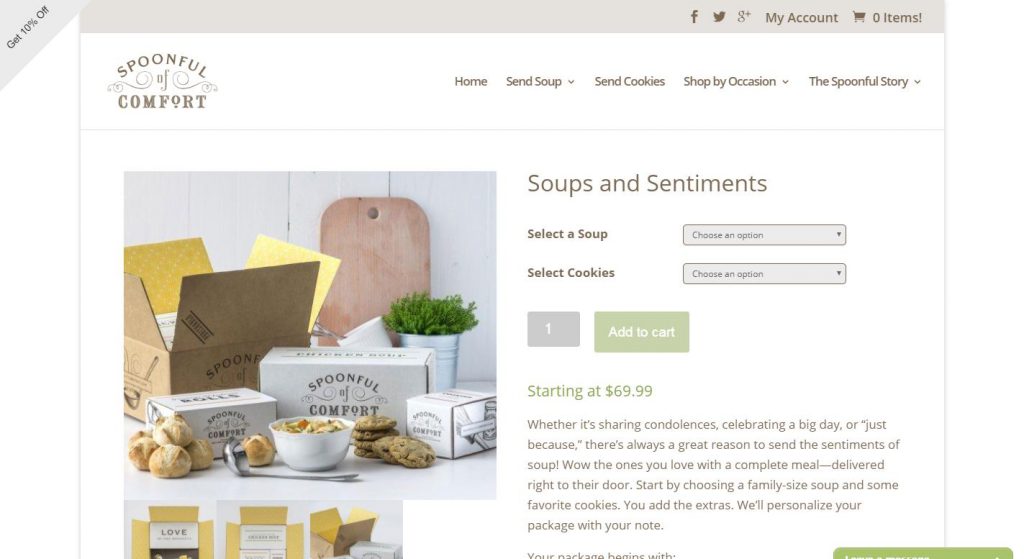 back to menu ↑
Spoonful Of Comfort Health & Nutrition
Just like what you can deduce from the company's name, Spoonful of Comfort delivers comfort, even just a little bit, to people who need love, care, and warmth. They do this through the chicken soups and other soups they offer their customers. Created for the purpose giving comfort, Spoonful of Comfort's chicken soup is a favorite of people when it comes to comfort food.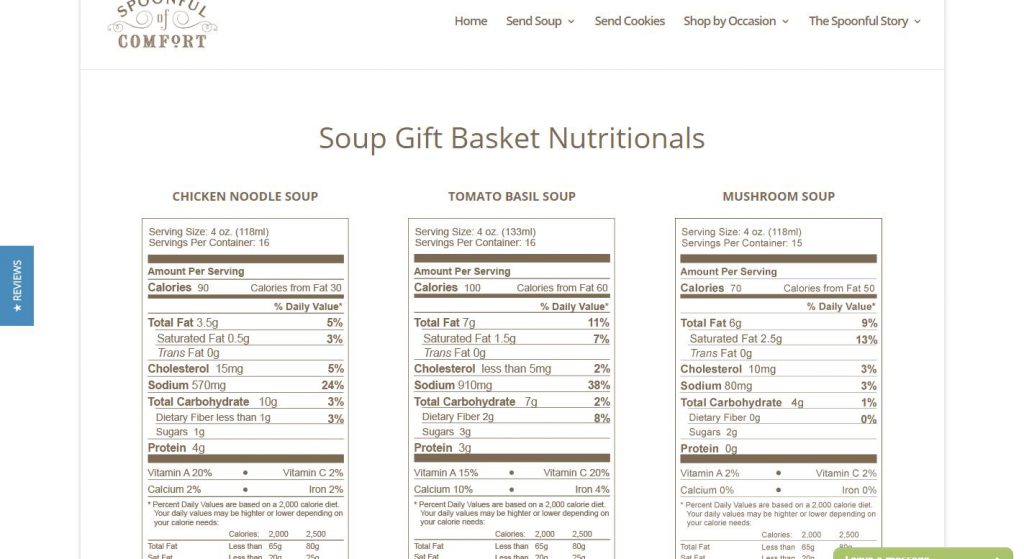 back to menu ↑
Spoonful Of Comfort Fitness and Activity
The company does not require physical activity. However, for maximum health benefit and due to the proven fact that exercise helps cheer you up, physical activity may be good for you. It is best to indulge in physical activities of at least 30-60 minutes every day. You can split up the time if you want and the activities, as well as the time to do them, are all up to you.
back to menu ↑
How Easy Is Spoonful Of Comfort To Follow?
It is not hard to order a personalized soup gift basket. All you need is visit the site and all details you need to order are there. Each handcrafted soup comes in an airtight jar wrapped packaging. The packaging wraps the bag to keep it cold together with an ice pack. This way there is no way your soup will end up spoiled.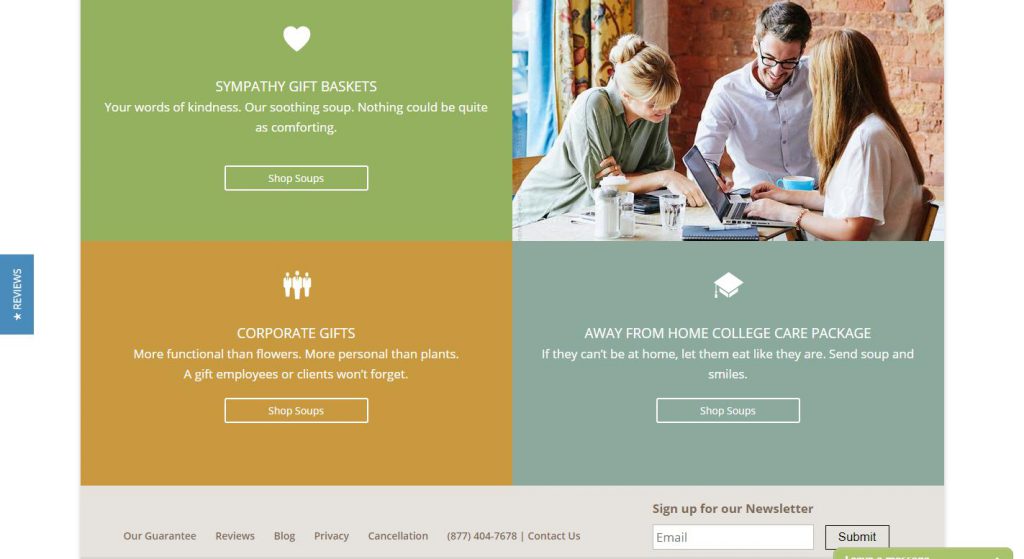 back to menu ↑
Spoonful Of Comfort Plans & Pricing and Costs
As mentioned before, the price of every package depends on the treats and items you include in the basket. The lowest price, however, is $59.99 for half a gallon of chicken soup. This includes six rolls and a note card. If you want additional cookies and a soup ladle too, the price increases to $69.99. There are different items you can add to your basket.
Depending on the occasion and type of package, its price can increase up to $99.99. This price is already the most expensive package out of all that Spoonful of Comfort offers. When it comes to other soups, both the potato leek and tomato basil is at $69.99 starting price for half a gallon. On the other hand, the ice cream's price is at $59.99 for 4 pints.
back to menu ↑
Spoonful Of Comfort Delivery Areas
Spoonful of Comfort website does not specifically state their delivery areas. However, they do delivery to any areas of the mainland US. This means they probably do not send their gift baskets to Hawaii and Alaska.
back to menu ↑
Spoonful Of Comfort Help & Support and Customer Service
For additional help, customers can simply contact Spoonful of Comfort through email or by calling their number of 1-(877) 404-7678. They can also visit the company's official website to check out their FAQ page, where extensive information about the website is available.
back to menu ↑
Spoonful Of Comfort Pros and cons
---
PROS:
High quality, budget-friendly soup
CONS:
Chicken soup and only three other soups
---
back to menu ↑
Bottom Line
Spoonful of Comfort offers a great way for customers to comfort their loved ones, whether it lives near them or not. This company is born from a truly great idea of giving a care package to sick loved one or if you just want to comfort them. Sending a Spoonful of Comfort soup gift basket is a truly great way of putting a smile on your loved one's face.
Spoonful of Comfort Review
Spoonful of Comfort is a great meal delivery service with a unique concept. While it doesn't really deliver meals, its big bowl of chicken soup effectively comforts and put a smile on your face.
Spoonful of Comfort Discounts, Coupons and Promo Codes
We found 2 verified Spoonful of Comfort Discounts, Coupons and Promo Codes for Dec. 2023. If some of the Spoonful of Comfort coupon codes have expired, please contact us, thank you for your help.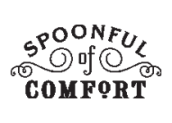 15% OffGet 15% off any order with promo code!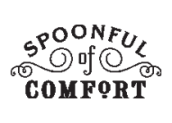 10% OffGet 10% off any order for New Customers with coupon code!
Compare Spoonful of Comfort with other Companies' Services, Plans and Products
If you like Spoonful of Comfort but aren't sure whether it's the best ideal choice for you, and may want to compare Spoonful of Comfort with other Companies' Plans, Products, and Services that similar to Spoonful of Comfort, or Spoonful of Comfort Alternatives and Spoonful of Comfort Competitors, Which companies' services like Spoonful of Comfort. You can take a look at our professional comparisons below to discover if one of them is more suitable for you.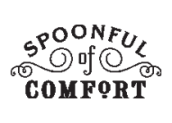 Updated : 12.10.2023.