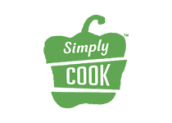 ---
SimplyCook Overview
SimplyCook is a subscription recipe box designed to deliver recipes, seasoning and spices straight to your home. With a monthly subscription from SimplyCook, you are able to receive 4 kinds of meals suitable for two to four different people. This meal delivery service is not an ordinary meal subscription service. They offer restaurant-grade dishes you can prepare in as quickly as 15-20 minutes.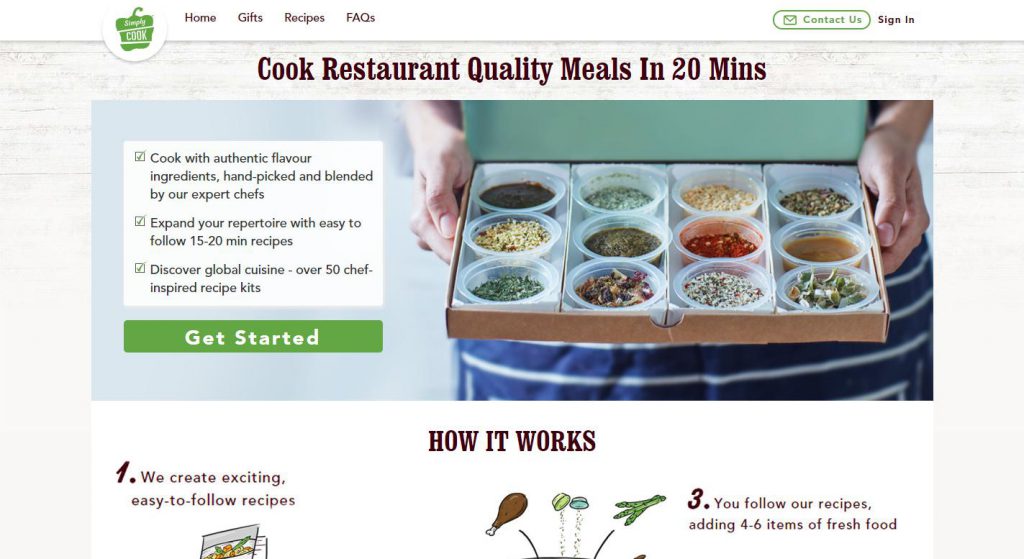 With the recipes, spices and seasonings SimplyCook has for you, it will be easy to impress anyone with your incredible cooking skills. Whether you have family, friends, colleagues or other visitors coming over, they can help you in making a masterpiece. You can make the best-tasting meals out of restaurant-grade recipes, flavorful blends and extra special spices.
These, together with the ingredients in your fridge, allow you to make a superb dish you never had before. In this SimplyCook review, you will learn more about what this meal service can offer you. There are tons of recipes, seasonings and spices in SimplyCook's selection. These, along with its superb service, you are sure to find SimplyCook the one for you.
Keep reading our honest SimplyCook review to learn more.
back to menu ↑
SimplyCook Ideal For
Customers looking to save time and money in preparing and cooking meals
Customers looking for healthy, easy to prepare meals made with high-quality ingredients
Customers who want to learn how to cook
Customers who want to enjoy trying new recipes
back to menu ↑
How SimplyCook Works?
SimplyCook is different from your usual meal kit delivery service. While like most it also offers recipes and ingredients, they do not offer all ingredients. The main difference is the ingredients they offer are those hard to find in your local stores. By subscribing to SimplyCook, you shop from your local stores for regular groceries while they provide unique seasonings for you.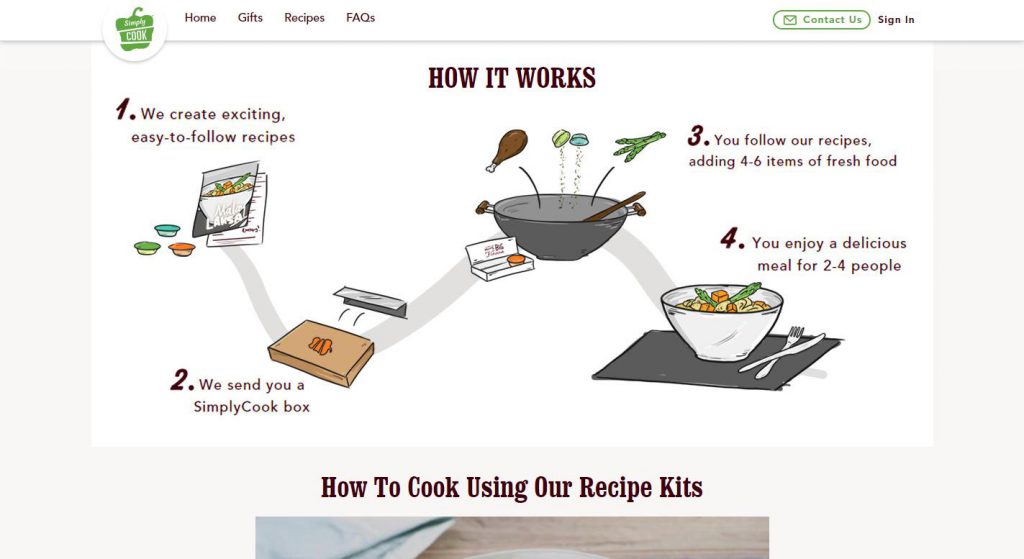 If you subscribe to their service, you gain access to their selection of gourmet recipes. There are about 70 gourmet recipes in SimplyCook. Each of them carefully designed so you can prepare and cook them within 20 minutes at most. Every week, you can choose 4 out of these gourmet recipes, which along with handcrafted flavor blends will be delivered to your doorstep.
Professional chefs create the recipe and flavor blends so you can expect they are delicious and nutritious. The flavor blends can contain up to 18 kinds of recipes, such as rubs, infused oils, herbs, spices, garnishes, culinary pastes and more. These ingredients help make the flavors and aroma of your meals stronger.
By including these flavor blends in your meal, you can make your dish a masterpiece as if prepared by a professional chef. It is easy to make your masterpiece of a meal since every recipe includes every piece of information you need. It has a list of all the items or ingredients for the recipe with their exact quantities.
This list ensures you can make high-quality meals at a truly great price. This is because you will be the one who will choose and buy the groceries yourself. It means you can ensure the quality of the ingredients you buy and make sure you are not paying a high price for them. This is unlike the typical meal kit services that are usually high-priced.
SimplyCook's chefs handpick the recipes themselves, making sure they are the best recipes that will make impressive meals for your loved ones. If you want, you can also select from a short list of recipes SimplyCook prepares for you. With every box you order, their chefs give suggestions of new recipes you can try.
Of course, you don't need to stick to their suggestions. You can swap them for any recipe that catches your taste and preferences. SimplyCook's subscription is extremely flexible without any commitment. If you do not fancy the idea of receiving restaurant-grade recipes, excellent flavor blends and exotic seasonings, you can end your subscription anytime.
back to menu ↑
What Makes SimplyCook Different?
You must know for now that SimplyCook is quite different from the usual meal kit services. Their meals are as delicious as the dishes you can buy from your favorite restaurants. The best thing is you can have these dishes ready in just around 15 to 20 minutes. Preparing and cooking meals is now easier than ever.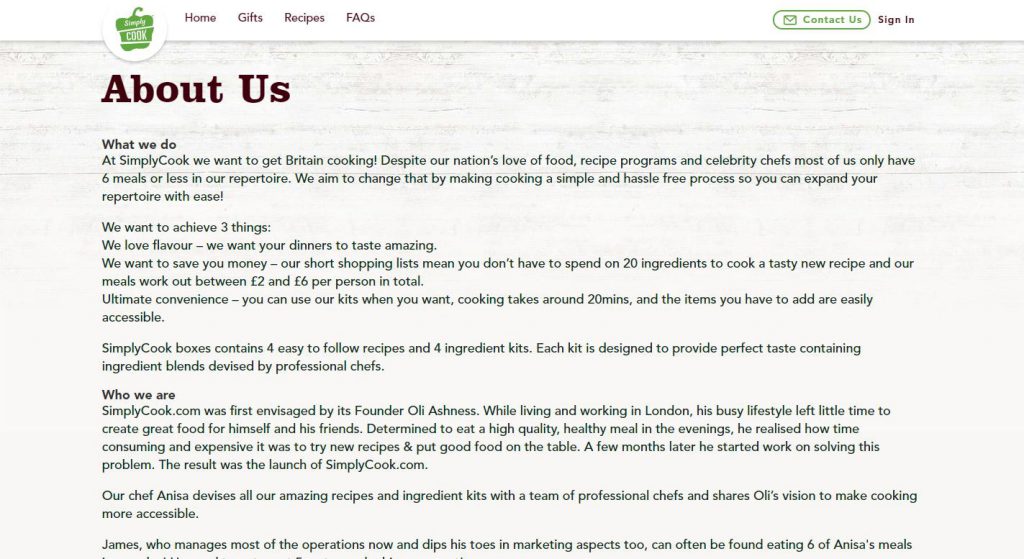 SimplyCook's recipes are extremely easy to make since it usually only needs 4-6 ingredients you can buy from your local grocery stores. Since you only need regular ingredients, you can save more on costs. There are three subscriptions available – the 3-month, 6-month and 12-month plans.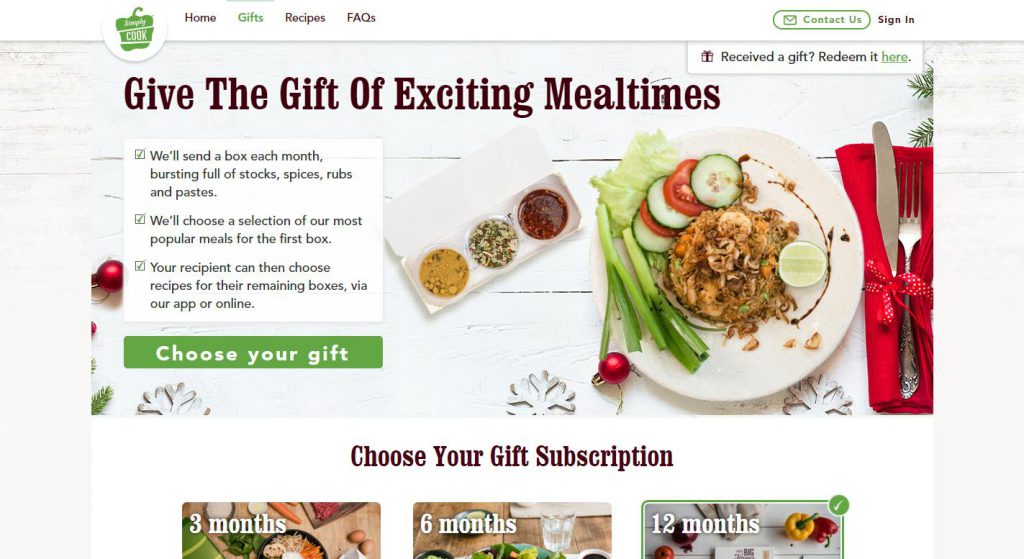 back to menu ↑
SimplyCook Meals & Menus and Recipes
There are four different recipes boxes available at SimplyCook. These boxes tackle customers' varying cooking preferences and dietary needs. In each box, there are 4 recipes meant for two to four people. The four different recipes boxes are the Discovery Box, Light Box, Gluten-Free Box, and Vegetarian Box.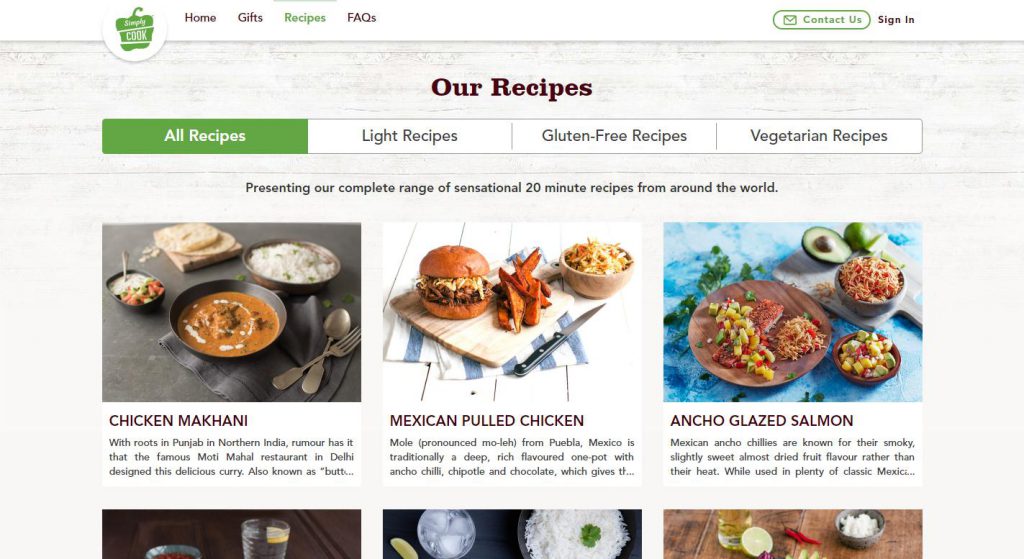 The Discovery Box is ideal if you like variety. Home cooks will enjoy the variety of recipes and ingredients they will receive when they get their Discovery Box. It allows them to try out the nearly 70 different recipes that SimplyCook offers. Four at a time, they can choose from these recipes and learn new meals to cook.
The Light Box is a recipe box exclusive to providing customers with the healthiest recipes. It includes low-calorie meal plans. With the Light Box plan, you can receive recipes without meals that have 600+ calories. This makes this plan great for those who want to stay in shape, lose weight or improve their diet.
For those on a gluten-free diet, there is the Gluten-Free Box for them. As you already suspect, the recipes in this box are from the over 40 gluten-free recipes in SimplyCook's selection. With these recipes, you will be able to discover new recipes and cook exciting meals aligned with your special diet.
Another special diet box, the Vegetarian Box is perfect for exclusive vegetarians and those who love veggies. Inside the box are recipes of colorful, aromatic and delicious dishes. These recipes are from SimplyCook's vegetarian cookbook. Every day, this cookbook continues to grow with SimplyCook adding new recipes.
back to menu ↑
SimplyCook Fitness and Activity
It is not a requirement that you exercise. However, if you want the maximum health and weight loss benefit, physical activity is essential. On that note, it is ideal to move at least 30 to 60 minutes every day. To make it less tiring, you can split the exercise time into three to six 10-minute intervals.
back to menu ↑
How Easy Is SimplyCook To Follow?
The recipes are available in recipe cards. Each card details how to prepare and cook each meal. It also has a handy shopping list for the ingredients you need. There might be ingredients in the recipe that you don't like. Don't worry. In that case, it is possible to find a suitable substitute that suits your taste.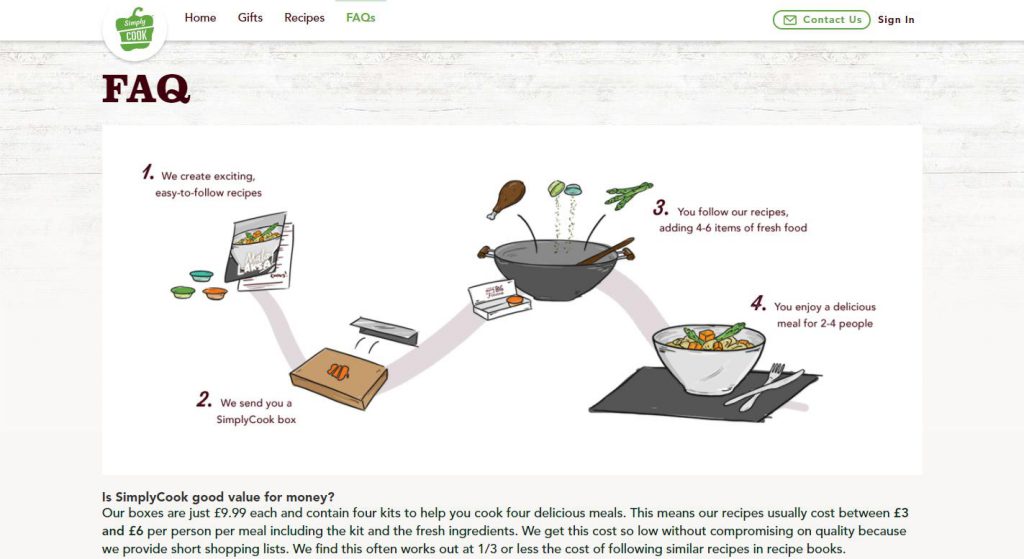 back to menu ↑
SimplyCook Mobile App
SimplyCook's mobile app ensures you can contact them easily, anytime and anywhere. The app includes dozens of features that make ordering an easy task for you. It allows you to edit your order details easily, view your order history and store any information regarding your orders. SimplyCook's mobile app is available in Android and iOS devices.
back to menu ↑
SimplyCook Plans & Pricing and Costs
All of the recipe boxes of SimplyCook cost the same. Their price is always exactly £9.99, which means each meal is about £2.5 or £0.6-£1.25 for every serving. Considering the grocery prices, it could be that every SimplyCook meals cost at around £3 to £6. If you think about the prices of the flavor blends and seasonings included in SimplyCook boxes, this is a reasonable price. The best of all is shipping is free to anywhere in the UK.
back to menu ↑
SimplyCook Delivery Areas
As mentioned before, SimplyCook delivers all over the UK. They ship the boxes through the Royal Mail. The shipment happens thrice a week with delivery time usually about four business days. Customers do not have to be at home for delivery. This is because the kits actually fit most letterboxes. There is also no need for signature to receive the kits.
back to menu ↑
SimplyCook Help & Support and Customer Service
For customers in need of additional help, they can contact SimplyCook through the phone number available on the website or send an email to the company. Similarly, they may also visit the website and check out the FAQ page for immediate answers to their questions.
back to menu ↑
SimplyCook Pros and cons
---
PROS:
Meals are ready in as short as 20 minutes
Over 60 recipes available
Gourmet, low-carbs, gluten-free and vegetarian recipes
Professionally created seasonings and flavor blends
Free shipping throughout the UK
Budget-friendly service
CONS:
Cannot choose how many servings and recipes are available in each box
---
back to menu ↑
Bottom Line
SimplyCook is more than just interesting but truly an amazing meal delivery service for those who would like to try unique dishes. For those who are curious about the secret ingredients that professional chefs use, SimplyCook is here to let them all in the secret. The ingredients that make these meals amazing are now available directly on their doorstep.
SimplyCook Review
SimplyCook is an incredible meal delivery service ready to offer its customers with a great selection of flavor blends and gourmet recipes at a budget-friendly price. With almost 70 different recipes to choose from, select from four types of recipe boxes and enjoy the best tasting meals.
PROS
Discovery, Light, Gluten and Vegetarian box
Prepare and cook meals for 15-20 minutes
Budget-friendly prices and free shipping everywhere in the UK
Add your review
SimplyCook Discounts, Coupons and Promo Codes
We found 2 verified SimplyCook Discounts, Coupons and Promo Codes for Dec. 2023. If some of the SimplyCook coupon codes have expired, please contact us, thank you for your help.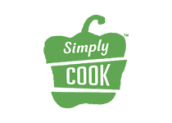 66% OffGet 66% off First Box Subscription with promo code!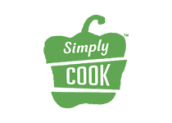 £3 OffGet £3 off for New Customers with coupon code!
Compare SimplyCook with other Companies' Services, Plans and Products
If you like SimplyCook but aren't sure whether it's the best ideal choice for you, and may want to compare SimplyCook with other Companies' Plans, Products, and Services that similar to SimplyCook, or SimplyCook Alternatives and SimplyCook Competitors, Which companies' services like SimplyCook. You can take a look at our professional comparisons below to discover if one of them is more suitable for you.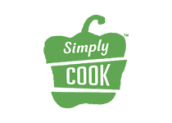 Updated : 12.01.2023.