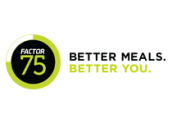 ---
Factor 75 Overview
Factor 75 is a meal delivery service with a focus on providing customers with healthy, tasty meals. They are one of the premium services that offer professionally prepared meals using top-tier fresh and flavorful ingredients. Their specialization is in providing healthy packed meals providing clients with natural, Ketogenic and paleo food options.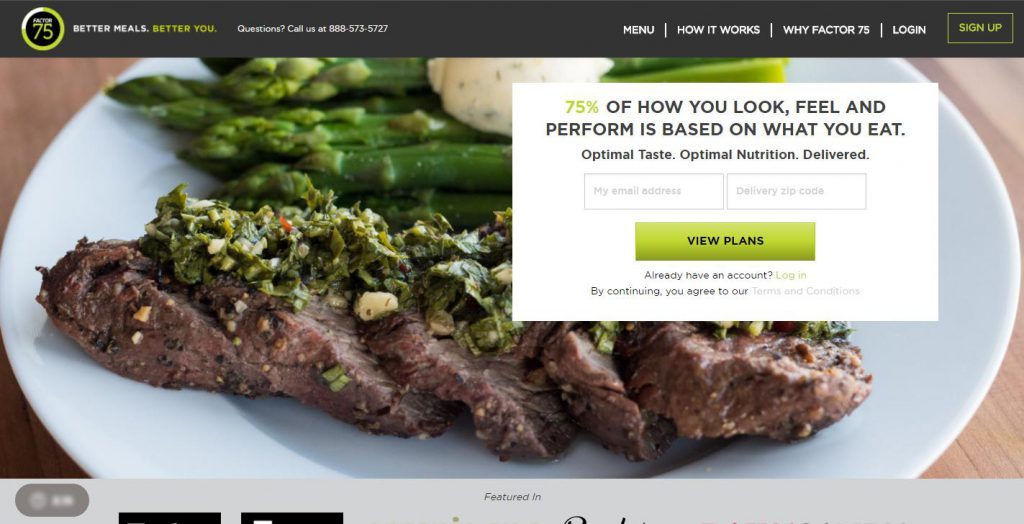 Their meals are not only healthy but great tasting as well, as skilled chefs created them. With Factor 75, you can save time and effort when it comes to shopping or cooking. Hand prepared, every meal Factor 75 provides arrive at customers in fresh, frozen condition. Factor 75 uses specialized cooling containers to keep them fresh.
Every meal Factor 75 prepares includes ingredients that are great for your health, especially if you have special diet needs. The ingredients they use are soy-free, hormone-free, preservative-free, antibiotic-free, gluten-free, non-GMO, grass-fed, pasture-raised and organic. You can trust that with Factor 75, you will receive fresh, premium-quality ingredients.
Keep reading our honest Factor 75 review to learn more.
back to menu ↑
Factor 75 Ideal For
Factor 75 meal service is ideal for
Families and individuals who don't have time to shop and prepare ingredients
Individuals looking for a better, healthier food alternatives
People who would like to learn how to cook, improve their cooking or try out new recipes
back to menu ↑
How Factor 75 Works?
Factor 75 is a subscription-based meal service. To order and receive meals, you need to create your account on Factor 75's website. After creating your account, you will be able to select the meal plan aligned to your needs. You can choose from wide array of meal plans available in the site, which differs only in the number of meals you can receive every week.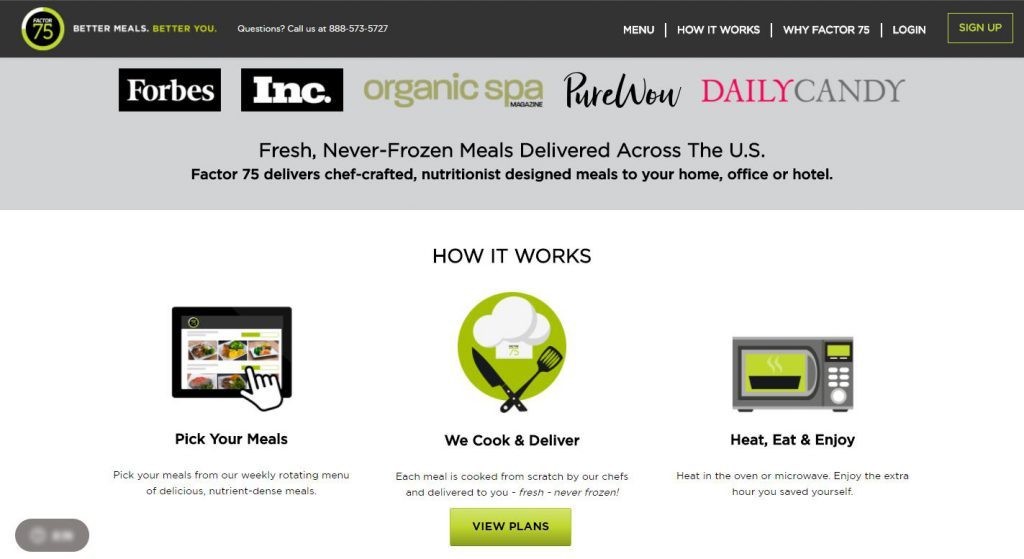 Meals from Factor 75 are completely healthy for its uses organic ingredients devoid of hormones or GMOs. This makes Factor 75 meals perfect for all kinds of diets, whether dairy-free, Keto, gluten-free, Whole30 or Paleo diets. Factor 75 subscriptions are flexible, with features allowing you to begin, pause or cancel your subscription anytime you want. Switching to different meal plan is also possible.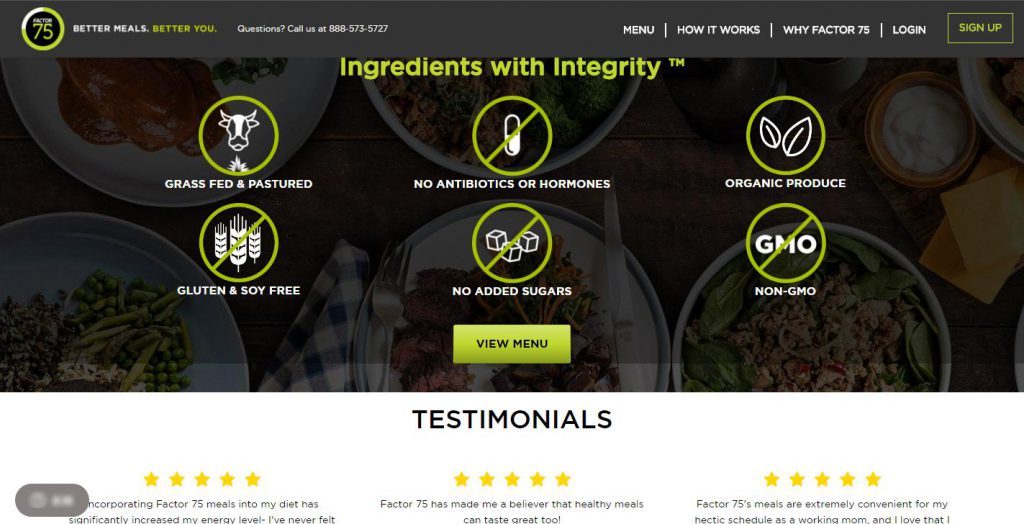 back to menu ↑
What Makes Factor 75 Different?
There are strict standards that Factor 75 adheres to ensure the quality of every meal they provide their clients. They ensure their meal plans do not contain preservatives, hormones, antibiotics, etc. that can harm your health or may trigger some medical condition. Clients can expect that Factor 75's meals are organic and completely natural.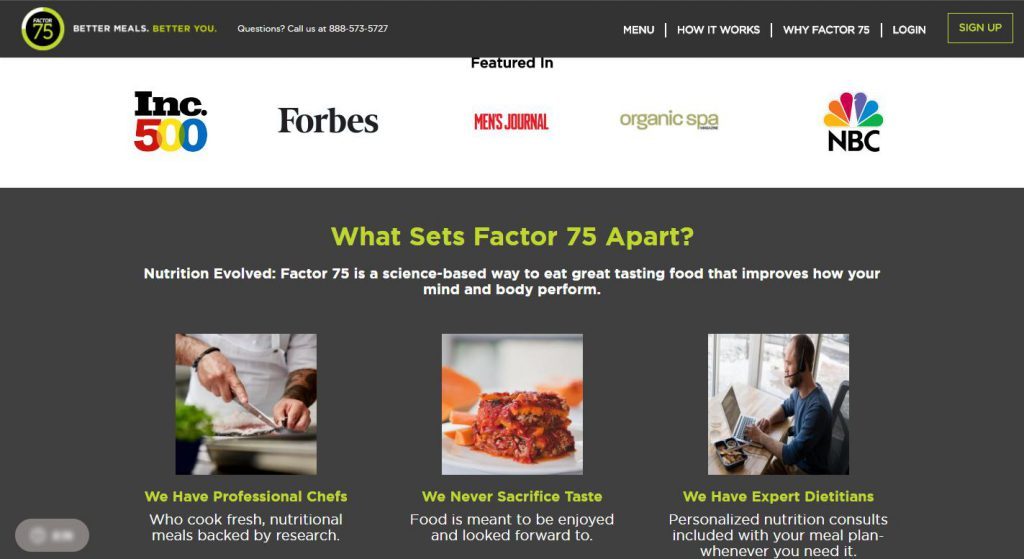 In addition to ensuring that every meal uses the healthiest ingredients, they're always in perfect order. It provides detailed and attentive service designed to match your meals to your needs. On that note, after signing up you can fill out a profile of what your tastes are like. This lets them know what foods you like and like to avoid.
Factor 75 stores this information to ensure your orders will never contain any ingredients you didn't like or may trigger some health concerns. Their meals are perfect, not just to enjoy on your own but also as a gift to friends and family. With available at Factor 75, you and your loved ones can enjoy the amazing benefits that this meal service can offer you.
back to menu ↑
Factor 75 Meals & Menus and Recipes
Every week, Factor 75 has new dishes available for customers. This ensures that customers will not suffer through an on old recipes weeks after. With Factor 75, there are always new recipes they can try. With a wide array of options available, customers are sure to find the perfect meal for the whole family. Usually, customers can choose among 16 distinct dishes available at Factor 75.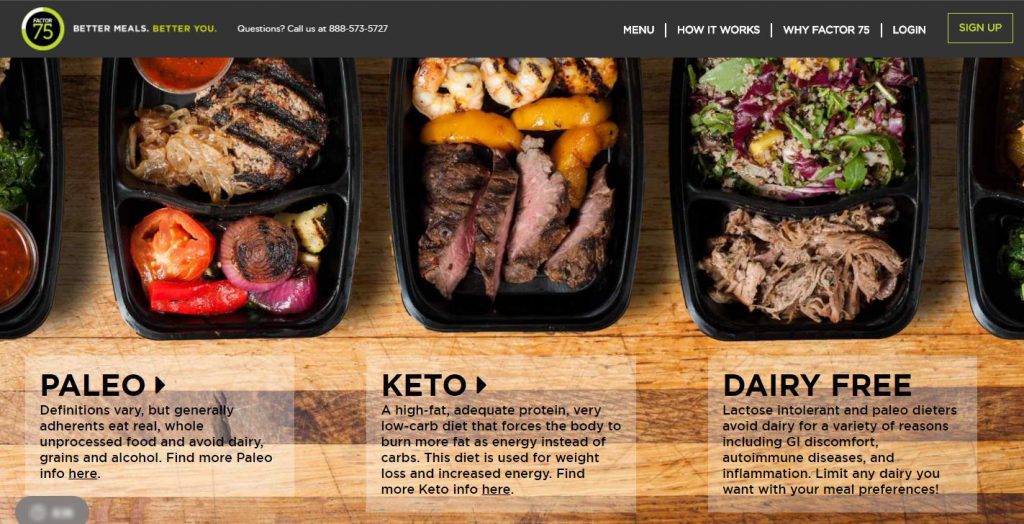 This includes meals for breakfast, lunch, and dinner. Every item listed comes with information such as serving size, ingredients, nutritional value, and more. This information helps you ensure the meals you are eating is truly healthy. More than that, Factory 75's meals include clearly labeled items so you know exactly what you are cooking.
The labels also help in checking if the items are according to the rules of your diet. Fortunately, most of Factory 75's meals are ideal for different kinds of special diets. There are 5 available meal plans with different numbers of meals available every week. You can have fewer or more meals. You can add or remove, change their quantity, etc. Factor 75 service is extremely flexible.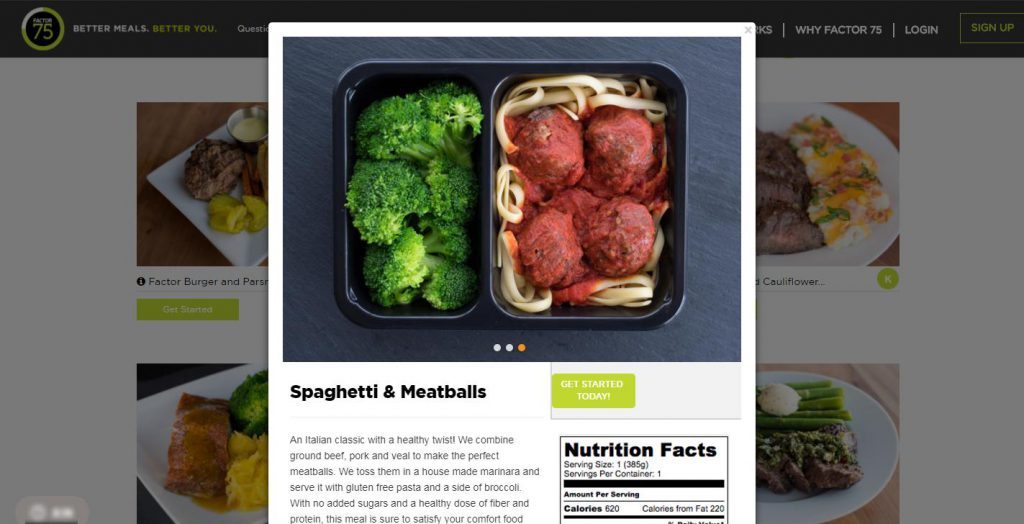 back to menu ↑
Factor 75 Health & Nutrition
All of the meals prepared at Factor 75 use fresh, organic and healthy ingredients. They use items such as grass-fed meats, gluten and soy-free produce and more. Their meals are without any additives or preservatives. They are GMO-free without any hormones or antibiotics. With this, you can rest assured that Factor 75 meals are healthy for you and the whole family.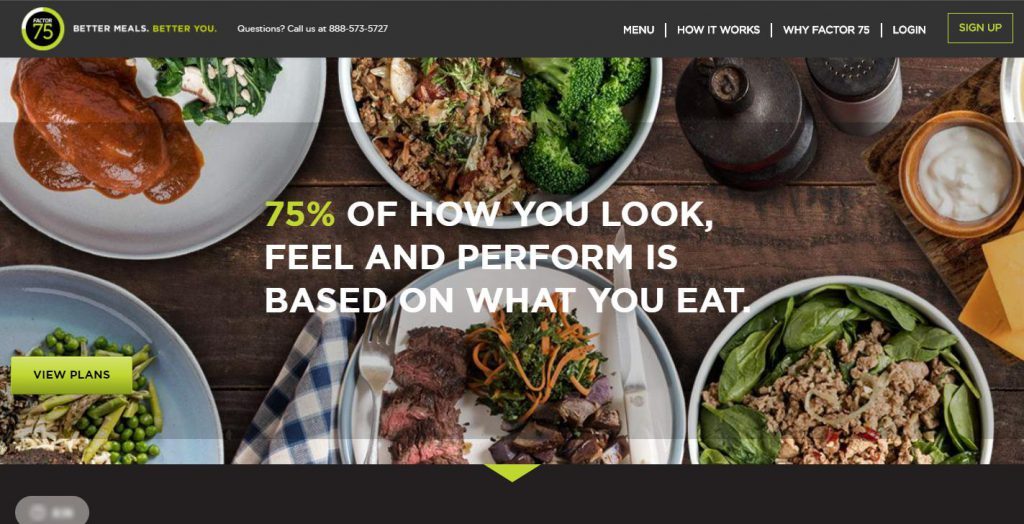 Factor 75 has in-office chefs, nutritionists, and doctors tasked to design the meals. They provide significant time for creating meals with a healthy dose of low glycemic carbohydrates, lean proteins, and healthy fat. Factor 75's meals are full of nutrients that serve as a supplement to people who need healthy options for a healthy lifestyle.
back to menu ↑
Factor 75 Fitness and Activity
You are not required to workout but it is best to get involved in physical activities for maximum health benefits. Ideally, you should move at least 30 to 60 minutes every day. In terms of what and when to exercise, it is all up to you. You can also divide your time for physical activities in 3-6 10-minute intervals if you want.
back to menu ↑
How Easy Is Factor 75 To Follow?
In preparing the dishes, there are two options available for heating – by oven or through the microwave. Factor 75's meals have packaging that makes either of these options safe. Through this, busy people can save themselves from cleanup after they eat. At every package, there are meal-specific instructions to help you. Just be careful in heating the food especially in using the oven. For easier prepare, putting the meal dish on a sheet pan proved the best way.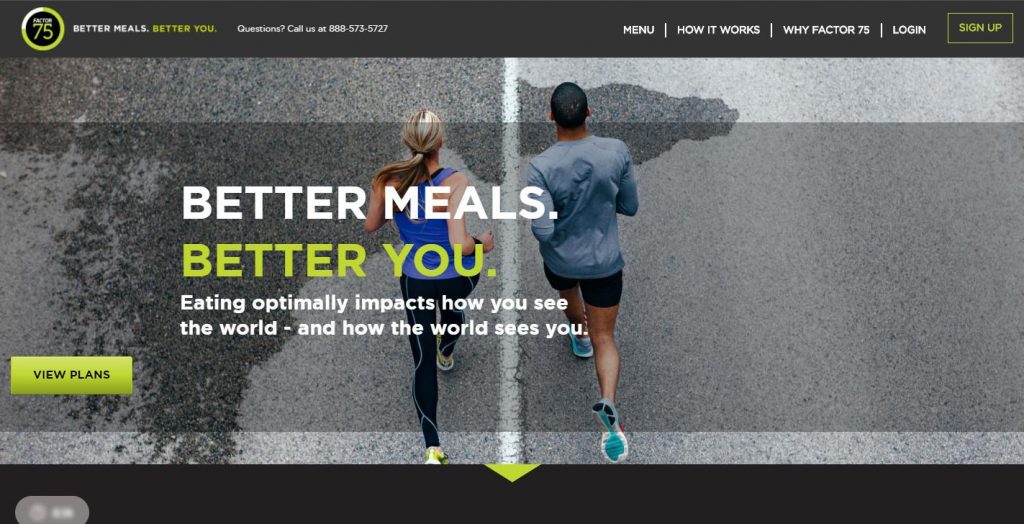 back to menu ↑
Factor 75 Plans & Pricing and Costs
The pricing for the meals depends on how many you ordered for that week. Unlike the usual pricing where the more you ordered, the more you will have to pay – it's different. At Factor 75, the more meals ordered, the less the customer pays. On that note, here are the costs for every meal:
4 meals/week – $60
6 meals/week – $77
8 meals/week – $99
12 meals/week – $138
18 meals/week – $198
back to menu ↑
Factor 75 Delivery Areas
Delivery is available the entire US states, except Alaska and Hawaii. Ass for the shipping fee, it depends on your location. Don't worry about your meals spoiling if it arrived when you are not home. Factor 75 ships all meals in carefully packed, insulated boxes that has gel packs designed to keep them fresh for 48 hours. As soon as you arrived, put them into your fridge and use them within the week.
back to menu ↑
Factor 75 Help & Support and Customer Service
Asking for additional help or support is easy at Factor 75. All you need is to visit their website to go to their contact page. You can also contact them at their number 1-855-299-6252 or you can email them at [email protected]. For immediate answers to your questions, their FAQ page provides plenty of information.
back to menu ↑
Factor 75 Pros and cons
---
PROS:
Uses all-organic, ingredients
Offers 16 meals on their menu each week
Offers 5 meal plans
Offers gluten-free, Keto, Whole30 and dairy-free meals
Highly customizable orders
Extremely flexible subscription
Offers bulk discounts to save money
CONS:
Paid shipping
A bit expensive
---
back to menu ↑
Bottom Line
Factor 75 is a great meal delivery service that offers plenty of customization and food options. This meal service is incredibly comprehensive where you find healthy, tasty meals ideal for all kinds of diet. The subscription service is quite flexible where you can choose and plan your meals the way you want. The order process is simple and not at all confusing.
The best feature, perhaps, is their vast options for customization. They have five meal plan categories, within each a wide array of meal plans are available. Whether you are looking for kid-friendly, quick preparation or vegetarian foods, Factor 75 has something to offer. With a menu created by professional chefs, nutritionists, and doctors, it is rich in nutritious ingredients.
This menu can easily satisfy the tastes of even the fussiest customers. Perhaps one of the things you may not like about Factor 75 is the cost of the service. It isn't as affordable as other meal services, and the shipping is not free. However, this is expected from a professional meal delivery service. Their prices aren't too affordable but reasonable.
There is nothing to worry about when it comes to the ingredients. They are healthy, antibiotic and hormone-free, gluten-free, soy-free, grass-fed, pasture-raised, non-GMO and perseverative-free. All of Factor 75's meals are organic so you can feel good about eating them. More than being healthy, their meals are easy and quick to prepare.
Factor 75 Review
For people with special diets or in need of quick, easy to prepare meals, Factor 75 is the perfect organic meal subscription service. It has a wide array of nutritious, tasty dishes everyone would surely enjoy. Benefits of Factor 75 include:
PROS
Organic, gluten-free and non-GMO ingredients
Wide array of meals available for $11-$15/meal
Bulk orders are available to save money
Can order more or fewer meals, change order details and more
Add your review
|
Read reviews and comments
Factor 75 Discounts, Coupons and Promo Codes
We found 4 verified Factor 75 Discounts, Coupons and Promo Codes for Oct. 2023. If some of the Factor 75 coupon codes have expired, please contact us, thank you for your help.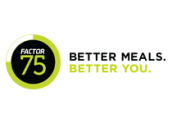 20% OffGet 20% off with promo code!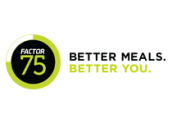 $40 OffGet $40 Off Your First 2 Weeks Of Meals with coupon code! Discount Automatic At Checkout!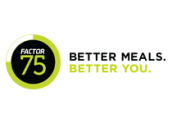 $20 OffGet $20 off Your first Order with coupon code!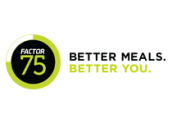 Free ShipingGet Free Shipping on Your First Order with coupon code!
Compare Factor 75 with other Companies' Services, Plans and Products
If you like Factor 75 but aren't sure whether it's the best ideal choice for you, and may want to compare Factor 75 with other Companies' Plans, Products, and Services that similar to Factor 75, or Factor 75 Alternatives and Factor 75 Competitors, Which companies' services like Factor 75. You can take a look at our professional comparisons below to discover if one of them is more suitable for you.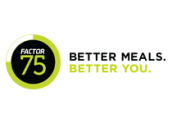 Updated : 10.01.2023.