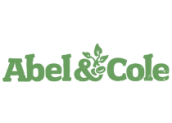 ---
Abel & Cole Overview
Abel & Cole offers the most popular choices when it comes to fresh vegetable and fruit boxes in UK. If you want the finest organic produce, fish, meat and groceries, choose Abel & Cole. Noted for its reliable delivery service, Abel & Cole never compromise freshness and quality of their products. One of the best things about them is that they allow individuals to eat healthy without much effort needed. Abel & Cole also offers incredibly rich organic products of all kinds however in this review; the focus will be on the incredible recipe boxes for individuals interested in delicious and healthy home-cooked meals.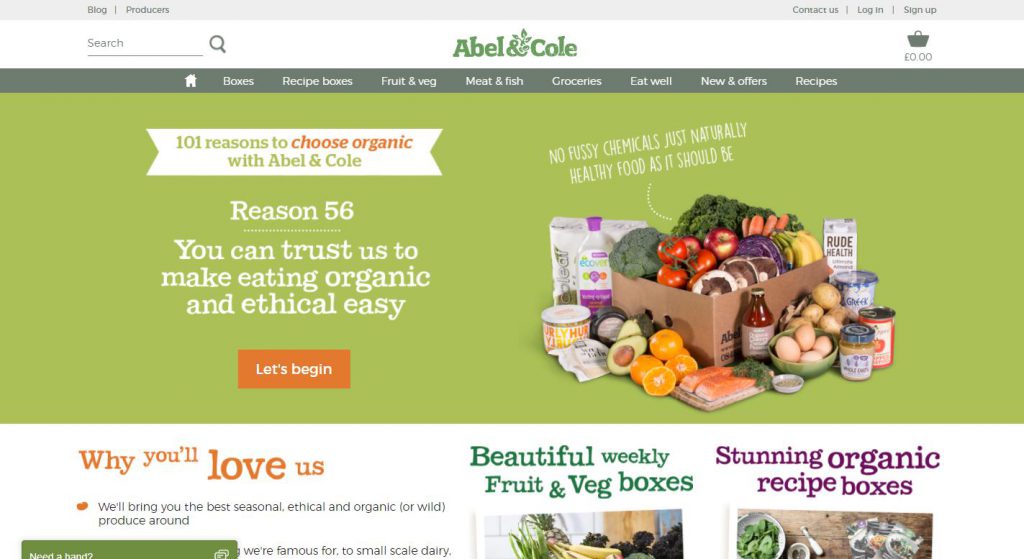 Keep reading our honest Abel & Cole review to learn more.
back to menu ↑
Abel & Cole Ideal For
Individuals who wanted a hundred percent certified hand-crafted farm products and organic produce
Individual with hectic schedule and can't really manage to shop and prepare ingredients
back to menu ↑
How Abel & Cole Works?
The recipe boxes exclusively offered by Abel & Cole deliver you great recipes for "good for you" meals which you can prepare and cook easily. You can also choose among the four different types of boxes especially designed for cooks who love gourmet, classic, and veggie as well as light dishes.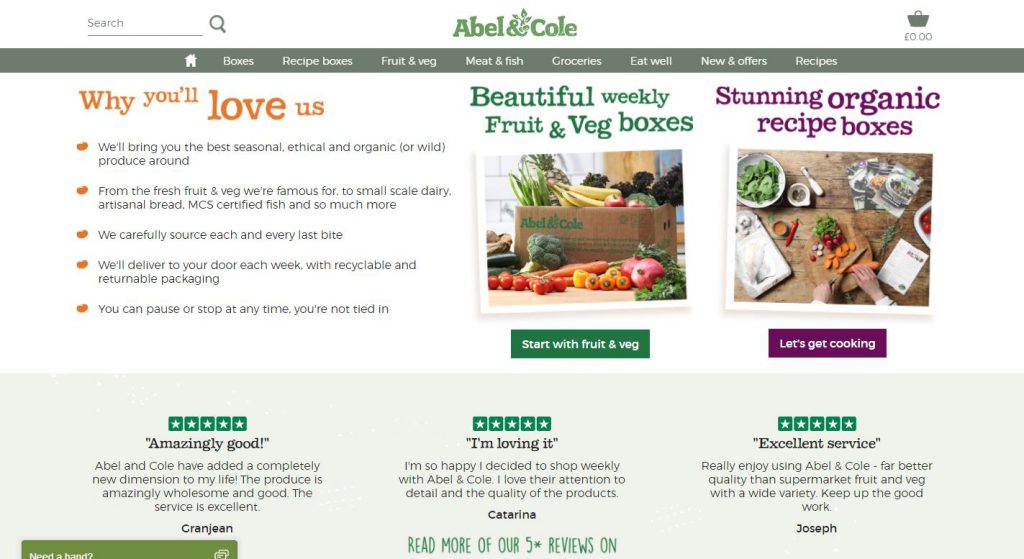 Each week, there are 12 amazing recipes that you can conveniently choose from and you are free to decide whether you will order 1, 2 or 3 boxes. Every recipe actually serves two persons. Subscriptions for the recipe box are highly flexible and you are allowed to choose to have your boxes delivered every one, two, three, and four or even for every 8 weeks depending on your schedule and your needs. If you're going out on a trip or a holiday break, you can just skip the scheduled deliveries for dates when you're not home. You are also allowed to end your boxes subscription as you're not bound by a contract of any type.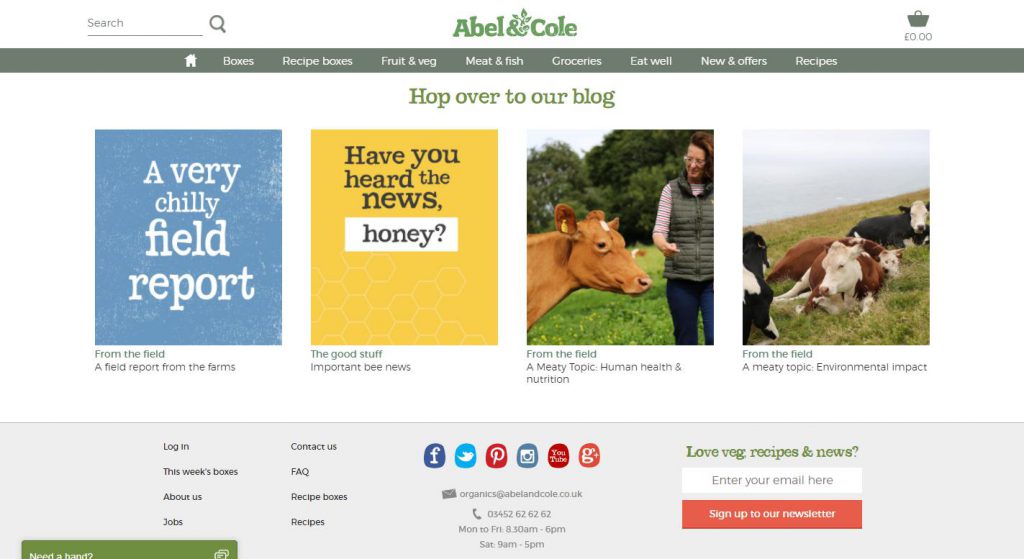 back to menu ↑
What Makes Abel & Cole Different?
One of the factors that separateAbel & Cole from other services is that this exclusively concentrates on ethically sourced and organic ingredients. You don't need to worry about the origin of foods that you eat and wonder if these foods are really good for you since Abel & Cole ensures that everything you get is as fresh and as healthy as it can possibly be.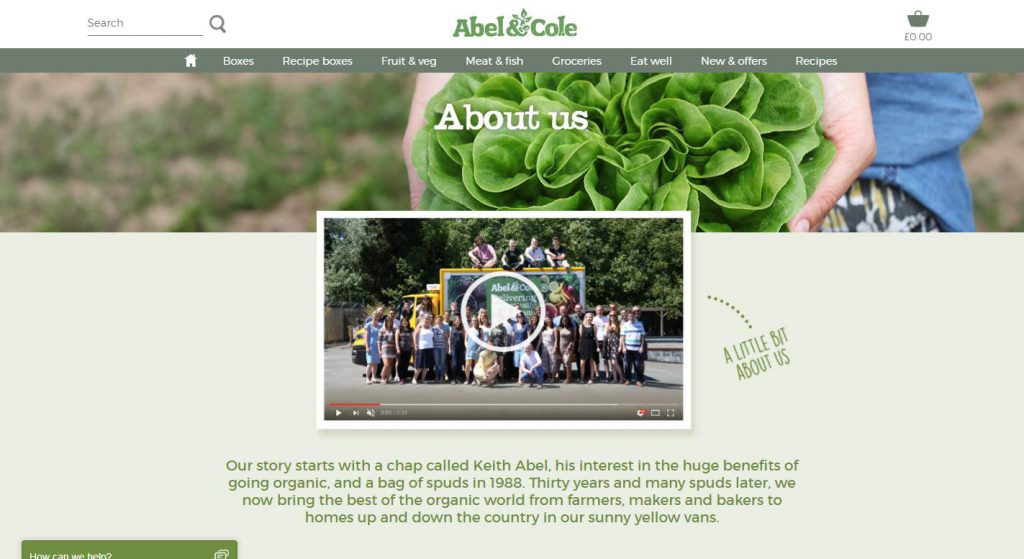 As mentioned in this Abel & Cole review, its service doesn't just provide great recipe boxes but also enables you to stock organic things which are said to be highly beneficial in many ways. You can buy vegetables, fruits, fresh spices and herbs, salads, seafood, dairy, bakery goods, eggs, meat, alcoholic beverages and other essential items for your pantry and for your home in general. Abel & Cole also provides variety of fish, meat, fruits and vegetables as well as smoothie boxes.
As a customer of Abel & Cole, you get the chance to enjoy great perks such as free cookbook included in your first box. Your order of 4th box will be free of charge. The Abel & Cole recipe boxes can be purchased as gifts as long as your recipients live in areas covered by their delivery service.
back to menu ↑
Abel & Cole Meals & Menus and Recipes
Previously in this review of Abel & Cole, it has been said that the service includes offering four types of recipe boxes. Now, each will be explored in detail.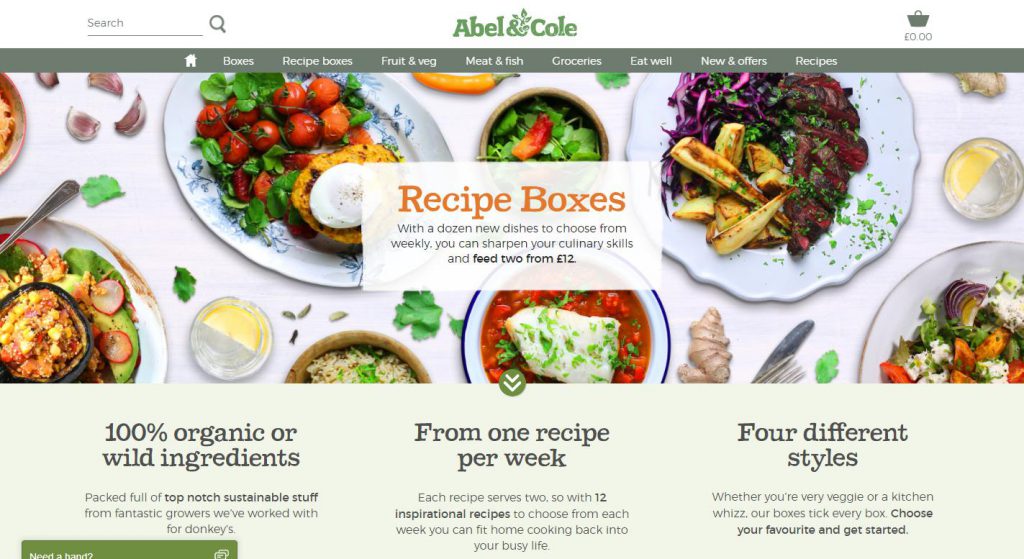 Starting with the Simple Box; this is especially designed for individuals who love classic meals and familiar tastes while at the same time enjoy creative twists on their top favorites making dinner time for fun and exciting.
Their Foodie Boxis specifically suited for those who truly love home cooks and gourmet and those who wanted to impress their guests for dinner. This box features unique and exotic dishes which allow you to improve your skills in cooking and explore fresh and new flavors.
The Veggie Box is a meat-free box that serves as ideal option focusing on gems of vegetarian cuisine. The meals contained in this box are both rich and light however, colorful, rich in nutrients and fragrant.
The Light Box provides you with variety of easy and quick recipes which can make you feel highly energized. Every meal under this selection got less than 500 calories while at the same time contains all essential substances needed by the body to perfectly function the way it should be. The meals usually take an hour or less to makeand recipes are ultimately easy to follow. Though all given recipes yield to two servings, you can still double or even triple the amount of ingredients through ordering same recipe more than once.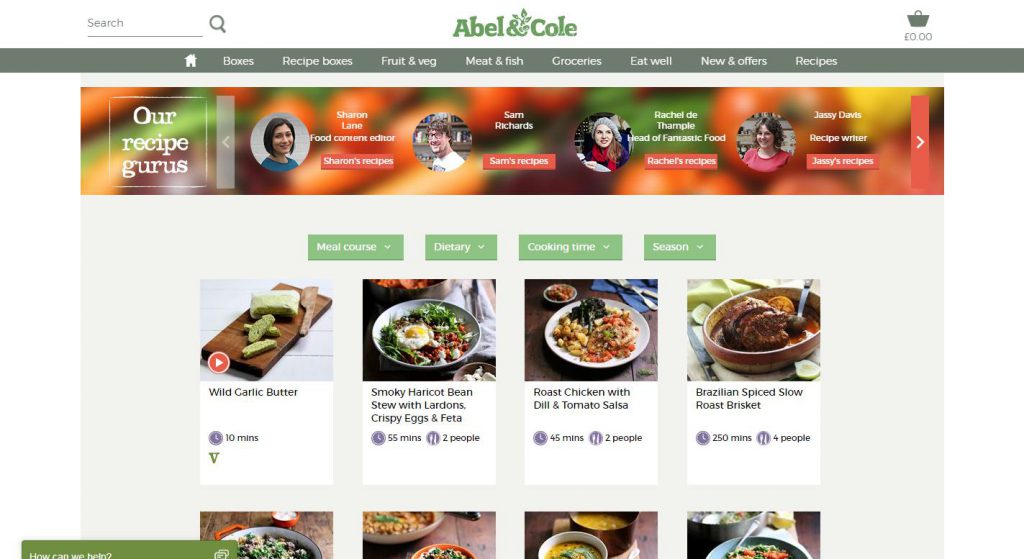 back to menu ↑
Abel & Cole Health & Nutrition
This works with vegetable lovers and season-following organic heroes. Each week, they provide the freshest and top quality seasonal fruits and vegetables from their fields into your door.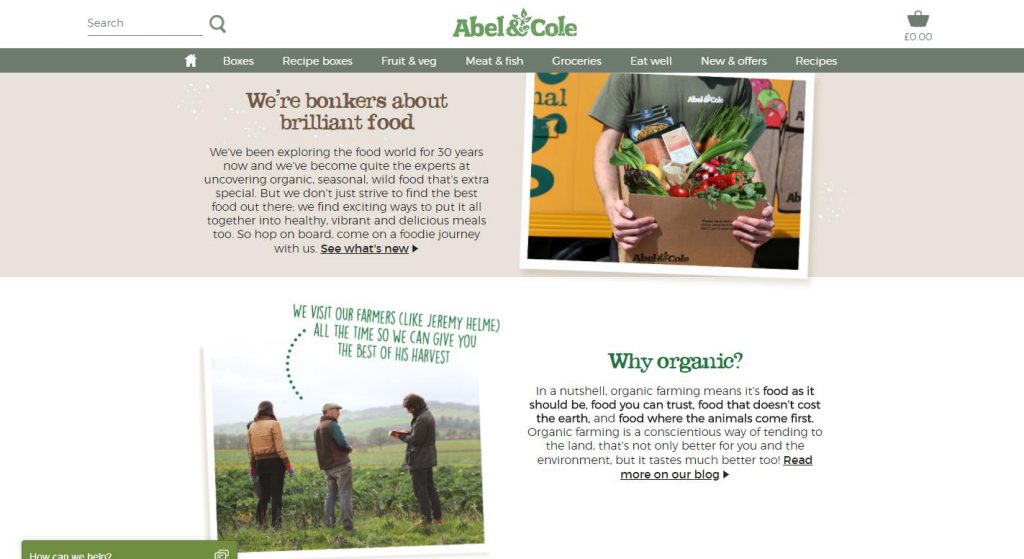 back to menu ↑
Abel & Cole Fitness and Activity
Though Abel & Colemeal boxes aim to promote better health, you still need to get moving. Do this for at least 30-60 minutes every day. Nevertheless, what you actually do and when and how you do it is all up to you.
back to menu ↑
How Easy Is Abel & Cole To Follow?
The Abel & Cole got incredible recipe collections online and these are sorted by ingredients. The recipes are available for everyone and they can access them with no strict and complicated logins needed.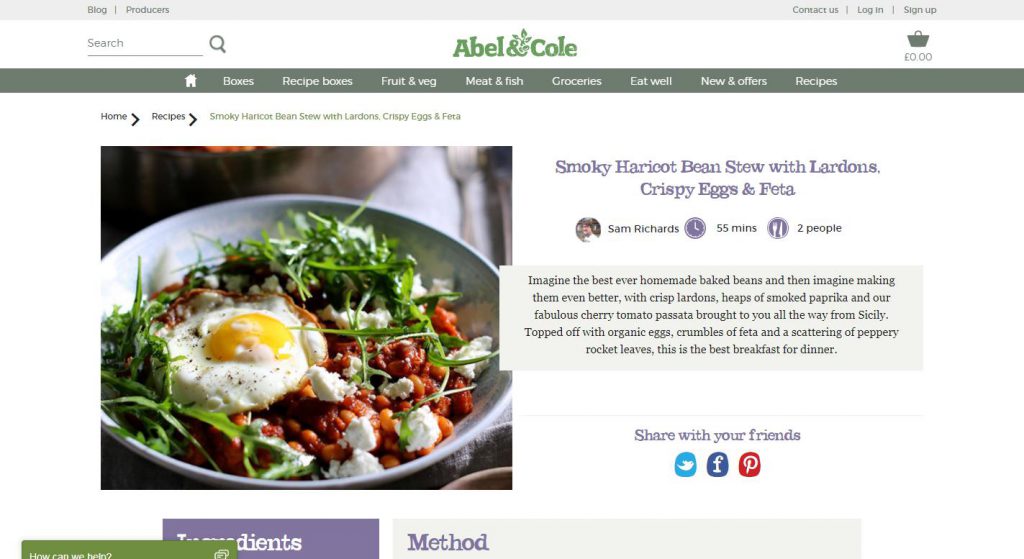 back to menu ↑
Abel & Cole Mobile App
There are actually dozens of impressive features on the Abel & Cole mobile app that is compatible for both Android and iOs devices.
back to menu ↑
Abel & Cole Plans & Pricing and Costs
The prices of recipe boxes from Abel & Cole vary slightly depending on the style you choose. The cost of the Simple style boxis £13 per recipe. The Foodie box cost about £14 per recipe. Opting for Veggie boxwill require you to pay £12 per recipe and the cost of Light box is the same as the Simple style box, £13 per recipe.
Free shipping is not offered but Abel & Cole plans the routes properly to minimize the number of miles traveled by your food and to reduce carbon emissions as well. So, this great and smart shipping plan charges as low as£1.25 shipping fee for every delivery.
When it comes to ordering limitations concerns, there's a minimum value of order but this is nothing to worry about since the £12 cost isn't higher than the cost of any of the boxes.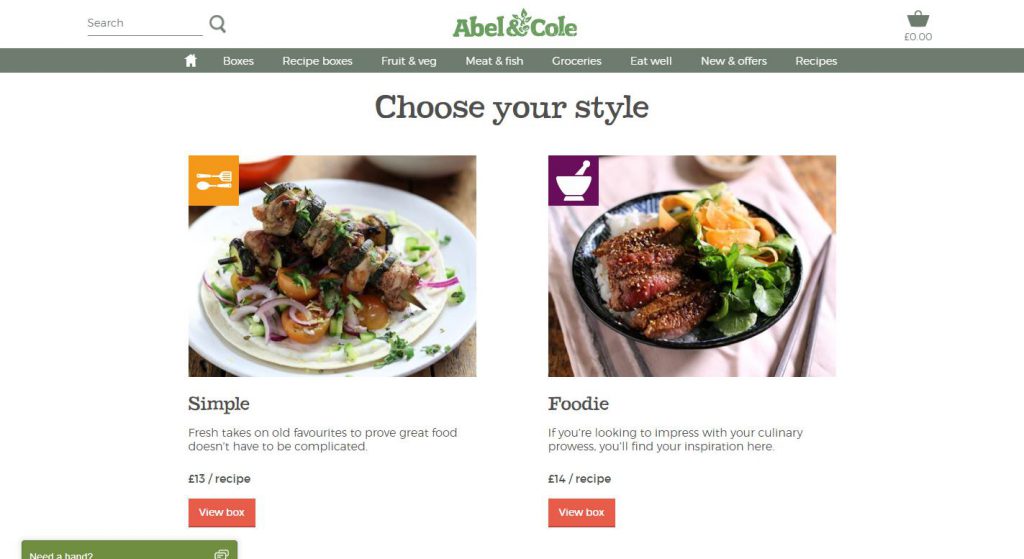 back to menu ↑
Abel & Cole Delivery Areas
Unfortunately, Abel & Cole doesn't deliver to all areas across UK. Their delivery area is limited to England and some parts of Wales. But eve across England, Abel & Cole does not deliver to all areas like Cornwall. Make sure to check if your address falls within the deliver area covered by Abel & Cole. You can do this by means of entering your post code into the FAQ section of the site and by choosing the "Do you deliver to me?" question.
Days of delivery depend on the clients' location. Abel & Cole only delivers once a week to every area they cover. Moreover, deliveries do not always arrive at exactly similar time but you don't really need to be at home to receive your box. This is actually not a big deal. The package will arrive at your location safe and sound even if you are not yet at home.
back to menu ↑
Abel & Cole Help & Support and Customer Service
If you are in need of further assistance, you can check out their informative and comprehensive FAQ page. You can also reach them by calling their phone number 03452 62 62 62 or sending them your email. Their staff is more than willing and happy to attend to your needs and concerns. They are also prepared to answer your queries and listen to your feedbacks. Abel & Cole help and support team is accessible, friendly and accommodating.
back to menu ↑
Abel & Cole Pros and cons
---
PROS:
Your fourth box order is free
Organic and top quality ingredients
Classic, gourmet, vegetarian and low-calorie recipes
The first delivery comes with cookbook
There are 12 recipes to choose from per week
CONS:
Only provided recipes for two persons
Delivery isn't free
Limited area covered by their delivery service
---
back to menu ↑
Bottom Line
Abel & Cole is an excellent and most reliable delivery service for clients who wanted to achieve and maintain balanced and healthy diet and concentrate on natural and organic ingredients. The recipe boxes make it easier to plan meals and introduce individuals to more varieties into their diet. Abel & Cole subscriptions are completely flexible. The prices are reasonable and though delivery isn't for free, shipping fee is low as compared to their competitor's rate. Whether you're a gourmet, vegetarian or an avid fan of classic dishes or just simply wanted to keep your meals easy and light, there's a lot of amazing things to look forward to that will also convince you to choose Abel & Cole and subscribe to their service.
Abel & Cole Review
The Abel & Cole is a reliable organic delivery service with long established tradition. This offers healthy recipe boxes making it easier for you to have tasty and healthy meals on your table every time you're not in the mood to cook.
PROS
Order one, two or three delicious recipes for twopersons per week
Enjoy simple, light, vegetarian foodie recipe boxes
Moderate prices; your 4th box order is absolutely free
Add your review
Abel & Cole Discounts, Coupons and Promo Codes
We found 3 verified Abel & Cole Discounts, Coupons and Promo Codes for Oct. 2023. If some of the Abel & Cole coupon codes have expired, please contact us, thank you for your help.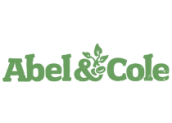 20% OffGet 20% off with promo code!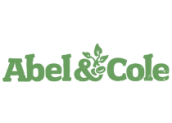 10% OffGet 10% off with promo code!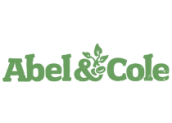 Free GiftGet Free Gift with coupon code!
Compare Abel & Cole with other Companies' Services, Plans and Products
If you like Abel & Cole but aren't sure whether it's the best ideal choice for you, and may want to compare Abel & Cole with other Companies' Plans, Products, and Services that similar to Abel & Cole, or Abel & Cole Alternatives and Abel & Cole Competitors, Which companies' services like Abel & Cole. You can take a look at our professional comparisons below to discover if one of them is more suitable for you.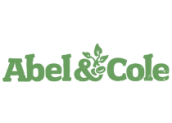 Updated : 10.02.2023.