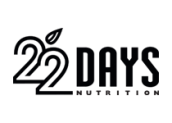 ---
22 Days Nutrition Overview
In 2013, Beyoncé and her husband Jay Z finally decided to go Vegan for 22 days for Jay's 44th birthday. Many have wondered and asked why 22 days. According to Marco Borges, a vegan and an exercise psychologist acting as the personal trainer of the couple, the reason is that it actually takes 21 days to make or break a habit and on the 22nd day, you've finally found the way. Marco Borges started his own company, the 22 Days Nutrition and he is selling products like plant-based chocolate protein powder, Goji Mate Firecracker energy bars and more. Borges is actually Beyoncé's partner in her vegan meal plans.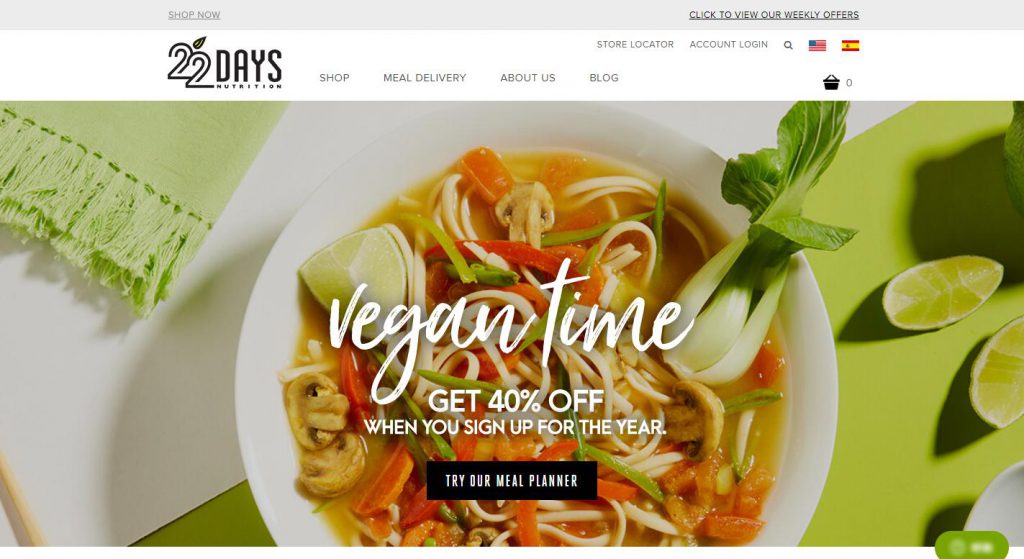 The 22 Days Nutrition offers 100% organic, gluten-free, soy-free and vegan meals directly into your doorstep. The company also encourages individuals to try the Vegan lifestyle. The company also offers healthy meal plan options for you to choose from and they are also given thee freedom and convenience to order products like a la carte anytime they want. These meals are exclusively prepared by plant-based chefs and professionals who only use high quality, non-GMO and organic ingredients. The protein powders that they offer can be added to bars and smoothies to make your snacks healthier and tastier. Unlike other meal delivery services offering boxed ingredients and cooking instructions, The 22 Days Nutrition delivers ready-made and actual vegan meals.
Keep reading our honest 22 Days Nutrition review to learn more.
back to menu ↑
22 Days Nutrition Ideal For
Anyone searching for healthier alternatives to frozen meals
Individuals with hectic schedules and are not graced with much time to shop and prepare ingredients
Individuals looking for vegetarian weight loss program or vegan weight loss plan
back to menu ↑
How 22 Days Nutrition Works?
With 22 Days Nutrition, you will be delivered with pro-vegan meals which can be reheated and served within just few minutes. There will also no longer be tiring cooking sessions and grocery shopping but just delicious and healthy vegan foods on your table.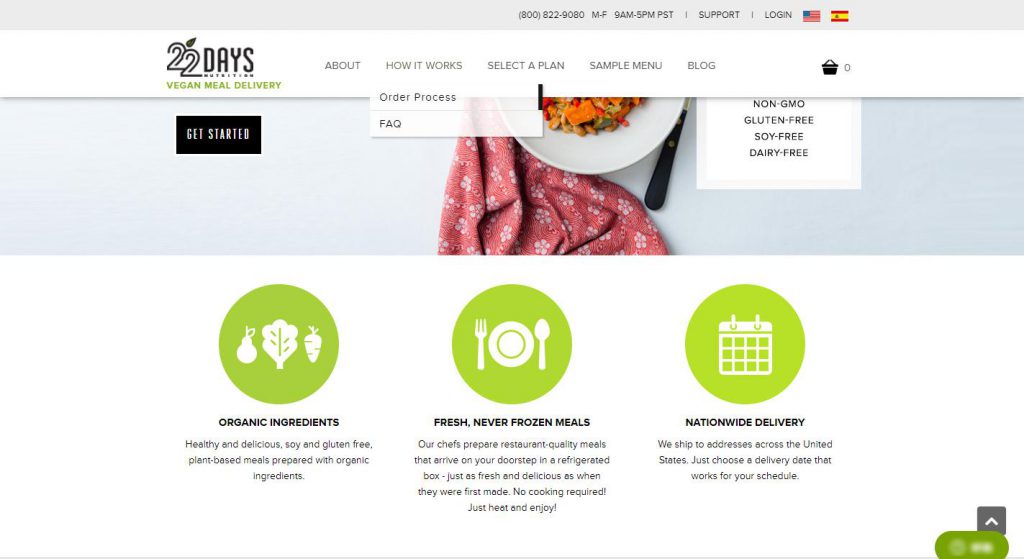 You are free to choose meals that you want. It can either be 1,2 or 3 meals for 5, 7 and for 22 days. There is also an option to order any of the given 15 meals on the weekly menu. These meals are prepared by a professional vegan chef and are all gluten-free, fresh, GMO-free, USDA-Certified Organic and delivered in very generous portions.
The 22 Days Nutrition is ultimately careful to avoid common allergens especially dairy, soy and gluten. Menus are the same for everyone most of the time and you can't customize these to suit particular needs or dietary requirements. However, you can actually order a la carte meals.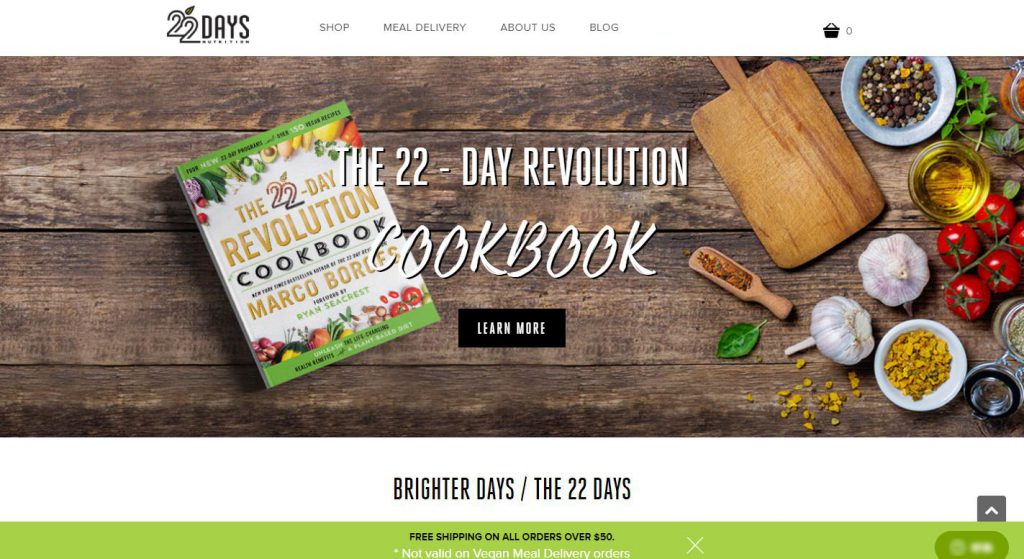 back to menu ↑
What Makes 22 Days Nutrition Different?
22 Days Nutrition was made to promote and encourage healthy and smart plant-based eating. A vegan dietwhich has been meticulously planned and prepared and this is bound not just to promote great health but also helps in weight reduction. There is no specific weight-reduction menu here, yet you can hope to shed a few pounds if you follow this healthy diet plan deliberately especially if you sign up for comprehensive plans including 22 days of perfectly balanced and healthy meals.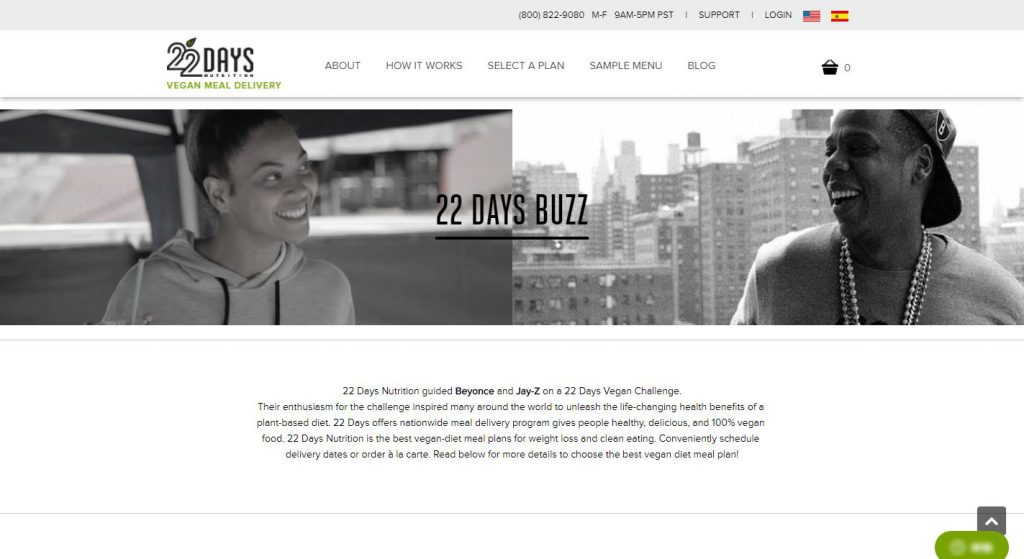 With respect to variety, you'd be astonished how vegan diet can really be. You'd expect only a group of dried organic products, a few beans, and unsavory grains or cereals, however the cooking specialists and experts working for 22 Days Nutrition truly complete an  incredible  job at making unique, innovative, creative, and delectable week after week menus.
The special recipes are not just the only ones considered innovative but so as the services provided by 22 Days Nutrition. You can disregard the inconvenience and troubles of discovering quality natural groceries and cooking. 22 Days Nutrition delivers cooked meals right to your doorstep for breakfast, lunch, and supper. They can plan meals for you or you can actually make an arrangement, it's totally up to you.
back to menu ↑
22 Days Nutrition Meals & Menus and Recipes
You are free to check out the different types of foods offered by the company by viewing their a la carte menu. There are meals suitable for breakfast, lunch and dinner. Recipes guarantees absolute delight and are perfect examples of how Vegan diet can be so healthy, rewarding and delicious at the same time. Meals offered by the company include Cream of Eggplant Penne, Sweet Potato Adzuki Bean Bowl, Shiitake Mushroom Yellow Curry, Choco Delight Banana Loaf, Fajita Bell Pepper Pinto Beansand other delicious dishes.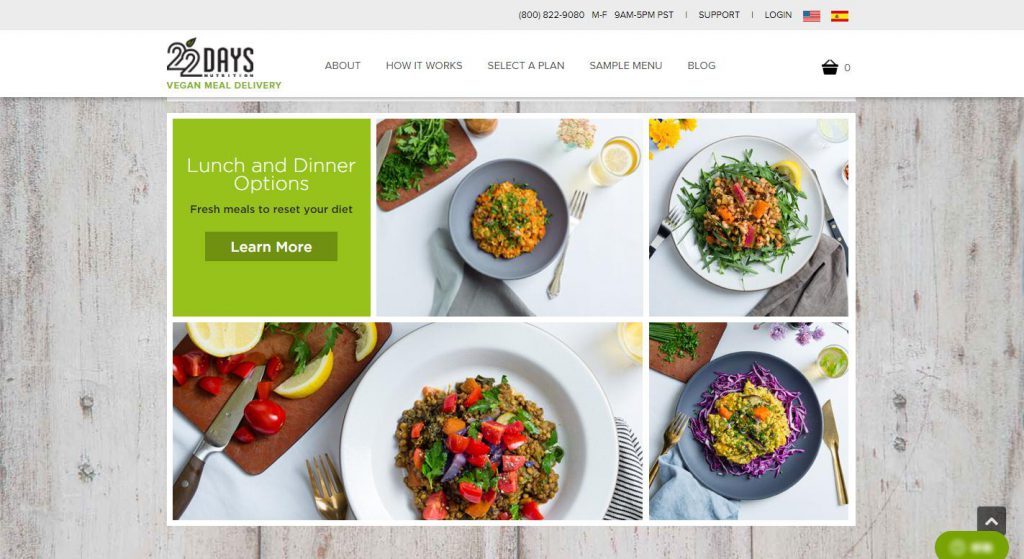 With 22 Days Nutrition, you can choose between weekly meal plans and ordering a la carte. The weekly meal plans offer three options for your vegan meal delivery. Moreover, there are 5-day, 7-day, as well as 22-day plan options you can choose from. Regardless of what plan you choose, a professional vegan chef will prepare your food for 5, 7 or 22 days. You can also get 2 or 3 meals per day and all of these meals are carefully selected by the company's professional chef. All foods delivered are tasty, perfectly portioned and organic.
The company offers 6 recipes for breakfasts, 9 for lunch and dinner and these are offered every week. For breakfast, you can enjoy Mixed Berry Oatmeal, Blueberry Poppy Seed Muffin and Raspberry Chia or you can eat Creamy Cauliflower Pasta or Coconut Curry Kidney Beans for lunch.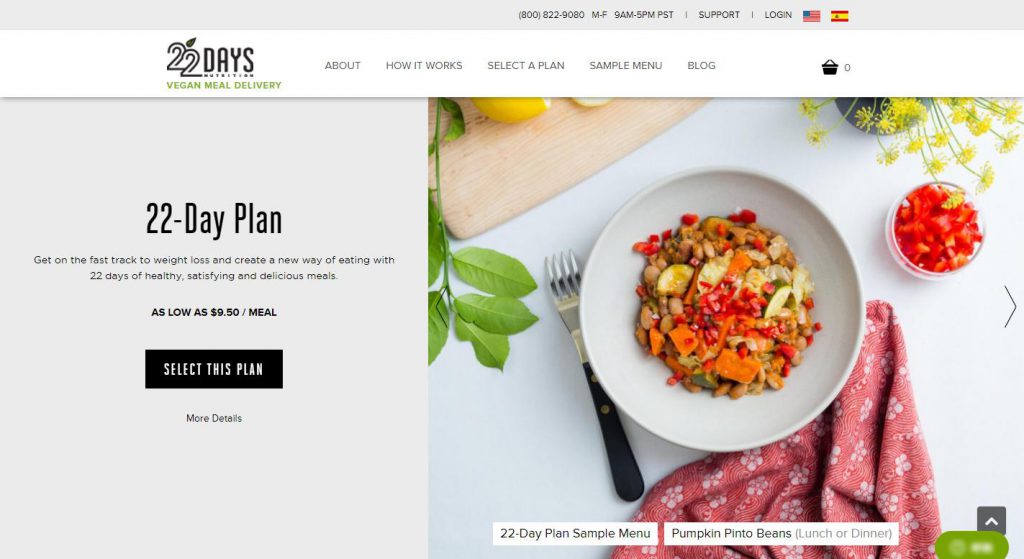 back to menu ↑
22 Days Nutrition Health & Nutrition
These meals are free from any additives, yet they are sealed properly to ensure freshness. Proper sealing guarantees that foods are shielded from the air and haveminimal chance of being spoiled before these meals arrived at your place.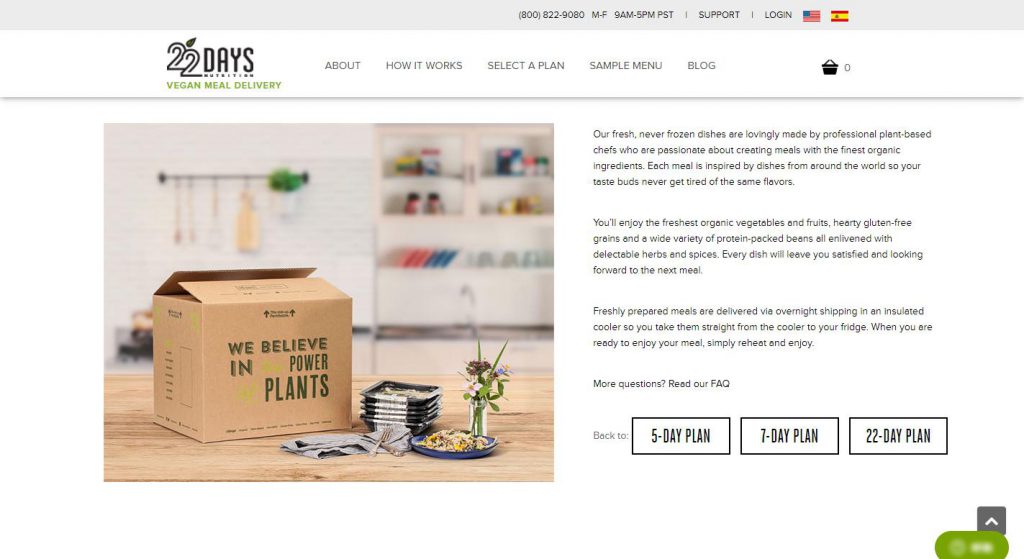 When you get your request, unpack the meals and place them on the fridge as much as possible. In such way, your meals will stay fresh on the fridge and can last for seven to eight days. There is a "best before" date included in every meal so you know how long these meals are good for.
Everything is likewise made with premium quality ingredients, so you can feel confident that you're feeding your body with the right nourishment it needs. The 22 Days Nutrition meals are 100% natural, plant-based, gluten-free and soy-free. Everything is constantly new and never frozen so you are assured of ultimate freshness in every meal.
back to menu ↑
22 Days Nutrition Fitness and Activity
You need to be moving for at least 30-60 minutes every day. But what you really do or how you do it is completely all up to you.
back to menu ↑
How Easy Is 22 Days Nutrition To Follow?
Everything from the company is easy to prepare so you can make your mealtime more convenient and enjoyable. You must take the meal out of the container and heat it in an oven, stovetop or toaster oven. If you are running out of time, you can cook meals in your microwave for more comfort and convenience. The plastic utilized in packaging is safe to microwave and BPA-free as well. Regardless of what cooking method you follow, you can refer to the heating instructions included in the package so you can immediately prepare your meals.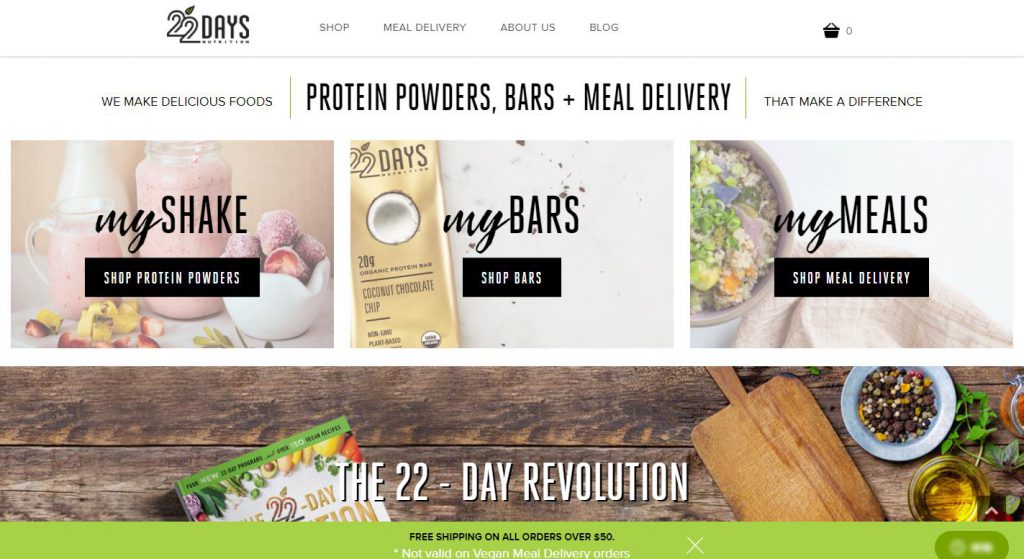 back to menu ↑
Can You Lose Weight With 22 Days Nutrition?
Everything started with Marco Borges, a world renowned and respected exercise physiologist who wanted to provide clients with foods they need for ultimate performance however, he somehow felt limited by choices that are already offered in the market. With an aim of providing individuals with nutritious and healthy vegan foods, the 22 Days Nutrition was born.
back to menu ↑
22 Days Nutrition Plans & Pricing and Costs
With this company, you have the freedom to order anywhere and anytime you want with their A La Carte Plan. There are weekly plans made available but it would be best to try their A La Carte Plan before finally deciding on their weekly plan. Breakfasts cost $6.95 per meal and lunch and dinner dish cost $12.95. The cost for minimum order is $75.
When it comes to weekly meal plans, you can opt for any of the three different plans based on the length of time and you can choose the number of meals per day that you wanted to receive. The 5-day plan starts at $12.50 per meal and in case you decided to choose 3 meals per day, it may cost you around $187.50. The 7-day plan starts at $11.50 per meal or about $241.50 for total of three meals per day. The 22-day plan cost $9.50 per meal or about $627.00 total for the whole plan of 3 meals every day.
For the third week of the 22-day meal plan, shipping is free. For the first 2 weeks, you need to pay $20 per week. The company offers Auto ship service givingcustomers 5 % discount on every order. The company ensures that you can place orders with confidence and you can cancel Auto Ship anytime you want. Just make sure you will do so 10 days prior to the next order. The Auto Ship is not available in the 22-day plan.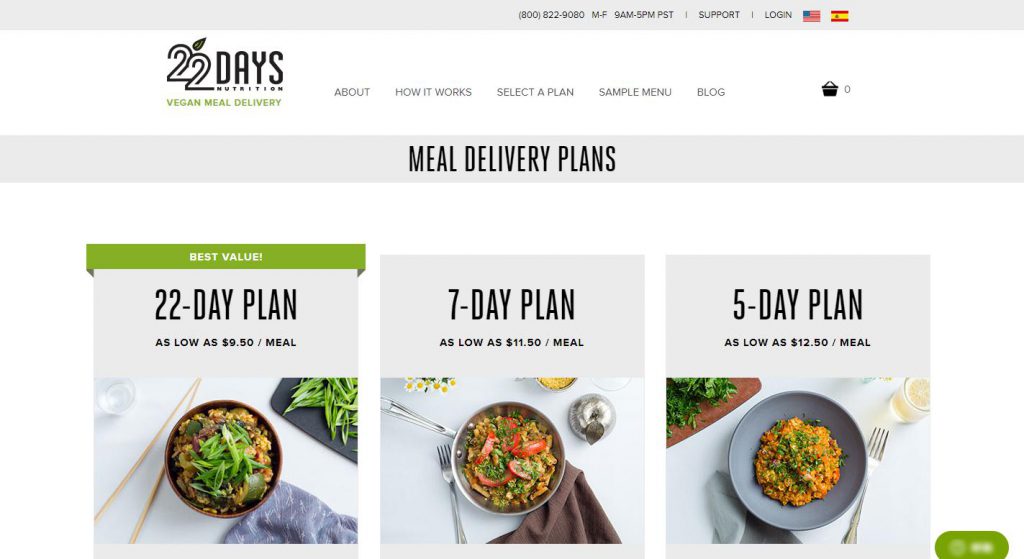 back to menu ↑
22 Days Nutrition Delivery Areas
The company delivers anywhere in the continental United States.  For meal deliveries, Alaska and Hawaii aren't covered. The company allows you to change your delivery address anytime needed. In such way, you can still have your vegan meals properly delivered even if you are out for a vacation. Make sure to change the address 10 days before the delivery date.
back to menu ↑
22 Days Nutrition Help & Support and Customer Service
If you are in need of further assistance, feel free to check out their informative FAQ page or you can reach the company by email or by phone (1-800-822-9080).
back to menu ↑
22 Days Nutrition Pros and cons
---
PROS:
Innovative vegan recipe
Organic and healthy ingredients
Breakfast, lunch, and dinner are offered
Flexible and accesible A La Carte Plan
Nationwide coverage
CONS:
Cannot customize weekly meal plans
Lacks family plan
---
back to menu ↑
Bottom Line
The 22 Days Nutrition is a great option for those following a plant-based diet or those considering trying this out. With the three different meal plans options available, you are sure to find the beast option that will get your health on the right track.
While doing extensive research on this review on 22 Days Nutrition, it has been found out and proven that their meal-delivery service really provides 100% healthy, organic and mouth-watering vegan meals. The meal plans that the company offer prove that vegan foods can be highly nutritious and delicious as well.
The 22 Days Nutrition delivers meat-free and delicious foods on your table. You can also allow them to make weekly plan for you or you can just choose a la carte dishes. Whichever you choose, you are assured to always receive great meals. Keep in mind that following healthy and balanced diet is crucial to health so it would be best to embrace and indulge with the healthiest meals offered by 22 Days Nutrition.
22 Days Nutrition Review
The 22 Days Nutrition delivers meat-free and delicious foods on your table. You can let them make weekly plan for you or you can just choose a la carte dishes. Regardless of your choice, you are assured to always receive great meals.
PROS
The 22 Days Nutrition is beneficial to health since it offers healthiest meals
Meals include healthy and organic ingredients
The Vegan recipes offered are healthy and highly innovative
Add your review
22 Days Nutrition Discounts, Coupons and Promo Codes
We found 2 verified 22 Days Nutrition Discounts, Coupons and Promo Codes for Oct. 2023. If some of the 22 Days Nutrition coupon codes have expired, please contact us, thank you for your help.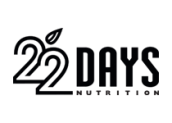 15% OffGet 15% off with promo code!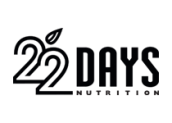 $30 OffGet $30 Annual Subscription off with coupon code!
Compare 22 Days Nutrition with other Companies' Services, Plans and Products
If you like 22 Days Nutrition but aren't sure whether it's the best ideal choice for you, and may want to compare 22 Days Nutrition with other Companies' Plans, Products, and Services that similar to 22 Days Nutrition, or 22 Days Nutrition Alternatives and 22 Days Nutrition Competitors, Which companies' services like 22 Days Nutrition. You can take a look at our professional comparisons below to discover if one of them is more suitable for you.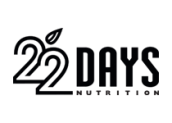 Updated : 10.02.2023.