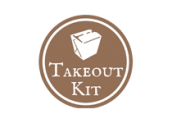 ---
Takeout Kit Overview
Rachel Lake, the founder of Takeout Kit, loved cooking and was a huge fan of meal kits, but hated constantly wasting them because of her busy lifestyle. That's why, in June 2016, Rachel decided to start Takeout Kit. This meal kit service is designed around those with busy lifestyles like new parents, college students and working professionals. Takeout Kit provides a tasty and easy-to-prepare, shelf-stable meal.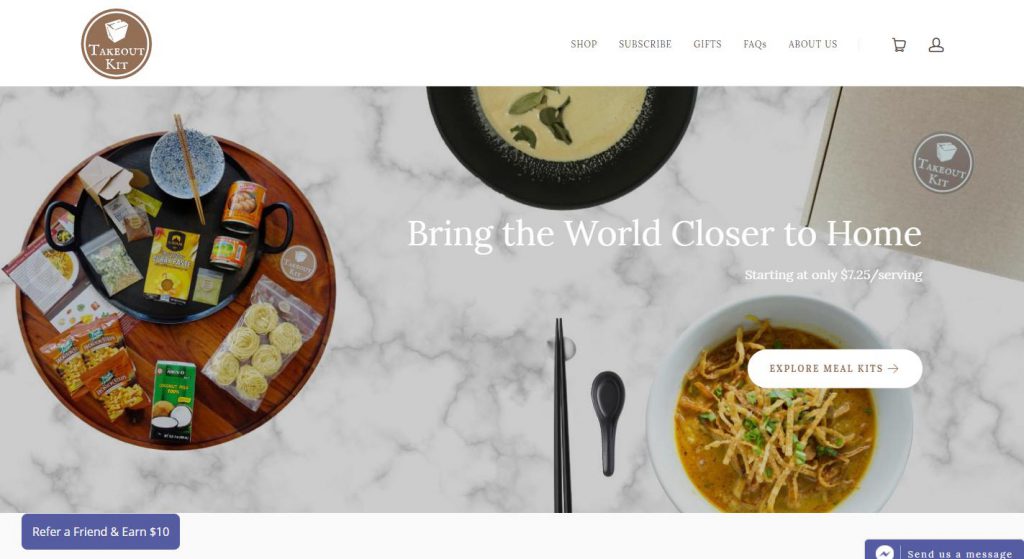 For anyone looking to try new meals, but worried about the time constraint of a meal kit, Takeout Kit is a great option. There are a great variety of international dishes to choose from, and the meals take under an hour to prepare. On busy nights, no more need to worry about buying ingredients or planning a meal ahead of time. You get all the ingredients right in the box for you, with pre-portions and detailed instructions. What's great about Takeout Kit is that you can subscribe to it and just save the meal for a busy day. It can even be combined with other meal kit services.
Keep reading our honest Takeout Kit review to learn more.
back to menu ↑
Takeout Kit Ideal For
People who are too busy to shop and prep ingredients
Anyone who is looking for a healthier alternative to frozen meals
Men and Women who want to learn to cook and enjoy new recipes
back to menu ↑
How Takeout Kit Works?
Takeout Kit makes it simple to subscribe to their service. First, you need to choose your plan. They offer a few different options from 1-month to 12-month subscriptions. From there, you choose which takeout meal you would prefer. After that, on the 15th of every month, you choose your next kit! They have a variety of international dishes to choose from and are constantly adding more. In addition to their subscription services, you can buy individual or 3-meal sampler packs. This allows for flexibility if you'd rather try out the service before subscribing.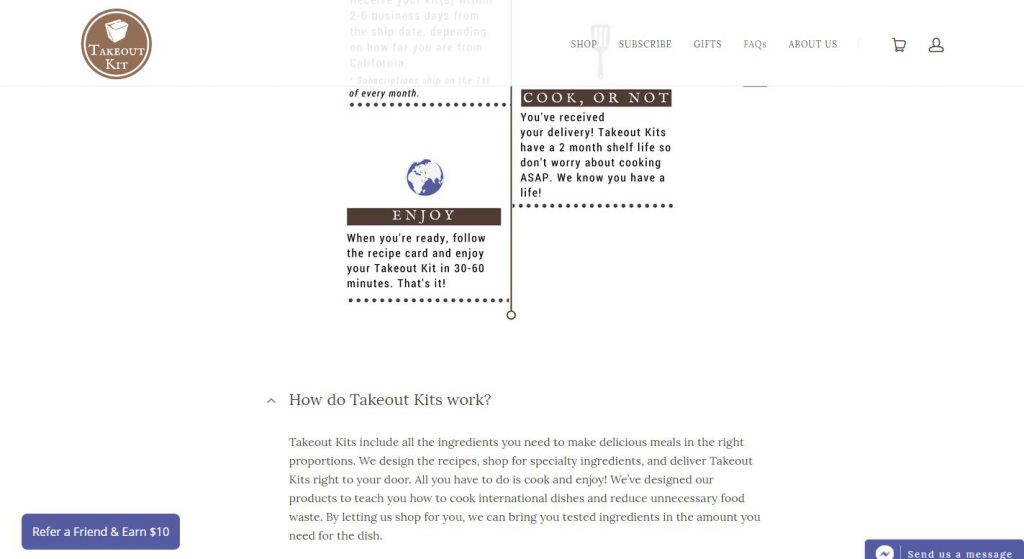 Each kit contains information about the dish, a simple recipe, and the ingredients necessary to prepare a meal that can feed 4 adults with healthy appetites. All orders arrive 2 to 6 business days after they are shipped. A la carte orders are shipped as soon as they are packed and ready to go and subscriptions are shipped on the 1st of every month. You can cancel or modify your subscription at your convenience.
back to menu ↑
What Makes Takeout Kit Different?
We said before in this Takeout Kit review that this service came into existence due to the lack of meal kits that do not expire within just 3 to 5 days. Therefore, the main difference between this service's kits and those of its competitors is that they can sit patiently on the shelf for 2 months. What makes them even more unique is that they do not only allow home cooks to prepare dishes inspired by cuisines from around the globe, but also include imported specialty ingredients that give just the right, authentic flavor to the meals. All ingredients are of high quality, USDA organic, and preservative-free whenever possible.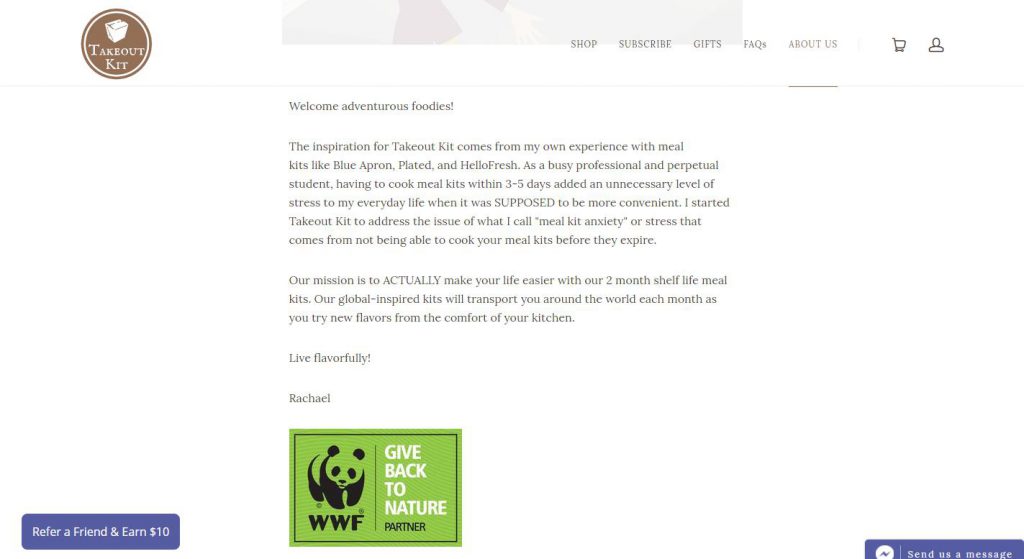 As a Takeout Kit customer, you can get rewards by ordering and spreading the word about the service. By sharing and following Takeout Kit on Twitter, liking and sharing it on Facebook, following it on Instagram, writing a review of a kit, signing up, placing an order, and referring a friend, you get points you can exchange for coupons. For example, if you successfully refer a friend, your friend gets a $10 off coupon and you get 1,000 points. For every 500 points, you get a $5 off coupon. On your birthday, Takeout Kit gives you a present in the form of 500 points.
Speaking of presents, you can get great Takeout Kits for your friends, including gift subscriptions and gift cards and have the presents gift-wrapped.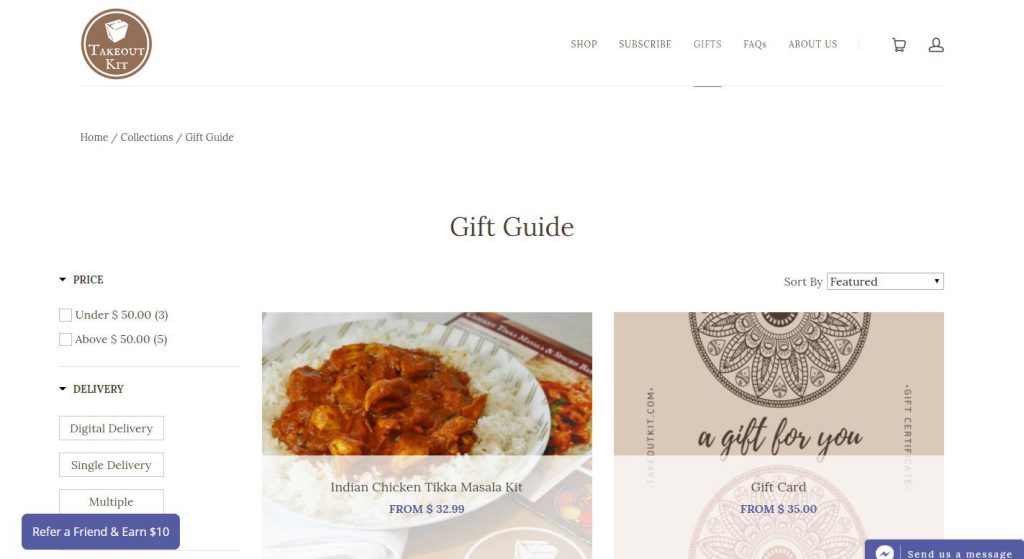 back to menu ↑
Takeout Kit Meals & Menus and Recipes
The Takeout Kit team strives to create healthy, delicious and authentic international dishes. After living in New York City in her 20's, Rachel Lake was exposed to several international dishes and now works to bring these dishes to everyone. Every Takeout Kit meal is researched, tested before they ship it out to anyone so you know you're getting a delicious meal experience.
With Takeout Kit, you get to learn how to cook the hallmarks of various international cuisines and take your taste buds on a trip around the world. A different country is featured every month, but you can order anything on the menu that piques your fancy.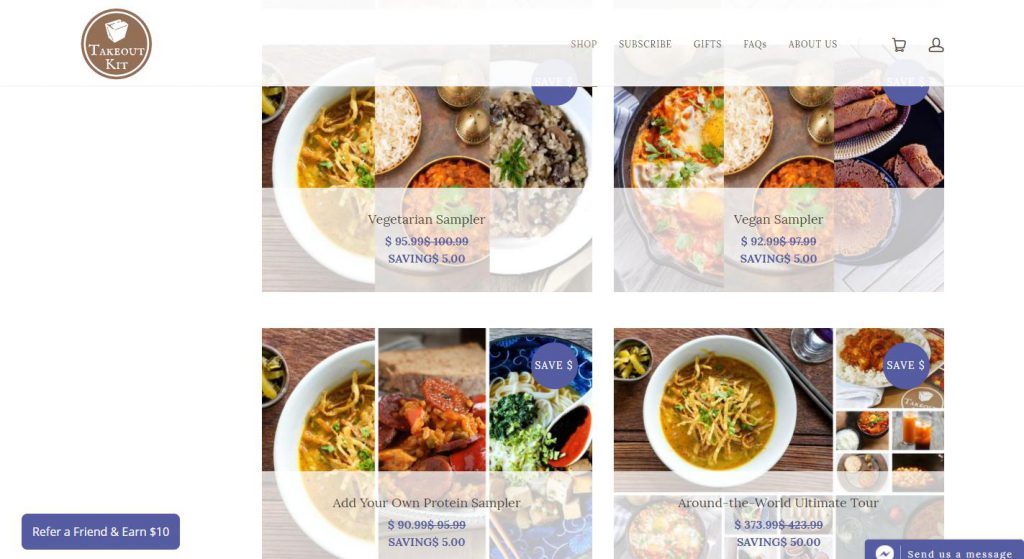 The company's rich selection includes more than two dozen kits. The dishes originate from Italian, Spanish, German, Vietnamese, Burmese, Indian, Ethiopian, Chinese, Moroccan, and other exciting world cuisines. What we particularly like is that in addition to meal kits, the company offers coffee and tea kits, allowing you to prepare and enjoy refreshing Thai iced tea, Vietnamese coffee or perhaps soothing Moroccan mint tea in the comfort of your own home.
They are focused on providing dinners with excellent ingredients. If you're looking for some meatier options, they have the Spanish Paella with Chorizo, Indian Chicken Tikka Masala, and Thai Crab Curry. Their Sichuan Mapo Tofu, Burmese Curry Noodles, and Indian Chickpea Tikka Masala are great vegetarian options. There are three-dinner sampler packs for meat lovers, vegetarians, spicy food lovers and adventure seekers.
As suggested before, Takeout Kit caters to people on special diets, including vegetarian, vegan, pescatarian, low GI, and others. However, keeping in mind that all the kits are assembled in the same facility, they are not recommended to people with severe food allergies.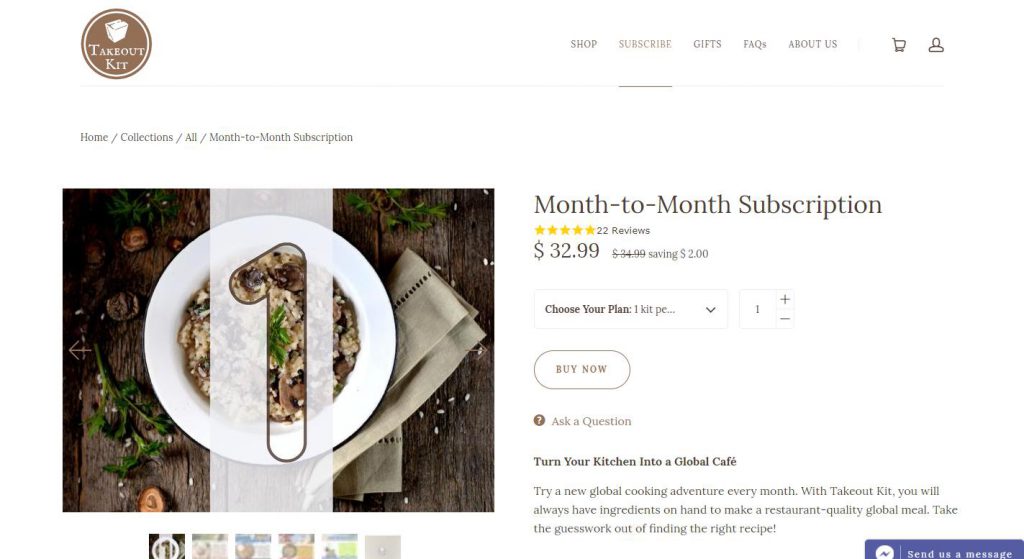 back to menu ↑
Takeout Kit Health & Nutrition
Takeout Kit's expert meal planners strive to source USDA Certified Organic and preservative-free ingredients by working with the highest quality food suppliers from around the world.
Their first goal is to provide authentic and tasty ingredients so some of their ingredients do not meet these guidelines. These are canned and packaged meals designed for those who don't always have the time to cook perishable meal kits so if you strive to eat the freshest ingredients, you may want to go with a different meal kit.
back to menu ↑
Takeout Kit Fitness and Activity
You should be moving at least 30 to 60 minutes each day, but what you do and when you do it is completely up to you.
back to menu ↑
How Easy Is Takeout Kit To Follow?
All the ingredients in Takeout Kit come in the correct portions sizes with an easy-to-follow recipe card. Takeout Kit aims to provide people with the ability to cook delicious international dishes and reduce unnecessary food waste. The recipe cards show step-by-step instructions on how to make each dish. The instructions are detailed and even include directions on how to open items! The meals are designed to be easy to cook in under an hour, perfect for those with busy lifestyles.
back to menu ↑
Takeout Kit Plans & Pricing and Costs
Individual meal kits normally cost between $30 and $35, drink kits cost between $2.5 and $8, and the prices of 3-kit samplers range between $90 and $105. The ultimate 14-kit sampler with a meal, tea, and coffee kits costs $392. The service often offers discounts on both samplers and individual kits.
The subscription options available include 1-month, 3-month, 6-month, and 12-month subscriptions. With the 1-month subscription, you can order 1, 2, 3 or 4 kits per month and pay $32, $62, $90 or $118 per month, respectively. As you can see, you get to save a couple of bucks per kit if you order larger quantities. The subscriptions automatically renew every month until you cancel.
The 3-month subscription costs $93 and brings you 1 kit per month for 3 months. The price of the 6-month subscription is $180 and you get 6 kits, one each month. Both the 3-month and the 6-month subscriptions can be bought as one-time purchases. If you subscribe and opt for auto-renewal, you get to save 2.5%. Finally, the 12-month subscription brings you one kit per month for the whole year and costs $348. Shipping is always free of charge.
back to menu ↑
Takeout Kit Delivery Areas
The long shelf life of its kits allows Takeout Kit to have a pretty vast delivery area. It delivers to all 50 US states and even most US territories, including overseas APO addresses. There is no need to sit at home and wait for your package to arrive since the kits do not require refrigeration and can safely be left at your doorstep.
back to menu ↑
Takeout Kit Help & Support and Customer Service
If you need additional help you can check out their informative FAQ page or contact them by email, or call the phone number.
back to menu ↑
Takeout Kit Pros and cons
---
PROS:
Cook meals from around the world
Subscribe or order a la carte
Healthy ingredients, often USDA organic and pesticide-free
Rich menu including meal, tea, and coffee kits
Choose your proteins with certain kits
Accommodates special diets
2-month shelf life
Rewards program
Available all over the US
Free shipping
CONS:
Should consider introducing kits with fewer servings
---
back to menu ↑
Bottom Line
If you like cooking and having the world on your plate, Takeout Kit is an excellent choice. It allows you to cook the best international dishes quickly and easily and expand your culinary horizons at the price of just around $7 – $8 per serving. The ingredients are healthy and some of them are impossible to find at the store, the meals are suitable for a variety of diets, the coffee and teas are divine, and shipping is free of charge, which is always good news.
Takeout Kit Review
Takeout Kit is a meal kit service that allows you to cook exotic dishes from various world cuisines, using imported specialty ingredients that make every meal taste authentic and amazing.
PROS
USDA organic and without preservatives whenever possible
Meal, coffee, and tea kits that stay fresh for 2 whole months
Order commitment-free, pay $7-$8 per serving + free shipping
Add your review
Takeout Kit Discounts, Coupons and Promo Codes
We found 1 verified Takeout Kit Discounts, Coupons and Promo Codes for Dec. 2023. If some of the Takeout Kit coupon codes have expired, please contact us, thank you for your help.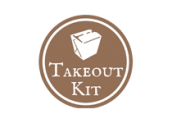 $5 OffGet $5 off your first box with promo code + Free Shipping
Compare Takeout Kit with other Companies' Services, Plans and Products
If you like Takeout Kit but aren't sure whether it's the best ideal choice for you, and may want to compare Takeout Kit with other Companies' Plans, Products, and Services that similar to Takeout Kit, or Takeout Kit Alternatives and Takeout Kit Competitors, Which companies' services like Takeout Kit. You can take a look at our professional comparisons below to discover if one of them is more suitable for you.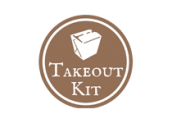 Updated : 12.01.2023.