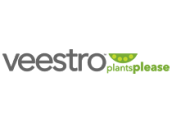 ---
Veestro Overview
Veestro, created by siblings Mark and Monica, is a popular gourmet style vegetarian healthy meal delivery service. The brother and sister behind the company understand the difficulty one can  experience in finding the perfect vegetable meals that are equally healthy and tasteful in keeping up with one's weight loss program or a balanced lifestyle.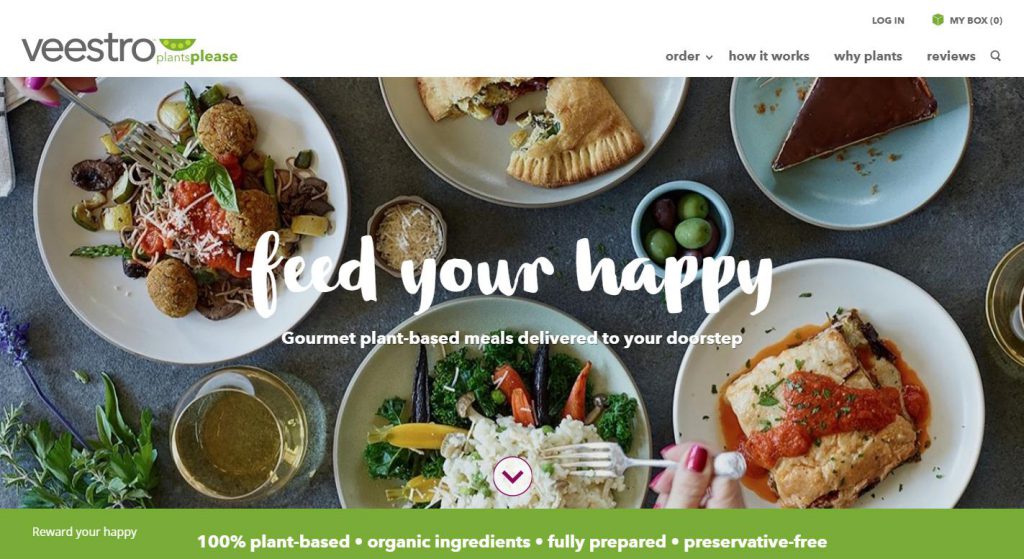 Though plant-based meals are provided, they carry meal entrées that are likewise appealing to meat lovers, vegetarians, and those who stay away from meals containing gluten. The company aims to prepare and serve meals containing health benefits in every sip or bite for every member in your family.
Selecting your meal pack is easy as theirs is categorized in 4 groups. Your options are unlimited with their a la carte, weight loss meal plans, meal pack, and their equally popular fruit and vegetable juice packs for cleansing. Veestro is offering a healthy and enjoyable alternative for people who want to stay in shape and healthy with improved vegetable meat diet.
Keep reading our honest Veestro review to learn more.
back to menu ↑
Veestro Ideal For
People who live a very busy lifestyle who cannot find time buy ingredients for home cooked meals
Individuals who want a change of diet from frozen meals to healthier alternative
Anyone who are in need of an effective vegan plan for losing weight or vegetarian weight loss program
back to menu ↑
How Veestro Works?
You can easily order your first delivery even without creating an account at Veestro's official website. However, it is advantageous to do so especially when you plan on subscribing to any of their meal plan packs. Your information will be saved in their data system for future reference or use. You can now then choose from among their selections of meal packs and see what are included in your chosen category.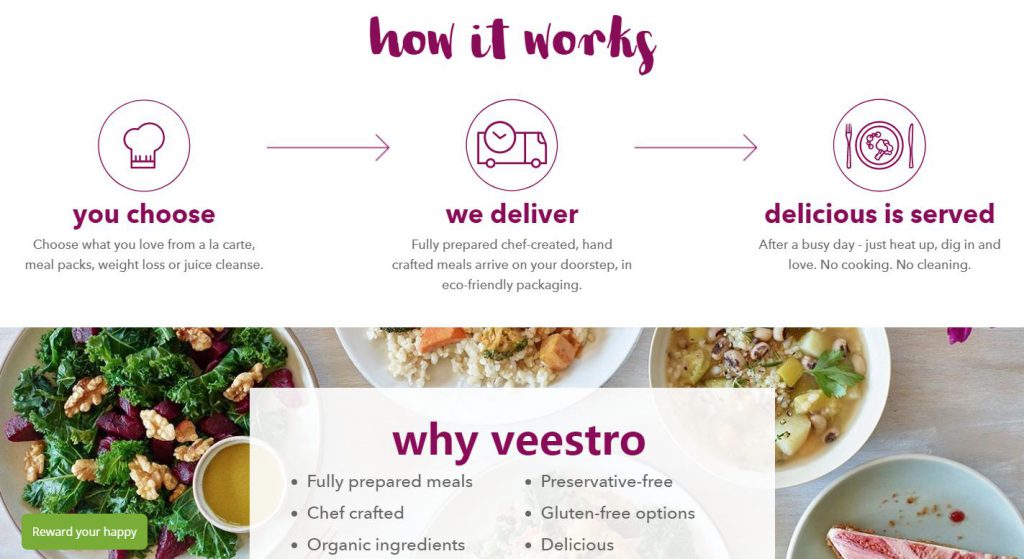 All the meal options listed in each category carry nutrition facts and information, ingredients used, as well as the price for each. From breakfast, main entrees, soups, juice, and desserts you have everything you need in one place. But if these are not what you are looking for, check out their meal packs such as the Starter Pack wherein you have 12 especially-prepared meals signature of Veestro's.  Then there is the 21-Day Kickstart Pack containing healthier and appetizing recipes, Gluten-free Pack designed for people with ultra-sensitivity to gluten, and Protein Power Pack for protein-laden meals. You may also try their 3-day or 5-day juice cleansing and their specially designed meals for weight loss program.
Place your order after your shopping cart is filled with what you need and they will be delivered to your location. Learn more of their shipping process from the site.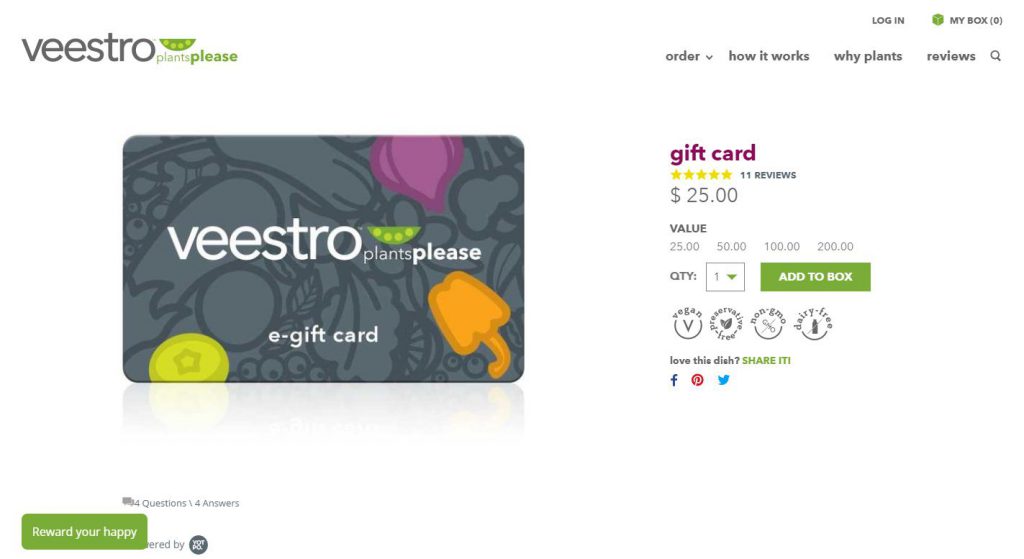 back to menu ↑
What Makes Veestro Different?
Plantifesto, a manifesto created by Mark and Monica about stressing the benefits of consuming vegan food,  is making a huge impact on people who wants to try this healthy and eco-friendly alternative. "We believe you shouldn't have to eat anything you don't love. Or that doesn't love you back." One of the famous lines in the manifesto speaks of a universal truth about eating habits. It further insists on strong opposition of consuming junk foods and promote preparation and consumption of food with just the highest standards in quality, nutritional and health value, and the taste.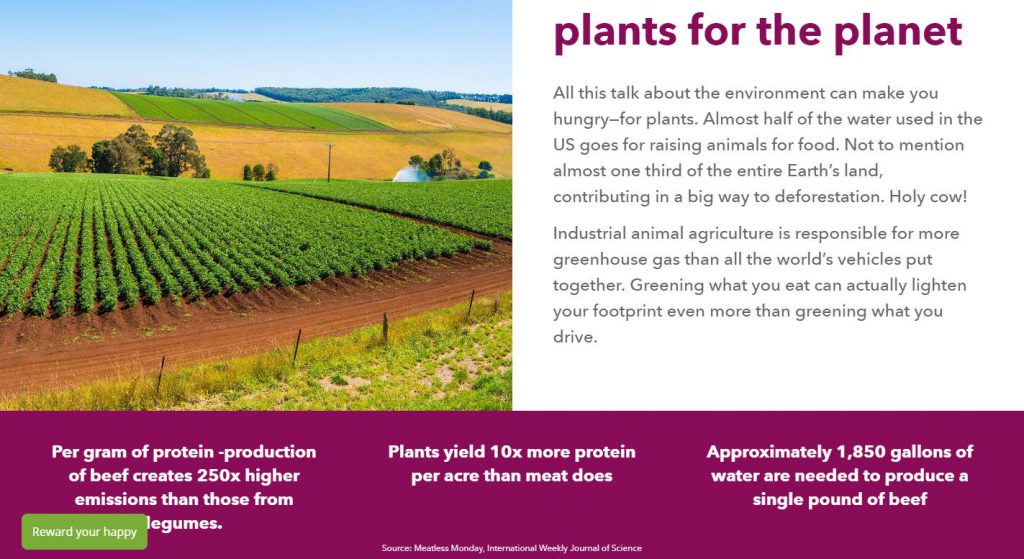 The secret, they claim, is the choice of ingredients. Growing up in Costa Rica, this has been a great inspiration in their love for plants, and in this manifesto, you will be surprised with some interesting data when you go vegetarian or vegan.
Going vegan means the earth's atmosphere is freed of approximately 1.5 tons of carbon dioxide each year. This is like eliminating about 500,000 cars driven on the road annually.
Vegetarians and those who are into plant-based meal plans are found to have lower risks in getting cancer and type-2 diabetes by 62 percent and 20 percent respectively according to studies.
There are claims that eating plants tend to lower BMI (Body Mass Index) and vegans weigh less compared to people who eat a different form of diet. The secret is the plants will give you the same satisfaction and fulfillment in eating but fewer calories.
People who are into vegan diet are in better shape and healthier, thus happier.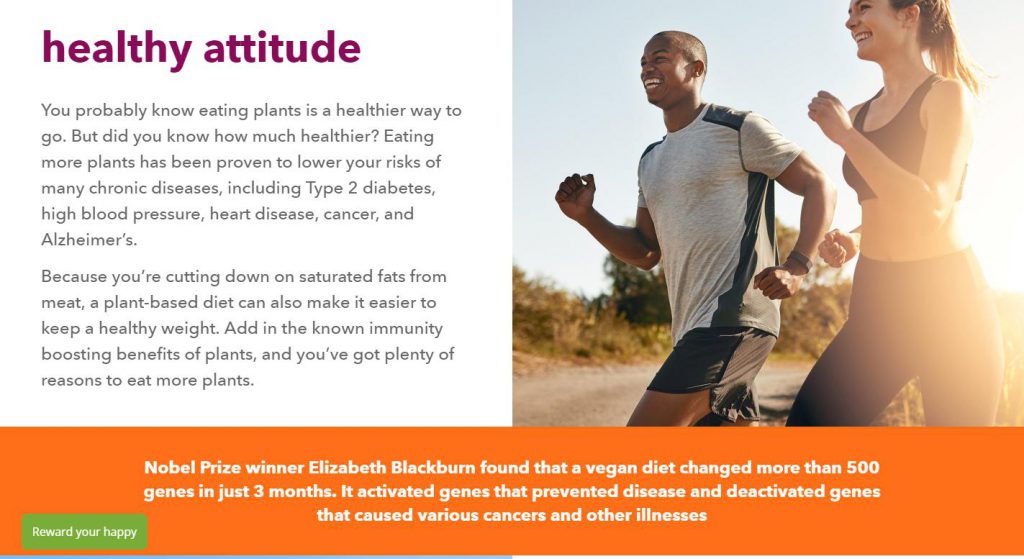 back to menu ↑
Veestro Meals & Menus and Recipes
Veestro  consistently provides customers with non-GMO, organic foods to enjoy a nutritious, fast, and easy meals. But your choices in meals are not limited as they also offer food options to suit individuals' tastes. Aside from a la carte, you will surely find the meal that suits your lifestyle and diet with their weight loss, meal packs, as well as juice cleanse categories.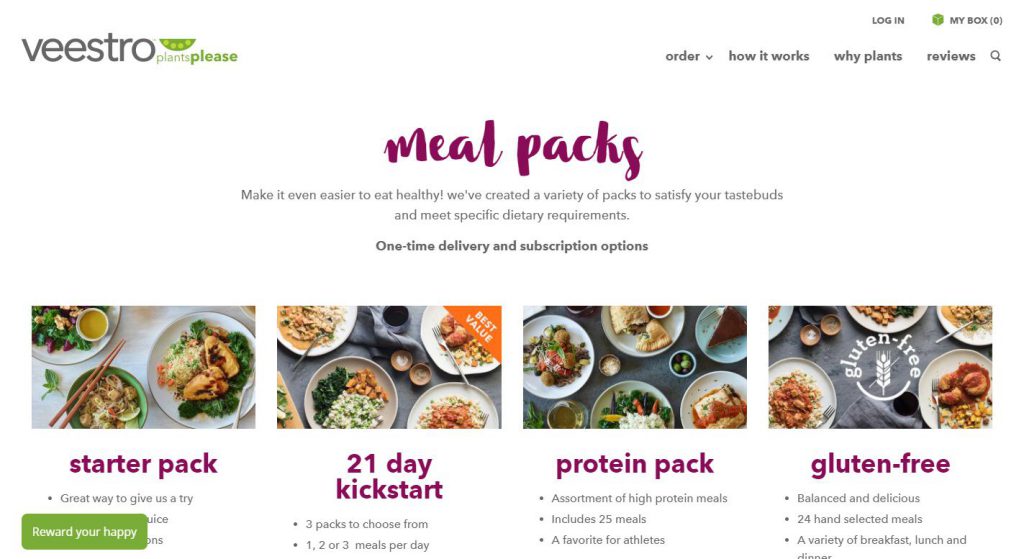 A LA CARTE
Select any of Veestro's existing meals on their menu prepared by top culinary experts and it will be on its way to your place. All ingredients are carefully chosen and handpicked fresh from a certified organic, non-GMO farm.
MEAL PACKS
Veestro offers meal packs set to support a balanced lifestyle and meet individuals daily dietary requirements. You can customized your own meal pack or choose from their existing meal packs consisting of gluten-free, protein power, starter, 21-day kickstarter, as well as juice cleanse.
WEIGHT LOSS
Weight loss meals packs help you eat heartily  and healthy to achieve your goal in losing weight no matter what your lose weight program is.
 JUICE CLEANSE
All your much needed nutrition in cleansing your system comes and packed in juice form. No sugar or artificial flavorings are added but purely 100% organic vegetables and fruits.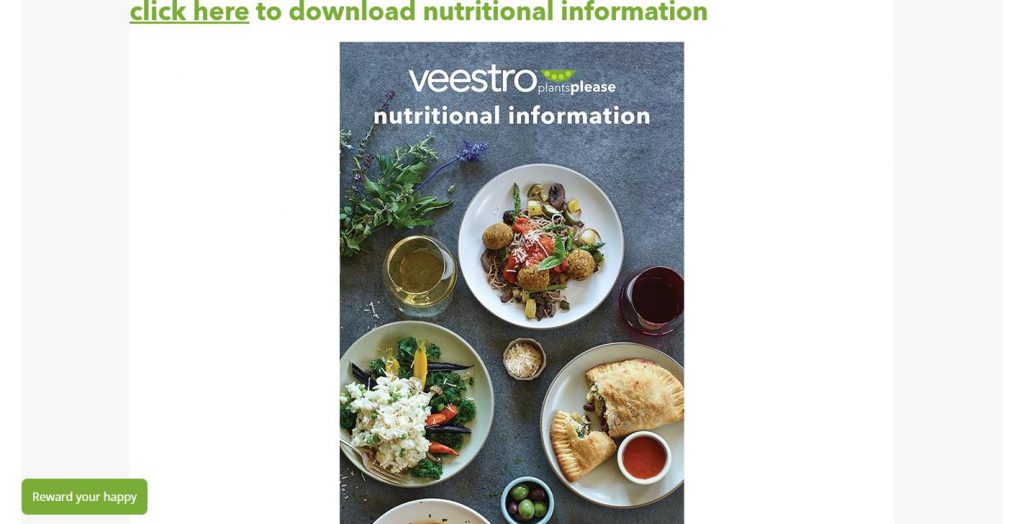 back to menu ↑
Veestro Health & Nutrition
Veestro meal delivery service delivers 100 percent organic, plant-based, and free of any preservative. The multitude of benefits  in eating meals that are plant-based are backed up with studies and research showing a reduced risk in cancer and diabetes 2, blood pressure is lower, and aids in maintaining and losing weight.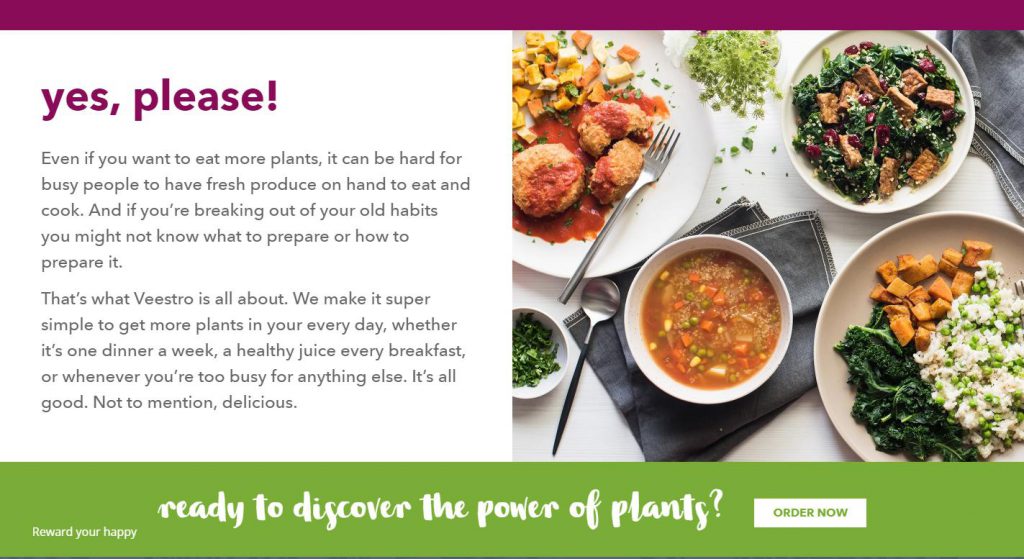 State of the art freezing process used by Veestro guarantees quality, freshness, and flavors from the moment the ingredients are packed, shipped, and delivered into your home. Cook it right away or keep it stored will still give you the same great meal each time you order from them.
Frozen as it may be but Veestro takes pride in their dedication of providing menu and meal packs that use only the freshest, non-GMO, no preservatives, all-natural, and definitely plant-based all the way. No double checking of ingredients or double guessing of cooking procedure as the best ingredients are packed and frozen until you're ready to cook them.
back to menu ↑
Veestro Fitness and Activity
Make it a daily habit to pick any time of the day to do any activity at least 30 minutes to an hour to move around.
back to menu ↑
How Easy Is Veestro To Follow?
Easy and quick to prepare meals are always delivered by Veestro.  All you need to do is follow the recommended prep and reheating instruction or use the microwave.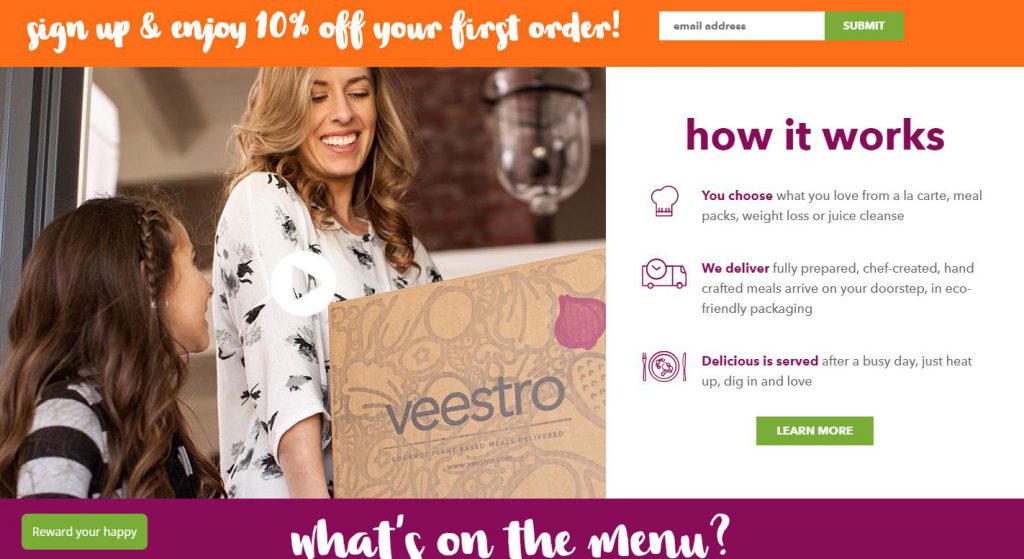 back to menu ↑
Can You Lose Weight With Veestro?
Veestro perfected designs in weight loss meal plans suitable for any kind of dieting you have in mind. From their signature light weight plan, more to please plan, as well as pleasing plan you will have a healthy and easy way of losing weight to match your budget and lifestyle. Whether you want to maintain your ideal weight and body built or you want to lose weight, these simple vegan weight loss plans are your best aid.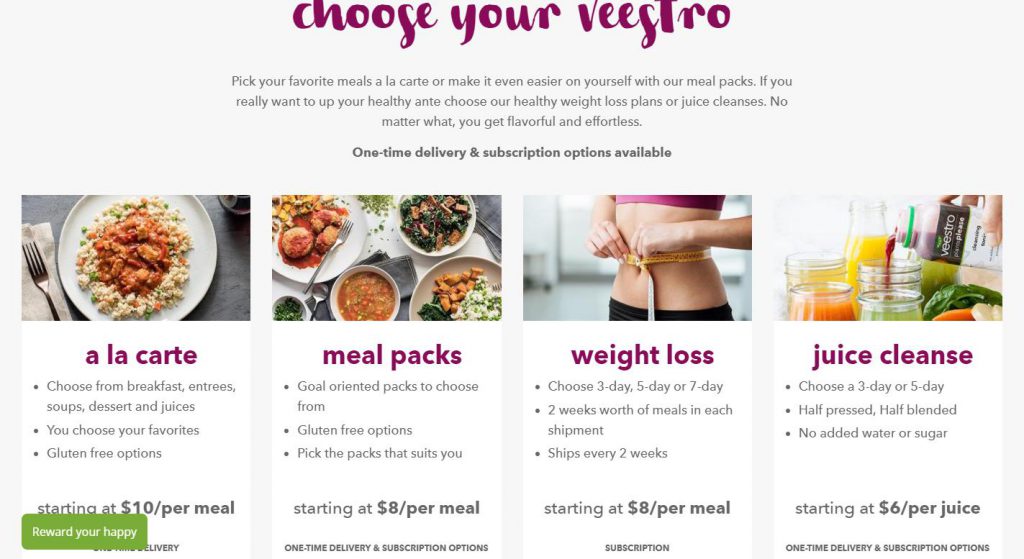 back to menu ↑
Veestro Mobile App
You get to enjoy the mobile apps' numerous features available both for Android  and iOS users.
back to menu ↑
Veestro Plans & Pricing and Costs
The prices of a la carte listing varies but you will be charged per item depending on your chosen meals and how many servings you are ordering ranging from $5.49 to $11.29. Other meal packs are charged differently as well:
Starter Pack starts from $99
21-day kickstart, gluten-free, and protein power packs start somewhere around $199.
Juice cleanse  for 3-day program costs 119$ and 5-day program for $189.
Delivery charges vary as well depending on the total purchase but it will be free of charge if your order is over $199.
Shipping fee of $35 for orders under $98
$19 for orders between $99 and $189
$12 fixed delivery fee for orders under $198 for California-based orders.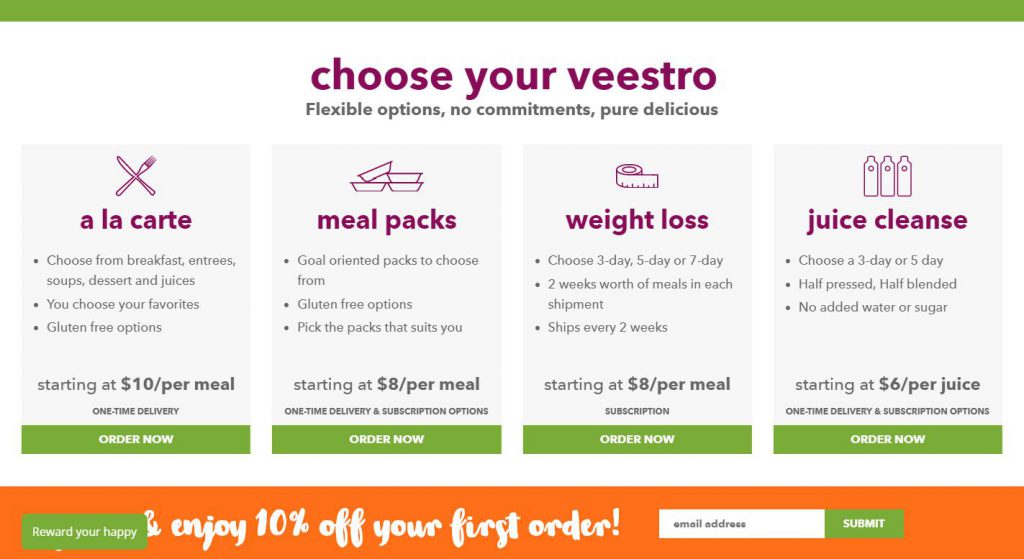 back to menu ↑
Veestro Delivery Areas
Veestro caters to vegans across America all the way to Hawaii and Alaska. Depending on your location, the expected time of delivery varies. All meals must be kept in a freezer as they are packaged in insulated boxes. Keep them frozen until you are ready to cook them the next day.
back to menu ↑
Veestro Help & Support and Customer Service
You may call 1-855-434-8988 for queries or contact them for any concerns by sending an email. The FAQ in their website can also provide a great deal of additional information you may need.
back to menu ↑
Veestro Pros and cons
---
PROS:
Meals crafted by vegans for vegans and vegetarians
Ingredients are guaranteed to be organic, all-natural, and hand-picked
Preservative-free
Meals are packed using 100% recyclable materials
CONS:
Meals are packaged frozen and shipped only
Less room for customized meal plans
Extra shipping fee is charged for orders placed in Alaska and Hawaii
Meal price starts at 35$
---
back to menu ↑
Bottom Line
You have great option in meal delivery service with Veestro as it caters not only for vegan lovers but to anyone who wants to eat healthy meals as a whole. The expanse of their operation allows them to deliver easy prep and quick cooking meals with their full attention to their customers' needs in crafting their various meal plans and packs. From a healthy full-course meals, gluten-free, protein-rich, weight loss, and even cleansing, you have the perfect dietary solution with just one click in your mobile.
Veestro puts their customers' first and it is evident in the categorized vegan or vegetarian meal options perfect for anyone's needs whether for slimming down or just maintaining a healthier lifestyle.
Veestro Review
Veestro is the ultimate meal delivery service catering to all vegetarians and vegans. Keeping up with a vegetarian diet as well as lifestyle is now easy with mouth-watering healthy meals with greens that are 100% organic.
PROS
Wide selection of meal packs, juice cleanse plans, and plans for weight loss
Plant-based, 100% organic, no preservative meal & plans
Various meals & meal plans prepared by chefs with handpicked ingredients
Add your review
Veestro Discounts, Coupons and Promo Codes
We found 6 verified Veestro Discounts, Coupons and Promo Codes for Oct. 2023. If some of the Veestro coupon codes have expired, please contact us, thank you for your help.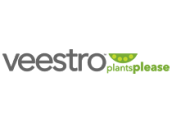 25% OffGet 25% off 12 Best Selling Vegan Meals with promo code!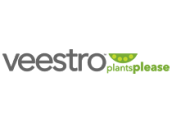 20% OffGet 20% off Weight Loss Subscription Plans with promo code!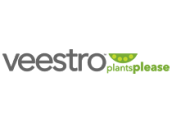 15% OffGet 15% off any order with promo code!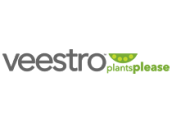 10% OffGet 10% off any order for New Customers with promo code!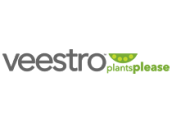 $30 OffGet $30 off A-La-Carte Ready to Eat Meals over $150 with coupon code!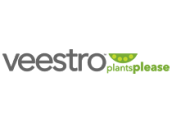 Free ShipingGet Free Shipping on Meal Orders $199+ with coupon code!
Compare Veestro with other Companies' Services, Plans and Products
If you like Veestro but aren't sure whether it's the best ideal choice for you, and may want to compare Veestro with other Companies' Plans, Products, and Services that similar to Veestro, or Veestro Alternatives and Veestro Competitors, Which companies' services like Veestro. You can take a look at our professional comparisons below to discover if one of them is more suitable for you.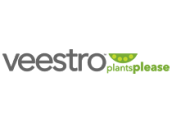 Updated : 10.02.2023.