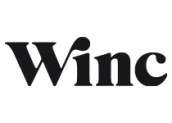 ---
Winc Overview
Little did we know that we are in for a pleasant surprise when we started our quest to give Winc a review. The market for wine club is big but Wic happens to exceed our expectation among its existing competitions. Aside from the fact that you can grab a bottle of some of the finest wines across the world on their deliveries, they also produce their own blend of good tasting wines. A winemaker itself, you can guarantee that they know their trade and they are perfectly good at it.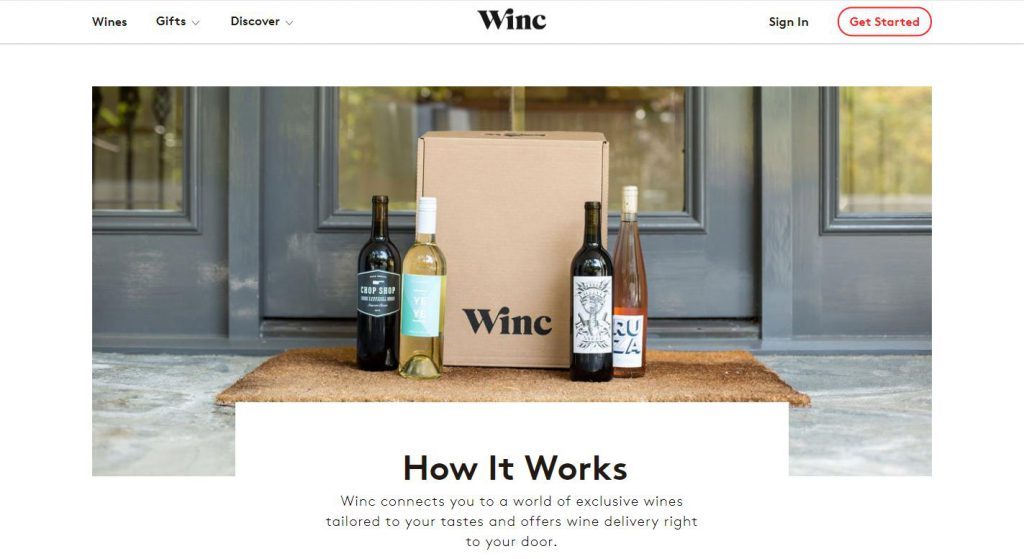 Winc wine club was built into fruition back in 2012 but was formerly named Club W.  The company is run by co-founders Brian Smith and Xander Oxman alongside their other team members. Its current headquarters is located in  Los Angeles, California wherein they fully operate for the sole purpose of providing its customers the best wines delivered right at their doorstep.
Winc is a pioneer in delivering customized wine preference among wine clubs. Their customer's opinions and individual tastes are highly considered and used expertly to find the perfect match of wine variety  based on your taste and preference. You get a personal wine connoisseur so you can have an enjoyable grape-to-glass experience at the comfort of your home or as a gift for special someone or occasion.
Keep reading our honest Winc review to learn more.
back to menu ↑
Winc Ideal For
Customers who are wine lovers
back to menu ↑
Winc Selection & Quality
Don't expect ordinary and common with Winc because they're not. The team behind the popular wine club is dedicated in introducing the exciting world of winemaking as well as the art of tasting them as close as possible to their valued customers.  The company partnered with some of the country's renowned winemakers and experienced sommeliers to eliminate the stigma associated with the wine world and its enthusiasts. The full force of this expertise aims to introduce the unique field of various wine flavors.  Wic is providing the opportunity for anyone to explore and discover the tastes of premium wines which only the rich and famous seem to exclusively enjoy.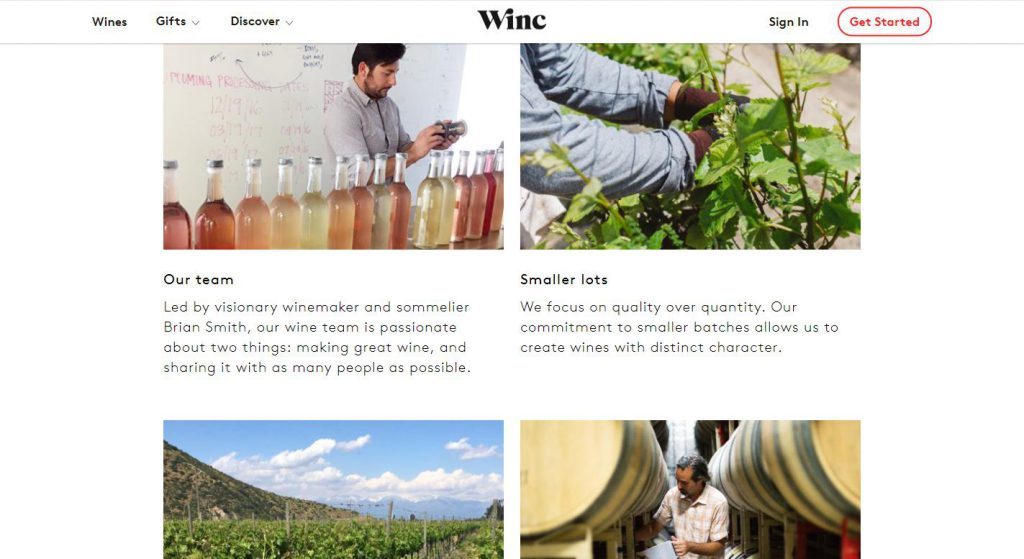 They don't treat their customers as generic. Every customer is unique and is given a unique personalized delivery with great consideration on personal tastes and preference. How do they do it? Wic provide simple and easy to answer questions to determine the specific wine tailored to your palate before you sign up for their wine delivery.
The wine cellar of Wic wine club is filled with the world's finest selection of wines waiting for your order. If you are one of the members of their club, you get the chance to buy and own hard to find premium vintage wines that are definitely within your means. This is part of their goal of making fine wines accessible to all and keep the tradition of wine making and drinking as warm and lovely as possible. You can now treat yourself to experience this luxury without worrying about its cost every now and then.
You will uncover winemaking gems in wine card offered by Winc. Take advantage any of the rich, colorful, and flavorful goodness of various wines including Californian Chardonnay, South African Cabernet Sauvignon, and French Champagne. Winc wine club is working hand in hand with some of world's best wineries coming from Argentina, Chile, France, New Zealand, South Africa, and Spain. Part of its impeccable selection of wines come from their own winery as well as its partners in California. This significant portion is in itself a pride showcasing locally produced finest small lot wines perfected for customers to try. Smaller artisan winemakers are preferred for its dedication to produce high quality wines more than the quantity they can produce. The ordering process is easy and convenient with Winc. Straightforward pricing and avenue that will not intimidate unlike exclusive wine clubs out there.
If you want a monthly personalized selection of premium wines from the wine experts at Winc, the club is open for membership absolutely free. The good thing about it is you can cancel your subscription anytime. Each member gets an exclusive deal of at least a minimum of four (4) bottles of first-class wine picked by the wine club experts.
Servicing a large part of the US, they deliver to over 40 states across the country. Alaska, Hawaii, and Utah( due to the state's strict restriction of alcohol laws) are not currently included on the list. A member will receive a delivery of at least three (3) bottles of premium wines unless you express your desire to skip one month. Simply join the live chat or call Member Service to easily cancel your subscription or skip one month of delivery.
Your location may require some taxes upon delivery on top of $9 flat shipping for wine orders of 3 bottles and below. No shipping is charged when you order a minimum of four (4) bottles.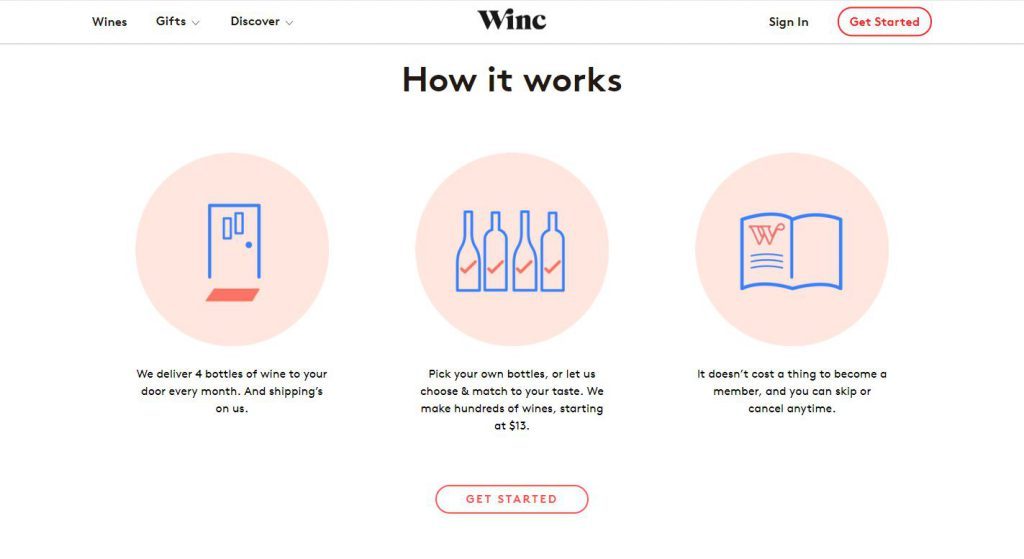 back to menu ↑
What Makes Winc Different?
Winc is comprised of winemakers and wine lovers who passionately creates a way for more people to enjoy such experience.  Most of their prized wines are produced from small lot wineries located in Australia, California, or Portugal and other countries worldwide that believe in producing smaller quantity but big in quality over mass producing wines.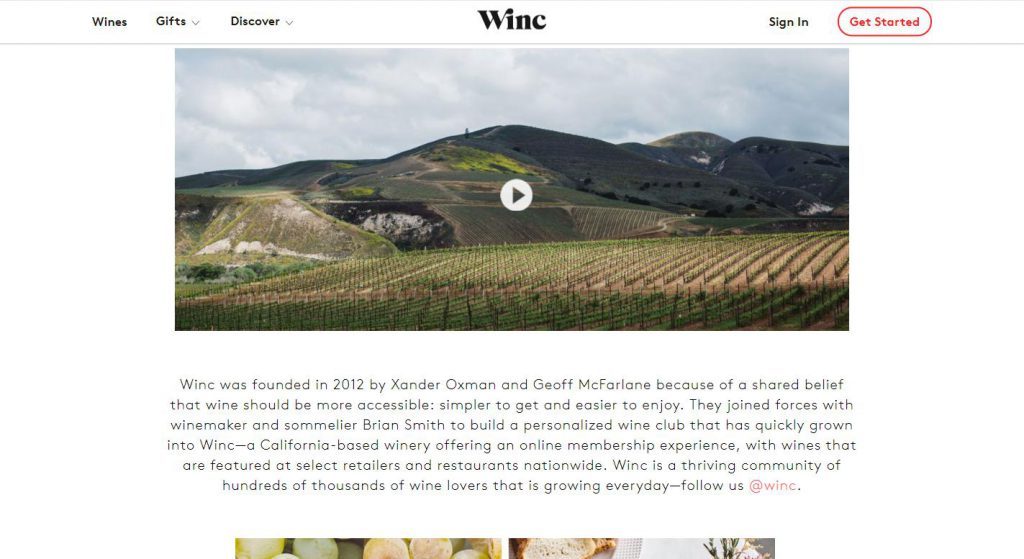 The collection of blogs and meal recipes to go with all variety of wines is huge enough to make you interested and be a wine lover, too. From wine, vintners, winemaking, various dishes, appetizers, desserts, and main courses. In addition to that, they also offer a special recipe section for vegans and vegetarians. You literally have everything you need to know with visiting jut a single website, Wic.
back to menu ↑
Winc Gift Options
Wic also provide gift options for wine lovers to share this love for exquisite wines and send it as a gift for their loved ones. Choose between gift boxes and gift cards for a delightful experience.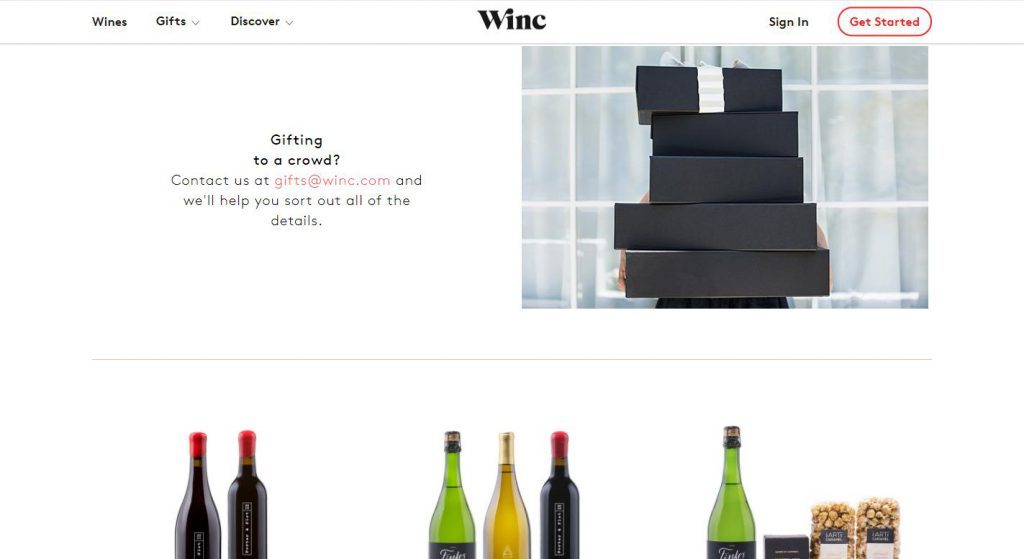 GIFT CARD
Gift cards from Wic come in varied amounts starting at $60 and above which can be used either to be a club member or purchase their chosen wine.  This is the perfect choice of gift when you know someone who shares the same passion for wine but you are unsure of what variety to give. Personalize your gift card by writing a personal message and it will be shipped or emailed to the recipient.
GIFT BOX
Gift box from Wic contains an assortment of wine accessories combined with bottles of premium vintage and quality wines. You cannot send your appreciation or congratulations any way better than this to someone. The content varies depending on your selected box but all come in beautiful boxes including an option for personal message before it is shipped.
back to menu ↑
Winc Club Membership & Pricing
Affordability at its best is Wic's business. Premium wines can be yours at prices ranging from 13$ to 40$ per bottle. You don't pay shipping fee for orders of 5 bottles or more, otherwise additional flat rate of $9 is added on top of state taxes if applicable.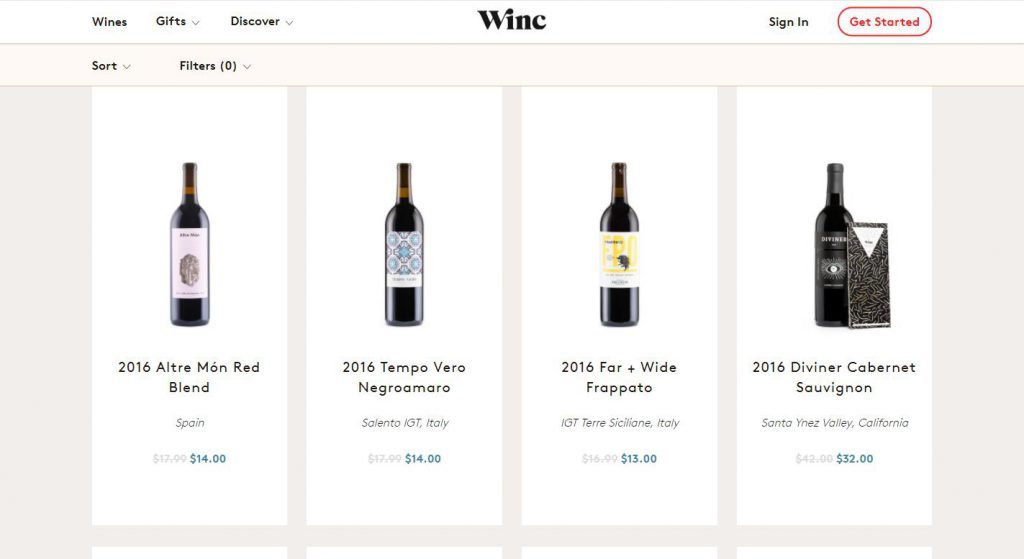 back to menu ↑
Winc Delivery Areas & Support
Wic offers excellent support to all their members. If you have questions regarding making any change in your orders, cancellation of your membership at Wic, or looking for any information, you can choose from many avenues provided by the company. Friendly customer service support is open on weekdays Pacific time from 6 AM to 5 PM. Live chat is also available during weekends Pacific time from 7 AM to 4 PM.
In addition, you may also visit their website and check out the answers in their Help Section as it also covers some of the most frequently asked questions about products, shipping, prices, service areas and many more.
While you are at it visiting their website, see the transparent Terms and Conditions agreement page as well. This page likewise contains useful information about the company, services, and processes involved on initial membership and more.
You may also send a letter or email to Wic if you have time and not in a hurry to get answers right away.
If the information provided in their FAQ section is still not enough upon checking it out, additional help will be provided. Just contact them anyway you want through email or call them at 1-(855) 282-5829.
back to menu ↑
Winc Pros and cons
---
PROS:
Each wine enthusiast will get a customized wine delivery all the time
Unlimited wine selection of popular locally produced as well as imported wines
Premium sparkling, red, and white wines, including champagnes
Abundant gift selection perfect for any occasion
CONS:
Shipment does not come with any other option but monthly
---
back to menu ↑
Bottom Line
Reviewing a business not everyone gets into such as Winc is an eye opener because only few realize this is a lucrative business and it's not impossible to thrive no matter how unique your venture is. Winc offers more than what those ordinary wine clubs provide. Experience having your own sommelier who carefully chooses the world's finest wines to suit your personality and preference.  The company also showcases the best small lot wines from across the globe for you to try and enjoy the splash of flavors exploding in your mouth in every sip. They do not limit your order to just a bottle or one case every month. Order affordable best tasting and quality wines and champagnes as many as you want and stock up your mini bar or your own wine cellar at home. Having a taste of world class wines is not exclusive to the rich and famous anymore, thanks to Wic.
Winc Review
Winc is unlike any other wine club that offers nothing but common services. Get your taste buds ready for world class assortment of sparkling, red, or white wines carefully selected to provide satisfaction to varying personal preference.
PROS
Amazing assortment of wines from all over the world for every wine enthusiast
Informational blogs on wine education to broaden your knowledge
Astonishing small lot wine varieties of excellent quality
Add your review
Winc Discounts, Coupons and Promo Codes
We found 4 verified Winc Discounts, Coupons and Promo Codes for Dec. 2023. If some of the Winc coupon codes have expired, please contact us, thank you for your help.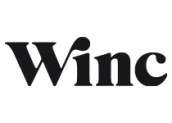 $30 OffGet $30 off any order with coupon code!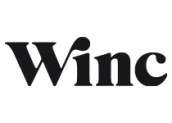 $25 OffGet $25 off any order for New Customers with coupon code!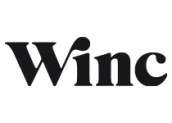 $20 OffGet $20 off Your Order + Free Shipping with coupon code!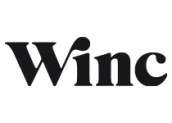 Free GiftGet Free Bottle of Wine When You Sign Up with promo code!
Compare Winc with other Companies' Services, Plans and Products
If you like Winc but aren't sure whether it's the best ideal choice for you, and may want to compare Winc with other Companies' Plans, Products, and Services that similar to Winc, or Winc Alternatives and Winc Competitors, Which companies' services like Winc. You can take a look at our professional comparisons below to discover if one of them is more suitable for you.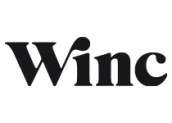 Updated : 12.01.2023.