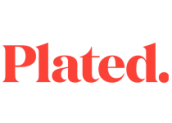 ---
Plated Overview
Plated was built into fruition in 2012 as a meal delivery service whose goal is to supply its customers with fresh ingredients for meal prepping and cooking. It was founded by Josh Hix and Nick Taranto, former classmates at Harvard Business School. Nick Taranto is an ex-marine who worked at Wall Street and experienced eating unhealthy and mostly take-out foods through the years he's been employed at Goldman Sachs. Him and partner Hix then created the whole idea of quality eating and convenience in one and started Plated.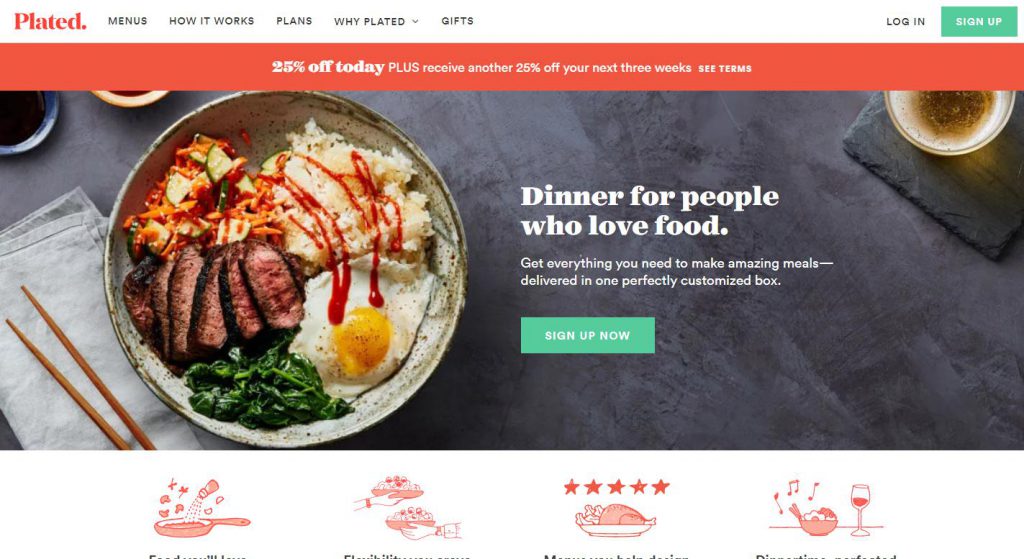 The business focuses on promoting healthy eating by providing the freshest and heathiest ingredients customers can customize and cook at home hassle free. Plated doesn't only help you in eating well and healthy but it also encourages you to try cooking and eating healthy with your family or friends in as less time as possible.
Plated is one of the pioneers and leader in meal delivery services. Customers can enjoy a weekly package containing all the necessary ingredients and recipes' cooking instruction inside the delivery. Customization is available upon request and it also carries a very flexible subscription plan for any changes suitable for their customers' needs and schedule.
Pre-prepared and pre-packaged meal ingredients are ready for cooking any time of the week with guarantee that everything come with the freshest high quality ingredients for regular dishes and seasonal recipes. Your visit to their webpage will keep you informed from recipes, packages, thoughtfully selected ingredients, payment, and more.
Keep reading our honest Plated review to learn more.
back to menu ↑
Plated Ideal For
Anyone who wants to try a hand at cooking less the shop and prep time
People who want to try out healthy and new recipes
Men and women who no longer wants frozen meals
back to menu ↑
How Plated Works?
To order at Plated, you first need to choose a plan and sign up for a  commitment-free  subscription. You have a very flexible subscription that guarantees skipping in delivery for a day or week, switching recipes, and even cancelling at any moment. Indicate how many servings per night and choose from 20 recipes plus dessert if desired. You can choose from different cuisines, style, and level of difficulty of cooking that will be delivered in a box compete with cooking instruction.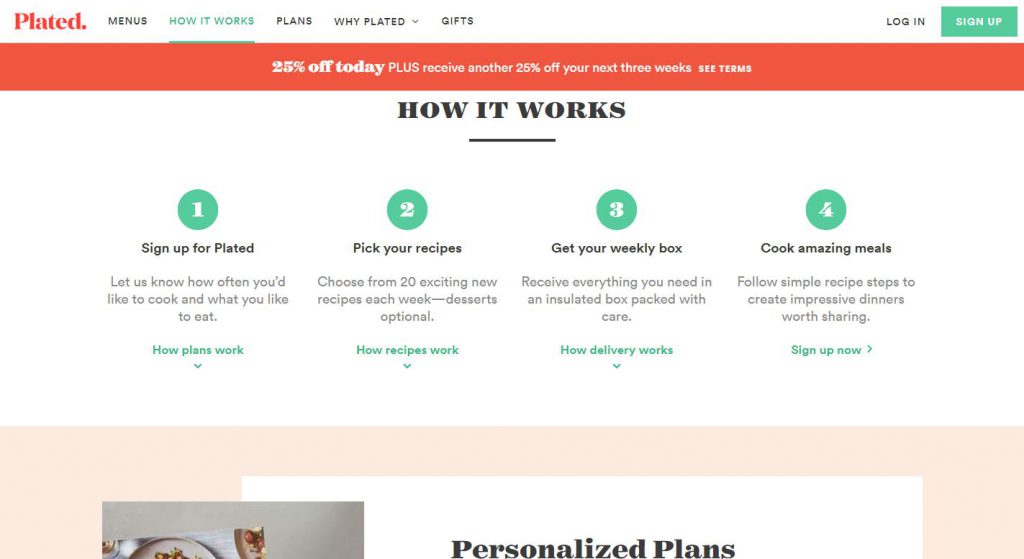 No food is wasted as all recipes are pre-portioned per serving and come in insulated boxes to ensure protection and freshness for meals you cannot cook right away once delivered. Every ingredient you will be needing is packed in a box including  nutritional facts of the recipe except for eggs, vegetable or olive oil, salt, and pepper.  Aside from your Plated standard subscription, gift cards can also be sent to your friends redeemable on their website.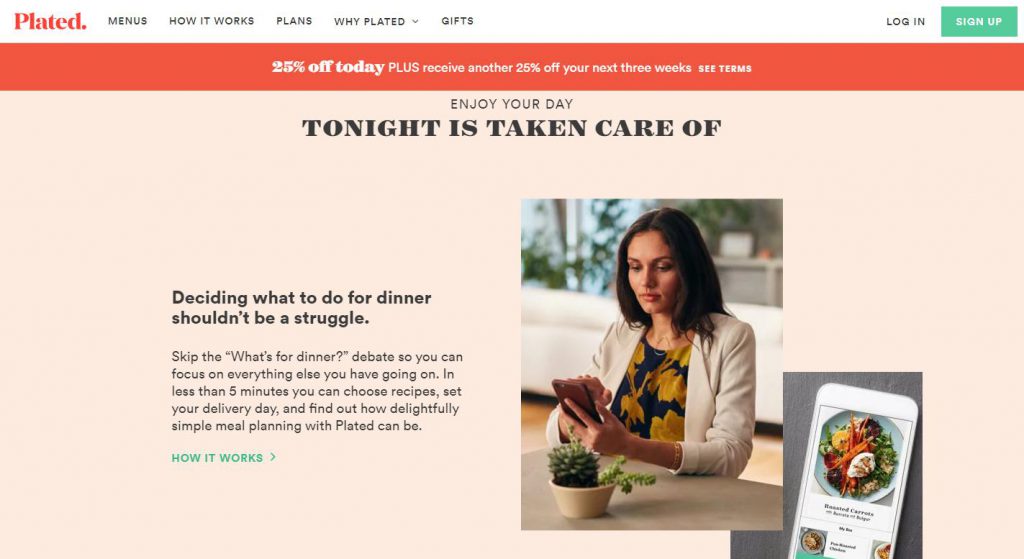 back to menu ↑
What Makes Plated Different?
Plated emphasizes on easy-to-cook quality foods delivery service and subscription flexibility. You are free of commitment if you want something changed in your order be it date of delivery, menus, serving suggestion, or even cancellation.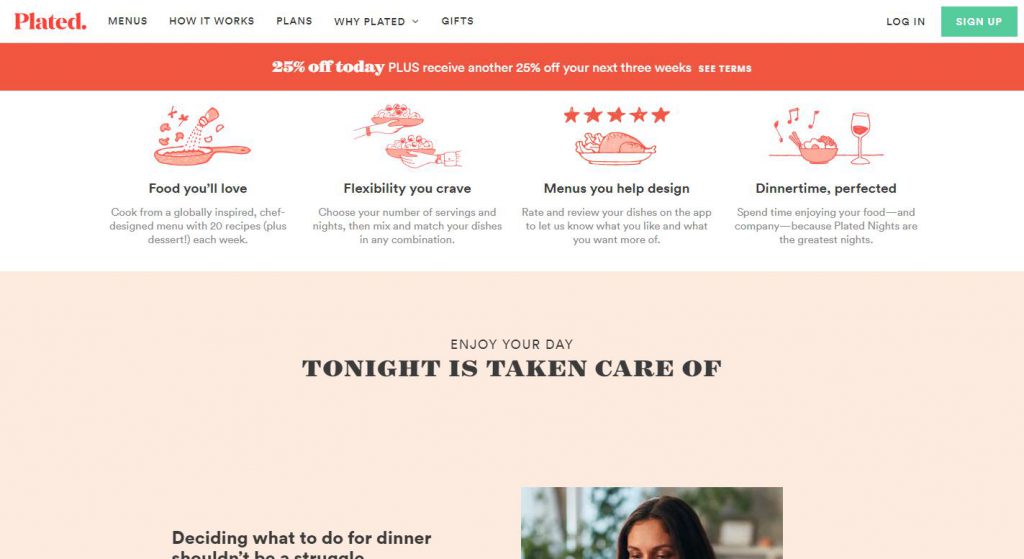 There are no ingredients and money wasted with Plated's serving as you can choose to exclude an ingredient you may not like or can trigger an allergy. No extra cost for changes in your subscription like weekly instead of daily or whatever suits your schedule. The same flexibility applies for the 20 recipes you can choose from. Customize your meal by mixing and matching them and changing each serving size and add in your chosen dessert to any of your order.
Plated also guarantees freshness and quality in their ingredients and uses only organic produce whenever possible. Sustainably caught fish, and antibiotic free and raised hormone protein provide variety in your meal  so you can try out new dishes every week.
Creating your own menu can be exciting and fun. This way, you really get to cook your favorite dish from Plated and try the ones you haven't tasted yet. The culinary team of Plated designs menu that is appealing to everyone from pasta, salad, roasted pork, seared steak, fish, or shrimp, and many more. Regular and seasonal dishes are tasty and appealing to everyone's tastes and healthy all the way.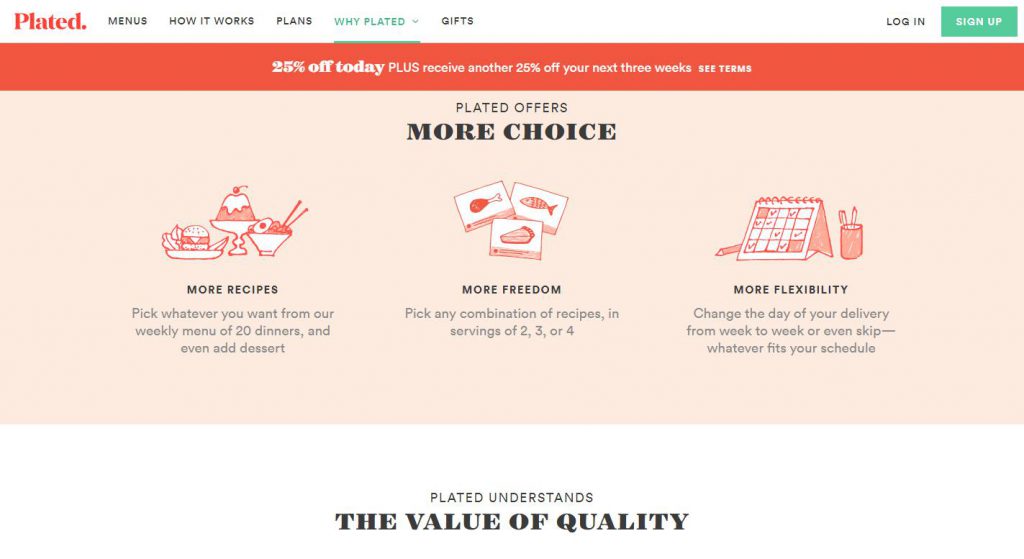 back to menu ↑
Plated Meals & Menus and Recipes
Creating a unique meal to every customer is what Plated does best and its evident in their 20 varieties of dishes and 2 desserts are enough to make your belly satisfied the entire week. Your cooking skill or lack of it is of no importance because the step by step cooking instruction is included. You can always order the regular serving size or double. Triple, quadruple the serving size if you plan on cooking for a few or more people. All these will be carefully packed in insulated boxes, shipped from 8am to 8 pm to your home. Your signature is  not required for the delivery and the content will be retain its goodness until you're ready to cook or store them in the fridge until midnight of the same day of delivery.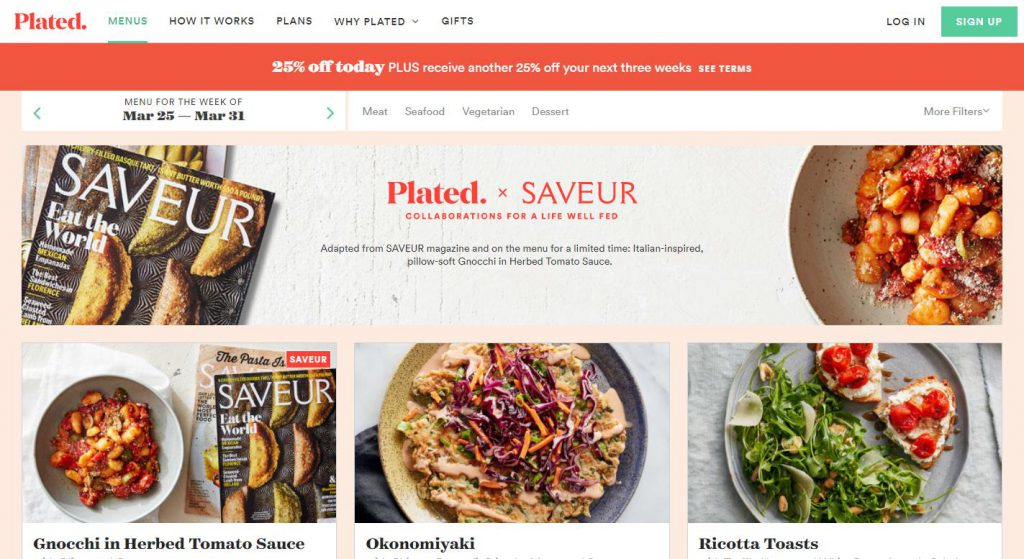 Meals are easy to prepare and will not take longer than an hour at the most. Professional chef at Plated created 11 original recipes make up the meal plan with additional seasonal dishes to complete the whole menu for the week. It doesn't matter if you are a seafood lover, vegetarian, omnivore, or dessert lover- there is something in the menu that is suited to your taste. Locally produced ingredients are used carefully selected for your hearty and healthy meal.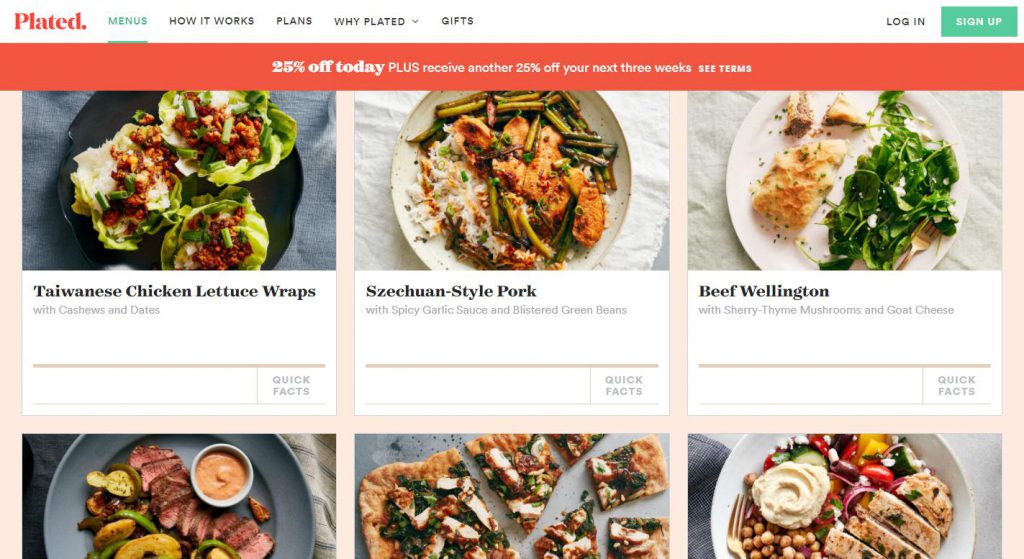 back to menu ↑
Plated Health & Nutrition
High-quality and organic produce ingredients are locally sourced as part of Plated's commitment to deliver nothing but the best to their customers.  All meat are 1005 free from antibiotic and no added hormones on their beef as they only outsource to trusted producers.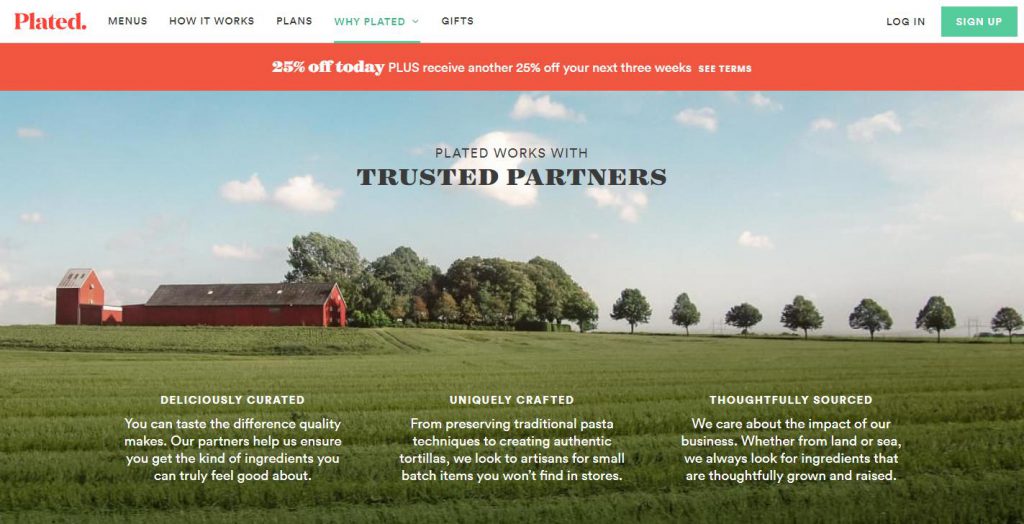 Everything is packed in insulated boxes once shipped to ensure ideal temperature before consumption.  It is recommended to first cook the recipes containing seafood within 2 days upon delivery to enjoy its freshness while the rest can be kept and consumed within 5 days. You will never go wrong cooking your dish or be misinformed about them as detailed information, equipment needed, as well as nutritional facts come are included.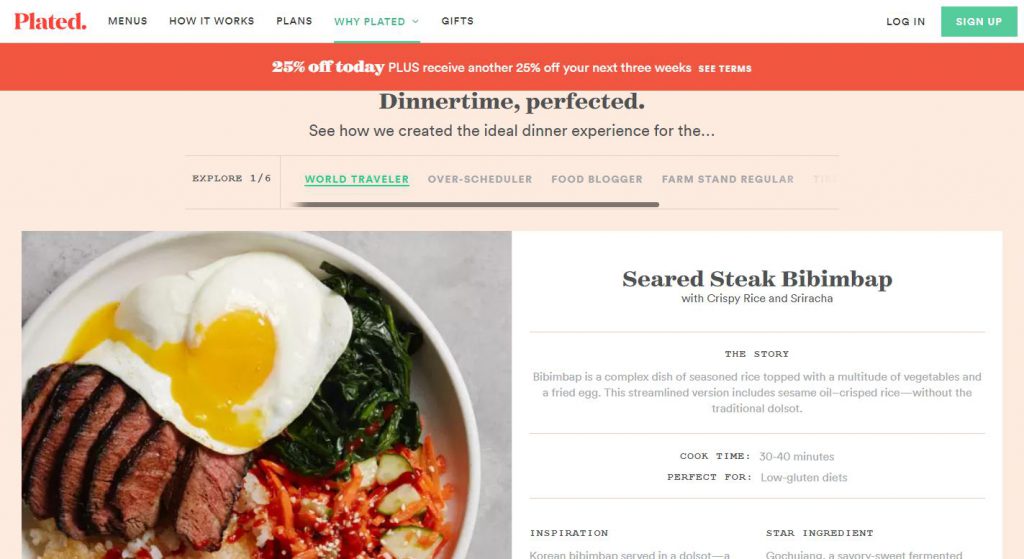 back to menu ↑
Plated Fitness and Activity
Choose an activity and find any time of the day to do it for at least thirty minutes up to one hour.
back to menu ↑
How Easy Is Plated To Follow?
The good thing about meal delivery service is you have everything you need pre-packed in exact portioning at your kitchen. All you have to do is lay them all in the counter, read the easy to follow instruction, cook them easy, and enjoy the meal. No second guessing on the ingredients as they are already prep-prepared for you and you will have  a meal that looks and tastes like a professional chef cooked it for you.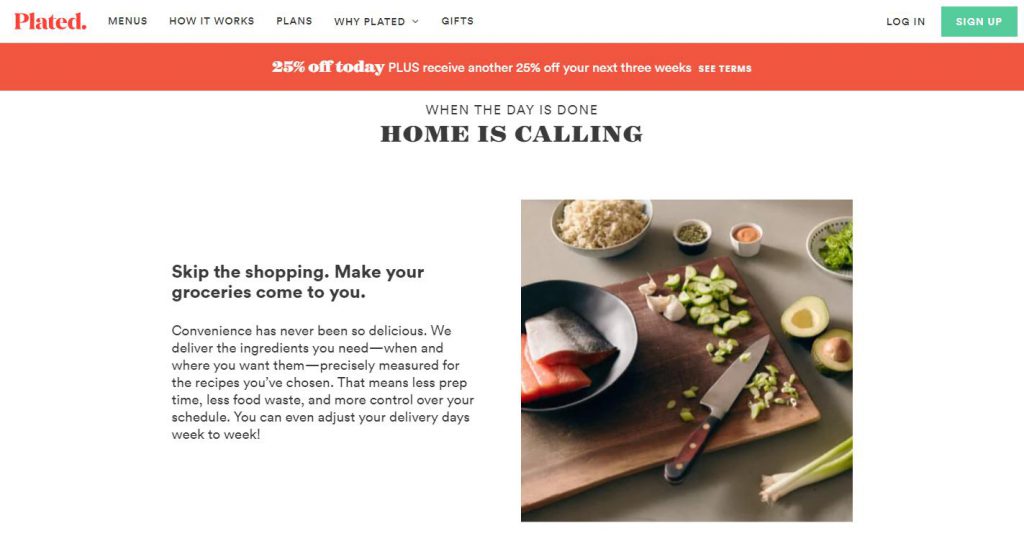 Whether you are a seasoned cook or doing it for the first time, your confidence will grow as you learn and try out these healthy recipes. But while Plated provides everything you need, it would be ideal to keep some cooking essentials in your pantry or kitchen like oil, salt, pepper, and eggs as these won't be included when the recipe calls for them.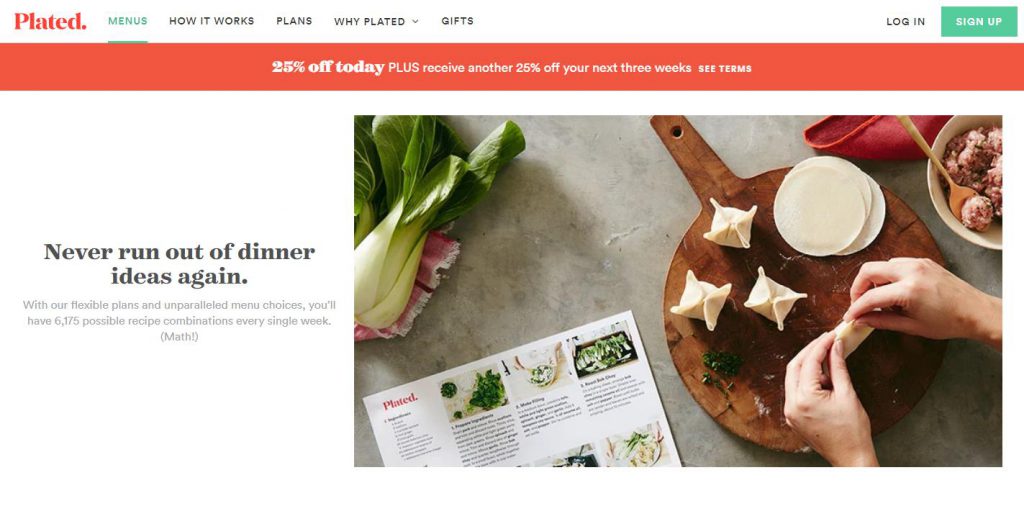 back to menu ↑
Plated Mobile App
Everyone can enjoy the great features of Plated's mobile app whether for Android or iOS device. Share the easy to cook delicious meals anytime when you're on the go. Check your ingredients ahead of time so you won't miss out anything when it's time to make your meal.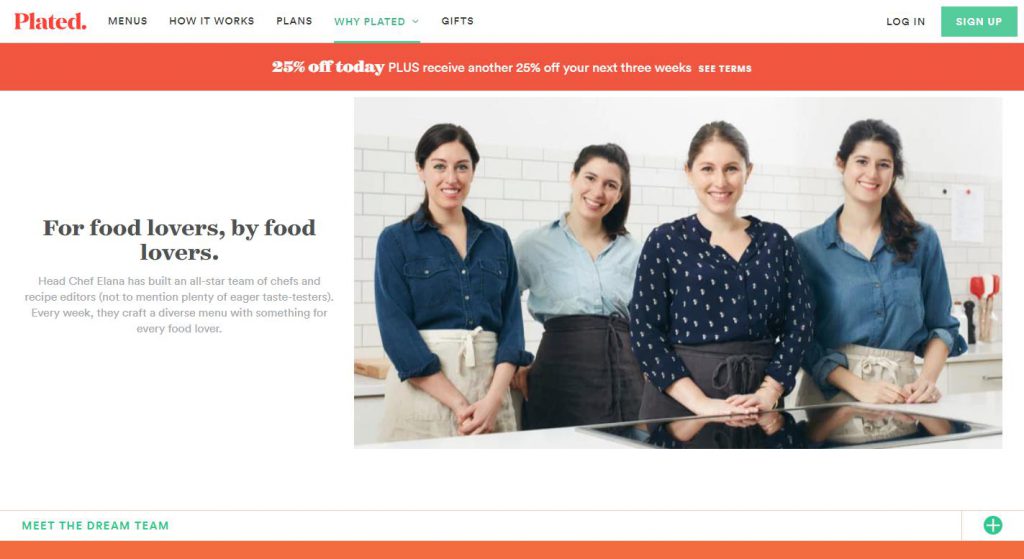 back to menu ↑
Plated Plans & Pricing and Costs
Plated's pricing options are above their competition and this includes a 50% off in your initial order.  They have an option for dinner of two, three, or four servings which can feed 1 to 2 children or an adult. Then you decide how many times you will cook dinner in a week. Servings for 2 people costs 11.95$ per serving while 3-4 servings would cost only 9.95$ per serving, there's no shipping fee collected for orders over 60$ per week.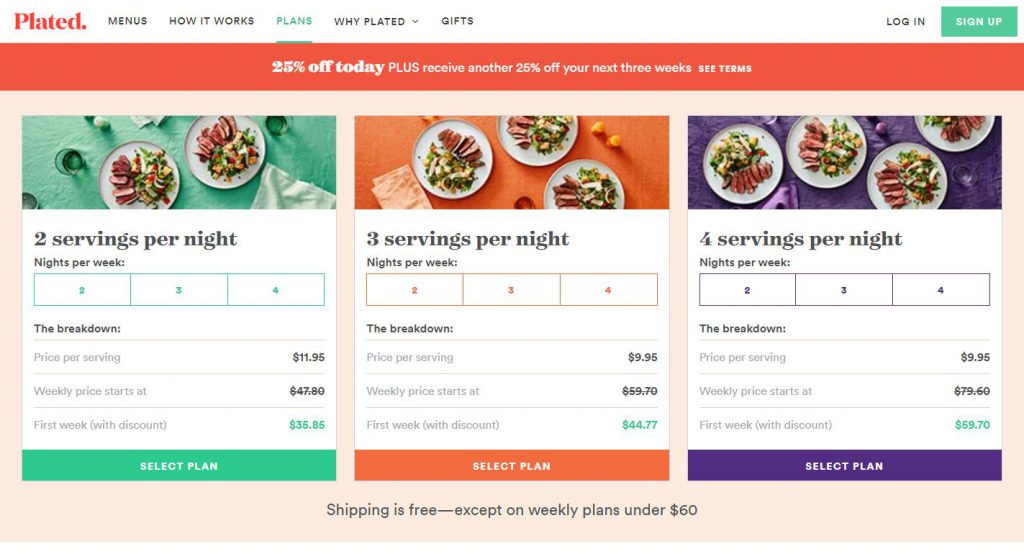 back to menu ↑
Plated Delivery Areas
Plated areas of delivery covers only 95 percent of the united States. You cannot enjoy their meal yet if you are currently located in Alaska, Hawaii, and a number of cities in Texas which include Corpus Christi, San Antonio, Laredo, and Midland.
Indicate your zip code while signing up to confirm whether or not your location is part of their delivery scope. You don't want to be subscribed to a plan when they don't deliver in your area.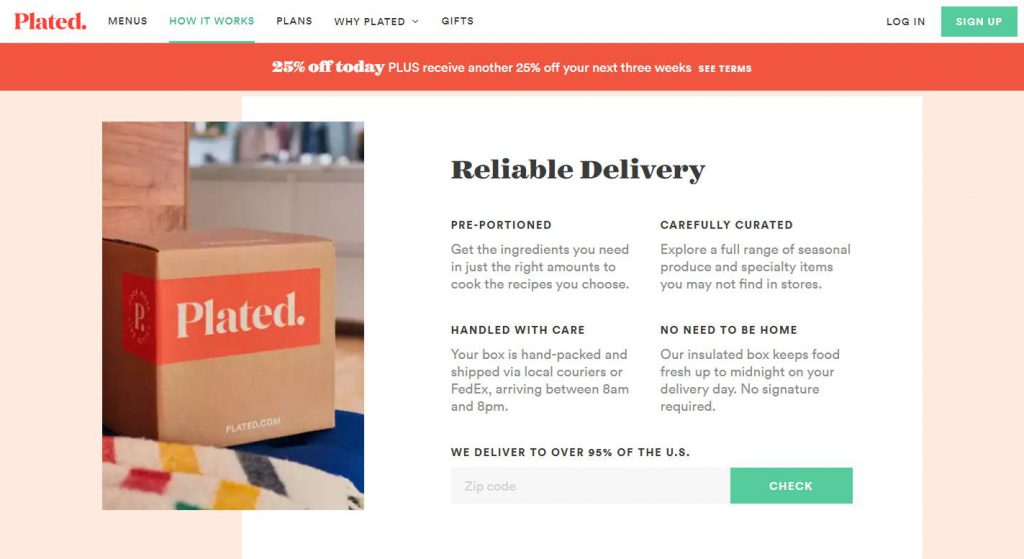 back to menu ↑
Plated Help & Support and Customer Service
The FAQ of plated is extensive to get your questions answered and assist you according to categories such as "cooking and ingredients", "packaging", and "subscription and delivery". You can always try to get in touch with customer service through phone call or email if the FAQ is not enough.
Call in anytime between 9am-10pm on weekdays, and 9am-5pm during weekends (EST) or send them email at [email protected] for support, upgrade subscription, and even cooking tips and techniques. Look for the live chat support box on the bottom right of their website is also available to assist you.
back to menu ↑
Plated Pros and cons
---
PROS:
Flexible pricing,  subscription, and meal plans
High-quality and healthy ingredients
Chefs design seasonal recipes exclusive t Plated
Requires no cooking skills
Skip weeks or cancel anytime
Very affordable plans
CONS:
Delivery only covers  95 percent of the US
Limited options for dessert
---
back to menu ↑
Bottom Line
Plated lets you prepare your meals without the hassles of shopping and with a wide variety of recipes to choose from. The pricing plans on their ingredients are incomparable to the competition and not too far from the ones at store. Flexible dinner plans lets you plan out your dinner the way you want it, choose your meal servings, skip delivery, or cancel your subscription anytime without any cost.
Favorably priced meals can be yours with Plated and you can start cooking like a pro. Impress someone with your cooking skill with the help of easy to follow and clear instruction that come along with your delivery.
Plated Review
Plated meal delivery service caters to provide you with cooking experience using the best ingredients at a very reasonable price.
PROS
Total of 20 recipes with 11 recipes developed by chefs
Meat is sustainably sourced and seasonal ingredients are of high-quality
Meal plans are flexible to suit your taste
Add your review
Plated Discounts, Coupons and Promo Codes
We found 6 verified Plated Discounts, Coupons and Promo Codes for Oct. 2023. If some of the Plated coupon codes have expired, please contact us, thank you for your help.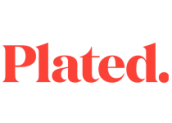 30% OffGet 30% off any order + Free Shipping with promo code!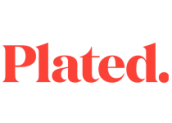 25% OffGet 25% off First 4 Qualifying Orders When You Sign Up with promo code!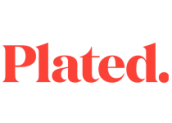 $50 OffGet $50 off Your First Two Weeks with coupon code!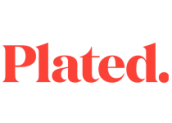 $30 OffGet $30 off Your First Order with coupon code!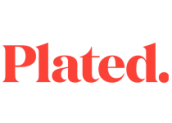 $25 OffGet $25 off Your First Two Orders with coupon code!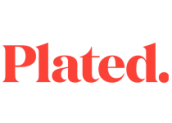 Free GiftGet 2 Free Plates + Free Shipping with coupon code!
Compare Plated with other Companies' Services, Plans and Products
If you like Plated but aren't sure whether it's the best ideal choice for you, and may want to compare Plated with other Companies' Plans, Products, and Services that similar to Plated, or Plated Alternatives and Plated Competitors, Which companies' services like Plated. You can take a look at our professional comparisons below to discover if one of them is more suitable for you.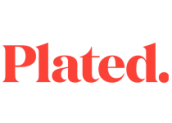 Updated : 10.02.2023.