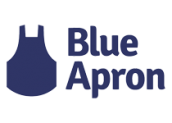 ---
Blue Apron Overview
The Blue Apron was founded by Matt Salzberg, Ilia Papas and Matt Wadiak in 2012. This company exclusively ships about eight million meals all over US every month. The company has even been featured on Wall St Journal, Good Morning America and Washington Post. The Blue Apron Company started from the founders' very own apartment and has significantly grown to include thousands of dedicated employees working across four major offices in US, Texas, California, New Jersey and New York.
This company has been increasingly popular over the last couple of years, so this is about time to give this exclusive program a thorough and honest review. In contrary to what most individuals used to see, The Blue Apron Company isn't just your typical meal delivery service. This delivers fresh and healthy seasonal ingredients together with easy-to-follow recipes developed by experienced culinary experts. If you are craving form home cooked meals without experiencing the stress and hassle of buying groceries and picking up ingredients at the grocery store, Blue Apron provides exactly what you need. The company also saves you from planning for the recipes all by yourself.
Keep reading our honest Blue Apron review to learn more.
back to menu ↑
Blue Apron Ideal For
Couples who are excited to try some delicious, fun and healthy recipes and ideas
Families who wanted some help in planning as well as shopping
Individuals who prefer managed approach into eating healthy and fresh foods
back to menu ↑
How Blue Apron Works?
The company provides simple yet helpful service to get individuals cooking nutritious foods without experiencing the burden of shopping and meal prepping. They simply need to choose between family plan and couple plan and choose the meals they prefer from their weekly menus and they are good to go.
The entire process is pretty simple. Choose a plan (the company actually offers 2-person and family option) and then select you recipes and wait for your box with all the essential ingredients to be delivered right at your doorstep.
The moment everything arrives at your place, follow the give instructions included in their recipe page. By doing this, you will surely feel like an expert chef in no time. All the important details that you need are there along with carefully portioned ingredients therefore, you won't have to work too little or too much.
From exact pots, pans and other kitchen utensils you need to use to properly prepare each and every ingredient, all things will be greatly covered on the interactive details and instructions. They also have nice selections of "how to" videos which shows what you can do if you are feeling stumped.
If you lack the right cooking dishes or utensils, you can place your order at the company's official website. Blue Apron's market page also provides selections of premium quality and durable cooking gear which you can use when preparing meals. If you do not want to be bothered by choosing and then buying  wines that can go with you meals, consider subscribing to Blue Apron's wine delivery monthly plan. Through this, you will have the chance to receive a box of carefully chosen wines every month.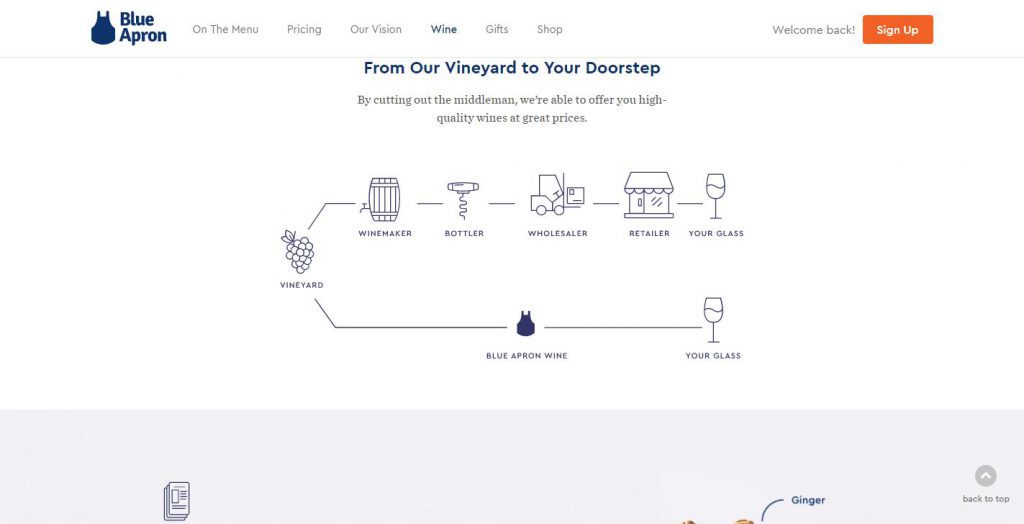 back to menu ↑
What Makes Blue Apron Different?
One of the biggest factors that set the company apart from their competitors is their focus on responsible practices for food growing. Blue Apron is highly selective especially in terms of partnering and working with suppliers. They just choose to work with particular fisheries that source quality and sustainable seafood.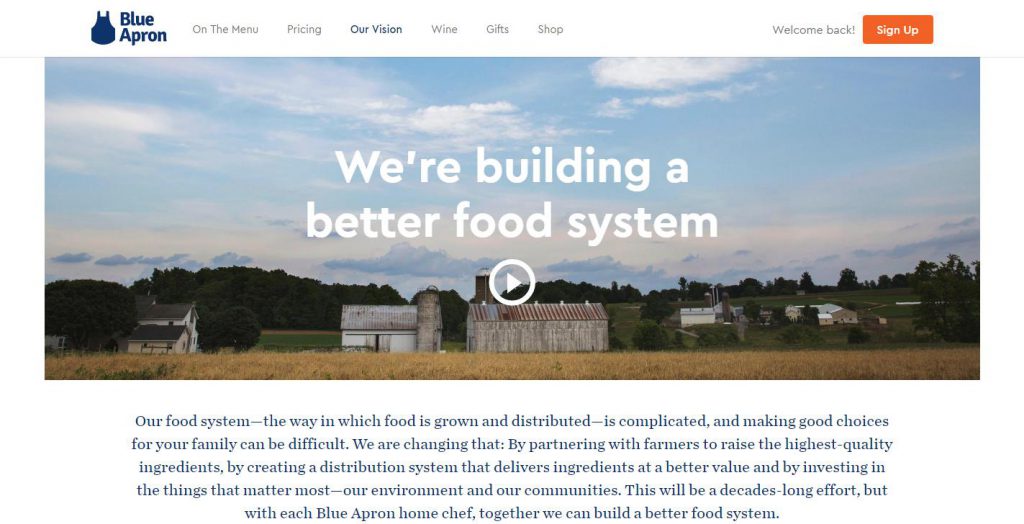 The Blue Apron also partner with farmers so they will be able to obtain vegetables and fruits when they're still at the peak of their freshness. This allows the company to set much lower price as compared to majority of grocery stores. Meats come from animals that are grown on hormone-free and antibiotic-free diets. This is to ensure that best possible tastes are delivered.
Why is it important? Well, those specific deals and agreements with suppliers ensure that everyone get utmost benefits from these deals. Farmers have their guaranteed buyers, Blue Apron has steady supplies of produce and customers get top quality ingredients that they can use when cooking. One of the goals of Blue Mission is to combat unsustainable systems for food growing and prevent food waste as well. Vegetables and fruits are grown with just minimum use of pesticides and utilize regenerative soil practice allowing the soil to remain healthy for all the years to come.
Each recipe has wine or wines that according to expert chefs go perfectly well with the recipe. In case you don't prefer like picking your own wine or you don't just feel like going shopping for anything, the Blue Apron got you covered. Through signing up for monthly subscription, you will get nice box that  comes with six 500ml bottles of good wine, three among these are white wines and three are red wines along with each and every story behind every bottle of wine. The wine bottles might be too small for some individuals' taste but those behind this service claim that it's ideal for two.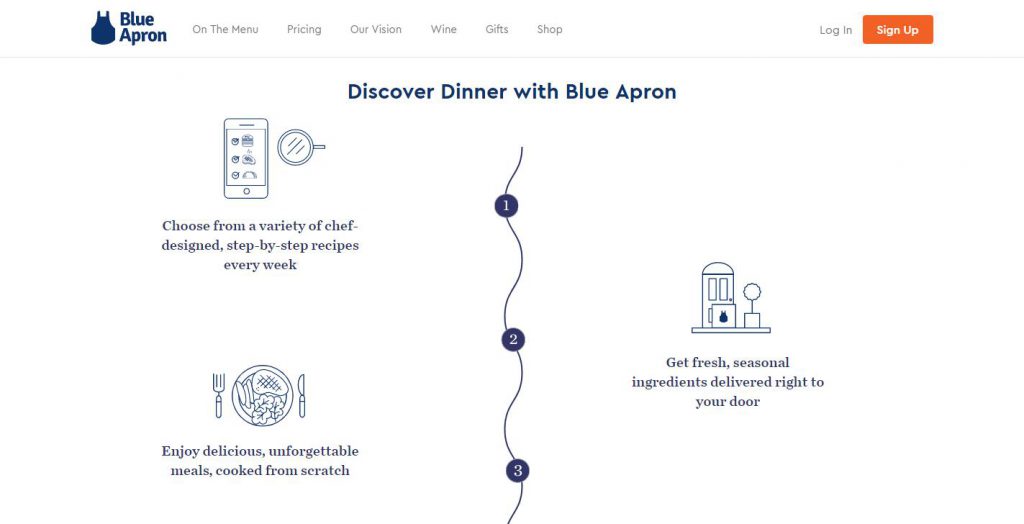 back to menu ↑
Blue Apron Meals & Menus and Recipes
With the assistance of their culinary group, Blue Apron is committed to making special recipes for you to appreciate and enjoy every week. They also plan recipes based on their available produce and they always endeavor to use fresh ingredients and new cooking strategies all the time. This guarantees that you're genuinely getting an awesome dining experience with each meal that you prepare.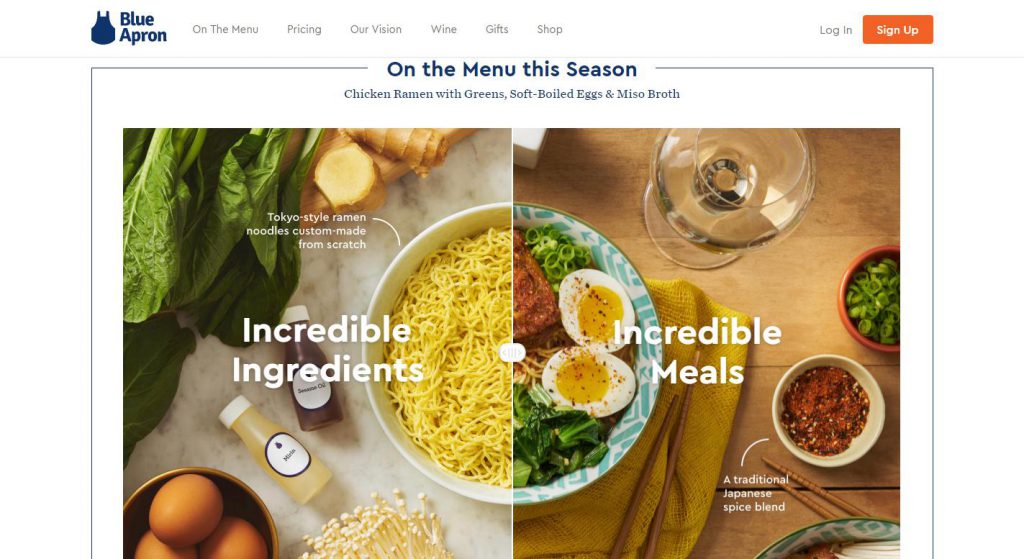 While numerous food subscription services offer breakfast and lunch choices, Blue Apron is centered mainly on dinners.  The recipes for dinner that you'll discover are certain to get you out of any cooking trench you may be in, as they're not the same as what you're likely used to creating. Every dish is very creative and will enable you to encounter a wide range of newest tastes.
Blue Apron performs their best to convey variety into your menu. They provideyou good choice between 2-person menu and family plan, which actually serves 4 individuals. With its 2-person plan, you can choose 3 recipes out of 6 every week while you get the opportunity to pick 2 or 4 recipes in the event that you settle for family plan.
Moreover, before checkout, you can likewise customize your own dietary preference.  Seven choices are made available for you to choose or to rule out:fish, lamb, pork, shellfish, poultry, pork, beef or none of these if you're a vegetarian. The good recipes you get will somehow depend on your eating preferences that you can possibly change anytime you want.  Each recipe of Blue Apron is cooked just once a year. In the package, you will get all necessary ingredients in well and pre-proportioned amounts together with the step by step recipe cards that will guide you all throughout the cooking process.
Blue Apron takes time to educate you about important information of your ingredients,so calorie and nutritional label are given with each requestor order. You will find information that may be vital, for example, sugars, fats and allergens, along with daily values and nutrients. These qualities may differ slightly depending on other given ingredients that you might add when cooking like oil.
If you happen to be vegan, there's no reason to worry. Blue Apron dependably has great options for vegetarians on its week after week recipes, so you'll never feel being left out. In case you're keen on cooking something that the menu does not currently include, you can conveniently check out the company's cookbook on their site that features all recipes currently being offered so far. You have the freedom to browse and scroll their site and prepare one of the recipes or meals that you want on your own.
Another fascinating choice that Blue Apron gives its clients is exclusive wine delivery.  In case you decide to order some wines to go along with your foods, you'll get 6 wine bottles every month, around 500 ml each – just sufficient for two individuals. These wines are chosen by the expert chefs of Blue Apron to blend with the special recipes that you'll be cooking for that month. You therefore won't waste your time heading to the wine store and being confused on what wine to choose for the dinner.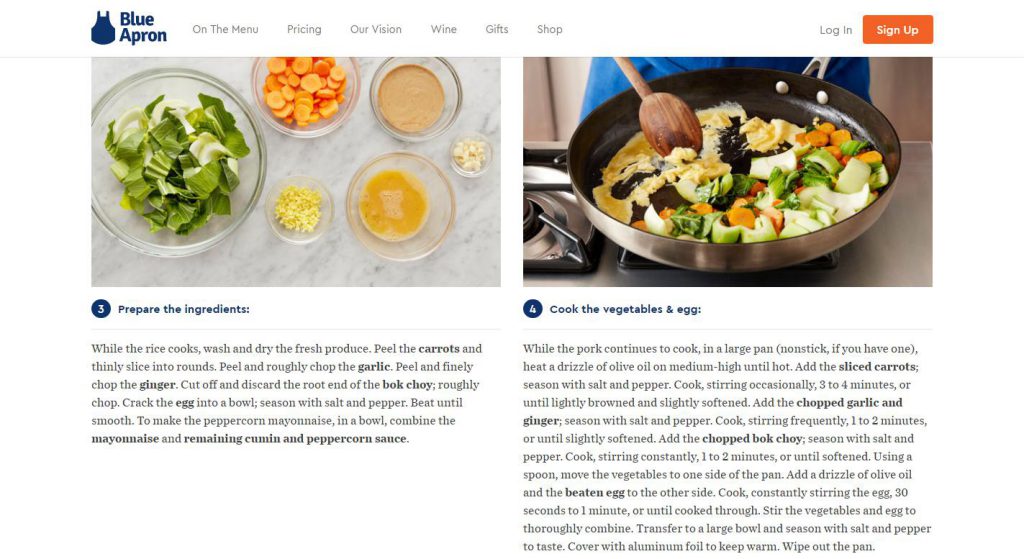 back to menu ↑
Blue Apron Health & Nutrition
Every week, the company makes deliveries of ingredients that customers need to prepare and make simple and quick home-cooked meals.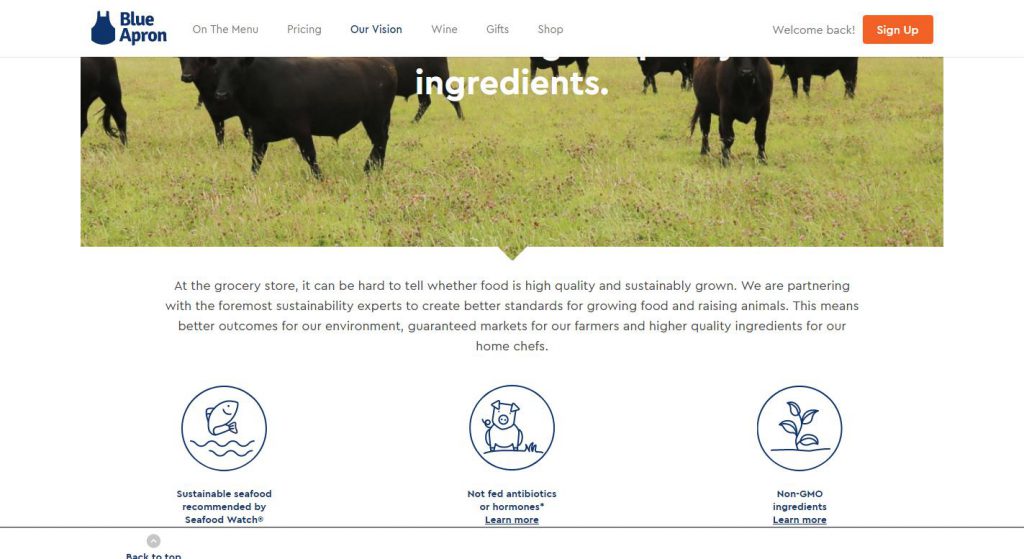 The Blue Apron closely work with farms and chefs to make recipes packed with seasonable and fresh produce, meats without added hormones, sustainably-sourced seafood, non GMO ingredients and more. Blue Apron works with more than 100 exclusive family farms and has ordered more than 3 million pounds of quality and fresh produce during summer last year.
The company is committed to providing all their valued customers only the finest and highest quality ingredients. They have partnered with Monterey Bay Aquarium Seafood Watch to make sure that any shellfish or fish used is rated "Good Alternative" or "Best Choice" They also worked with ranchers and farmers raising animals with no added antibiotics or hormones. Farmers Blue Apron prefers to use minimal pesticides and fertilizers. Most of the ingredients inside your box are USDA-certified organic.
Every meal is especially designed to remain healthy and fresh the whole week. They recommend fixing first the seafood and fish meals to make sure that these are at their best when preparing meals and cooking them. It is just fair to say that there is no need to stress yourself out and worry that your ingredients will no longer be of high quality when these arrive.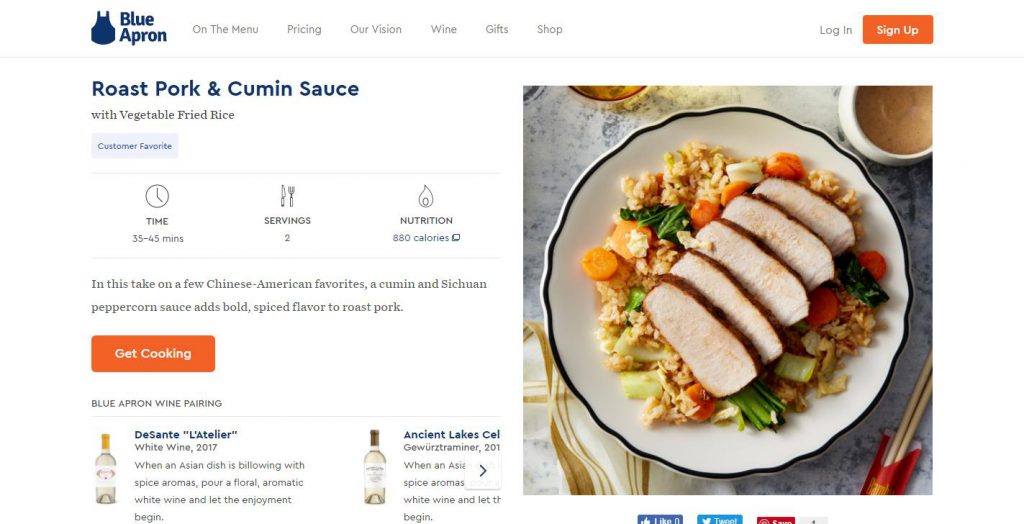 back to menu ↑
Blue Apron Fitness and Activity
To ensure a healthy lifestyle, fitness and physical activity should be taken for granted. It is best that you move at least thirty to sixty minutes a day. Choose the right activity that matches you needs and that you can do.
back to menu ↑
How Easy Is Blue Apron To Follow?
Blue Apron is one of the numerous food subscription services offeringrecipes and ingredients for you to prepare meals on your own. While this may appear a bit intimidating, it truly doesn't need to be this way.  You don't also need to be an expert cook in the kitchen to prepare and cook your own meals!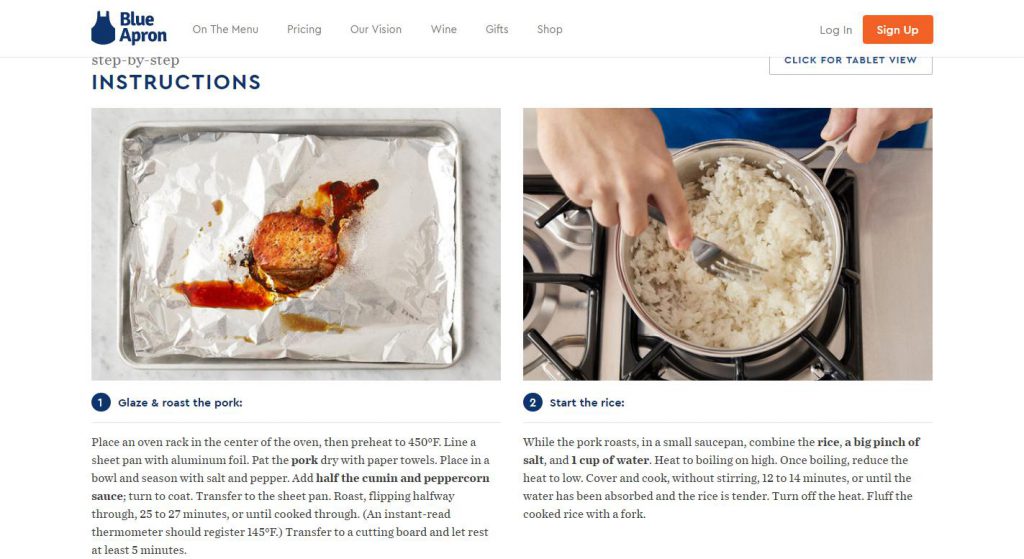 Everything is made easy and straightforward by having all essential ingredients prepared for you along with recipe steps that are simple to follow. Truth is, Blue Apron help you to be more comfortable in your own kitchen. The meals aren't really that difficult to cook, so don't be reluctant in exploring the world of cooking with the help of an exclusive meal service. Additionally, you'll have the capacity to choose meals and you'll comprehend what you are getting beyond time, so you can pick the things thatyou are highly interested to prepare.
back to menu ↑
Blue Apron Mobile App
There are many highlights on the features and versatile applications on mobile app for Android and iOs devices as well.
The exclusive Blue Apron app is currently live on Play Store, and it enables you to view recipes, manage your own accounts and more. There are going to be lots of seasonal and unique contents like newest recipes from leading chefs. In particular, you'll have the capacity to choose your schedule for deliveries and menus every week.  How-to videos and tips are also readily accessible to further increase the cooking process. You will also gain access to wine-pairing service.
You can easily choose from the 14,000 recipes within Blue Apron app. There is a favorite section so you will never forget the meals you love the most.
back to menu ↑
Blue Apron Plans & Pricing and Costs
This Blue Apron review is never complete without looking in the pricing plans of their delivery service. If you decide to subscribe, you will need to choose your most preferred plan. With the 2-person plan, price of the single serving is $9.99 but rather than paying for $ 59.94, you'll get a discount for the first week and this will only cost about $ 29.94.
If you opt for family plan, the cost of one serving is $ 8.74, but same as the 2-person plan, you will also get discount on the first week. This simply means that two recipes per week will amount to $ 39.92 instead of $ 69.92 and the other one will cost $ 109.84 instead of $ 139.84 for four (4) recipes.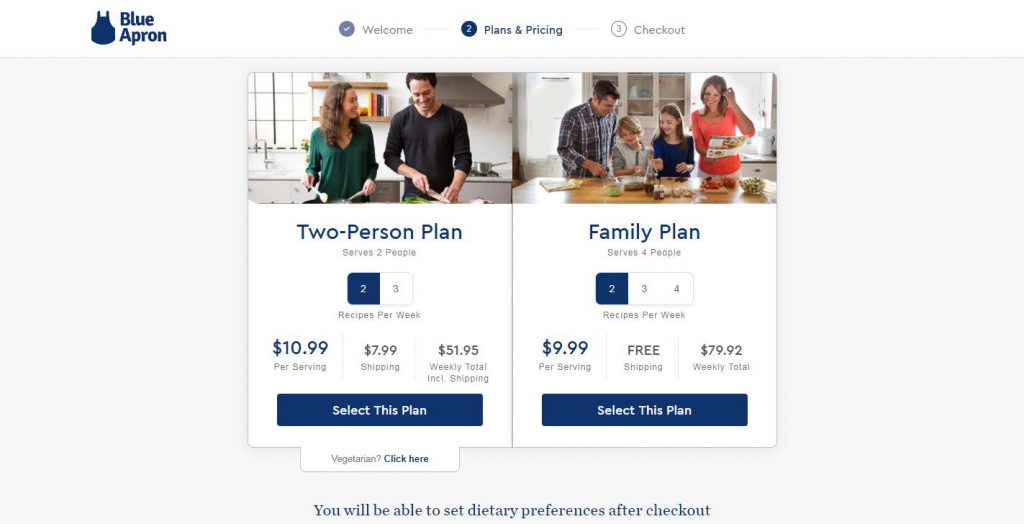 back to menu ↑
Blue Apron Delivery Areas
The company delivers customers with meal ingredients to most places within US. They deliver nationwide so regardless of your location, the Blue Apron can reach you.  The company got list of places that they are delivering to so if planning to place an order check on their site to know the areas they cover. With Blue Apron, delivery is free.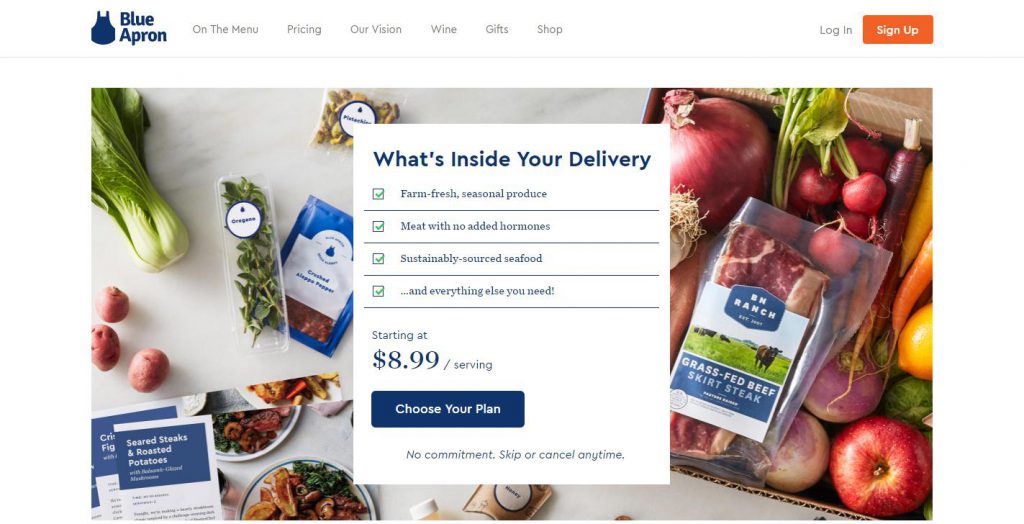 back to menu ↑
Blue Apron Help & Support and Customer Service
The site has a broad FAQ. If you have questions, you can call or email Blue Apron. Your concerns and queries will be attended by a real person and not bots. The get back on you the soonest they can.
Their onsite blogs provide information on diverse topics like food sustainability and there are how tos and specifics such as "Essential Ingredients of Japanese Cuisine". Blue Apron social media pages are accessible and lively.
back to menu ↑
Blue Apron Pros and cons
---
PROS:
Strong and serious concentration on environmental impacts
Recipes are seasonal and change weekly
You can skip, pause or even cancel subscription anytime
Shipping is free and there are no hidden charges
CONS:
Lacks options for families with more than four persons
Lacks options for desserts, snacks and lunches
The family plan does not include vegetarian options
---
back to menu ↑
Bottom Line
Blue Apron is a reliable meal delivery service dedicated to providing customizable plans for you. They use only the freshest, organic and the best ingredients to meet your nutritional requirements. It is truly a remarkable option for those who are looking for a quick and dependable meal subscription service. You don't need to the skills in the kitchen. The instructions are very simple and easy to follow, so you can make your favorite meals without any hassle.
The Blue Apron is proven to be an excellent option for those who wanted to experience and take advantage of the ease and convenience of meal subscription services and at the same time want to improve their skills in their kitchen. Receiving the recipes and ingredients you need straight to your door can completely make your life more convenient and easier. It saves you time and allow you to cut expenses on grocery shopping and preparing meals. If you follow the steps developed by culinary experts, you can surely expand palate through exploring and trying new dishes as well as cooking techniques every week.
Blue Apron Review
Blue Apron is an exclusive meal delivery service that comes with highly customizable plans for ordering and anti-biotic free, hormone-free, organic and fresh ingredients. The range of delivery covers most parts of US.
PROS
Farm-sourced foods, sustainable fishing, responsible farming
Customized menus based on your dietary needs and taste
You are allowed to order 6 bottles of wines every month to ideally go with your meals
Add your review
Blue Apron Discounts, Coupons and Promo Codes
We found 10 verified Blue Apron Discounts, Coupons and Promo Codes for Dec. 2023. If some of the Blue Apron coupon codes have expired, please contact us, thank you for your help.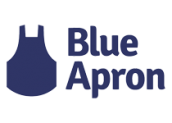 65% OffGet 65% off Your First Delivery When You Sign Up for Email with promo code!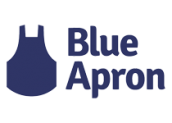 65% OffGet 65% off Up to a $40 Value Based on a 2-person Plan with promo code!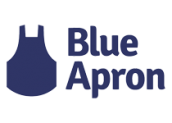 50% OffGet 50% off with promo code!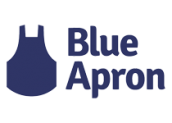 $50 OffGet $50 off Your First 2 Boxes with coupon code!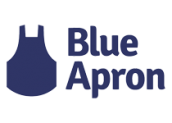 $40 OffGet $40 off First Month with coupon code!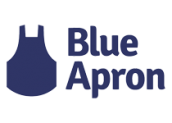 $35 OffGet $35 off Your First Delivery When You Sign Up with coupon code!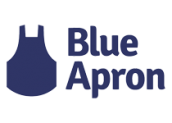 $30 OffGet $30 off Your Order When You Sign Up for Emails with coupon code!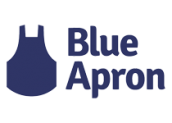 $25 OffGet $25 off Market Products Orders of $125 with coupon code!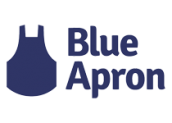 $20 OffGet $20 off Each of Your First Two Boxes with coupon code!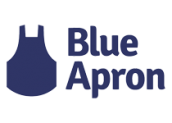 Free GiftGet First Three Meals Free + Free Shipping with coupon code!
Compare Blue Apron with other Companies' Services, Plans and Products
If you like Blue Apron but aren't sure whether it's the best ideal choice for you, and may want to compare Blue Apron with other Companies' Plans, Products, and Services that similar to Blue Apron, or Blue Apron Alternatives and Blue Apron Competitors, Which companies' services like Blue Apron. You can take a look at our professional comparisons below to discover if one of them is more suitable for you.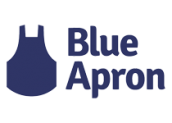 Updated : 12.10.2023.