---
Kettle And Fire Overview
Kettle and Fire is one of the leading meal delivery service provider in the US founded by Justin and Nick Mares. This was established out of their dedication for healthy and their objective to make everyone fit and healthy through the power of inherited food. This is the only USDA grass-fed bone broth which is fresh, chilled no frozen and easy to deliver broth and soup.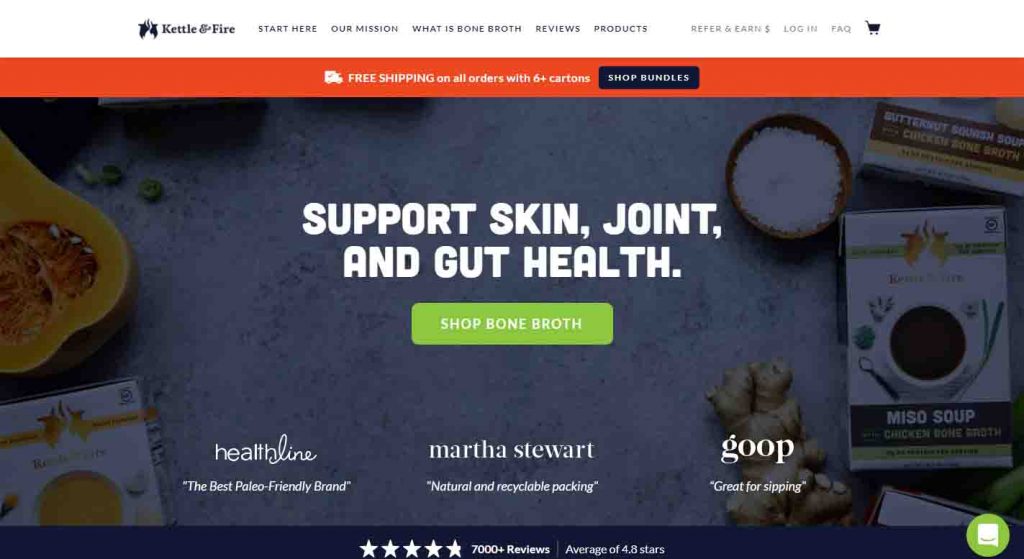 What makes this meal delivery service provider apart from the rest is the way they package their broth. The founder worked with food experts and chefs to make a bone broth which does not spoil without putting in preservatives and extra sodium.
As of now, they provide beef bone broth made with marrow bones from organic carrots, pastured, grass-fed cattle, celery, onions, parsley, bay leaves, black peppercorns, apple cider vinegar, thyme, and sea salt. The mixture of these natural components along with an over 24 hours cook time yields the most delicious and versatile shelf-stable broth on the market.
Kettle and Fire are just new in the market, but in a short span of time, it has already gained many loyal clients who love its natural broths and soups, as a proved by thousands of customer reviews on their website. Reading this Kettle & Fire review will help you more about this company.
Keep reading our honest Kettle And Fire review to learn more.
back to menu ↑
Kettle And Fire Ideal For
People who want healthy broth and soup
back to menu ↑
How Kettle And Fire Works?
Kettle & Fire is your reliable provider of high-quality soups and bone broths. They offer three kinds of soups and three types of bone broths. So, you will never run out of choices. Discover one that meets your taste and enjoy them each time you're craving something soul-warming and healthy.
Ordering at Kettle & Fire is a breeze. First, you must choose whether you want to subscribe or opt for a one-time order. If you choose the one-time order, you can choose the broths and soups you want, choose the quantity for every item, pick the one-time purchase option for all products and then add them to your cart then continue to check out.
If you choose to subscribe, the process is also easy. Just pick the bone broths or soups you want, choose the numbers of serving for each soup you wish to, choose then subscribe and save option for every product. You can have your soups and broths delivered every 30, 60 or 90 days.
You can change your subscription any time you want. You can change the number of boxes you wish to receive. Also, you can add a new product to your subscription, pass over a delivery or stop your subscription each time you wish.
It doesn't matter if you choose to subscribe or one-time order, you are able to order many boxes and as long as you want. There is no limit in the numbers of order.
back to menu ↑
What Makes Kettle And Fire Different?
Kettle & Fire is an exceptional meal delivery service company which focuses on bone broths and soups. But, this isn't the only features that make this company stands out from the rest. This meal delivery service provides only utilizes 100 percent grass fed bones and 100% natural components. The products they offer don't contain extra sodium, artificial components, hormones, antibiotics, preservatives as well as additives.
The broths they offered are cooked and simmered for more than 24 hours to make sure that essential nutrients, collagen, and amino acids end up in the soups. Kettle & Fire broths and soups have 19 times more collagen compared to others. These collagen-rich and nutrient-packed broths are utilized to make soups. The broths and soups have a long shelf life; in fact, they can last for almost two years even though they don't have preservatives.
Kettle & Fire not just offer healthy and high-quality broths and soups, they also help you by saving a considerable amount of money on your orders. There are many ways to save at Kettle & Fire. You can subscribe and get your orders at up to 33 percent lower prices. You can buy value bundles which allow you to save cash than buying individual cartoons. You can refer friends to avail 20 percent discount and get a $10 credit which you can use for future purchases. There are also discounts for veteran and military.
back to menu ↑
Kettle And Fire Meals & Menus and Recipes
As mentioned above, there are only six products available on their menu. You can order chicken bone broth, beef bone broth, mushroom chicken bone broth, butternut squash soup, tomato soup, and miso soup. All soups offered are made with chicken bone broth.
All soups and broths include organic ingredients, free from soy, gluten, dairy, and GMOs. What is more soups and broths are also keto-friendly, Paleo-friendly, as well as Whole30 approved, so almost anyone can enjoy them, aside from those who are on meat-free diets.
They make their soups and broths in cooperation with renowned culinary professionals. Therefore perfect flavor, as well as texture, is assured. While the broths and soups are cooked in many hours and slow-simmered, you enjoy them in mere minutes. These are pre-cooked, so all you need is 5 minutes to heat them.
Kettle & Fire soups and bone broths come in two-serving cartons. Miso soup comes in 16.2-ounce cartons while the tomato soup, as well as butternut squash soup, is available in 16.9-ounce cartons. You can choose between bundles and individual cartons. Bundles are available in two versions.
back to menu ↑
Kettle And Fire Health & Nutrition
Both varieties have been made with the assistance of highly-qualified and well-trained chefs with many years of experience in typical cuisine. No expense has been secured in producing a tasty and rich blend which will measure up to the most exceptional soups from renowned restaurants. They only use organically raised and grass-fed cattle which make their soups and broths natural and high-quality one.
The boiling process represents the conventional way of preparing the bone broth. This, along with a low heat, enables all the minerals, amino acids, and marrow's nutrients to submerge into the mix. The way broths and soups are made does not need them to be frozen, so you are guaranteed that you will be getting a fresh soup and broth.
Kettle & Fire products are renowned and well appreciated because of their remarkable features. First, it's made in the US, from beef and chicken bone marrow. They follow needed organic principles, so they do not feed their chickens or cattle with hormones or antibiotics.
The best bone parts, when it comes to collagen content, are mixed: feet bones, femur, patella as well as a knuckle. So, soups and broths don't have a preservative. They package the soups and broth while still hot. They put it in a vacuum environment where there is no pathogen which may mess the level of safety of the product.
back to menu ↑
Kettle And Fire Fitness and Activity
Exercise is essential to keep you active and healthy even if you are already. Exercising at least 1 minute or less is enough to energize your system.
back to menu ↑
How Easy Is Kettle And Fire To Follow?
Kettle & Fire package the soups and broth while hot so there are no germs that can get in. They do this in an aseptic vacuum room for safety.
The fact that there is no air present in the package, there is no chance of spoiling the product. They can deliver the products in a way which is eco-friendly, and receive it in just a few days. That is why they do not need to add preservatives, hormones, or additives.
back to menu ↑
Kettle And Fire Plans & Pricing and Costs
Kettle & Fire pricing depends on two vital factors. It doesn't matter if you're a subscriber or just a one-time customer buying individual cartons or bundles.
Chicken bone, mushroom, chicken and beef broths will cost you $7.99 for every carton with the one-time purchase, and you can avail this for only $6.99 if you subscribe. Miso, tomato and butternut soups will cost you $9.99 a month for every carton with one-time purchase, but if you subscribe, you can avail this for only $7.99. It is clear that you can save up to 22 percent if you choose to subscribe.
Bundles are affordable. You can buy twelve cartons bundles of chicken, mushroom, and beef and chicken bone broth for only $90 per bundle with one-time purchase. But if you subscribe, you can avail this for only $78. Tomato, miso, butternut, and squash soup bundles which include 12 cartons will cost you $107.88 for every bundle with the one-time purchase and $90 if you subscribe. You can save up to 28 percent for every order when you subscribe.
If you choose 18 carton bundles, it will cost you $125.82 with one-time purchase, but if you subscribe, you can only avail this for only $108.21. The price tag of carton soup bundle will cost you $143.82 with the one-time purchase, and if you subscribe, you can avail it for only $125.82. This saves you 33 percent on your orders when you subscribe.
The bone broth variety bundle which includes six cartons- two cartons of every type of broth will cost you $47.94 with the one-time purchase, and if you subscribe, you can avail it for only $41.71. With soup variety bundles, you can decide on three-carton bundle that has a price tag of $29.97 with the one-time purchase, and if you subscribe you can avail it for only 426.07, the six carton bundle for one-time purchase is $59.94, and for the subscriber, it is only $26.07. The 12 carton bundle is available for only $107.88 for one-time purchase and $90 for subscribers.
Shipping is free for all orders; however, if you are in Hawaii, Alaska and US territories, you need to add $35 for shipping fee.
back to menu ↑
Kettle And Fire Delivery Areas
Regardless of your location, Kettle & Fire soups and broths can be shipped straight to your doorstep. Not like many other companies, Kettle & Fire doesn't just deliver in the continental US but also to Alaska, Hawaii, US territories as well as FPO, DPO as well as APO addresses. The time of delivery depends on your place but expects your orders to arrive within one to five days.
back to menu ↑
Kettle And Fire Help & Support and Customer Service
To know more about Kettle & Fire, you can visit their FAQ page or contact customer hotline number or send them an email.
back to menu ↑
Kettle And Fire Pros and cons
---
PROS:
Exceptional broths and soups made by top and renowned chefs
Soups and broths are made of 100 percent natural ingredients
Paleo-friendly, Keto-friendly, and Whole30-approved soups and broths
Gluten-free, soy-free and dairy free
Subscribe commitment-free
Great discounts
Free shipping on 6 or more cartons
No minimum order
Available anywhere you are in the US
The meals they offer are fresh and made of superb components
CONS:
Limited variety
Some customer stated they felt an unlikable odor coming from the package when they open the box.
The price is a controversial subject. While there are consumers may believe it is affordable, other seems to think that is quite pricey.
Unfortunately, if you're a vegan, you can't consume bone broth.
---
back to menu ↑
Bottom Line
In general, Kettle & Fire is a reliable meal delivery service company. The menu might not be varied. However, that's a part of its appeal. Each recipe is well-made, and each soup and broth is cooked and simmered for more than 24 hours. So, you are assured of tasty, nutritious and high-quality products. All broths and soups are incredibly healthy. The price is also reasonable.
Kettle and Fire Review
Kettle & Fire use the best bones to produce fantastic taste. Bones used to make soups and broths come from cattle that have been grass-fed, pastured-raised as well as free from hormone and antibiotic treatment.
PROS
It's made from untreated grass-fed bones and organic ingredients
It doesn't have any artificial and harmful preservatives
Provides a broad array of health benefits
Helps the body while boosting immunity
Because Kettle & Fire broths and soups don't need low-temperature storage, it can be delivered in many parts of the US including US territories.
Add your review
Kettle and Fire Discounts, Coupons and Promo Codes
We found 2 verified Kettle and Fire Discounts, Coupons and Promo Codes for Oct. 2023. If some of the Kettle and Fire coupon codes have expired, please contact us, thank you for your help.


25% OffGet 25% off any order with promo code!


$30 OffGet $30 off any order for New Customers with coupon code!
Compare Kettle and Fire with other Companies' Services, Plans and Products
If you like Kettle and Fire but aren't sure whether it's the best ideal choice for you, and may want to compare Kettle and Fire with other Companies' Plans, Products, and Services that similar to Kettle and Fire, or Kettle and Fire Alternatives and Kettle and Fire Competitors, Which companies' services like Kettle and Fire. You can take a look at our professional comparisons below to discover if one of them is more suitable for you.


Updated : 10.01.2023.