---
Gobble Overview
There are lots of meal delivery service providers in Palo Alto, California, but Gobble stands out from the rest due to its remarkable reputation and high quality customer service. If you love to cook food but no time to do so, Gobble is here for you. This is your number one source of delicious food in the heart of Palo Alto.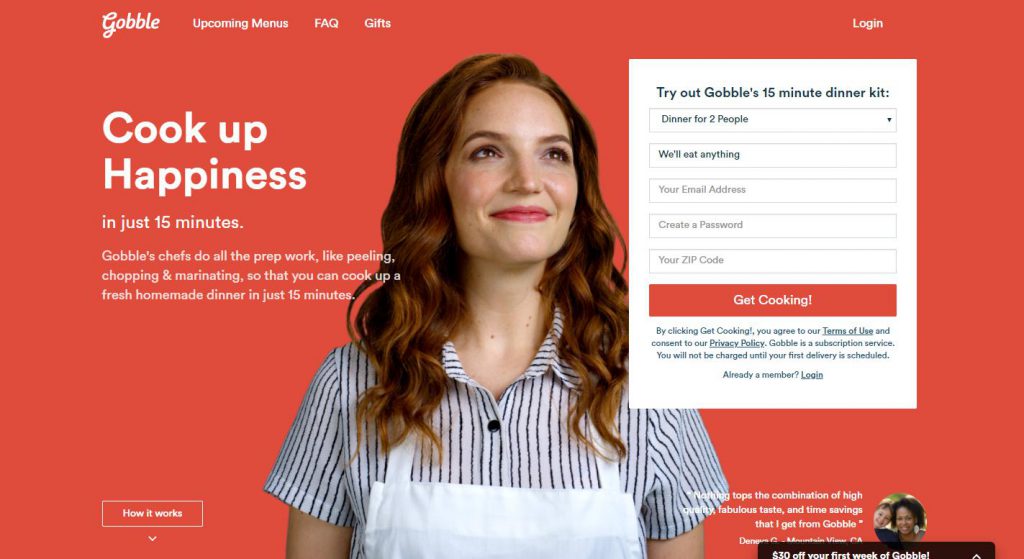 This premium meal delivery service provider takes the pressure out of preparing food through cooking meals that you want and sending them right at your doorstep. No meal planning is required, as Gobble will do the hard work on your behalf. You will be capable of picking which dinner you would want from the long list of superior and tasty recipes. What is more, the whole thing will be portioned perfectly, which helps in getting rid of food waste at the same time avoid you from eating too much.
Keep reading our honest Gobble review to learn more.
back to menu ↑
Gobble Ideal For
Those who are busy to buy and prepare ingredients
Those who want to know how to cook new recipes
Those who are searching for the best and healthy alternative to frozen foods
back to menu ↑
How Gobble Works?
Gobble work in a very easy manner. First, you need to present your zip code and your email add. After submitting your zip code, they will inform you if your place or address is included in the areas they deliver. In case your area is not included, you can check back someday as they are planning to expand their services all throughout the United States.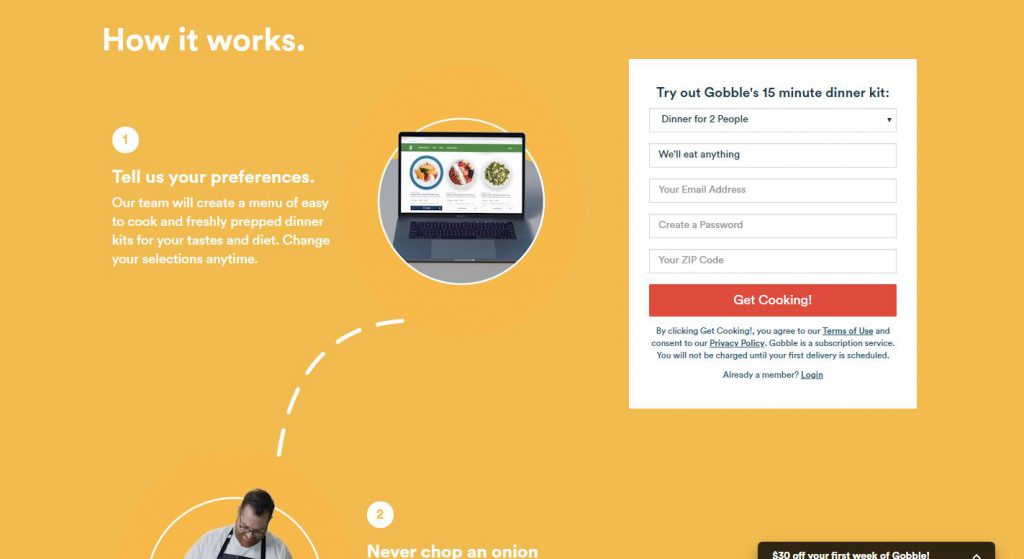 Gobble allows customers to steer clear of the dull parts of preparing food and enjoy the benefits which come with cooking opulent dinners. They employ professional and skilled chefs that cautiously choose and measure the ingredients prior to slicing, chopping as well as packing them for clients. Basically Gobble provides customer par-cooked, pre-measured ingredients followed by recipes created by chef delivered on a weekly basis.
Gobble supplies a meal kit with pre-portioned components and superb recipes for three dinners per week, or based on the specific day you want. You can choose three meal perfect for two to four persons that means six to twelve meals all in all. After the initial delivery, customer can reduce the amount of meals to four or increase it according to your need, with Gobble there is no limit.
Gobble stands out from the rest when it comes to offering only sustainable, fresh shellfish, meat and produce for many clients. They work with trusted farmers and purveyors in Palo Alto and deliver freshly hand-chosen ingredients to customers. Stress planning of what food to cook is eliminated when you consider Gobble. All ingredients they delivered are already sliced, and all you have to do is to follow the recipe. The recipes they offer can be prepared in 10 minutes only.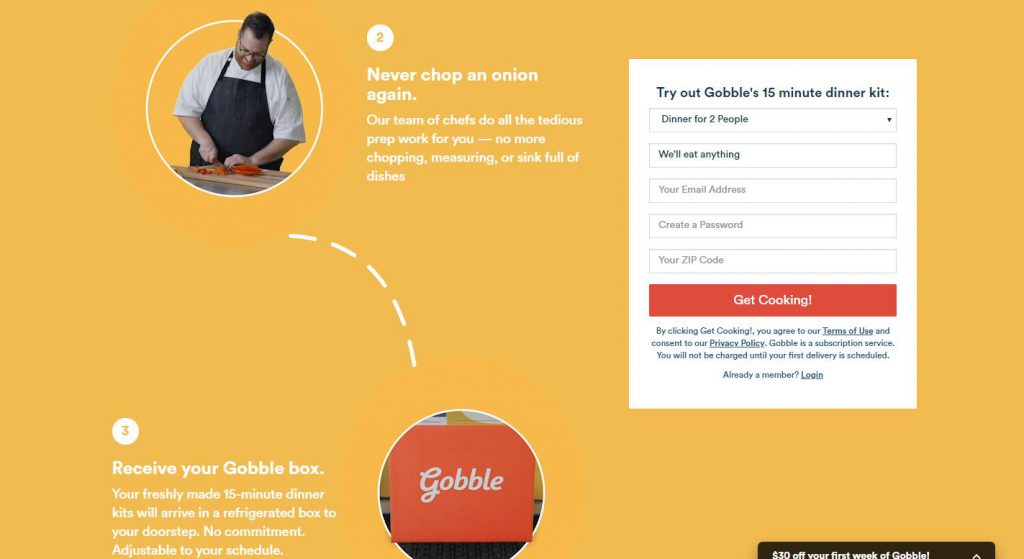 back to menu ↑
What Makes Gobble Different?
There are many good reasons why Gobble is unique from the rest when it comes to meal delivery service such as:
They bring a groundbreaking way of good and healthy eating. It allows you and your family eat a healthy diet without the need to shop and prepare the ingredients.
They offer par-cooked components and easy to prepare recipes that help bring out the best in you when it comes to cooking.
You can use the recipes as long as you want. Even if you misplace or lose the recipe card, this can be downloaded easily from the company's website.
Gobble only use high quality ingredients. Even if you are dining at your home, you get superb meals that are usually served in supreme restaurants. Each ingredient comes from similar producers which deliver ingredients for local restaurants.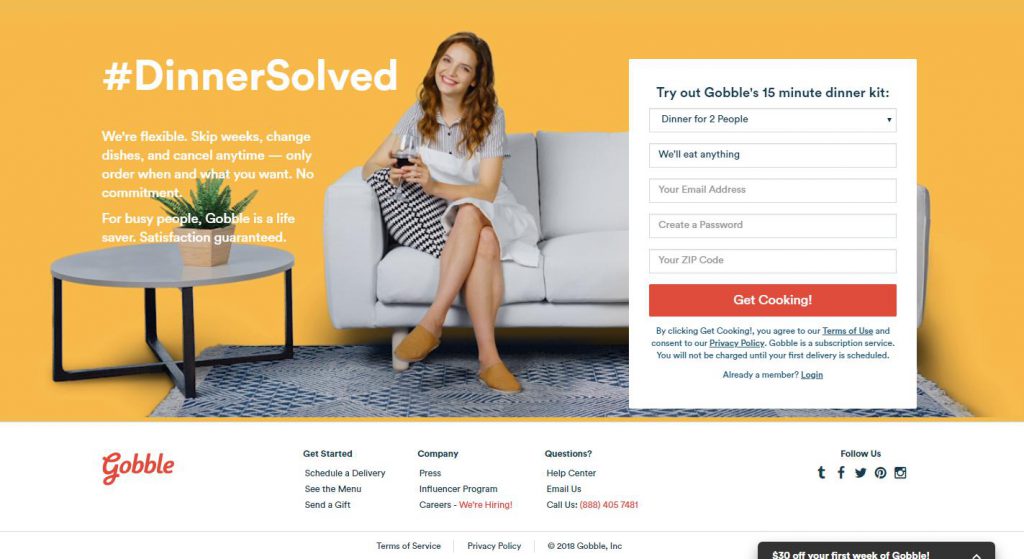 Gobble allows you to choose the delivery day you want. Deliveries arrived between eight in the morning and eight in the evening on your selected delivery day. All ingredients are vacuum sealed so there is no chance of getting spoiled. Gobble doesn't just offer good food; they also offer customers the chance to send their loved ones gift card worth $75, $150 or more.
back to menu ↑
Gobble Meals & Menus and Recipes
This meal delivery service provider offers you with an extensive selection of creative and classic diner's dishes. Gobble provides you the chance to enjoy your much loved food, and at the same time broadened your taste with latest options. All the dishes are new, so you will never get fed up and jaded.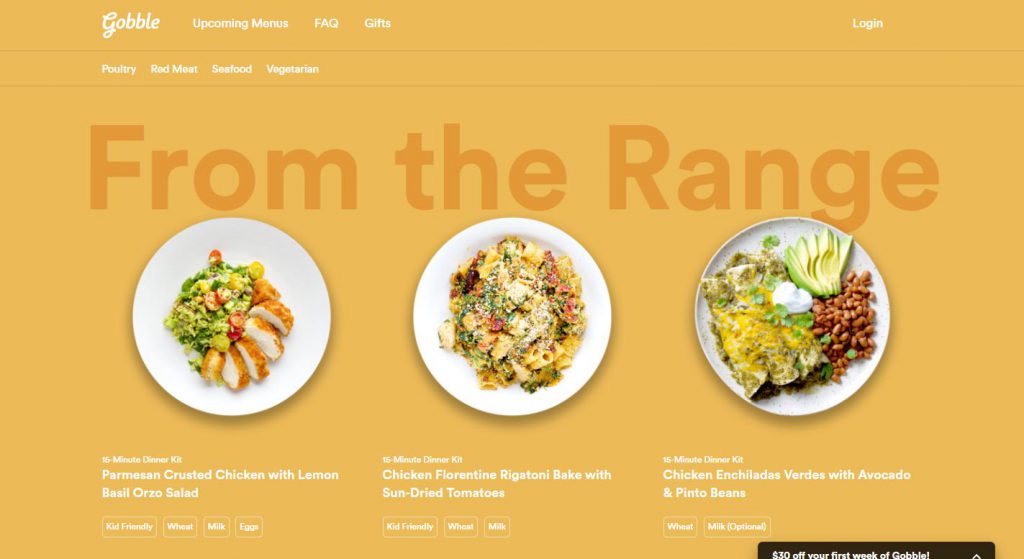 Subscribing to Gobble allows you to choose the types of food you want. The best thing about this company is that it allows customers to choose exclusive vegetarian meals. In case you love meat, there is beef, pork, lamb, poultry and fish available. Gobble provides client the freedom to customize their orders.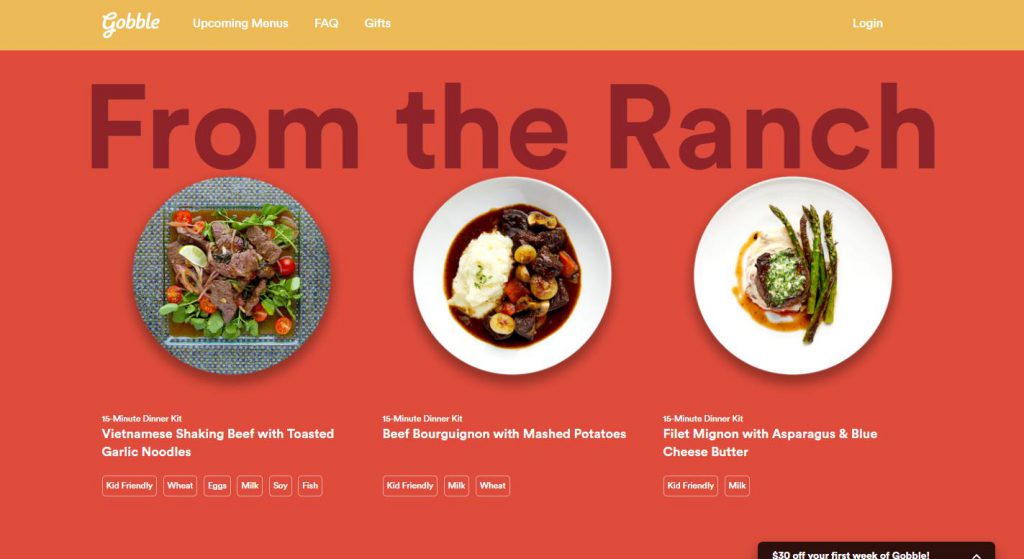 back to menu ↑
Gobble Health & Nutrition
Even if the food is already set, customers don't need to worry about spoiling prior to arriving at their location. There is also no need to worry about affecting the taste or flavor. Gobble has skilled nutritionists that work hard to source high quality and fresh ingredients. They deal with local farmers and purveyors, which also deliver their produce at various restaurants in Palo, Alto.
The meal is put in special packaging and is vacuum sealed. This preserves the taste and freshness and keeps the whole thing at its best flavor. All you get is a fresh and great tasting meal.
These meals can be kept in your refrigerator for 5 days after the arrival. Gobble suggests freezing meals in the first couple of days after receiving them. When the meals are frozen, it could last for 2 to 3 months.
If you do not have the willingness or desire to prepare food for you and your family, you don't have to worry because Gobble is here to help. They offer clients with already set meals which were made using fresh and high quality ingredients.
The meals they offer are so easy to prepare. As a matter of fact, they can be prepared in just a matter of 10 minutes. Each meal they offer comes with easy to follow recipe. It will guide on the step by step process of preparing your food.
In case you cannot find your cards for recipes, you can visit Gobble website and go to your dashboard. Here you can find the recipe cards. Also, you can find the recipe cards in the notification you received which states that your order had been delivered. It is so easy that you will not even consider a drive thru or dropping to the nearest restaurant.
back to menu ↑
Gobble Mobile App
Gobble has mobile app equipped with essential features. This works both on Android and iOS devices such as laptop, tablet and smart phone.
back to menu ↑
Gobble Plans & Pricing and Costs
Gobble meal prices depend on the amounts of serving customers wish to get. In case you order six meals or more, the price for serving is $411.95. So, for two persons that costs of weekly delivery are $71.70 and four persons the cost is $143.40. But, when you order four meals after the first week, the price all four servings are $55.80 or $13.95 for every serving.
Gobble doesn't have handling charges or additional shipping fee, gratuities and taxes. In case there's something wrong with the delivery, or you are not pleased with it, please call the company within seven days and ask for a replacement of the money you've spent. There is always someone to answer your calls and inquiries.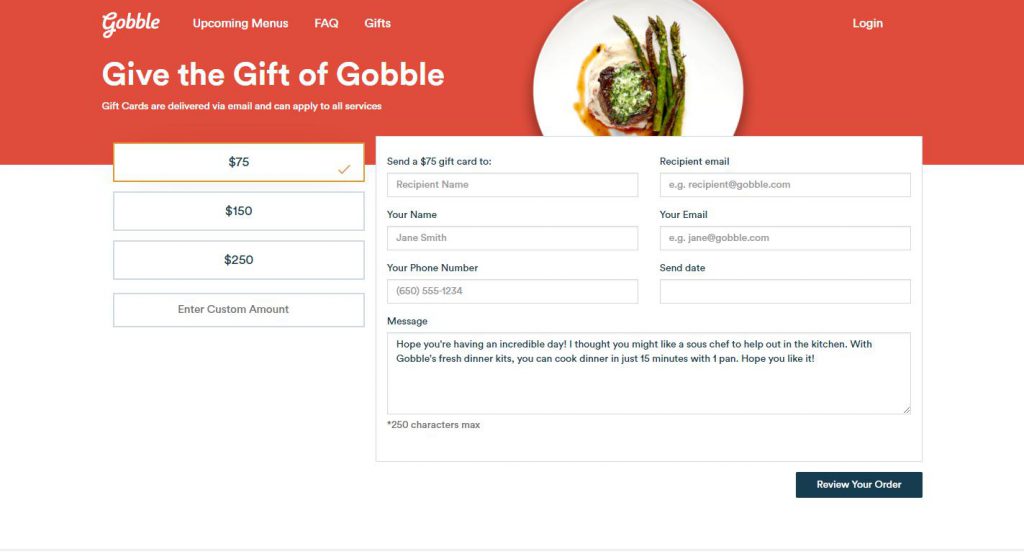 back to menu ↑
Gobble Delivery Areas
As of now, Gobble doesn't deliver countrywide. Their service is only available in California, Washington, Nevada, Utah, Oregon, Idaho as well as Arizona.
Prior to placing an order, you have to submit your zip code to know if they can deliver to your place or not. For some questions and concerns regarding delivery areas, you can keep in touch with Gobble through sending them an email or calling their customer hotline number.
back to menu ↑
Gobble Help & Support and Customer Service
For additional assistance, you can visit the company's website and check out the FAQ page. You can also call their number at 1-(888) 405 7481.
back to menu ↑
Gobble Pros and cons
---
PROS:
Premium ingredients
Flexible meal plans
Chef-made and simple recipes
Freshly cooked foods in ten minutes
Free shipping
7-day refund policy
CONS:
They don't offer special meals plans to people with special dietary needs
Does not deliver country wide
---
back to menu ↑
Bottom Line
Gobble plays a very important role in keeping a healthy balance diet. They help you cook tasty and high quality meals without the stress of buying ingredients and then preparing them for cooking. With this reliable meal service provider, you get superb recipes made by skilled and professional chefs and prepare the best meals in just 10 minutes or less. You can obtain three or more meals a week without spending a lot of money and eat meals with the best quality. However, meal delivery services are just restricted to specific areas. So, only few customers can reap the advantages of their service.
Gobble Review
Gobble, the leading meal kit delivery company based in Palo Alto offers pre-portioned high quality ingredients as well as simple recipes for wonderful dinners. With this company, you can easily have delicious meals fast.
PROS
Ingredients are sourced from local farmers
Superb recipes made by chef which are easy to follow
Free delivery on orders and they offer seven days refund policy
Add your review
Gobble Discounts, Coupons and Promo Codes
We found 3 verified Gobble Discounts, Coupons and Promo Codes for Oct. 2023. If some of the Gobble coupon codes have expired, please contact us, thank you for your help.

50% OffGet 50% off any order for New Customers with promo code!

$30 OffGet $30 off any order with coupon code!

$50 OffGet $50 off any order for New Customers with coupon code!
Compare Gobble with other Companies' Services, Plans and Products
If you like Gobble but aren't sure whether it's the best ideal choice for you, and may want to compare Gobble with other Companies' Plans, Products, and Services that similar to Gobble, or Gobble Alternatives and Gobble Competitors, Which companies' services like Gobble. You can take a look at our professional comparisons below to discover if one of them is more suitable for you.

Updated : 10.02.2023.