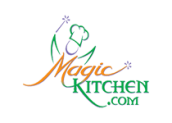 ---
Magic Kitchen Overview
Magic kitchen is a reputable meal delivery company founded in 2005, that is known as the popular meal delivery company headquartering in Los Altos, California and delivering healthy meals throughout the United States, including Hawaii and Alaska. For more than a decade, it has been delivering single serving and family size meals prepared by professional chefs and that are flash frozen.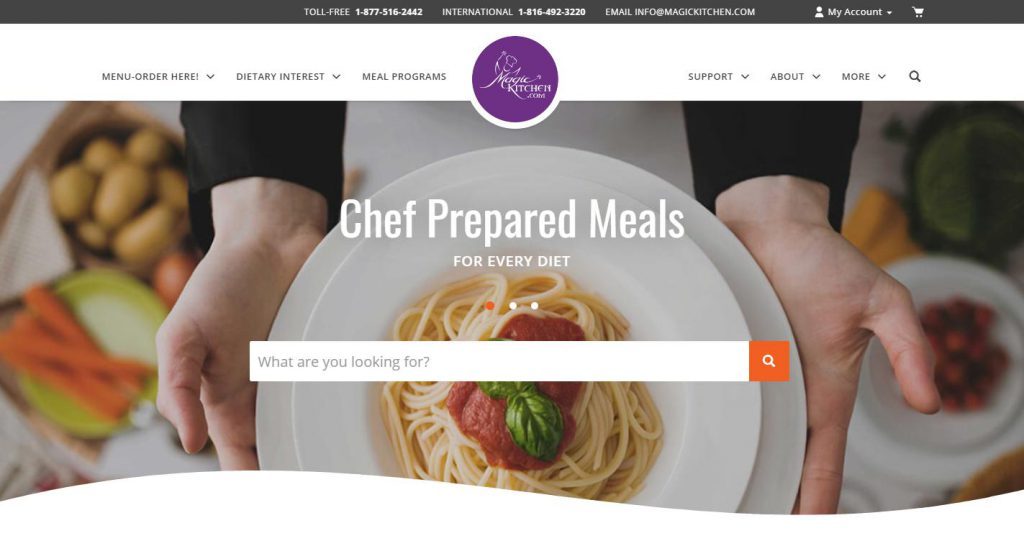 Magic Kitchen is the ultimate meal delivery company for those who want to enjoy healthy, delicious meals but don't have enough time to prepare them. It is also ideal for senior citizens or those who may need help in preparing meals. Every meal is prepared and cooked for you. You just have to reheat them, and you can enjoy delectable meals that will appeal even to the pickiest taste buds. You can choose from a variety of meal options, so you can have the best meal you want delivered to your door.
The Magic Kitchen was founded with the goal of providing senior citizens with healthy and nutritionally-balanced foods, as well as giving families a good reason to come together during meal time. It provides an amazing opportunity for everyone to enjoy tasty, healthy and restaurant-quality meals.
With Magic Kitchen's CEO, Greg Miller, the consumers are given a chance to experience the healthy, quality and tasty meals. He understands that the market for the busy family and seniors are growing so he comes up with this idea, so everyone could still get the nutrients they deserve behind hectic times. Making your dinnertime with the whole family has never this simple and impressive with the help of Magic Kitchen.
Magic Kitchen's mission is to give you frozen foods that are not just easy to prepare but also delightful in taste buds. They are offering a wide variety of meals so they can accommodate even the most meticulous eaters in the family. So, there is nothing to worry about it. High-quality ingredients are being used in preparing these meals to make sure that the right nutrients are given to every consumer. They use hormone-free, antibiotic-free and pesticide-free ingredients not only to keep the food safe but also secure the health of the consumers.
One misconception about the easy and fast meals is that they can't be nutritious an healthy. Other believed that frozen meals would never be tasty and not good for the body. Magic Kitchen will change what you think, as they introduce an incredible variety of frozen meals to make your dinnertime enjoyable, healthy and simple.
The great news is that Magic Kitchen is now here to change this mindset. It is pleased to offer healthy and delectable frozen meals designed to make your dining experience simple yet memorable. It is dedicated to providing you with nutritionally beneficial and mouthwatering meals to enjoy. There are different options to select from, so you can just pick the one that suit your taste buds and even accommodate the picky eaters in the family.
In addition to the variety of meal options they offer in the menu, they also use only the best quality ingredients in every meal. All ingredients do not contain dangerous chemicals like pesticide. They are also hormone-free and antibiotic-free, so you can ensure to consume nutritious meals delivered to your doorstep.
Keep reading our honest Magic Kitchen review to learn more.
back to menu ↑
Magic Kitchen Ideal For
Senior citizens who need help preparing for their meals
Busy individuals who don't have time to shop and prepare food and ingredients
Anyone searching for a healthier alternative to frozen meals
back to menu ↑
How Magic Kitchen Works?
Compared to other options out there, Magic Kitchen does not require its consumers to sign-up or to commit themselves to any contract just to avail the services and goods. There is no need for you to deal with weekly payments or monthly subscriptions, as you can order the food items any time of the day. You can get whatever you need – there is no limit of how many food items you want to have. Either for single consumption or for family serving, Magic Kitchen is the best partner you can count on.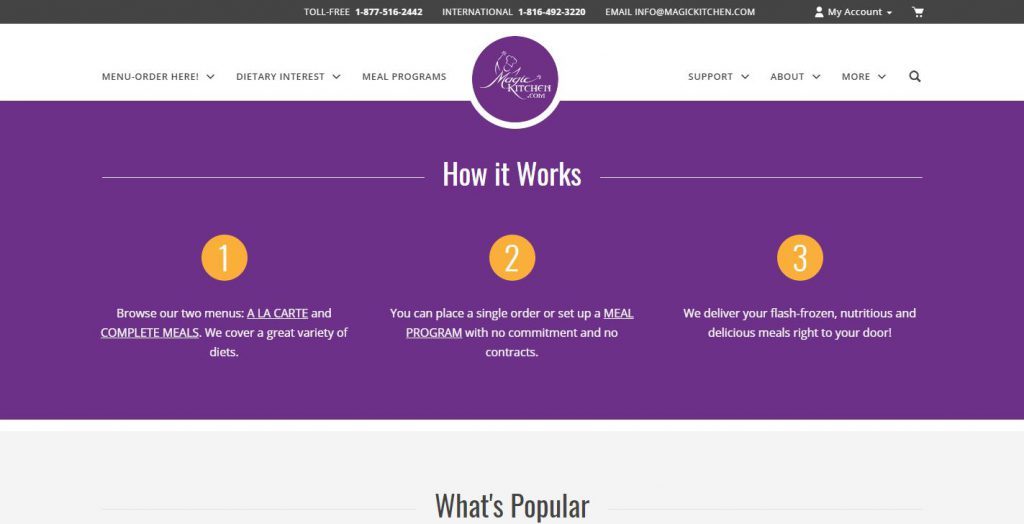 The process is easy and straightforward with this meal delivery service. You can select between 2 menus and your meals will be delivered frozen. These menus available are the Complete Meals Menu and the A la Carte Menu. There are also different gift programs you can enjoy.
The ordering process is simple. Choose the packs or meals you want. Once you have chosen the meal you want, you will be prompted to either go to the checkout page or continue shopping. When you choose the checkout page, you can enter your promo codes or gift certificates to lower the total price. You can also benefit from the health news it offers, so you can access to interesting topics and subjects about health, food, etc.
Having their service, it's just like you are ordering in a conventional restaurant. You can take a look at their menu (Complete Meals Menu and A La Carte Menu) and choose which food items you think enjoyable to eat today. Then, you can have your frozen food delivered to your doorsteps. There are also promo codes and gift certificates offered so you can have a chance to lower the price of the ordered foods in every buy. You can check it at their checkout page on their website. Not only Magic Kitchen is a great source of healthy and delightful treats, they also help educate their consumers by providing a wealth of knowledge. They have health news that provides readers with interesting topics about the precautionary steps, health risks, and much more.
When you visit the Magic Kitchen website, you will find a dedicated FAQ section that answers all the basic questions you might have with regards to service and product quality, packaging and ordering, as well as delivery. When you make an order, expect frozen meals to be delivered to your doorstep. Just reheat them and they're ready to enjoy.
You can also find amazing discounts on its discount page. It constantly updates its unique offerings and discounts on every meal. The page also has information on senior discounts and first-time customer discounts.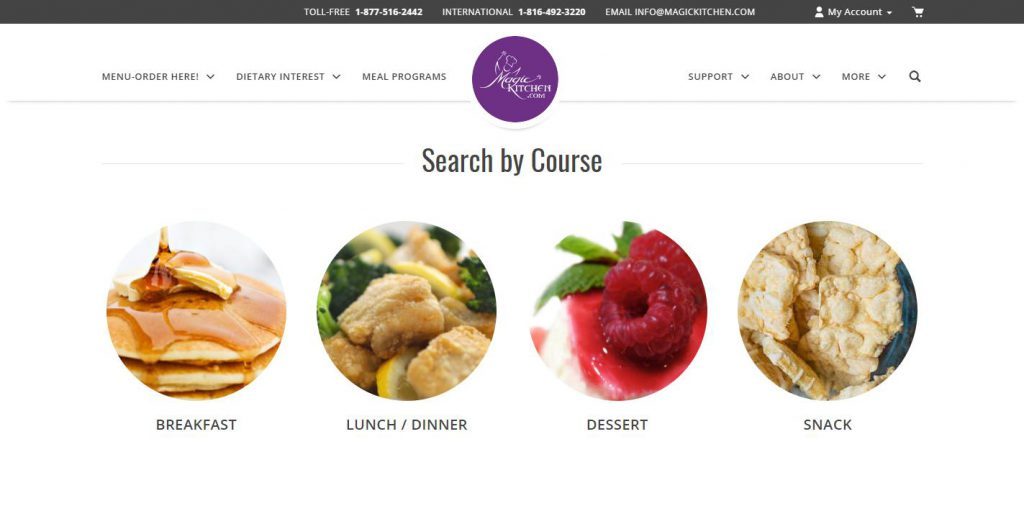 back to menu ↑
What Makes Magic Kitchen Different?
What sets Magic Kitchen apart from the competition is its great focus on preparing nutritious meals and creating great diet plans that will help you enjoy a healthy way of living. While the company probably cannot compete with the premium meal delivery service today due to its special focus on delivering up-to-date news and health information, as well as paying attention to people with health issues and senior citizens, it still focuses on providing tasty, healthy food. so everyone can still enjoy a healthy food behind busy days.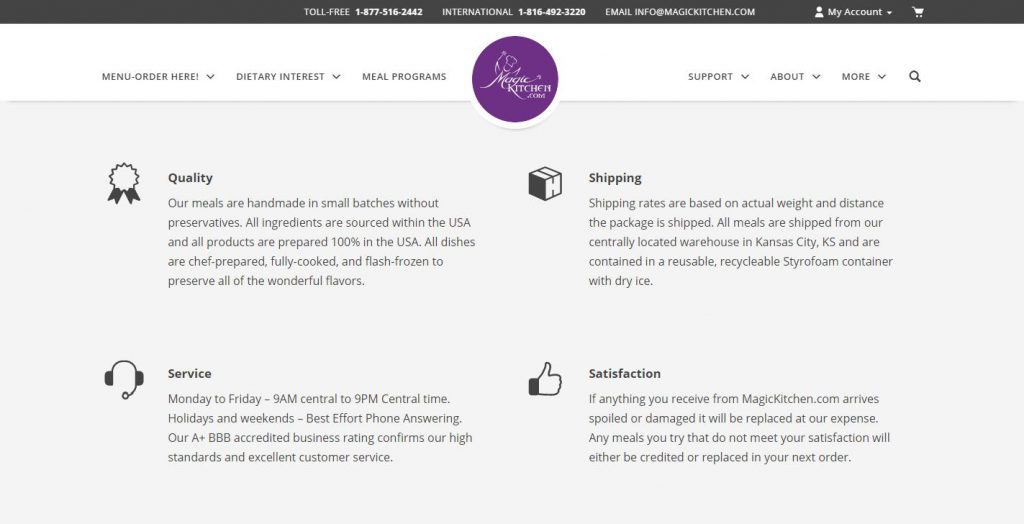 Also, one of the best things about the company is that it's so invested in the market that it even provides free e-books on various topics that will highly benefit every reader. One of those e-books tackles health concerns involving senior citizens while others provide information on how to stay healthy and lead a healthy life. They even include information on meal ideas, special diet, as well as tips for gift giving. In essence, in addition to delivering nourishing yet highly delicious meals, they also provide in-depth information explaining their services and products.
With Magic Kitchen, you can have peace of mind knowing that the meals you put into your body are beneficial to your overall health. The company is also able to raise awareness when it comes to health with the blog and news sections they feature at their website.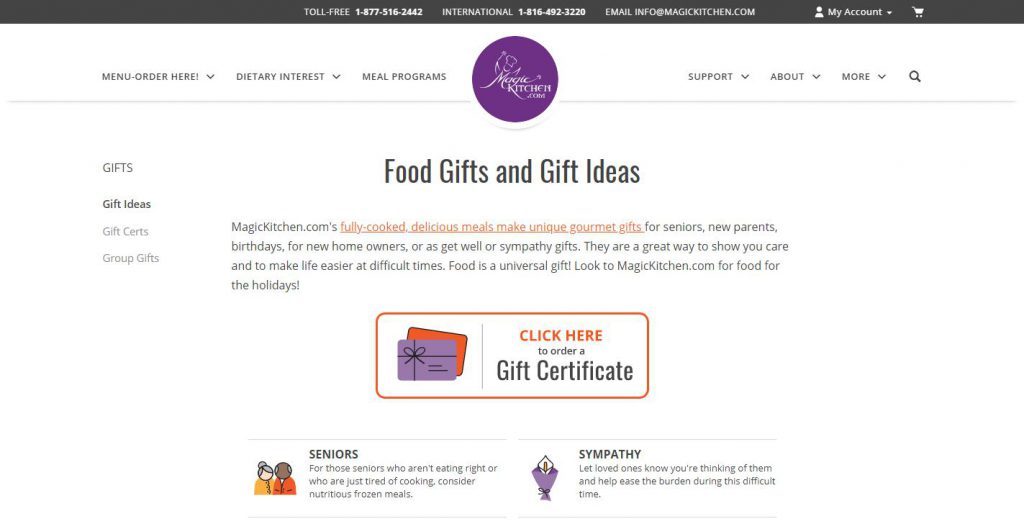 back to menu ↑
Magic Kitchen Meals & Menus and Recipes
There is a limitless of option when you choose Magic Kitchen as your meal service provider. In fact, even those with particular taste buds will be satisfied with the menu options they have. For large groups or families, you can find great side dishes, main courses, breads and even mouthwatering desserts. There are also single-person options you will surely love.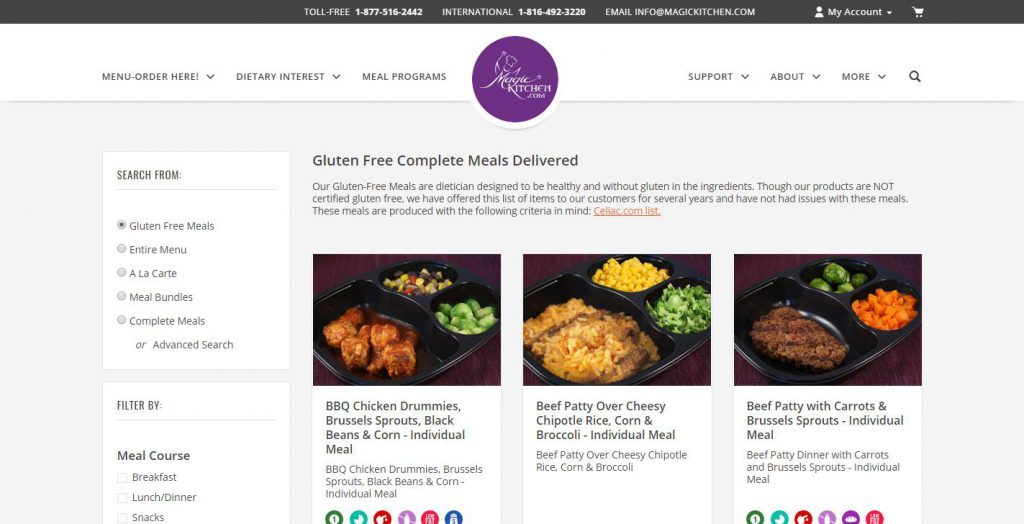 If you have any special dietary requirements, Magic Kitchen has always something for you. They have foods in their menu that are low in sodium, gluten-free, dialysis- and diabetic-friendly, low in fat and carbohydrate. They even feature a Senior Special Diet, which is ideal for individuals on a renal diet and portion-controlled diet. You will love the snack options too! In case you are just looking for a basic menu plan, it has two options you can select from.
One of the basic menu plans is the A la Carte menu. It allows you to choose sides, individual entrees, deserts and soups to build your meals. If you don't know exactly what you want and prefer to have someone else pick the meal plan for you, you can certainly benefit from the Magic Kitchen Complete Meals Menu.
The other option is the A la Carte menu, which enables you to personally create and design your own diet plan. You do this through selecting the individual entrees. It also allows you to customize your meals by choosing desserts, side dishes and main courses separately. The dishes are placed in appropriate categories related to their health options. This allows you to choose from gluten-free, diabetic-friendly, low-carb and low-fat diets.
If you have any specific dietary requirements, then the Complete Meals Menu is the ideal meal for you. It provides complete meals prepared by experienced dieticians and chefs. It has several options to meet any of your dietary needs. These include heart-healthy entrees, low sodium recipes, senior meals, diabetic meals, portion control, senior meals and meals for dialysis and renal diets.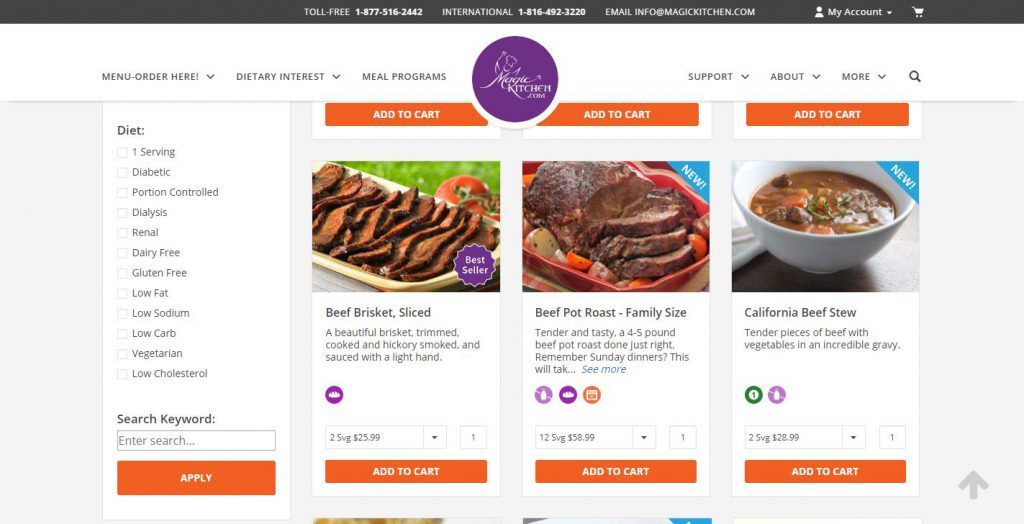 back to menu ↑
Magic Kitchen Health & Nutrition
Benefit from healthy means at Magic Kitchen prepared by qualified and competent chefs. They use only the freshest produce and high quality ingredients to ensure that you enjoy luscious, healthy meals that are easy to prepare. This will ensure nutritious, delicious and enjoyable meals for you and your family. These meals will come to your door frozen. Just defrost them, heat, serve and enjoy.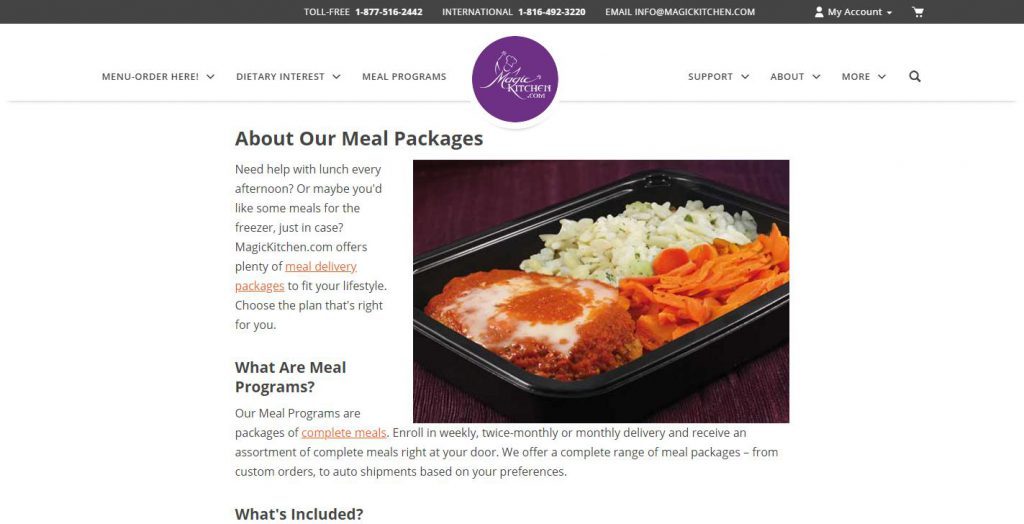 The ingredients used to create the meals are in the U.S. and products are prepared one-hundred percent in the country. All meals are made in a reliable USDA kitchen and/or another approved kitchen locally.
Magic Kitchen understands that foods should not only have a distinct character but also have healthy properties to be benefited by the body. The ingredients being used in every meal came from the United States. The products are also prepared inside the country. As much as possible, Magic Kitchen uses organic vegetables and fruits, hormone-free chicken and grain-fed beef. Not only they want to deliver the customers with delicious food, it should also be healthy according to everyone's preference, and this is made possible by its handpicked ingredients.
The website contains a comprehensive information on cooking instructions of every meal, customer reviews, ingredients list, photos and nutritional information of each product. These will allow you to make informed decisions when choosing the right meals suited for you. You can keep the meals in the freezer for 6 months or more from the day you get them. However, the company suggests that you consume the meal with thirty to forty-five days of the arrival. Eat them immediately to ensure that the food remains flavorful.
back to menu ↑
Magic Kitchen Fitness and Activity
It is best to be physically active at least thirty to sixty minutes every day. But the activity you do or when you do it depends on you.
back to menu ↑
How Easy Is Magic Kitchen To Follow?
All meals at Magic Kitchen are easy to prepare. You can just heat them up with the use of a microwave. Make sure that you read the label on every product to know how you should eat it up, as there are about 6 or 7 meals that you can't heat in the oven or microwave.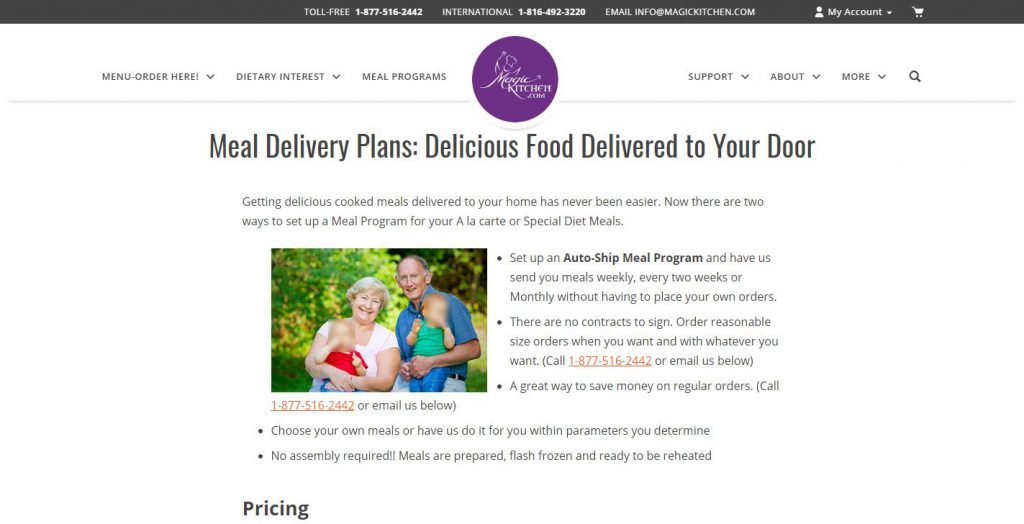 Regardless of how you prefer to prepare the meal, the process is simple and quick. Therefore, you no longer have an excuse for not having a nice meal to enjoy, as it requires just a little effort to prepare. You no longer have to feel stressed cooking dinner for yourself or the family. It saves you time and the hassle of shopping and cooking. This is a great time for you to save hours in shopping for ingredients or prepare the meals. Just order, have the foods delivered and enjoy it by yourself or your family.
back to menu ↑
Magic Kitchen Plans & Pricing and Costs
The individual meals may cost between $10 and $25, depending on the food items you order. The combo soup, main course, dessert and side dish can be a bit expensive compared to the meal package. The meals packs are typically composed of seven servings. This means you can acquire a seven healthy and nutritious dinner in only one package. Their prices may range from $75 – $90. And for the bundle or family-sized dinner, it can go between $166 and $215 for two meals (with six servings). Discounts are offered for seniors and individual meals.
Note that there are promos and senior discounts you can benefit from on various individual packages and meals.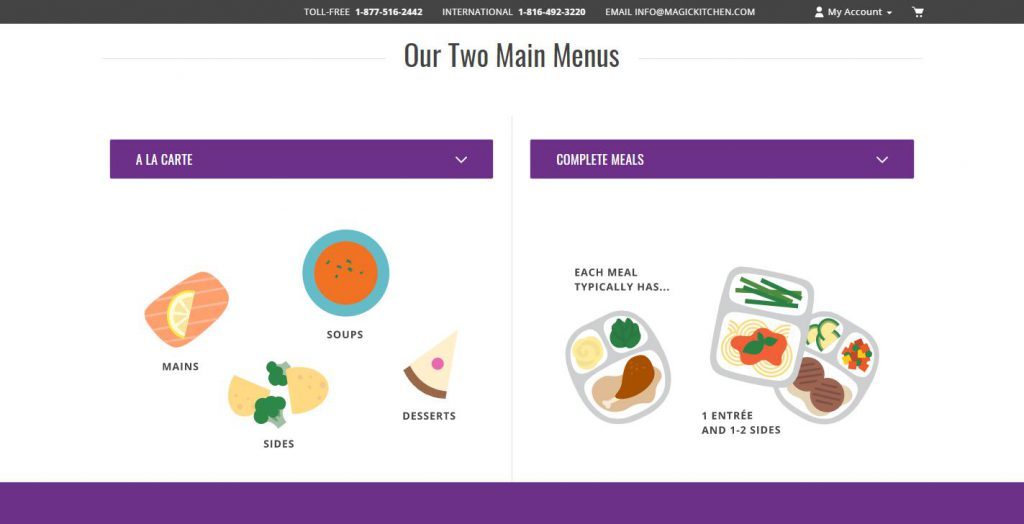 back to menu ↑
Magic Kitchen Delivery Areas
The company has a specialized central warehouse situated in the Kansas City area. Therefore, shipping is done in one place. Magic Kitchen delivers throughout the country, including Alaska and Hawaii via FedEx and UPS Ground.
Shipping fees depend on the distance and actual weight of the package. Normally the shipping fee starts from 18 dollars to 20 dollars. Visit the website to get an overview of how quick customers can expect the meals to arrive.
back to menu ↑
Magic Kitchen Help & Support and Customer Service
You can check the company's FAQ section to know more or you can contact them via email or call at these numbers 1-877-516-2442.
back to menu ↑
Magic Kitchen Pros and cons
---
PROS:
Meals have balanced nutrients
Wide variety of packages and categories
Not expensive
Shipments are done throughout the US
CONS:
Certain meals are plain
Website's design is outdated
---
back to menu ↑
Bottom Line
Many of us are busy every day dealing with our chosen lifestyle. However, this should still not prevent us from eating healthy foods, though we can no longer handle the food preparation process. Healthy meals are just around the corner!
When in need of healthy and easy-to-prepare frozen meals, there's no any other place to go but Magic Kitchen. It has a variety of delicious desserts and main dishes you can include in your shopping cart. Thanks to its restaurant-quality ingredients, you can certainly find exactly what you need for a fair price. Magic Kitchen also has everything that accommodates your dietary needs.
With Magic Kitchen, this has never a problem. The meals that arrive on your doorstep are already prepared and cooked. You only need to reheat the foods so you can fully enjoy its taste. Also, you are free to choose what type of food you want to get, as there are options available for your preference. The company's goods are also great for elderly or others that require assistance when preparing their meals.
If you need healthy and delicious meals that eliminates a big part of the time for cooking and preparation, then Magic Kitchen is the best way to go. It's just like you are eating to your favorite restaurant knowing that they only use restaurant-quality ingredients in the making. Regardless of what health category you belong, there is always something for you at Magic Kitchen.
If you are in need of a perfect diet plan suitable to any healthy category, Magic Kitchen is the ideal meal service company to try. It ships it service across the country and provides affordable meals to meet your budget.
Magic Kitchen Review
Magic Kitchen allows you to enjoy both the delicious taste and nutritional benefits of meals at affordable prices. They always have a perfect diet plan suitable for you!
PROS
Choose from a variety of plans to accommodate your taste and dietary needs
Select from different food gifts for all occasions
Nutritious and delectable meals prepared by professional chefs
Add your review
Magic Kitchen Discounts, Coupons and Promo Codes
We found 5 verified Magic Kitchen Discounts, Coupons and Promo Codes for Oct. 2023. If some of the Magic Kitchen coupon codes have expired, please contact us, thank you for your help.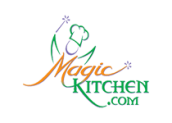 20% OffGet 20% off with promo code!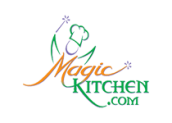 10% OffGet 10% off Orders $80+ with promo code!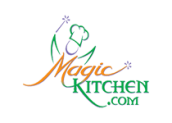 $20 OffGet $20 off 4 Weeks of Meals with coupon code!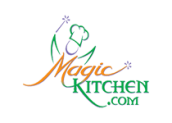 $10 OffGet $10 off Your First Order with coupon code!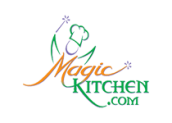 Free ShippingGet Free Standard Delivery on Orders of $100+ with coupon code!
Compare Magic Kitchen with other Companies' Services, Plans and Products
If you like Magic Kitchen but aren't sure whether it's the best ideal choice for you, and may want to compare Magic Kitchen with other Companies' Plans, Products, and Services that similar to Magic Kitchen, or Magic Kitchen Alternatives and Magic Kitchen Competitors, Which companies' services like Magic Kitchen. You can take a look at our professional comparisons below to discover if one of them is more suitable for you.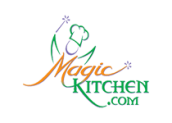 Updated : 10.02.2023.