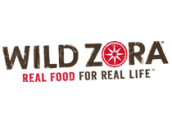 Wild Zora Paleo Meals To Go Review
---
Wild Zora Paleo Meals To Go Overview
Managed by mother and son tandem with interests in various outdoor activities like hiking, running and with a background in farming, Paleo Meals To Go is the number one source of Paleo food. So in early 2018 Wild Zora acquired Paleo Meals To Go, and now together they're providing healthy, tasty, and convenient snacks AND meals to consumers across the country. Paleo Meal To Go is intended for people who do not just enjoy paleo food but also love outdoor activities. They offer easy to pack snacks and meals that taste better than frozen dried foods available.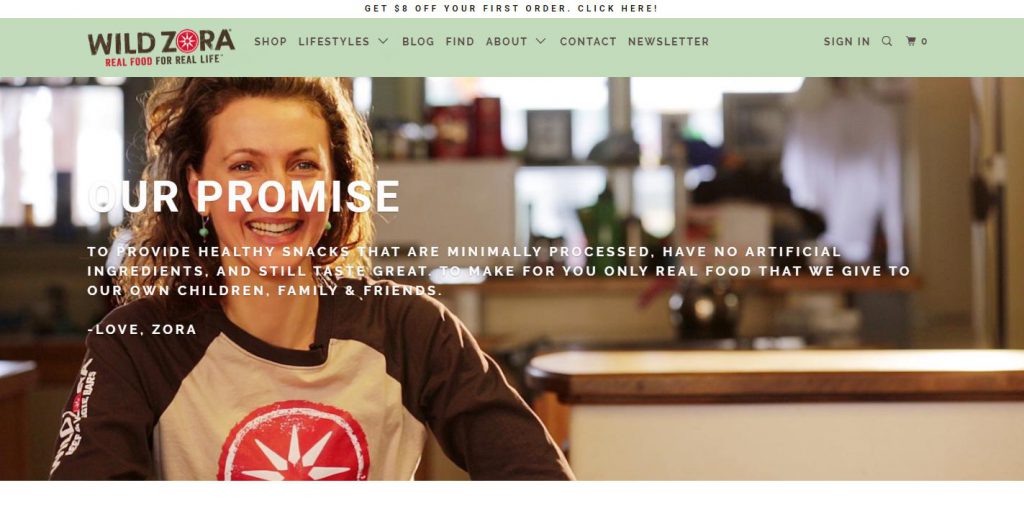 While on their multi-day backpacking journey in Maroon Bells some time in 2013, Ty Soukup got sick due to the standard dried meal he ate during his dinner. Due to this incident, he had changed his diet and opt to paleo diet. Paleo are types of foods consumed by early civilization including fruit, vegetables and meat. This doesn't include grain or dairy products and even processed foods. A usual freeze dried meal for backpacking is abundant in salt that is bad for your health. This is the reason why TY along his mother Dawn Anderson established Paleo Meals To Go.
Wild Zora Paleo Meals To Go offers freeze dried, soy free, gluten free, grain free, milk free as well as shelf stables meals which are in the lineup of paleo diet. They bring customers lightweight and freeze dried snacks, meals, and bars in a very convenient packaging, perfect for camping, hiking, backpacking as well as other outdoor activity.  These meals are nutritious, healthy and very useful in conditions when cooking isn't an option. All you have to do is to add water. Read this Paleo Meals To Go to get to know more about this meal delivery service provider.
Keep reading our honest Wild Zora Paleo Meals To Go review to learn more.
back to menu ↑
Wild Zora Paleo Meals To Go Ideal For
Those who don't have time to buy and prepare ingredients
Those who are searching for a healthier substitute to frozen foods
Those who are searching for diet to help them lose weight
back to menu ↑
How Wild Zora Paleo Meals To Go Works?
This meal deliver service company works in a very simple way. If you and your friends are planning a camping or hiking escapade, visit their website and choose the snacks and meals you like to take on your journey and so go on to check these out. You can get their products without commitment, subscription and all you need to do is just shop each time you need a paleo meal.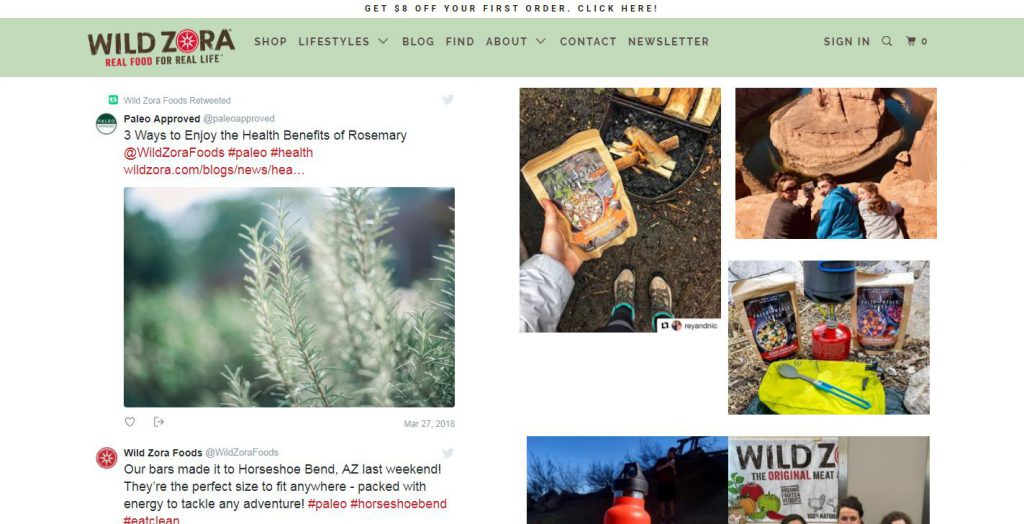 Wild Zora Paleo Meals To Go offers meals that will satisfy your nutritional requirements while you are exploring unfamiliar surroundings. All products offered are 100% paleo. Some are perfect for other diets too.  Here you can find snacks and meals which can be enjoyed on keto diet or Whole 30 program. Some are vegan, some are nut-free and all are soy free, milk free, grain free as well as gluten free.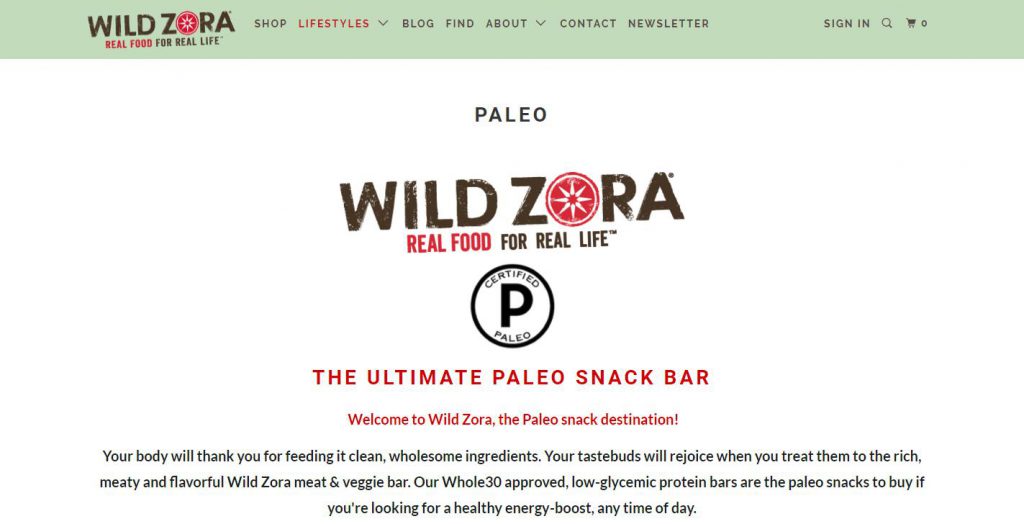 back to menu ↑
What Makes Wild Zora Paleo Meals To Go Different?
Wild Zora Paleo Meals To Go indeed is an exceptional service. This company caters to an extremely specific kind of clients. On the other hand, the meals they offer can also be consumed by those who are suffering from allergies of different types.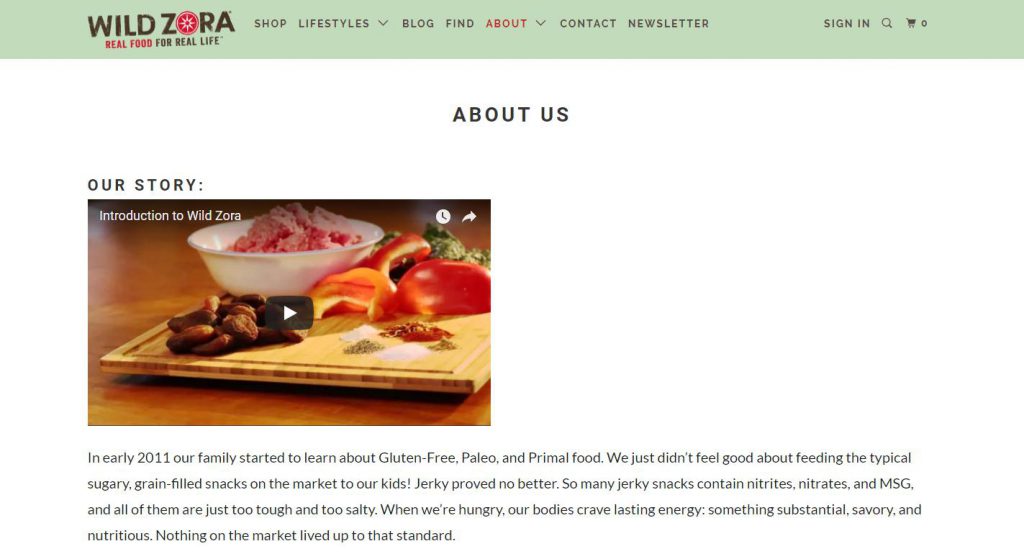 The meals they offer are all free-dried so they are more delicious foods. What is more, they are tastier than other freeze dried meals available. What makes this food delivery service provider apart from the rest? Their meals have long shelf life, usually between nine and fifteen months.  Most of the time they offer huge discounts and remarkable sales on selected products. Since the foods represent a remarkable choice for military personnel, they also provide military discounts.
back to menu ↑
Wild Zora Paleo Meals To Go Meals & Menus and Recipes
Wild Zora Paleo Meals To Go doesn't expand or change the food they offer on a frequent basis, but rather stick to a set of meals customers already enjoy. So, you can always pick from the same sixteen products in their standard offer. New products are rarely added.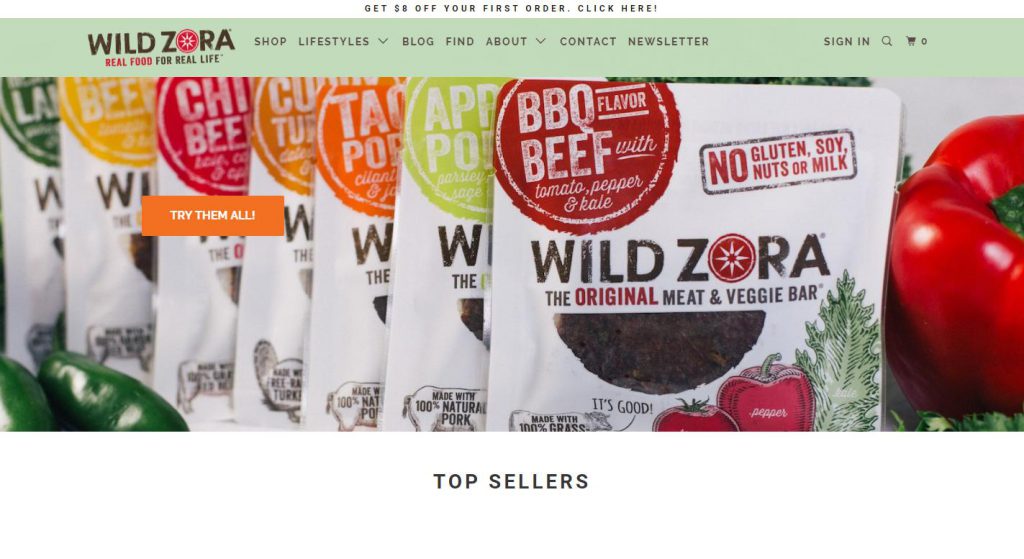 Paleo Meals To Go food items are divided into many groups. The first group includes savory meals like Summit Savory Chicken and Mountain Beef Stew, both are preferred by many customers and Whole30 program compliant.  In total, there are five savory meals all fall under the categories of curry, chili and stew.
Also you can buy breakfasts, which include Cliffside Coconut Berry, Palisade Pineapple Mango as well as Butte Cacao Banana. Breakfasts and savory meals can be prepared easily. All you need to do is to add right amount of hot water wait for ten minutes and that's it. You will now have a healthy paleo meal on the table.
Other products offered are snacks, sweet and savory bars. Under the category of snack there is Apex Fruit Snacks and Plateau Pineapple Tidbits. Sweet includes Banana Bread Lithic Bar, Blueberry Vanilla Lithic Bar as well as Dark Chocolate Brownie Lithic bar. Savory bars included Wild Zora Curry Masala Turkey Bars, Wild Zora BBQ Beef Bar, as well as Wild Zora Chili Beef Bar.
Even though the options are not much, the items offered are well-made and also feature diverse flavors that you will fully enjoy. Three of the most sought after items are Wild Zora Chilli Beef Bar, Butte Cacao Banana, as well as Mountain Beef Stew.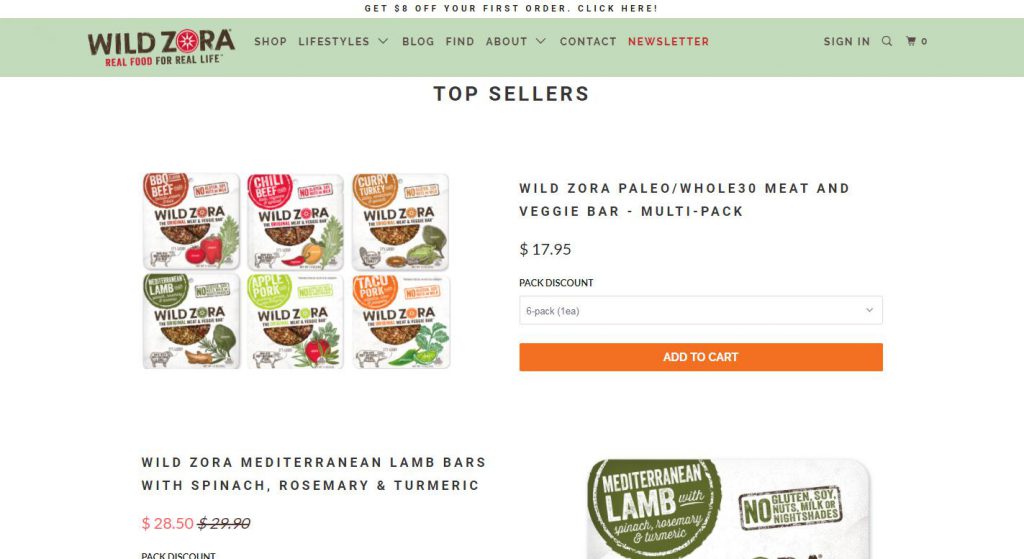 back to menu ↑
Wild Zora Paleo Meals To Go Health & Nutrition
Not like other meal delivery service out there, Paleo Meals To Go provides an easy to understand ingredient listing and nutrition labeling at the back of every food package. These foods are intended to be taken and consumed anywhere. One package is good for one service only, so you do not need to guess on the right amount of food you must consume. This is very beneficial for people who are out in a setting like camping and needs energy, but always want to keep healthy and slim. However, every meal they offer is rich in sodium. This is not bad at all because sodium is extremely important in hydration.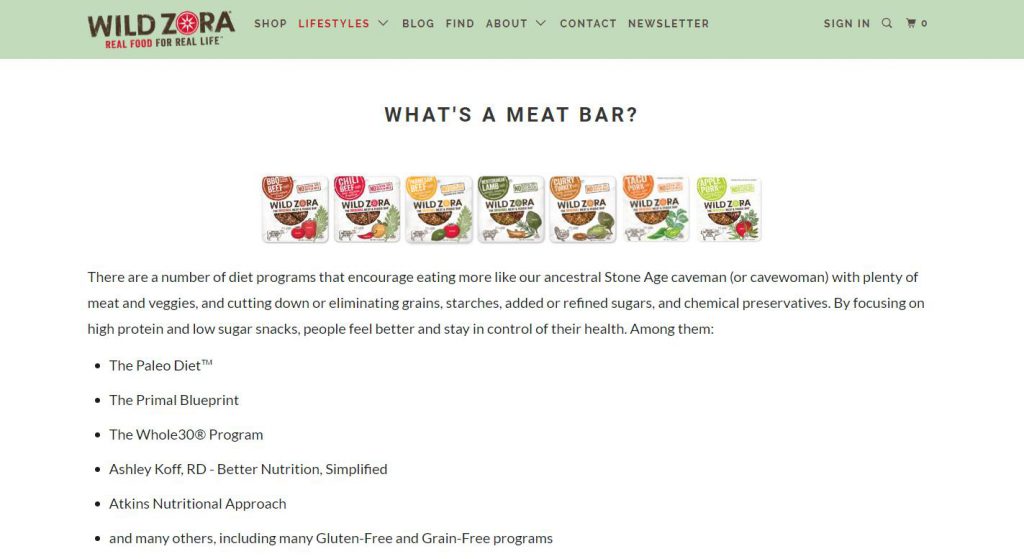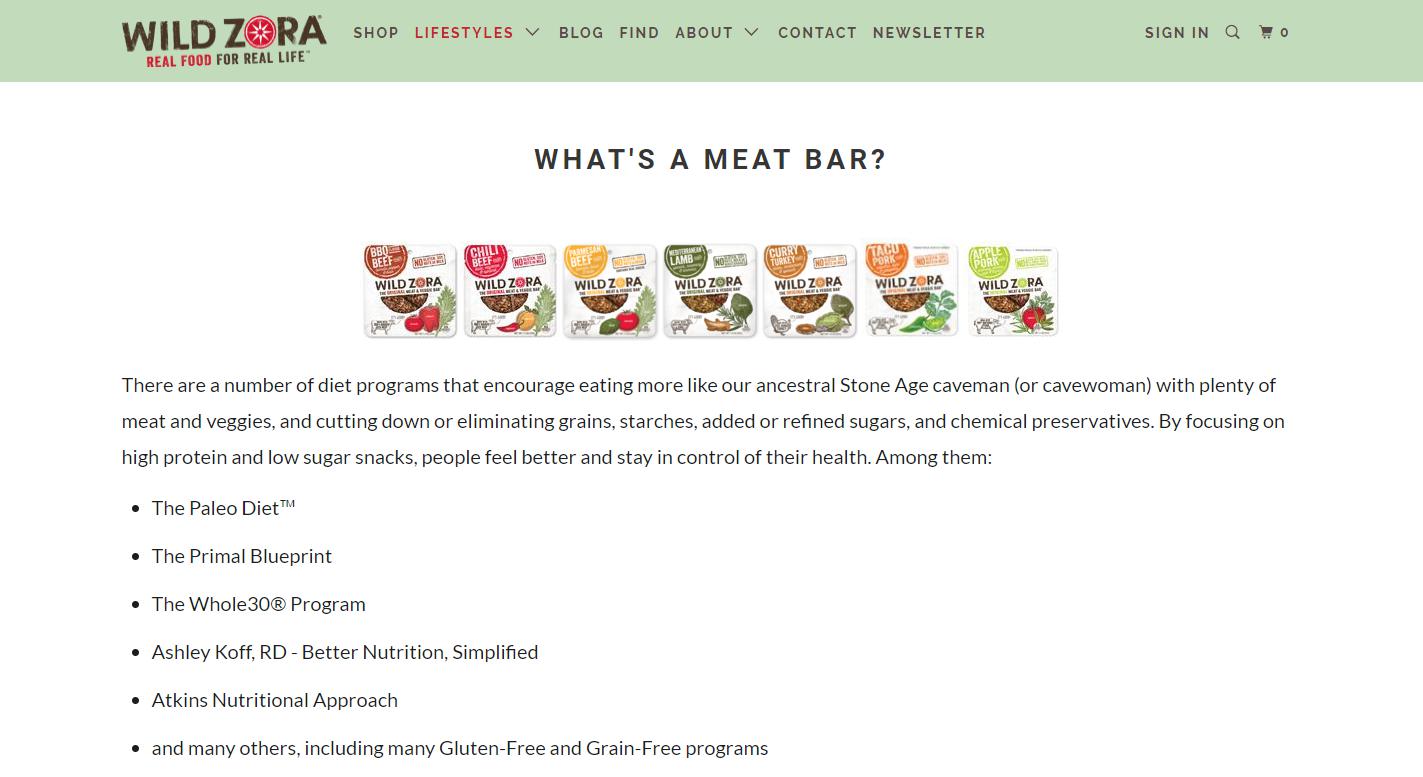 back to menu ↑
Wild Zora Paleo Meals To Go Fitness and Activity
Paleo Meals To Go meals are easy to use, very nutritious and most of all packed with essential nutrients to keep you healthy and slim. They don't have fats and but abundant in sodium which is somehow important in hydration.
back to menu ↑
How Easy Is Wild Zora Paleo Meals To Go To Follow?
Are Paleo Meals To Go meals easy to follow? The answer is yes! The ease and handiness of the meals they offer is what makes this company very popular amongst hikers, campers, military personnel and those who are following a special diet. The meals they offer are lightweight, need minimal prep and easily transportable. In fact, you can eat these meals out of the seal if you want. The meals are stew based, therefore they are easy to bring in your bag as well as easy to prepare. In view of the fact that meals are freeze dried stew, you can heat these meals if you have time to experience a fresh readymade choice.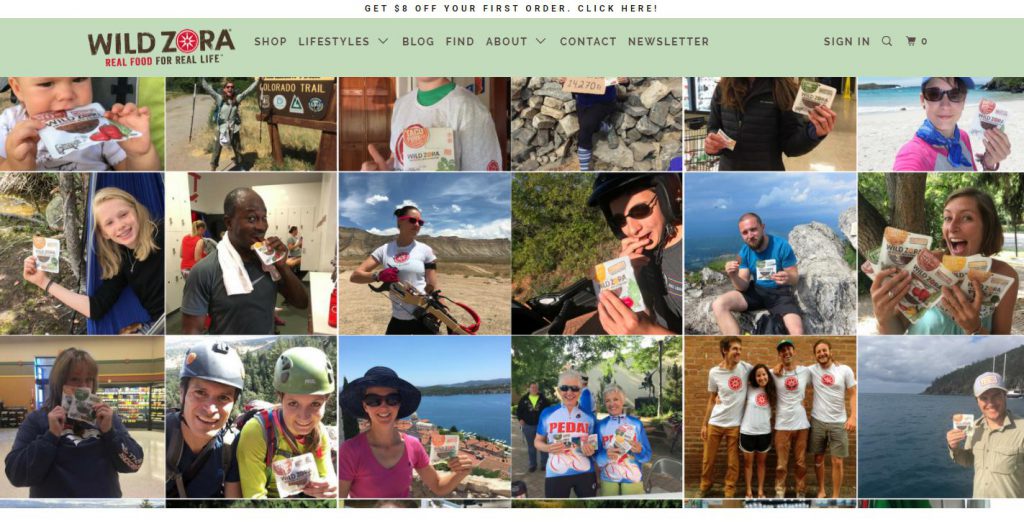 back to menu ↑
Wild Zora Paleo Meals To Go Plans & Pricing and Costs
The prices of Paleo Meals To Go at first glance is higher, but after you tried and taste the meals, you will see why the price is high. The ingredients are wholesome and high quality, all meals are abundant in protein and essential nutrients and extremely pleasing and satisfying. The packs aren't smaller as well.
The savory meals are offered in 3 to 3.05 ounce pouches that cost $10.50 and $11.50. While the breakfast will cost you $10 for 4.15 ounce pouches. Fruit snacks on the other hand cost $4 to $6 while bars are available for only $3.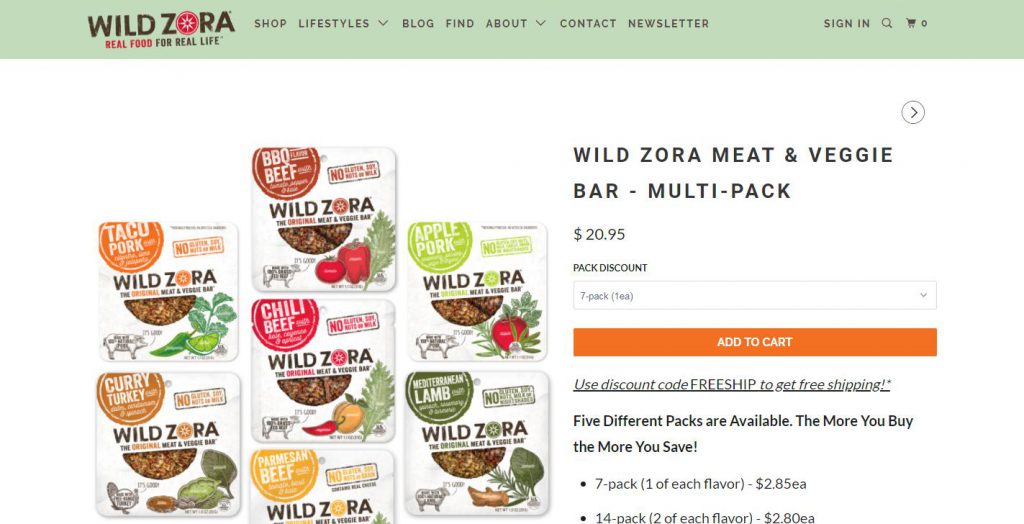 back to menu ↑
Wild Zora Paleo Meals To Go Delivery Areas
Alaska and Hawaii, military addresses and other parts of the US can benefit from Paleo Meals To Go meals and products. The meals are delivered through FedEx Ground, USPS Priority Mail and FedEx 2 Day. The cost of shipping will depend on your location.
For wrongly delivered orders, damages during delivery, quality issues and defects, you can return the products in 30 days after the date of the purchase. Non defective products should be returned in a good condition and unopened, as well as in a saleable state. Substitutions and replacements are delivered for free.
back to menu ↑
Wild Zora Paleo Meals To Go Help & Support and Customer Service
For more questions and inquiries you can call 224-725-3652, a customer representative is always available to take your calls. You can also submit your query via online contact form.
back to menu ↑
Wild Zora Paleo Meals To Go Pros and cons
---
PROS:
High quality, whole some ingredients
16 creative appetizing items
All products are gluten free, Paleo, soy free, milk free as well as grain free
A lot of keto, vegetarian and whole30 compliants items available
Ideal for camping, backpacking, hiking as well as any outdoor activities
Long shelf life
Easy to prepare
Special discounts
Frequent sales
Commitment free ordering
They deliver countrywide even in Hawaii and Alaska
---
back to menu ↑
Bottom Line
With hundreds of meal delivery service companies out there in the US, Paleo Meal To Go is the most unique and exceptional. The freeze dried foods they offer could be eaten right away, all you have to do is to add exact amount of hot water. So, there is no preparation needed. What is more, the meals taste good and a perfect option for busy people with a special dietary needs and goal. The only disadvantage is the consistency of the taste as well as the poor meal selection.
Wild Zora Paleo Meals To Go Review
Wild Zora Paleo Meals On The Go is you number one source of pre-made meals with wholesome and high quality ingredients. They also offer various kinds of meals for a specific type of dieter. What is more, the service they offer is second to none.
PROS
Meals are made of high quality ingredients
Various meal plans are available that surely meet your specific dietary needs
Service are excellent
Add your review
Wild Zora Paleo Meals To Go Discounts, Coupons and Promo Codes
We found 6 verified Wild Zora Paleo Meals To Go Discounts, Coupons and Promo Codes for Dec. 2023. If some of the Wild Zora Paleo Meals To Go coupon codes have expired, please contact us, thank you for your help.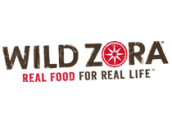 30% OffGet 30% off order $50 or More at Wild Zora Foods with promo code!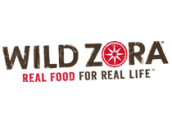 25% OffGet 25% off All Orders Over $50 at Wild Zora Foods with promo code!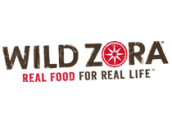 10% OffGet 10% off with promo code!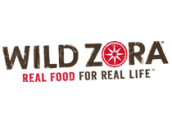 $10 OffGet $10 off any order with coupon code!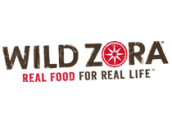 $8 OffGet $8 off Next Order with coupon code!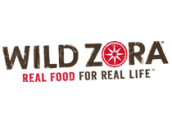 Free GiftGet Free Shipping Your Next Order at Wild Zora Foods with coupon code!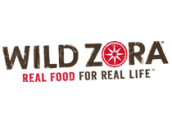 Updated : 12.01.2023.