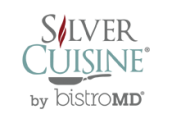 Silver Cuisine by BistroMD Review
---
Silver Cuisine By BistroMD Overview
The Silver Cuisine by BistroMD is popular meal delivery service paying close attention to providing healthy meals to older adults and seniors. Silver Cuisine by BistroMD focuses on helping adults and seniors improve their health through heart-healthy foods, particularly those low in sodium.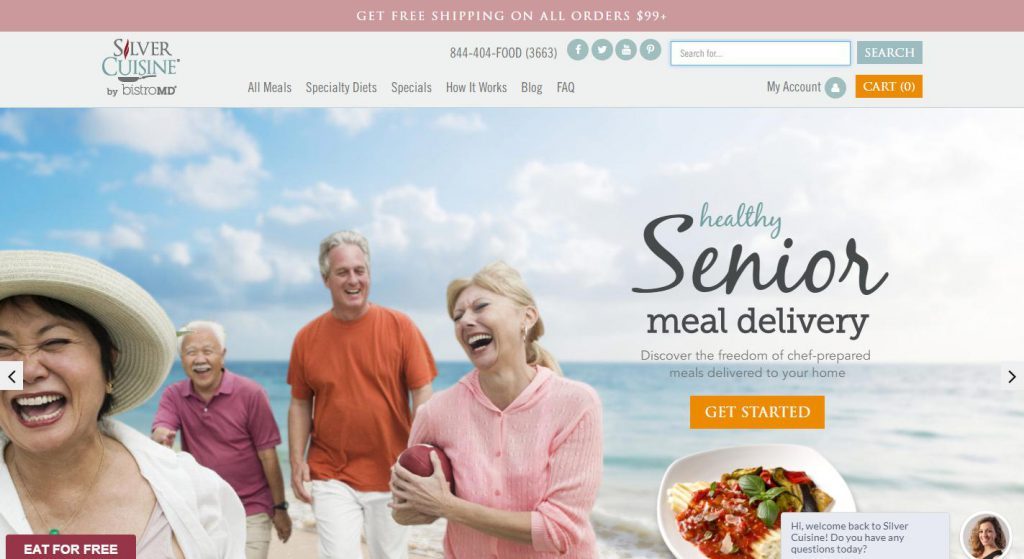 Foods low in sodium is not only delicious but also quite healthy, With Silver Cuisine as a senior-friendly meal service, you or your loved one can enjoy delicious, healthy food. This company offers you healthy foods made from the best quality ingredients. In this review, can learn more about how it just might be the service you need.
Keep reading our honest Silver Cuisine By BistroMD review to learn more.
back to menu ↑
Silver Cuisine By BistroMD Ideal For
Customers who want to try meals created by physicians and nutrition experts
Customers who want healthy foods ideal for adults and seniors
Customers who don't have time to cook because of their busy lifestyles
back to menu ↑
How Silver Cuisine By BistroMD Works?
Knowing well how important the quality of foods you consume to your longevity and health, Silver Cuisine introduced a special program. This special program supports everyone with age over 50 by providing their clients with healthy cooked meals straight to their home. The meals provided by Silver Cuisine are extremely healthy meals.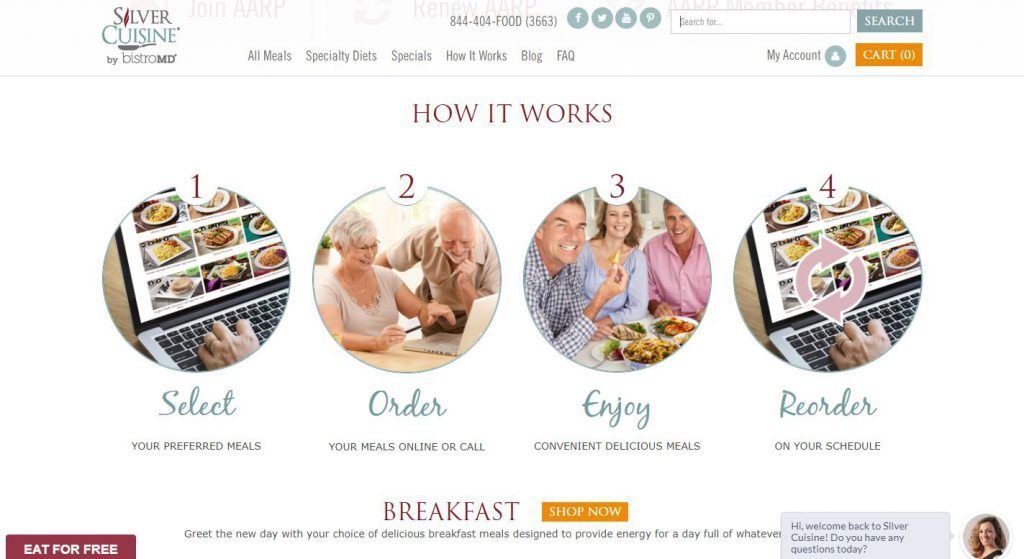 Upon delivery, all that customers need is to simply heat their pre-cooked meals and thoroughly enjoy its delicious flavors. Silver Cuisine offers 150 delicious pre-cooked meals to its customers.  One of the greatest things about this service is that it doesn't have any restrictions on the meal plans or your orders.
Silver Cuisine's service is extremely flexible that you have absolute freedom in whatever meal you ordered. You can order anytime and anything from a wide array of delicious, healthy meals. In addition to 150 different meals, you can also choose from four menu plans. These plans are Healthy Heart, Low Sodium, Gluten-Free and Diabetic meals.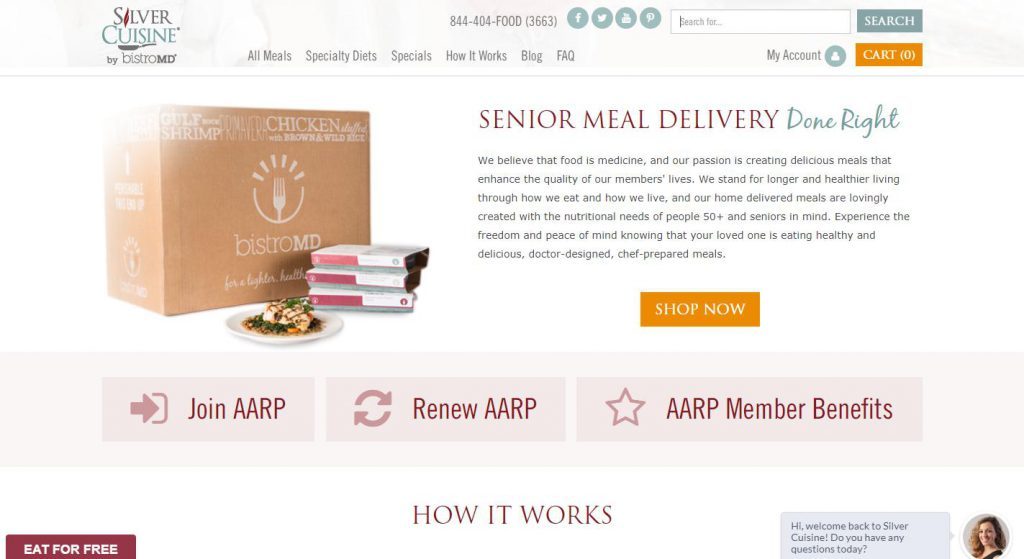 back to menu ↑
What Makes Silver Cuisine By BistroMD Different?
The biggest difference there is with Silver Cuisine from other meal delivery services is its focus on the health needs of seniors. With that, their meals ensure that older adults get healthy and that they remain in shape. Silver Cuisine provides them with doctor-designed and prepared meals that suit their unique dietary needs.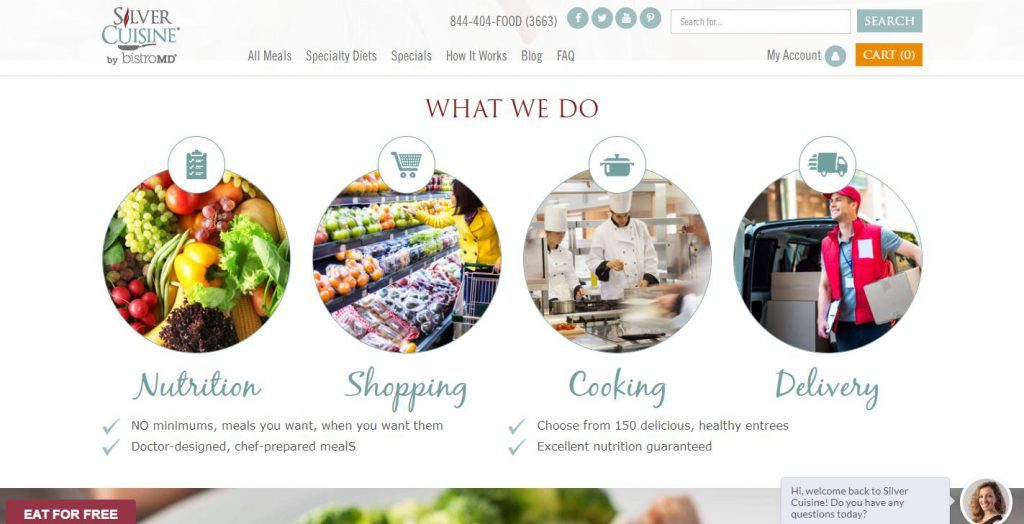 Seniors with an allergy to gluten or have diabetes can also enjoy their meals created especially for these conditions. Offering a truly flexible service, customers have it easy to eat the best dishes. They allow customers to choose any dish they want from more than 150 dishes available. Customers are sure to find a dish that suits their taste and preferences from among these.
There is another benefit in choosing Silver Cuisine as your meal delivery service provider. That is the benefit of recycling and not wasting your food. This is through the post-consumer recycled paper they use for the boxes of the meals. Additionally, they use vegetable-based ink for its prints.
They also pack the meals in isolated coolers created using recycled foam products. Many older adults like Silver Cuisine by BistroMD because what they offer is more than just food. They also offer knowledge in how to stay healthy and in shape. By subscribing to their service, every customer gets to enjoy good food, tips, and newsletters on how to lead a healthy lifestyle.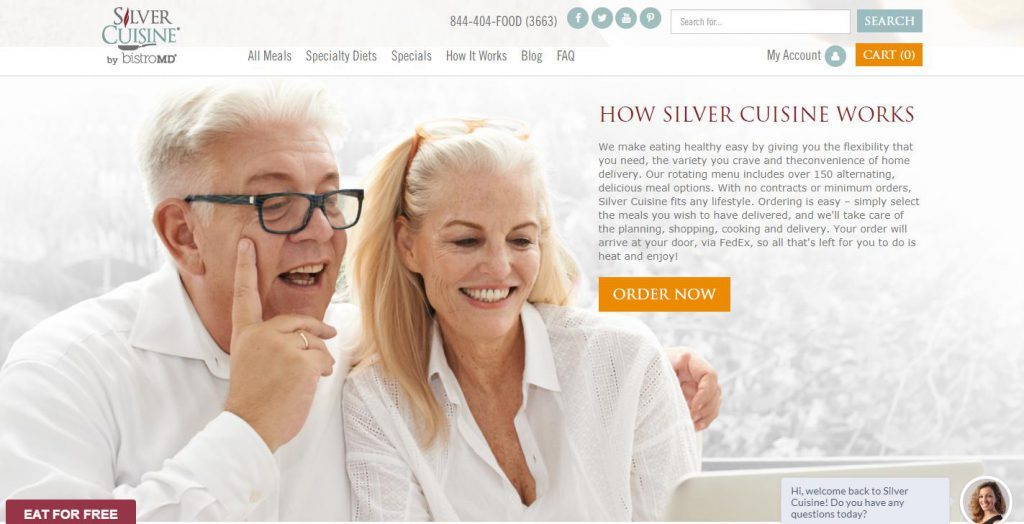 back to menu ↑
Silver Cuisine By BistroMD Meals & Menus and Recipes
Silver Cuisine by BistroMD has an amazing menu with 150 food varieties ideal for snacks, breakfast, lunch, and dinner. Their food choices are perfect for seniors looking for heart-healthy, gluten-free, low-carb, low-sodium, dairy-free, vegetarian and diabetic-friendly meals. Their meals are even idea for women in menopause.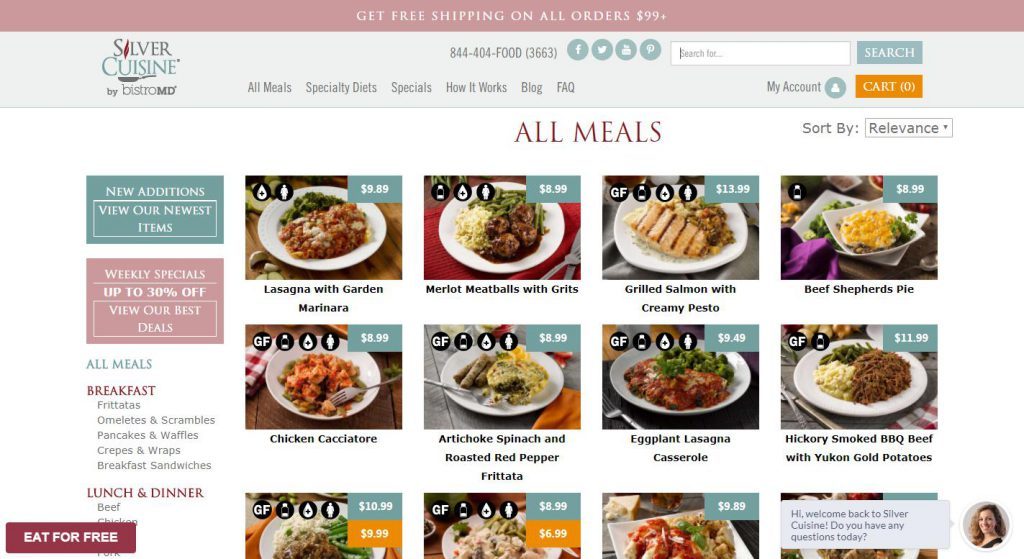 Ordering foods from Silver Cuisine's menu have no restrictions and that's great. The meals in Silver Cuisine are all healthy. However, if you want to stick to a specific diet, then there are four plans available. There is the Heart Healthy, Gluten-Free, Low Sodium, and Diabetic. Depending on the plan you choose, there are different suggested dishes good for your diet plan.
Designed doctors, nutritionists and professional chefs, recipes in Silver Cuisine are exceptionally high quality. Customers don't have to worry about limited food choices. For breakfast, there are 40 recipes such as pancakes, frittata, omelet, etc. For lunch, dinner, and snacks, there are definitely options available.
For lunch and dinner, there are nearly 70 hearty meals available, such as vegetarian stew, grilled salmon and beef Stroganoff. There are healthy foods that everyone can have whether you have normal or special dietary needs. Just choose your meal option and automatically, the menu shows dishes that suit your preferences.
After eating hearty breakfast and filling lunch as well as dinner, you can choose from 24 different mouthwatering snacks. There are chocolate protein shakes, dried meat and more. Just choose from any of them and enjoy a snack that suits your taste. When it comes to nutrition and health, Silver Cuisine by BistroMD has something for you.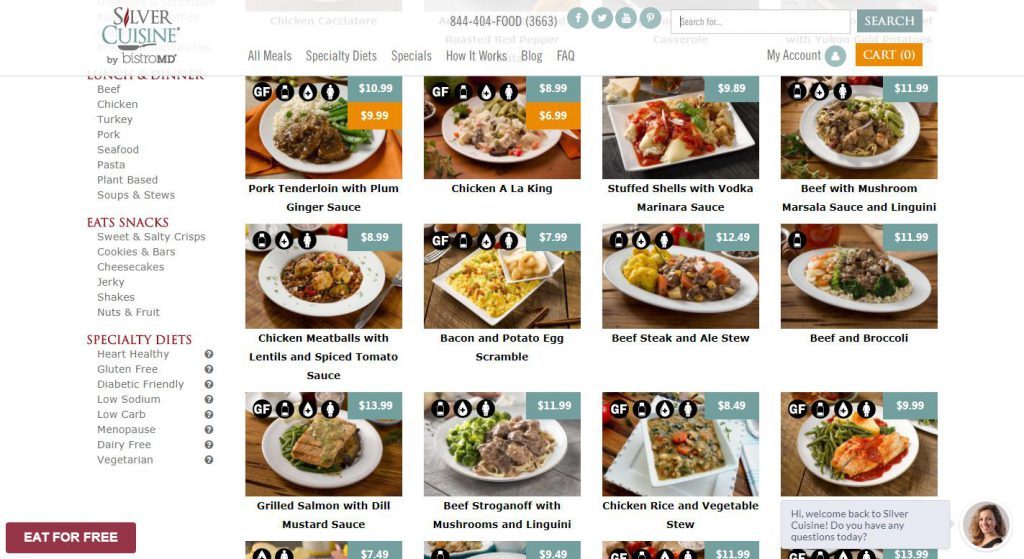 back to menu ↑
Silver Cuisine By BistroMD Health & Nutrition
Meals from Silver Cuisine meet and exceed the dietary and nutritional needs of seniors and older adults as designed by the chefs and doctors behind it. Most, if not all, meals they offer have half the amount of sodium you can usually find in grocery meals. In addition, these meals have more fivers by 25% and less fat by 74%. Whether it is you or for your loved one, everybody is sure to enjoy the peace of mind brought by the knowledge of eating healthy foods.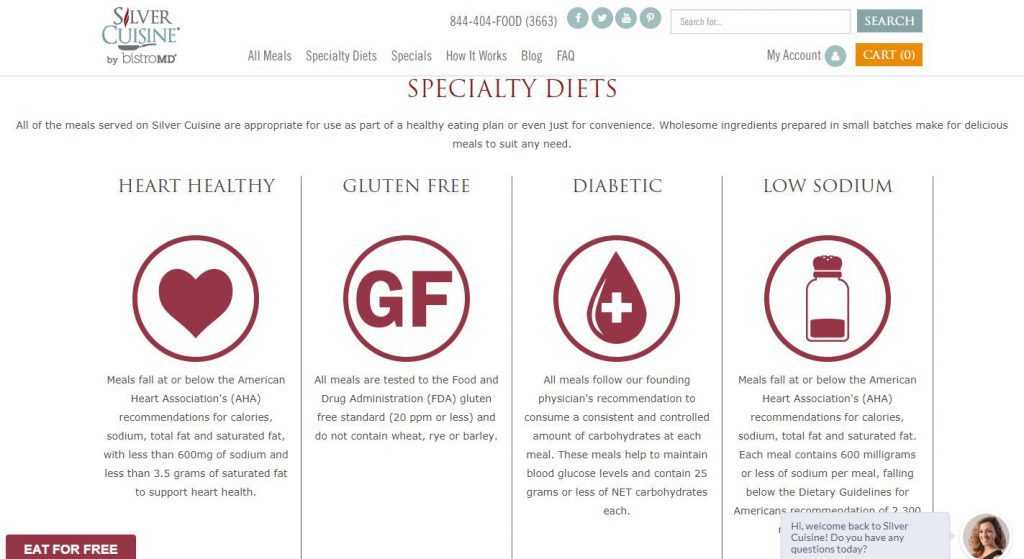 back to menu ↑
Silver Cuisine By BistroMD Fitness and Activity
Involving in physical activity is not a requirement. However, to get the maximum health benefits of eating foods rich in nutrition, you need to move around at least 30-60 minutes a day. The kind of activity and the time to do these activities are all up to you. If you want though, you can split the time into six 10-minute intervals to make it less strenuous.
back to menu ↑
How Easy Is Silver Cuisine By BistroMD To Follow?
It's never been so easy to eat good food with Silver Cuisine by BistroMD. The meals arrive frozen and fresh, which you only need to heat up to eat. If you don't feel like eating after getting your frozen meal, you can just put it into the freezer to eat it when you feel like it. Eating Silver Cuisine's meals is as easy as this.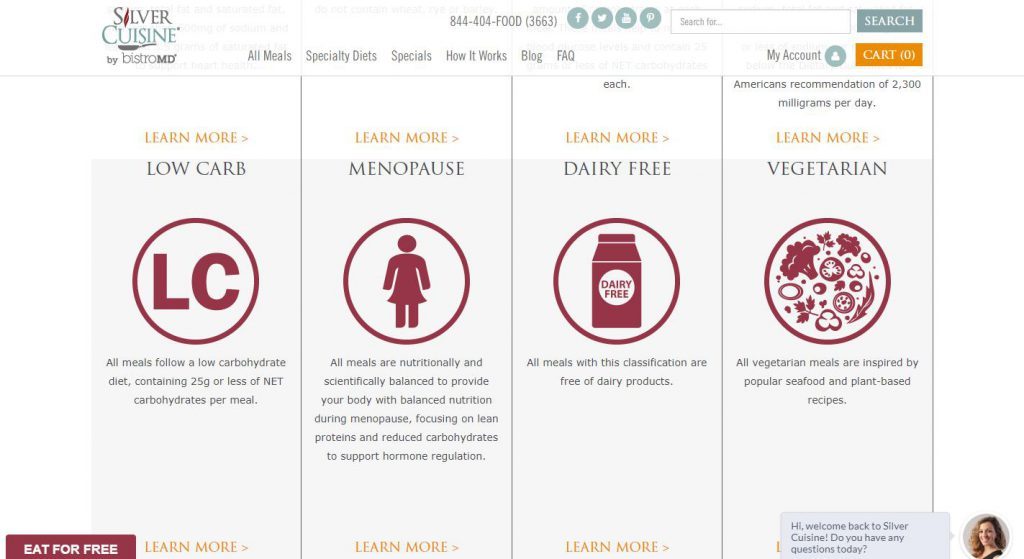 back to menu ↑
Can You Lose Weight With Silver Cuisine By BistroMD?
The person who founded this meal delivery service is a board-certified doctor of bariatric medicine. With that, you can rest easy with the knowledge that a person with real knowledge about health and wellness provides you this service.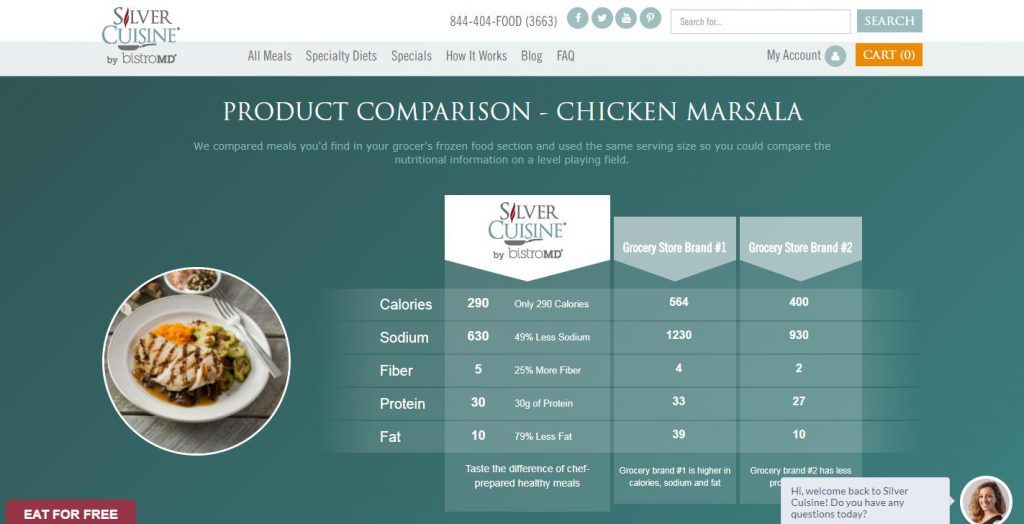 back to menu ↑
Silver Cuisine By BistroMD Plans & Pricing and Costs
Silver Cuisine is most flexible, even when it comes to orders. When you order, you simply pay for your meals. When it comes to prices, you will see a note of them on the menu so it is easy to know how much you need to pay. Compared to other meal delivery services, Silver Cuisine by BistroMD offers meals with significantly lower prices.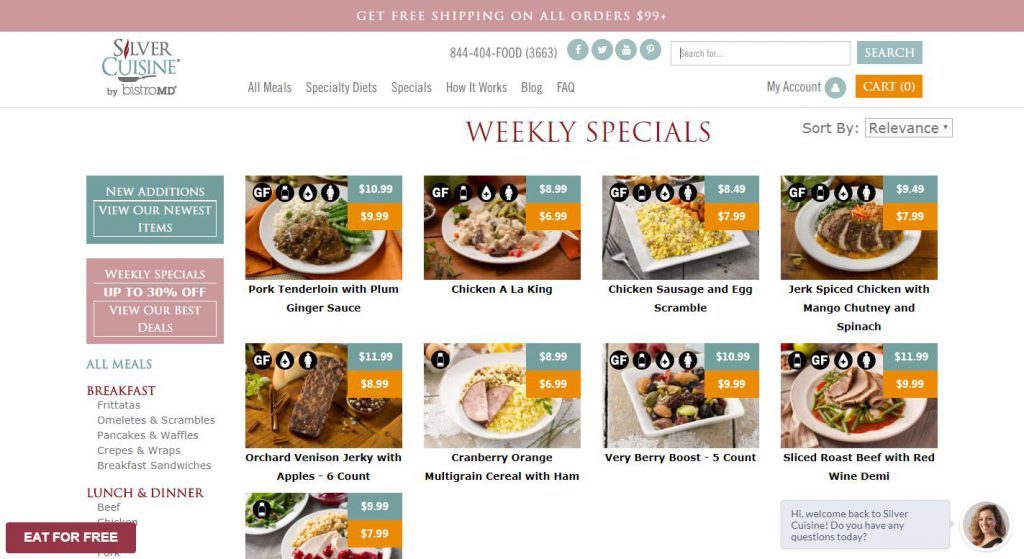 For breakfasts, the highest priced meal would be the smoked salmon omelet at $7.95. Lunch, on the other hand, is a little more expensive. It starts at $6.95 for the vegetable stew, $11.95 for the salmon with okra stew and more. They also offer specials for lunch prepared every week at a price of $5.95.
When it comes to pricing, the meals with the most expensive prices are the snacks, particularly the protein shakes. These can cost $17.95 while other snacks like the chips, cookies, and pretzels cost $13.95. The dried meat is the least expensive snacks at $11.95 that Silver Cuisine offers. After choosing the meals you want, you can make your payment at the checkout.
Note that there is an additional shipping fee of $9.95. For expedited shipping, the fee you need to pay is $29.95. Becoming a member of Silver Cuisine is not necessary to order food from them. However, there are perks of becoming one such as paying less. This is because there are discounts and deals they offer to AARP members.
back to menu ↑
Silver Cuisine By BistroMD Delivery Areas
Silver Cuisine by BistroMD delivers their meals throughout the US, except Alaska and Hawaii, at least for now. When it comes to errors in shipment, simply notify them to become eligible for a refund.
back to menu ↑
Silver Cuisine By BistroMD Help & Support and Customer Service
When asking for additional help, you can them at 1-844-404-3663 or send them an email. You can also visit their site to browse through their FAQ page.
back to menu ↑
Silver Cuisine By BistroMD Pros and cons
---
PROS:
Variety of meal options for health-conscious people, especially those with specific diet needs
Flexible service, extensive menus and incredible ordering options
Discounts and deals for AARP members
CONS:
No automatic delivery either monthly or weekly
---
back to menu ↑
Bottom Line
Silver Cuisine by BistroMD is a great meal delivery service targeted to seniors and older adults with specific health diets. With carefully designed and planned diets, older adults are sure to get satisfying and nutritious meals for better overall health. Customers looking for well-balanced, healthy meals without the hassle of cooking will find what they are looking for in Silver Cuisine.
Silver Cuisine by BistroMD Review
Offering nutritious meals targeted to older adults and seniors, Silver Cuisine by BistroMD is an excellent choice for a meal delivery service.
PROS
Breakfasts, lunches, dinners and snacks options
Healthy meals for seniors and adults over 50
Delivery meals all over the country
No restriction to flexible meal plans
Add your review
|
Read reviews and comments
Silver Cuisine by BistroMD Discounts, Coupons and Promo Codes
We found 5 verified Silver Cuisine by BistroMD Discounts, Coupons and Promo Codes for Oct. 2023. If some of the Silver Cuisine by BistroMD coupon codes have expired, please contact us, thank you for your help.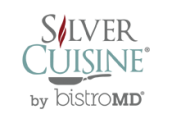 50% OffAARP Member Get 50% off First Order + Free Shipping with promo code!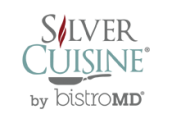 25% OffGet 25% off Your First Year of Automatic Renewal with promo code!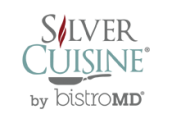 15% OffGet 15% off Your First Week order with promo code!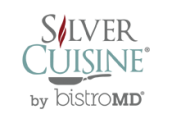 10% OffGet 10% off Your First $50+ Order + Free Shipping with promo code!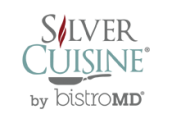 Free ShippingGet Free Shipping on $99+ with coupon code!
Compare Silver Cuisine by BistroMD with other Companies' Services, Plans and Products
If you like Silver Cuisine by BistroMD but aren't sure whether it's the best ideal choice for you, and may want to compare Silver Cuisine by BistroMD with other Companies' Plans, Products, and Services that similar to Silver Cuisine by BistroMD, or Silver Cuisine by BistroMD Alternatives and Silver Cuisine by BistroMD Competitors, Which companies' services like Silver Cuisine by BistroMD. You can take a look at our professional comparisons below to discover if one of them is more suitable for you.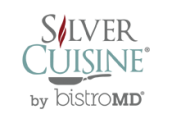 Updated : 10.01.2023.