---
PeachDish Overview
Peach Dish is a meal delivery service head quartered in Georgia and mainly focuses on Southern Cuisine. It has a menu with diverse dishes. Along with that, the recipes have easy instructions. All the ingredients used are organic and 100% natural. Along with that, customers can place orders through a simple and flexible process.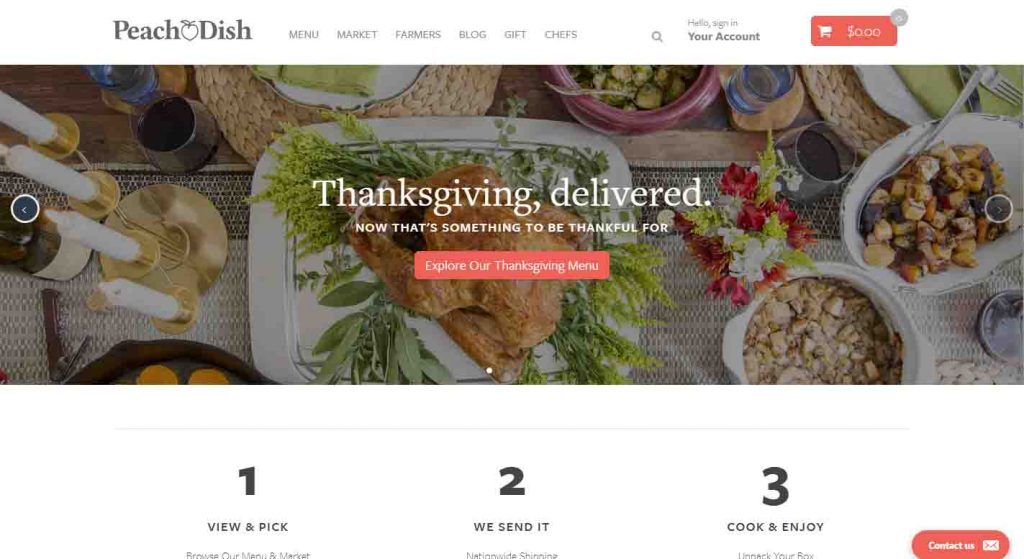 Apart from the standard meal kits, you can place orders for various grocery types so you can purchase everything for the week online in a convenient manner. This review of Peach Dish provides further information of what Peach Dish puts on the table for its customers.
Keep reading our honest PeachDish review to learn more.
back to menu ↑
PeachDish Ideal For
People who do not have the time to buy and prepare ingredients
People who want to opt for healthier options instead of frozen food
Males and females who want to improve their cooking skills by making new recipes
back to menu ↑
How PeachDish Works?
Customers of Peach Dish do not have to abide any long term commitments. You can opt for a subscription service or place orders as a guest. In case of a subscription service, you would get deliveries on weekly basis without any additional charges. The customer only has to pay for food and no shipping charges are applied in most areas of US. On the other hand, if you place an order as a guest, there would be a fee with each order. Hence, you can place the order only when the need is there.
With each Peach Dish delivery, recipes according to the preferences of the customer are sent to him. Most ingredients including spices, organic produce and humanely raised proteins are included in the meal delivery. However, you need to add basic ingredients including salt, black pepper and kitchen staples yourself.
With Peach Dish, there are two pre-defined meal plans but the customer can select that he wants to have a particular week. There are 20 recipes in total on the menu and there are further divided into 10 categories. This makes it easy for the customer to make selections and place orders.
Users who place orders as guests or subscribers, you can choose the number of meals for which the orders have to be placed. However, you need to be sure that the amount of the order is more than the minimum order amount required.
The subscriptions of Peach Dish are quite flexible and you can opt for a cancellation whenever the need is there. You can also skip the delivery of a particular week if you feel that the need is not there.  However, to cancel the subscription or skip a week, you need to do it before the weekly cutoff which is Sunday 11:59 EST.
back to menu ↑
What Makes PeachDish Different?
Peach Dish definitely has a better menu than its competitors. The recipes are large in number and suitable for various dietary needs. People who are looking for gluten free diet or vegetarian meals can get their hands on several options that match their needs.
Peach Dish offers everything that you can have stocked up in the fridge. Customers can place orders for sea food, seasonings, snacks, appetizers and various other options as well. You can even place orders for cookbooks and pet food. The products are classified into multiple categories so that you can place your orders without investing a lot of time.
Another key factor which makes Peach Dish a much better option is the ingredients that are used to make the meals. The ingredients used are fresh and extracted from local organic farms. The meat used is organic meat attained from artisan meat shops. Similarly, the spices are attained from the finest spice studios. Along with that farmers who provide these ingredients are trustworthy in every way. As a customer, you can gauge the suppliers of the company so that you are sure that the best standard ingredients are being used for your meals.
All the products of this meal delivery service come with complete customer satisfaction. If you think that certain items are not up to the mark, you can return them and get your money refunded if you have not used them.
Peach Dish is also a good option if you want to send high standard food as a gift to someone. The meal delivery service puts gift baskets, beautiful gift cards and physical cards on odder. Irrespective of the occasion, you can opt for a gift with a single click.
back to menu ↑
PeachDish Meals & Menus and Recipes
As it is mentioned above, Peach Dish has a total of 20 recipes on the menu. Some recipes are crafted freshly while the remaining are seasonal and made a part of the menu after every few weeks. In other words, you can always pamper your taste buds with something new.
For better and easier selection, recipes are divided into categories. You can opt for meat, seafood, gluten, sweet kits and special kits as well. Meat Kits change on weekly basis and comprise of both meat and poultry items. Hence, every week, you would find something that matches your needs. In most cases, around 10 meal kits are offered to the user.
As compared to other meal options, sea food options are usually lesser in number. Every weekly menu has 3 to 4 sea food options. You can get everything from cod, red fish to the finest shrimps. Previously, only 3 to 4 vegetable recipes were ordered per week but recently, this count has been doubled and the number of vegetable dishes has increased. Now, you can find 3 to 4 vegetarian dishes and 2 dessert options for vegetarian friendly people.
If you opt for the quick fix kits, you can cook the meal in as less as 30 to 35 minutes. These kits include recipes for meat, seafood and vegetarian dishes. You can also place orders for desserts. Ribbon kits include uncommon ingredients. They are on the costlier side and you can always experience new flavors so these kits are worth buying.
According to the name, special kits are different from the other ones offered. These kits include Sunday suppers, family dinners, slow simmered dishes and Southern classics as well. Through these recipes, you can get your hands on the best cooking techniques. Along with that, you can also go through the recipes made by guest chefs.
The sweet kits section portrays the mouthwatering desserts and this section would surely attract you if you have a sweet tooth.  On weekly basis, you can view 2 recipes for desserts. The ingredients of these dishes do not include any gluten. However, if you are suffering from gluten allergies or other related dishes, these kits are not for you.
The Superfood and Vegan Kits are least in number. On weekly basis, there is on recipe of super food and one of vegan kits.
The standard recipes have 2 servings while the special recipes including dessert recipes and family dinners have 4 to 6 servings. On an average scale, the cooking time is 35 to 60 minutes. However, slow simmered dishes have a cooking time of 3 hours. Even if you do not have a lot of cooking experience, making these dishes would not be a hard task for you.
back to menu ↑
PeachDish Health & Nutrition
In terms of origin, Peach Dish is based out of Atlanta and provides you with everything you need including fresh ingredients. Thus, making a healthy dinner at home would not be a problem for you or your family. Reputed chefs make these recipes and complete information about food suppliers are is provided so that you do not have to go through any reliability problems.
back to menu ↑
PeachDish Fitness and Activity
A minimum of 30 to 60 minutes of physical activity is needed on daily basis. Users can select the time slot and the activity that they wish to perform according to their suitability.
back to menu ↑
How Easy Is PeachDish To Follow?
The bag in which Peach Dish packs its meat is separate from the bags used to pack other ingredients. This proves to be helpful when some people in the family are vegans and some are meat eaters. Even if you are not a vegan, considering the vegetarian meal options that are present, you would become vegan eventually.
back to menu ↑
PeachDish Plans & Pricing and Costs
Peach Dish kits have individual rates. The price of one serving is between $10.99 and $19. Most kits have a price of $12.50. In addition to that, the minimum order amount should be $45 for delivery.
A per delivery charge of $12 is added if you are placing an order as a guest. On the other hand, subscribers do not need to pay any guest fee. In most states of US, there are no delivery charges but it some states, they do up to $15.
back to menu ↑
PeachDish Delivery Areas
This meal delivery service delivers meal kits in the entire US. However, like a lot of other meal delivery services, no shipment is sent to Hawai and Alaska. Peach Dish also does not deliver to Puerto Rico. The standard delivery timings are between 11 am and 5 pm. Even in worst cases, this time does not go beyond 8 pm.
back to menu ↑
PeachDish Help & Support and Customer Service
To get additional support, you can get in touch with the support team through email / phone number or go through the FAQ page.
back to menu ↑
PeachDish Pros and cons
---
PROS:
The menu has 20 diverse dinner and dessert recipes
Options for vegetarian, vegan and gluten free meals are present.
Ingredients are locally sourced, organic and fresh
There is a market section that comprises of high quality groceries and pantry items
Recipes are easy to follow for beginners
You can place orders as a guest
Deliveries can be skipped and subscription can be cancelled at anytime
Meals come with guarantee of 100% satisfaction
CONS:
Free shipping is not offered for all states
---
back to menu ↑
Bottom Line
The customers of Peach Dish meal delivery service can cook without putting in a lot of effort. You do not have to go for grocery shopping or look for new recipes every now and then. All the meal deliveries come with a 100% satisfaction guarantee whether you are placing the order as a guest or using your subscription.  In addition to that, the recipes are easy and prices are affordable.
PeachDish Review
At Peach Dish, the concept is that there is nothing like sharing and cooking meals. With the meal kit program, you can get all the ingredients that are required to create healthy meal at home.
PROS
Certified organic by USDA
Approved by Animal welfare
Global Animal Partnership (GAP)
American Humane Association
Add your review
PeachDish Discounts, Coupons and Promo Codes
We found 2 verified PeachDish Discounts, Coupons and Promo Codes for Oct. 2023. If some of the PeachDish coupon codes have expired, please contact us, thank you for your help.

25% OffGet 25% off any order with promo code!

$30 OffGet $30 off any order for New Customers with coupon code!
Compare PeachDish with other Companies' Services, Plans and Products
If you like PeachDish but aren't sure whether it's the best ideal choice for you, and may want to compare PeachDish with other Companies' Plans, Products, and Services that similar to PeachDish, or PeachDish Alternatives and PeachDish Competitors, Which companies' services like PeachDish. You can take a look at our professional comparisons below to discover if one of them is more suitable for you.

Updated : 10.01.2023.