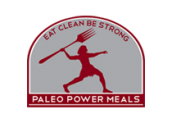 ---
Paleo Power Meals Overview
Paleo Power Meals as the name suggests is a paleo meal delivery service serving Massachusetts and other parts of the country. They produce meals and tender bulk food items only using natural and paleo ingredients. Michael DePaolis is the person behind this company. He started CrossFit training while eating paleo foods, and in the end fell in love with this lifestyle due to amazing health benefits. He wants to extend these benefits to others, so he started this company.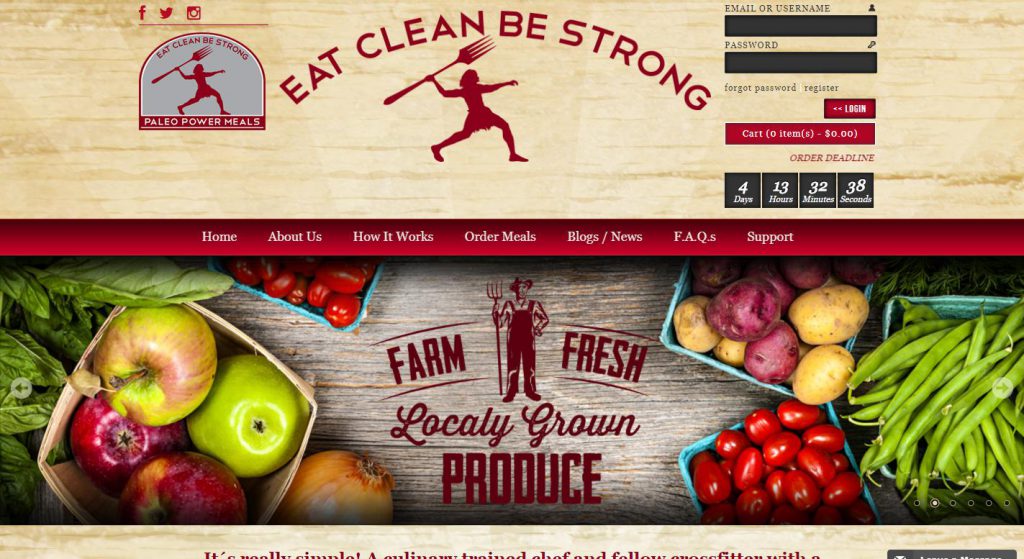 Paleo Power Meals are made for sportsmen, fitness enthusiast, athletes as well as those who want to lead a healthy, active and happy lifestyle. They provide meals rich in protein, made according to the concept of Paleo Diet and feature only wholesome and natural ingredients.
Paleo Power Meals indeed very popular in the Northeast fitness district and in fact a lot of athletes use and recommend their services to everyone.
Keep reading our honest Paleo Power Meals review to learn more.
back to menu ↑
Paleo Power Meals Ideal For
Those who have busy schedule and no time to buy and prepare ingredients to cook meals
Those who are searching for healthy meals
Those who are searching for vegan diet plan to lose weight fast
back to menu ↑
How Paleo Power Meals Works?
Like other meal delivery services that you know, Paleo Power Meals work the same way. They allow customers to order or buy meals anyway they want. They can choose one-time orders, set continuing orders and get their preferred meals on a weekly basis. They can also order breakfast, lunch, dinners, and sides good for one person or order for the whole family. Customers can order many diverse items as they want. Customers can order many packages according to their need. It's totally up to you.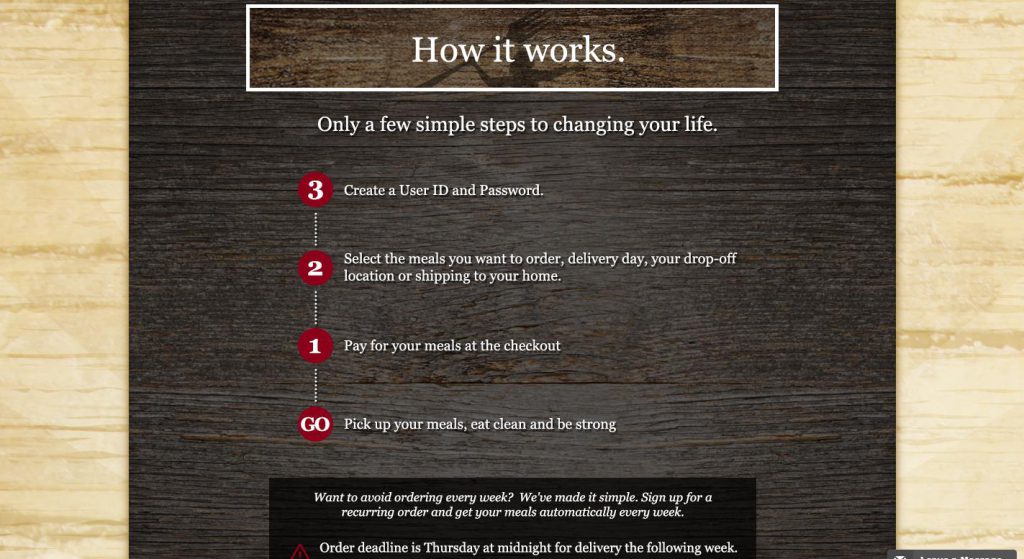 Paleo Power Meals offer various kinds of menus that focus on fish, meat as well as healthy vegetables. Vegetables and seafood are sustainably cultivated and harvested. The meat is fresh no chemicals and antibiotic. There is no sugar, processed food or any type of additives which will stop you from reaching your health and fitness goal.
back to menu ↑
What Makes Paleo Power Meals Different?
This meal delivery service is developed by a professional crossfitter trainer who also discovered an efficient way to lose weight and maximize the outcomes of training. Through combining crossfit or the same type of workout with their Paleo Meals, one can improve his energy, transform his body and look good and feel much better. With Paleo Power Meals you don't need to plan and cook your meals and count your calorie intake. The ingredients are portioned so you are just consuming the right amount of food that day.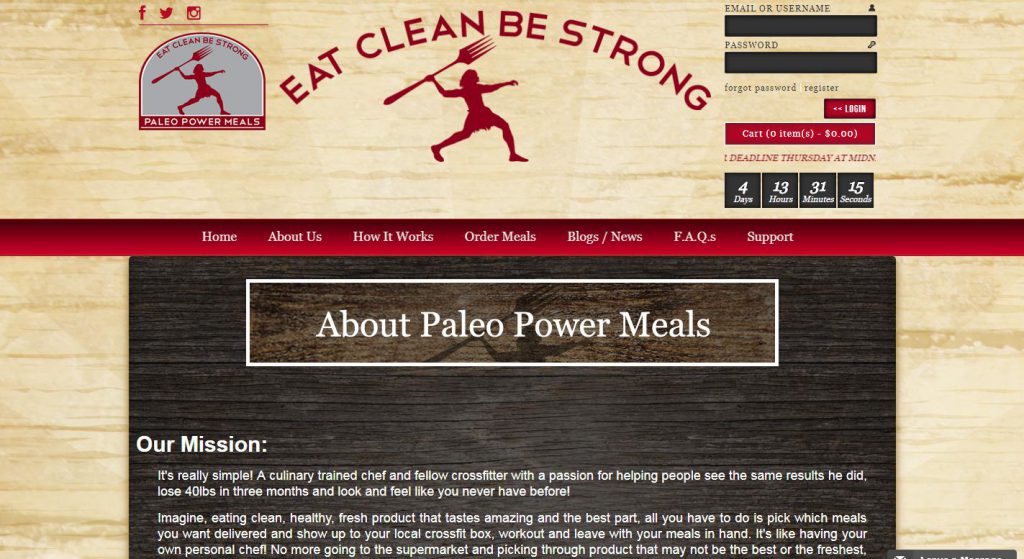 All the meals offered by this company are based on the idea of Paleo Meals. On the other hand, they are appropriate for people who are also following diverse diet routine or method. In fact, you can enjoy a huge majority of the meals even if you are in ketogenic diet or Whole30 program. The meals offered are gluten-free.
Subscribes now to Paleo Power Meals and receive daily meal right at your door step. Meals come in full options; therefore they will keep you full until the next meal and get rid of snacks.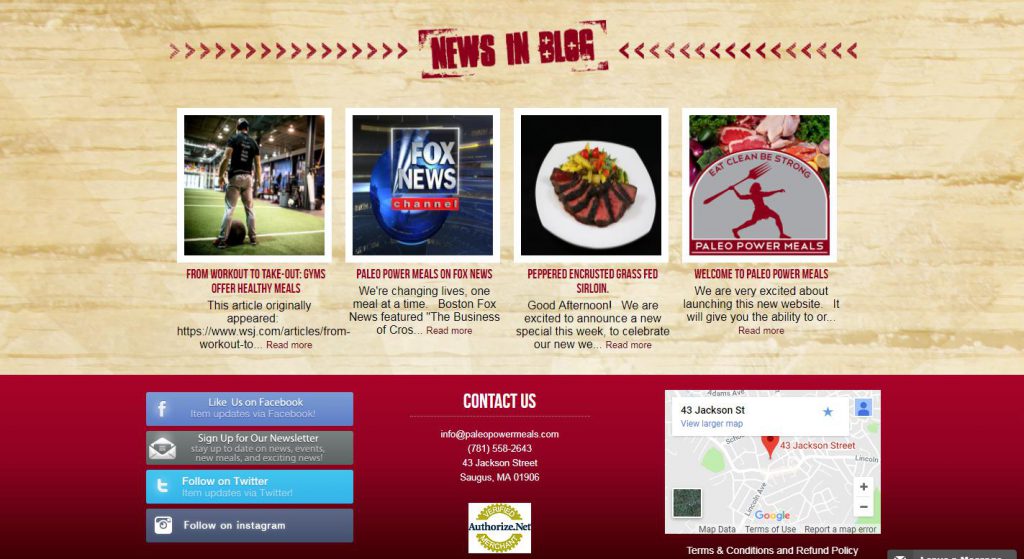 back to menu ↑
Paleo Power Meals Meals & Menus and Recipes
They offer more than 50 delicious paleo meals; conveniently break down into many categories, which include breakfast, lunch, dinner, sides, bulk menu items and non-Paleo sides. All individual meals come in single serving package while bulk items come in one pound pack.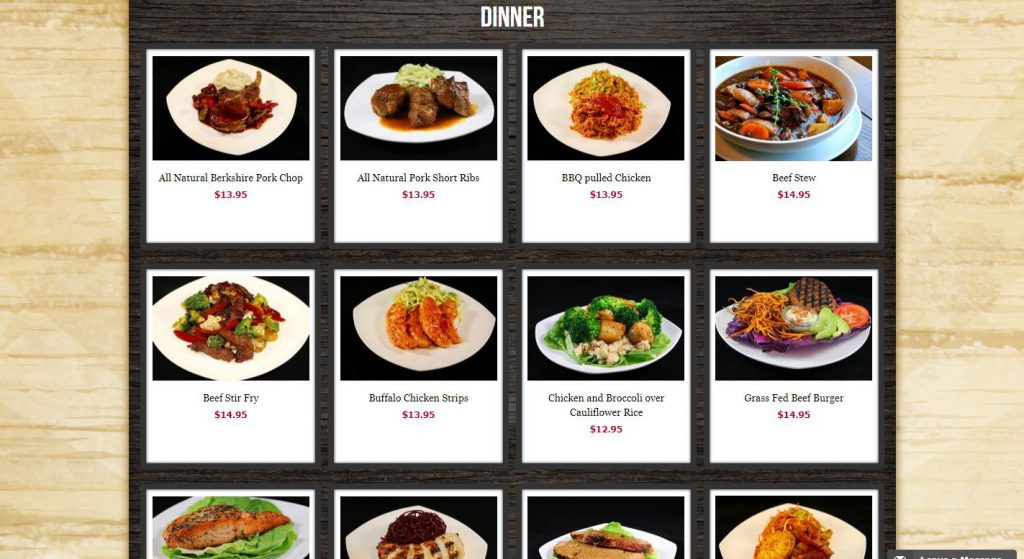 There are lots of breakfast meals to select from. All are rich in protein and very satisfying including egg muffin, bacon, sweet potato hash browns, burrito-less scramble as well as applewood smoked bacon.
Their lunches offer a perfect balance between proteins, colorful, fresh vegetables. Most are typical chicken menus like grilled chicken strips, chicken Milanese over arugula as well as chicken Florentine.
Dinner has lots of options opposed to lunch. What is more, the items are more creative, abundant in proteins and essential nutrients. Dinner items also feature all types of fish and meat. Here, you can pick grass fed steaks tips with grilled veggies, BBQ pulled chicken, broccoli and chicken over cauliflower and rice, spaghetti squash Bolognese, herb crusted salmon, pulled pork, and many other healthy and delicious items.
Paleo Power Meals also provide a wide selection of mouthwatering vegetables sides such as spiralized zucchini, summer squash, French fries sweet potato, sweet potato pancakes and sautéed Brussels sprouts. There are also Non Paleo sides available, but the choices are few and largely focus on rice such as basmati rice with spinach or mushroom or brown rice with scallions and dried cranberries.
When it comes to bulk items, you can opt for an array of vegetable and meat items such as BBQ pulled chicken, buffalo chicken strips raw vegetable salad as well as rice broccoli and carrots.
On a weekly basis, they come up a special meal that is more tempting and nutritious than other meals which can be added to recurring and one-time orders.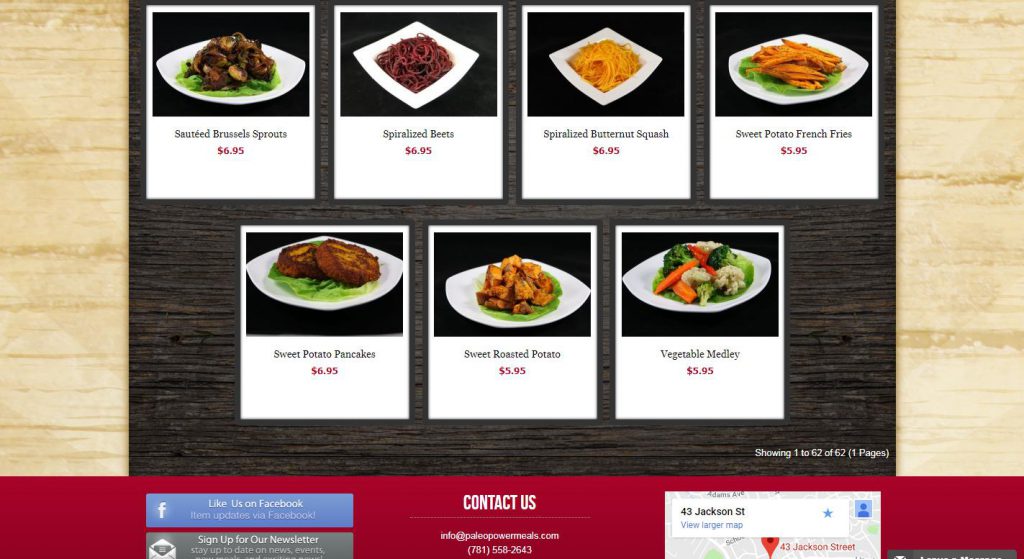 back to menu ↑
Paleo Power Meals Health & Nutrition
Paleo Power Meals prioritize your health and nutrition. They provide nutrition information on every meal ordered. So, there is no need to calculate nutrition needed as their packages have calories and macro nutrients. It doesn't matter if you are a following a diet that is based on macronutrient goals or caloric total, you'll find it relatively easy with their meals.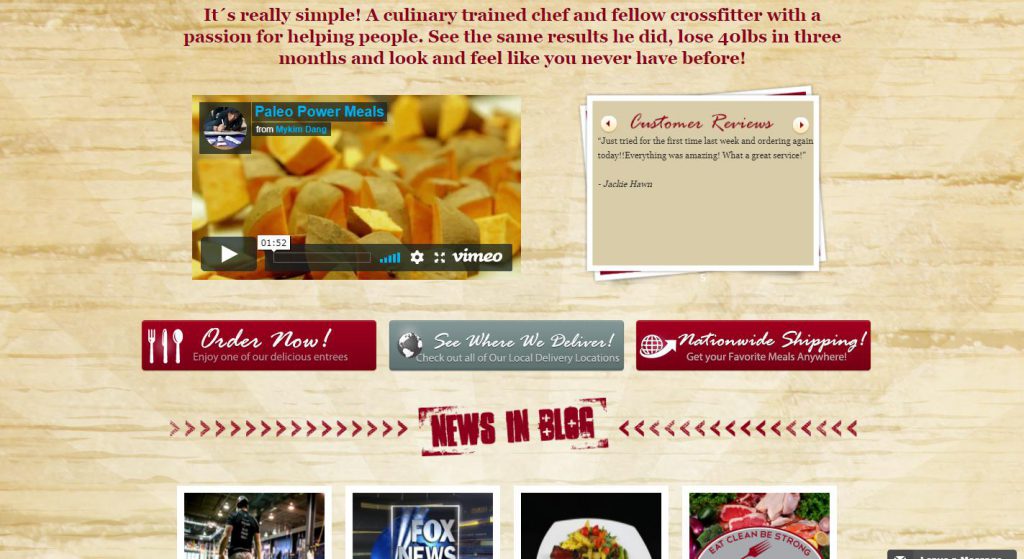 Once you order, you can choose meals which have macros and nutrients you needed. This is consuming, however it is beneficial for goal purpose and for nutritional accuracy.
The only complaint is that for novice consumer who needs to split a bulk package into serving sizes. This is an issue for busy or on the go consumers.
back to menu ↑
Paleo Power Meals Fitness and Activity
To maximize the benefits of their meals, you need to combine it with the proper exercise in order to obtain your fitness goal.
back to menu ↑
How Easy Is Paleo Power Meals To Follow?
It is relatively easy and convenient with regards to ordering meals at Paleo Power Meals. All you have to do is to choose the foods and meals you would want and check out. But it is essential to put your billing and shipping details. Thursday night is the perfect time to place your order as you can get the ordered meals the next Monday. All meals deliver on Monday.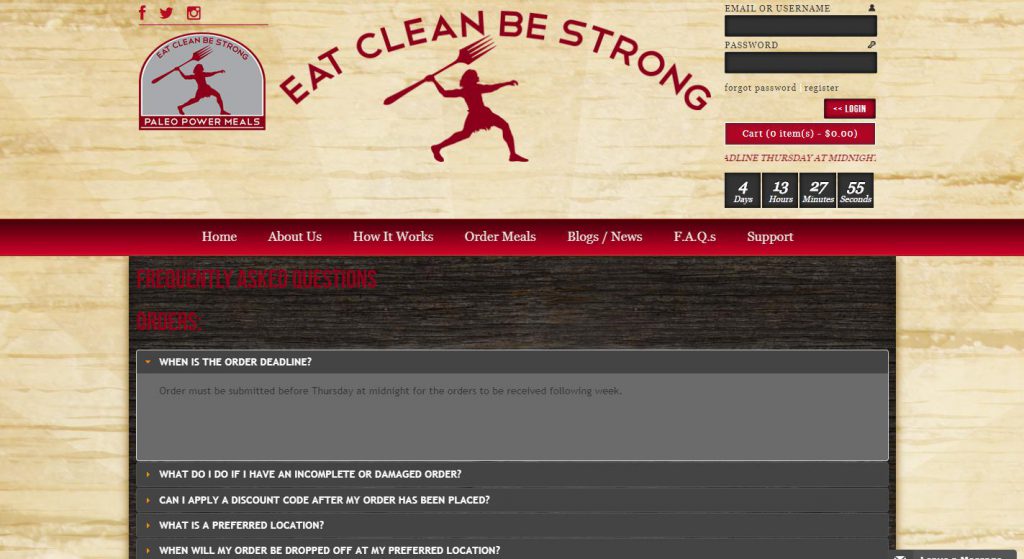 back to menu ↑
Can You Lose Weight With Paleo Power Meals?
For those who want to lose weight and lead a happy and active lifestyle, Paleo Power Meals might be the best option. The meals offered come with any information regarding the contents, calorie count and the macronutrients.
back to menu ↑
Paleo Power Meals Plans & Pricing and Costs
Paleo Power Meals offer an assortment of food. If you order breakfast meals you will need to give out $5.95 up to $9.95. For lunch, you need to pay $8.95 to $12.95. Dinner meals have a price that starts at $10.95 up to $14.95. If you order bulk items you will need to pay $10.95 up to $14.95 for every one pound. Non Paleo and Paleo sides price range from $5.95 to $6.95.
The costs of the meals they offer aren't exactly low, however they provide regular discounts which allow customers to save a huge amount of money on their orders. For $75 to $150 orders, you will receive 5% discounts, 10% discount for $150 to $200 orders and 15% discounts if you order meals amounting to $200 or more.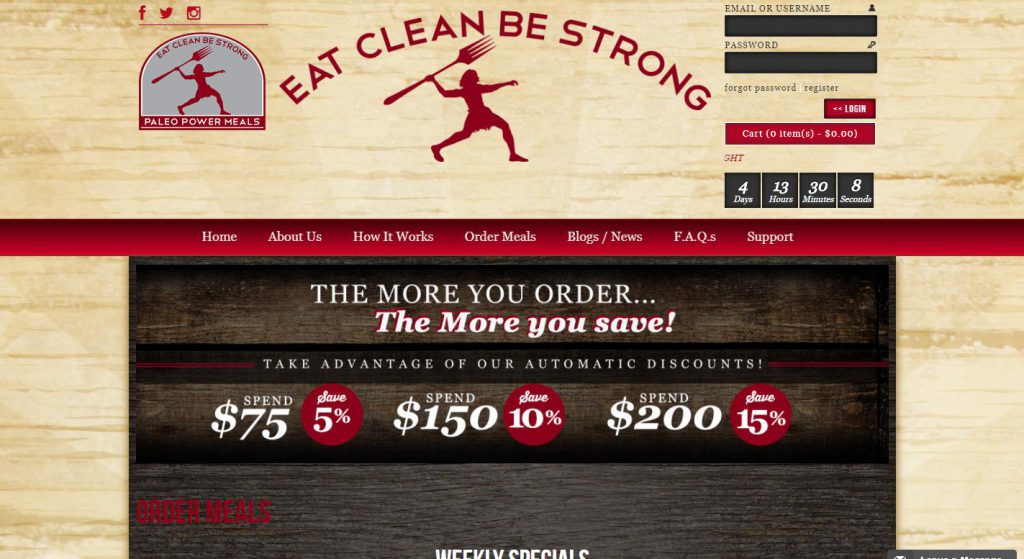 back to menu ↑
Paleo Power Meals Delivery Areas
You can order meals at Paleo Power Meals anywhere you are in the US, including Hawaii and Alaska. Make sure to complete your order before Thursday midnight. Meals ordered will be delivered on Monday through FedEX. Customers can choose between ground shipping, 2-day shipping or overnight shipping. Expected arrival of the orders will not be later than Wednesday. The delivery charge depends on the heaviness of the item and of course shipping option you choose. You can also pick up your orders at 63 gym areas in New England.
back to menu ↑
Paleo Power Meals Help & Support and Customer Service
For further information regarding their services, you can visit their FAQ page or call them at 1-(781) 558-2643. Email inquiries are also welcome.
back to menu ↑
Paleo Power Meals Pros and cons
---
PROS:
They offer lots of menu to choose from
Natural and sustainable ingredients
Whole30- program, gluten-free, as well as ketogenic meals compliant
Membership is not needed
Huge discounts
Nationwide shipping
They have 63 pickup destinations in New England
CONS:
Expensive
High delivery charges
---
back to menu ↑
Bottom Line
Even if Paleo Power Meals is intended for those who want to stay fit and have a lean muscle by means of a combination of Paleo dieting and exercising, the company has many things to offer regardless of dietary needs. The meals offered are satisfying and healthy, ordering is a breeze and you can also customize your orders. They also provide discounts based on the amount of your ordered. The more you order the more discounts you will get.
Paleo Power Meals Review
If you are looking for reliable Paleo meal delivery service provider that offers a well-designed paleo menu and an array of ordering choices, Paleo Power Meals is the best option. You can try the one time order to get to know first quality of their order and move to a recurring order.
PROS
Enjoy Whole30, Paleo, gluten-free and ketogenic meals
They offer breakfast, lunch, dinner, sides as well as bulk items
Get huge discounts if you order more
Add your review
Paleo Power Meals Discounts, Coupons and Promo Codes
We found 0 verified Paleo Power Meals Discounts, Coupons and Promo Codes for Dec. 2023.
Compare Paleo Power Meals with other Companies' Services, Plans and Products
If you like Paleo Power Meals but aren't sure whether it's the best ideal choice for you, and may want to compare Paleo Power Meals with other Companies' Plans, Products, and Services that similar to Paleo Power Meals, or Paleo Power Meals Alternatives and Paleo Power Meals Competitors, Which companies' services like Paleo Power Meals. You can take a look at our professional comparisons below to discover if one of them is more suitable for you.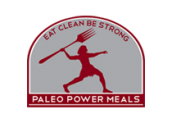 Updated : 12.10.2023.