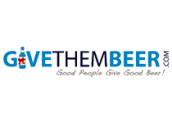 ---
Give Them Beer Overview
Founded in 2013, Give Them Beer started their business with a simple desire of wanting drink better beer. Out of that desire, they established the company and started offering about thirty various craft beers that now reached into a large number of different beers.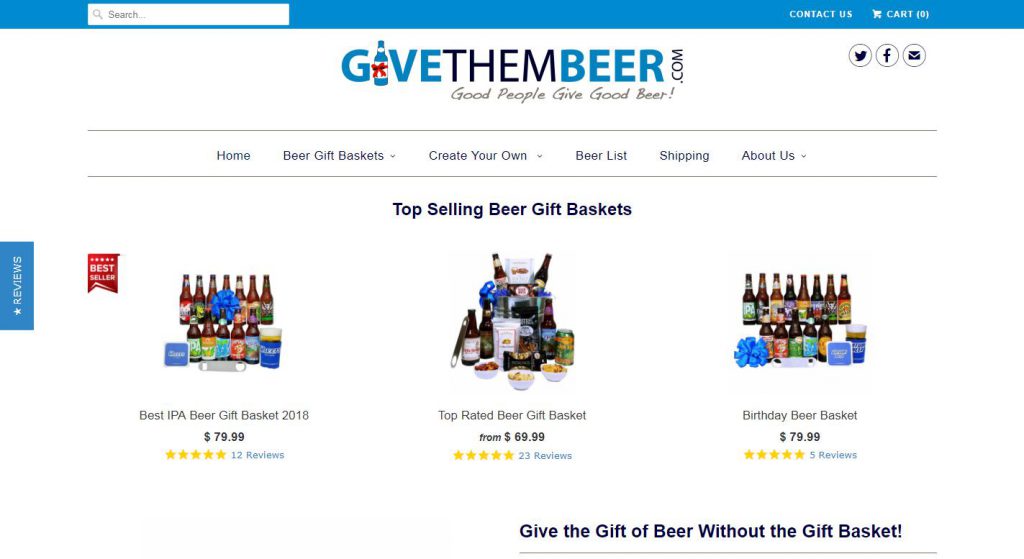 Since their start, Give Them Beers has only grown stronger with a wide array of customers enjoying their beers. Today, their beers have even become excellent gifts to numerous offices. From renowned corporations to simple local businesses, many have enjoyed the delight that Give Them Beer offers.
Keep reading our honest Give Them Beer review to learn more.
back to menu ↑
Give Them Beer Ideal For
Customers who are beer lovers
back to menu ↑
Give Them Beer Selection & Quality
When it comes to beers, Give Them Beers only offer top-rate, premium-quality liquors everyone will enjoy. Their beers are perfect gift beers propped and prepared into briefcases and gift baskets along with the best beer snacks to pair with it. They started at only about 30 different craft beers but now take pride of more than 150 different beers.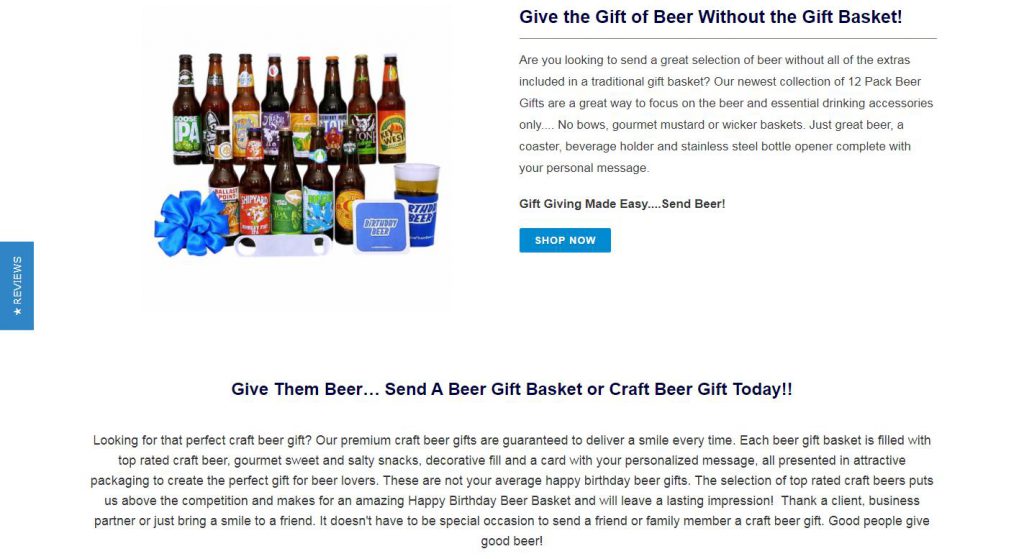 Their beers include lagers, ales, stouts, porters, and IPAs or Indian Pale Ale. At the same time, they also sometimes offer seasonal and specialty beers. There are a number of different beers under Give Them Beers' selection with plenty of representatives available for every craft beer style. One of the beers in greatest number is the IPA, which offers more than 40 different IPAs.
Besides IPA, Give Them Beer also has numerous types of ale to offer. Almost 30 different ales are available in their selection. Most of Give Them Beers' beers are from microbreweries, which produce only limited amounts. The beers from these breweries are not mass-produced. Therefore, they taste better since the people who create the beers give them more love and attention.
They also offer ales from some of the major breweries. They offer beers from Guinness, Corona, Miller, and Budweiser. If your taste for beer is along the lines of these breweries, Give Them Beer has them for you. The people behind Give Them Beer fiercely love beers. With that, they carefully select the beers they offer their customers who, just like them, love beer too.
The beers they offer are from all over the US, mostly from Florida, California, and Colorado. Give Them Beer primarily features US-made beers. However, they also have beers made from European countries. Their European-made beers are mostly from Belgium but also have beers from England and Ireland. With Give Them Beer, you have a wide array of options for the best beer gifts.
back to menu ↑
What Makes Give Them Beer Different?
When Give Them Beer first started, it was the first online shop to offer beer gift baskets exclusively offering craft beers. They are unlike other gift basket sites offering familiar beer because their beers are not the kind many know but certainly tastes the best. Give Them Beer offers their customers the best craft beers from all over the country. Besides ensuring their beers taste the best, they also sure the beer gifts also look the best.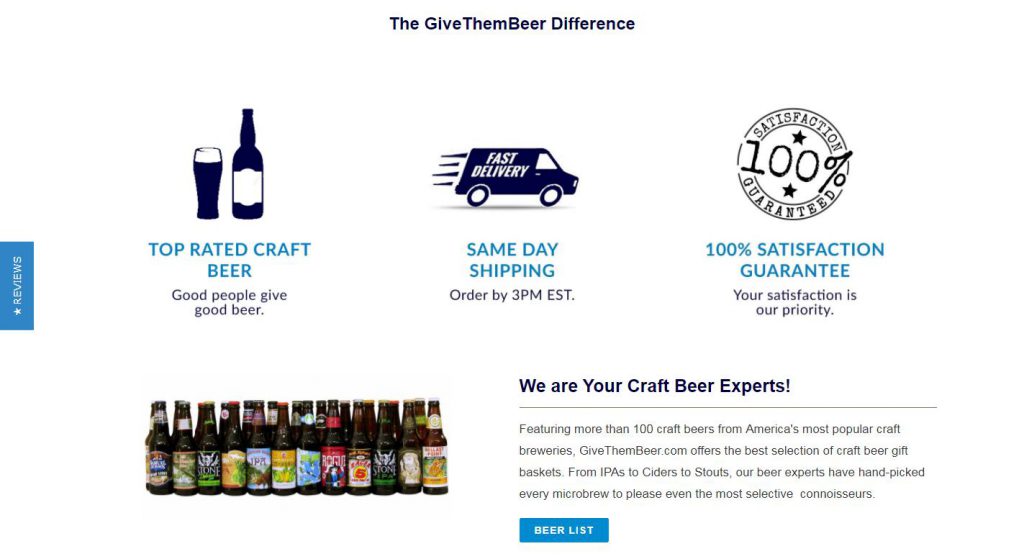 To do that, Give Them Beer props their beers in cool, amazingly practical galvanized buckets, briefcases or crates. These give the beer baskets a great impression, not to mention you can reuse the buckets. This makes Give Them Beer products one of the coolest gifts you can give to your family, friends, colleagues and more.
The company has all kinds of craft beer gifts designed and suitable for any occasion. More than that, they also allow you to customize your own beer gift. If you have a special someone whom you want to give a crate, bucket or briefcase containing premium beer, you can choose the beer yourself. This way, Give Them Beer can help add your personal touch to this amazing craft beer gift.
Another thing that sets Give Them Beer apart is how easy to contact them if you have any problem. If you run into a problem regarding your order, you just need to inform them. Unfortunately, certain limitations on shipping laws of alcohols make it impossible to them to accept returns. To keep customers happy, they promise to give a replacement beer within the next day after they receive your complaint.
back to menu ↑
Give Them Beer Gift Options
There are different beer gifts available to Give Them Beer. They include the 6-pack beer gift in galvanized beer buckets and 12-pack rustic crates. In addition to these, they also have fun, convenient coolers or if you want, beer briefcases that are more luxurious. Together with the beers are tasty gourmet snacks and a stainless steel opener for the bottle.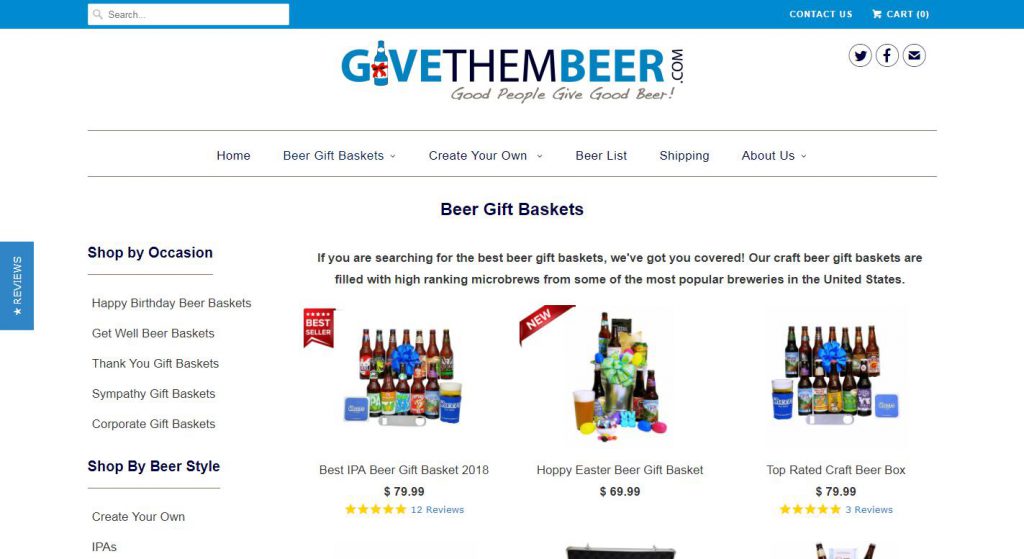 Along with that, Give Them Beer also gives customers with personalized gift cards. Prepped together, all of these in a decorative fill make the beer gifts even more amazing. For the beer briefcases, there are no snacks included. This is because these beer gifts' primary design is as corporate gifts. To prevent damage, they place the beers carefully inside custom molds before putting inside the briefcases.
When it comes to beer baskets, you can choose from about 30 different baskets. Included in this selection are the Thirst Aid briefcases and five other beer briefcases. You can also choose from twelve different brewery baskets as well as three beer gifts meant for special occasions. Give Them Beer gift baskets are perfect corporate gifts, holiday beer presents or birthday beer gift.
Besides using Give Them Beer's standard beer gift, it is also possible to make a personalized beer gift. You have different options such as beer briefcases, 6-pack buckets, and 12-pack crates. You can choose from any of them and then choose each bottle included in your gift. This makes your beer gift perfect since you get to show how well you know the person you're giving it to.
back to menu ↑
Give Them Beer Club Membership & Pricing
Give Them Beer's gift baskets have a price range from $59.99 to $199.99. This is the price range of their popular 'Best Case Scenario beer basket'. As for the beer briefcases, all of their prices are at the same range of $74.99. On the other hand, the Brewery baskets' price range is within $59.99 to $119.99. If you plan to customize your own beer gift, the price range changes too.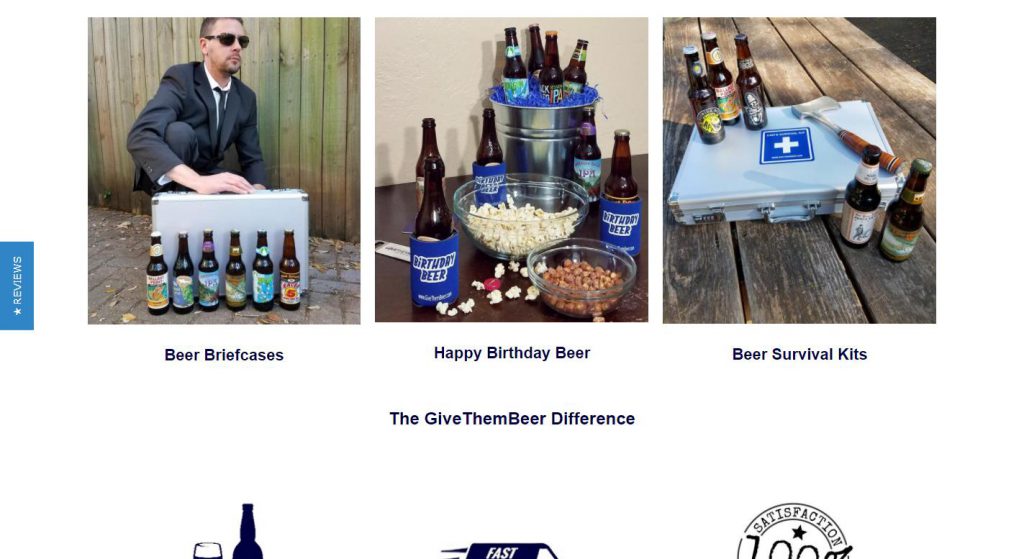 On that note, the price for the 6-pack bucket of customized beer gift is at $69.99. For the 12-pack customized beer crate, the prize is at $139.99. As for the custom beer briefcase, the price is mostly around the same as the standard beer briefcase at $74.99. Note that these prices do not include the shipping fee.
Shipping fee comes in three different options – the ground or 1-5 day delivery, 3-day delivery or 2-day delivery. For the 6-pack buckets and beer briefcases, the ground shipping fee is $14.99, the 3-day shipping fee is $49.99 and the 2-day shipping fee is $66.99. For the 12-pack crates, the ground shipping fee is $27.99, the 3-day shipping fee is $81.99 and the 2-day shipping fee is $100.99.
In addition to the prices and the shipping cost, you will also need to pay the Adult Signature Fee of $3.99. This is because an adult older than 21 must receive the gifts. Give Them Beer's shipping area includes everywhere the country besides Hawaii, Alaska, Kentucky, Utah, Massachusetts, and Oklahoma. This is because of these state's strict alcohol shipping regulations.
Currently, Give Them Beers do not ship internationally. Since they do not send shipments to APO addresses or P.O. boxes, you need to be there or at least have someone to receive the order personally. Give Them Beer also allows you to send gifts to multiple recipients. All you needed to do is send an email to them so they can arrange shipment to numerous recipients.
It is also possible to ship your gift at a specific date. All you need is enter the date you want the shipment delivered. Put your desired date in the Future Ship Date/Delivery Instruction box when you checkout. Once Give Them Beer delivered your beer gift, they will send you a shipping confirmation. This certainly makes them an ideal beer delivery company.
back to menu ↑
Give Them Beer Delivery Areas & Support
Give Them Beer uses the usual communications means, which are the phone and email. They don't offer 24/7 support. However, you can directly send your questions to them through their site. While they don't have support solutions such as live chat as of yet, they usually get back to you within 24 hours. For additional help, you can call 1-800-979-6650, send them an email or visit their FAQ page.
back to menu ↑
Give Them Beer Pros and cons
---
PROS:
Best-rated, premium craft beers
More than 150 craft beers
Wide array of gift options
Customize your own beer gift
Beer gifts no matter your budget
Guaranteed satisfaction
CONS:
Less impressive basic customer support
---
back to menu ↑
Bottom Line
Considering all that Give Them Beer has to offer, their services and offers are quite satisfying. From the best-rated, premium quality beers to the little extras like beer snacks, you will surely enjoy. When it comes to cost, they provide detailed information so you have nothing to worry about hidden costs. The support isn't as impressive but besides this, theirs is essentially a great place to buy a beer gift.
Give Them Beer Review
As one of the best-rated craft beer delivery services, Give Them Beer offers a great selection of the most amazing beer gifts to give your family and friends. You can even personalize your own beer gift, plus a number of other benefits too.
PROS
More than a hundred best rated craft beers
Great beer gifts in crates, buckets and briefcases for different occasions
Choose from dozens of the best-tasting and affordably priced beers
Add your review
Give Them Beer Discounts, Coupons and Promo Codes
We found 0 verified Give Them Beer Discounts, Coupons and Promo Codes for Oct. 2023.
Compare Give Them Beer with other Companies' Services, Plans and Products
If you like Give Them Beer but aren't sure whether it's the best ideal choice for you, and may want to compare Give Them Beer with other Companies' Plans, Products, and Services that similar to Give Them Beer, or Give Them Beer Alternatives and Give Them Beer Competitors, Which companies' services like Give Them Beer. You can take a look at our professional comparisons below to discover if one of them is more suitable for you.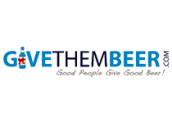 Updated : 10.01.2023.